Everyone may not have a yard or enough room for a herb garden outside, and mine is no exception.
Thus, in this case, we all can go for herbal container gardening as a convenient alternative to maintaining a formal herb garden.
I have always been fond of herbs. But, now, when I've begun growing them indoors, I have discovered how the kinds of pots we choose for our herbs have an impact on them.
Terra cotta pots are ideal for indoor herbs. However, plastic, wood, or metal will also suffice. Herbs that prefer wet soil do well in plastic pots. For herbs that require drier soil, terra cotta is the way to go. Similarly, short roots thrive in shallow pots, and long taproots do well in deep pots.
Always make sure that your container is a little bigger than the plant. This is because some herbs may grow to be rather big when fully grown.
Hence, choosing the right size pots for your indoor herbs is also a "must" factor to be considered.
Besides, planting in containers is easy, and it may also add a lot of style to your kitchen windowsill, patio, or balcony.
Do you want to learn more about how to find the right kind of pots for your indoor herbs? Well then, let's learn and find out.
This article will certainly help you decide to choose safe pots for your indoor herbs.
Things to Consider When Buying a Pot for Indoor Herbs
The secret to developing an indoor herb garden effectively is simply understanding and ensuring that the plant's needs are met. So, many aspects must be taken into account when buying pots for indoor herbs.
1. Size of the Pot
As already mentioned, an herb can attain its maximum potential when a pot is precisely perfect.
Eight to ten-inch pots are ideal for nearly every herb. In addition, this size container may be utilized to limit the mature plant in size since many plants grow over time to fill containers.
Deep pots are ideal with some plants like Parsley & Basilian because the plant has an extensive, lengthy root system. Thus, ensure that the pot is at least 18 inches deep when picking containers for such plants.
After you have bought herbs in nursery pots, you surely want to put them in a fresh pot again. In this situation, you must be sure that your replacement pot is at least twice as large as the nursery container.
For dwarf types or low-root herbs like thyme or globe basil, 6-inch pots are the most suitable.
2. Material of the Pot
You must select an indoor herb pot that is appropriate for your home's humidity level.
If your surroundings are drier, rather than clay or porous pots, use a ceramic one because ceramic pots will retain water, but clay pots would dry up more quickly.
Plastic pots are a beautiful and cost-effective alternative for herbs that prefer wet soil.
However, because the plastic is fragile and thin, it is readily broken and is not particularly long-lasting.
Metal pots can be another option for your indoor herbs, as they are both sturdy and long-lasting.
However, if exposed to direct sunlight for an extended period, the metal can get quite hot, causing the soil temperature to rise and eventually damaging the roots.
Therefore, I recommend that you select a container based on your available space, the nature of your plant, and its requirements.
3. Drainage Holes
Every indoor herb-growing container should have enough drainage holes. Herbs dislike being maintained in stagnant water.
As a result, the water in the pot must be able to drain. Fill the container halfway with water to test the drainage before adding soil and herbs.
If it drains too slowly, put a few stones to the bottom of the container so that the roots of your herb aren't submerged in water.
Therefore, the most crucial requirement is to ensure that your herb pots have enough drainage.
Pro Tip: To drill drainage holes, place the vessel on a firm surface and flip it over such that the bottom is facing up. Always keep in mind that the area where you plan to drill must be moist at all times.
As a result, before you begin drilling, you must pour a small amount of water into that particular area.
Finally, drill at a medium pace until the opposite side is broken through.
And, there, your drainage holes are ready!
4. Specialty Herb Pots
There are also a few unique pots to think about. For example, hanging pots are a fashionable technique to make the most of a bit of area.
It also aids in keeping the herbs out of the reach of children and pets.
However, the soil in these planters may dry up soon.
Similarly, sallow pots are ideal for oregano, thyme, and other herbs with shallow root systems.
Also, window boxes may be another ideal alternative for individuals who do not have adequate indoor space.
Likewise, another option is to use self-watering pots. These pots guarantee that the watering is done regularly.
It eliminates the guesswork associated with keeping herb plants well-watered.
Thus, for plants that like moist soil, self-watering containers are very helpful.
5. Design
You don't have to stick to the conventional pots. Take advantage of the chance to add some vibrant pots to your kitchen or living area.
This may also be a good idea for a fun family activity.
You may, for instance, poke holes in the bottoms of unused tomato containers.
Furthermore, many common home objects may be repurposed and transformed into one-of-a-kind herb planters.
Learn more about 10 Best Pots for Aloe Vera Plants
6. Saucer
Saucers for plant pots are essential for collecting the water that drains from your container. And, it is especially crucial when growing herbs indoors.
The saucer will catch any spilled water, saving damage to your carpets, floors, and furniture.
These saucers are sometimes sold in sets with the pots that you have ordered. However, most of the time, they must be purchased individually.
Also, be wary of pots with saucers that are permanently attached.
Having permanently connected saucers makes it impossible to clear the excess.
Thus, the soil will retain too much moisture, which might eventually harm your plants.
Therefore, plant saucers may be found in the gardening department of most hardware shops for less than a dollar.
Safe Pots to Grow Indoor Herbs in 2023
Pots are the major factor to be considered while growing indoor herbs.
Whether you want to grow some thyme or a wide range of herbs, there are several beautiful indoor platers to choose from.
Thus, this list will help you to choose the perfect pots for your indoor herbs.
1. Triflora Hanging Window Planter
Any plants would love to live in this triple hanging planter, and it also won't occupy much of the space on the window sill.
It's ideal for herbs, succulents, vines, and other plants.
Planters can be hung from a metal rod which makes watering and displaying plants in your window simple.
It is made up of metal and steel with a size of 24.75 x 42 x 5.75 inches.
This hanging planter will provide a feeling of tranquility and beauty to your space.
However, water pouring through drainage holes onto your porch is a concern with hanging plants.
Even though there are several options on the market for this issue, you will have to pay more funds, which can be inconvenient for you.
You can get this on Amazon.
2. Mason Jar Indoor Herb Garden
A passive hydroponic system is used in these jars, which guarantees that your plants receive adequate nutrition and moisture.
It is constructed of stainless steel, coconut husk, glass, activated carbon, and other materials and is suitable for indoor usage all year.
Thyme, mint, silantrodil, and rosemary are all good choices for this container. It comes in the size of 6″ H x 3.5″ in Diameter.
Therefore, Mason jars are a cost-effective and attractive way to cultivate herbs inside.
However, the main drawback of using a Mason jar is that it lacks drainage holes.
You can get this on Uncommon goods.
3. Self-Watering Kitchen Herb Pot
This self-watering, high-design planter is low-maintenance and stylish, which helps to maintain the freshness of your herbs.
Glass, polypropylene, and ceramic are used to make it.
There are a variety of self-watering jars to choose from, such as Organic Cilantro, Organic Flat Leaf Parsley, and Non-GMO Rosemary, which are popular among others.
Chives, parsley, marjoram, and mint are among the herbs that benefit from it.
The measurement of this self-watering kitchen Herb pot is 6.5″ H x 4.7″ in Diameter.
The primary benefit of utilizing this planter is that it separates the water from the roots and soil.
Thus, this self-watering planter provides as much water as the plant requires, preventing water stagnation and root rot.
However, herbs like dry soil, such as thyme, rosemary, basil, and others, will not thrive in self-watering pots.
Thus, you can get one on Uncommon goods.
4. Stackable LED Indoor Garden Kit
This herb garden is stackable and includes built-in grow lights. Everything from fresh herbs to lush greens, veggies, and even flowers may be grown in it.
The material is Polyvinyl Chloride. Each planter level is 16.5″ L x 5.6″ W x 11.4, not including seeds, plants, and pots.
The majority of your herbs require 8 to 10 hours of sunlight every day to thrive.
And, if you don't have a south-facing window for that, this planter can be the best option for you.
Thus, it includes an Automatic Smart Timer with a 16-hour on, 8-hour offsetting.
Thus, you can buy it on Amazon.
5. Harvest Elite 360
It may produce up to six different herbs throughout the year. It also does not require any soil, sun, or green thumb.
It's composed of stainless steel and comes in a variety of shapes and three different hues. Dill, thyme, curly parsley, basil, and mint are examples of herbs that may be grown in these pots.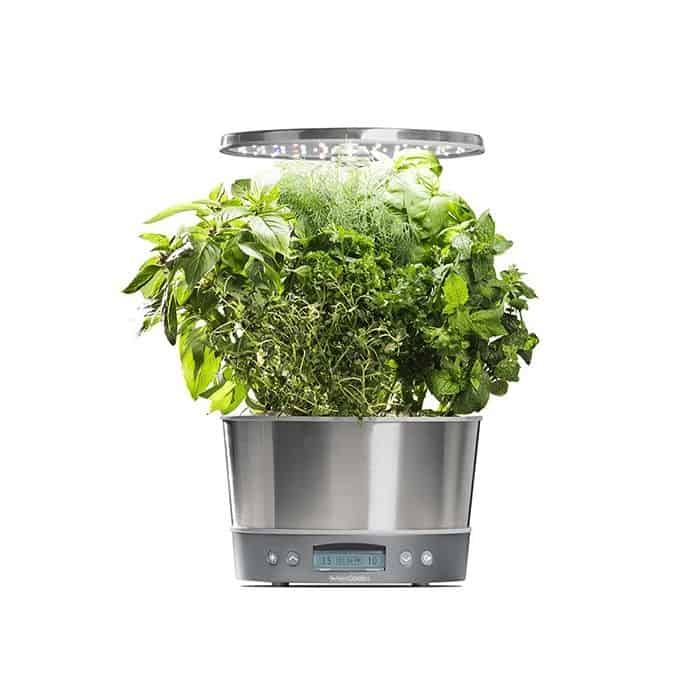 Thus, the product dimension is 9.25 x 9.25 x 17.4 inches.
This planter is simple to assemble and operate, with results being visible within a week.
Thus, I suggest this planter since you won't have to worry about ruining your herbs by overwatering or underwatering them.
You can get this on AeroGarden.
6. 9 Herb Window Garden
It's a kit for cultivating indoor herbs. With the aid of a comprehensive guide, you can effortlessly grow nine herb plants from scratch.
It's ideal for seedlings, with plenty of drainage and clever drip trays, and it's constructed of plastic.
You'll also get quality packets of nine various herbs, including chives, parsley, basil, dill, sage, oregano, thyme, mustard, and cilantro.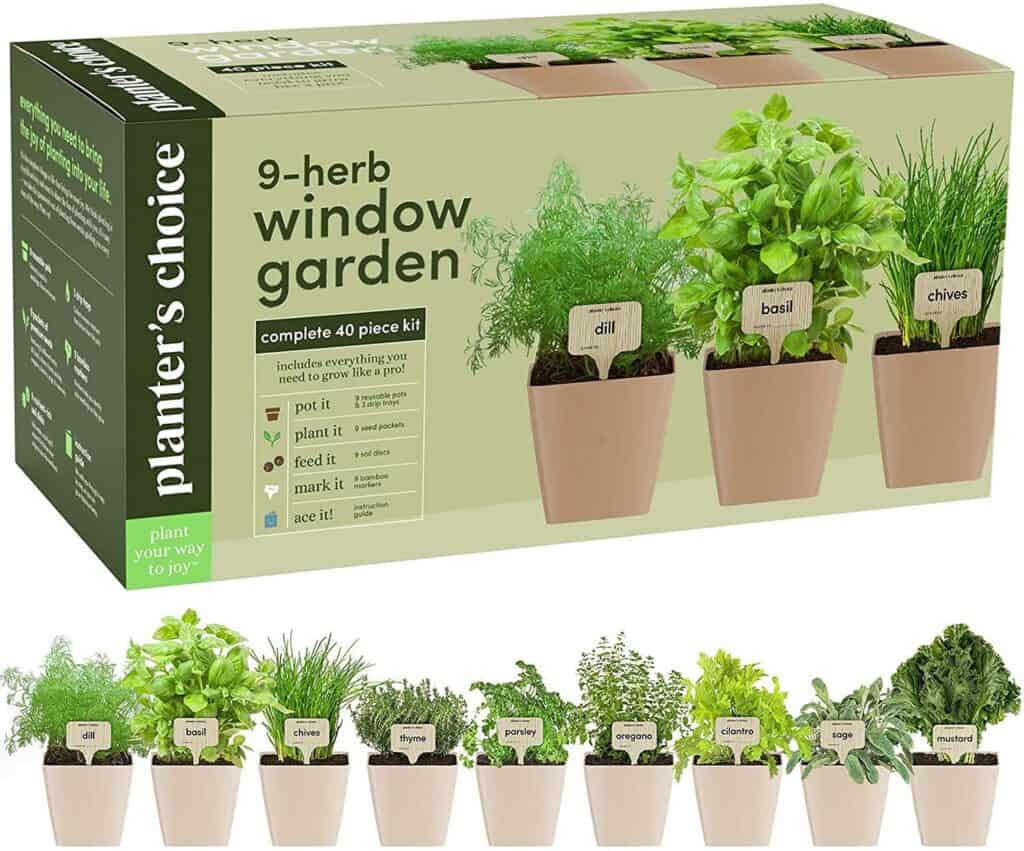 Thus The product dimensions are 4 x 4 x 4 inches.
It includes 9 reusable taupe plastic pots with excellent drainage and unique drip trays.
Thus, if you do not properly care for your plants and give them adequate sunlight, you risk molding the soil.
You can get it on Ubuy.
7. Dewplanter
It's a competent planter that water itself and removes air condensation. It is then converted to water for your plant.
It's constructed of plastic and is 10.6″ long,6.5″ wide, and5.5″ high.
It will help your herbs get the right amount of care every day and help in successful indoor gardening.
If you frequently forget to water your herbs, this low-maintenance planter is ideal for you.
Hence, this planter keeps the soil moist but not soggy, ensuring that your herbs stay happy and healthy.
You can get this on Amazon.
8. Wall Pocket Planter
This planter features nine pockets for a variety of plant types. In addition, it keeps your countertops clear by hanging them on the wall.
It's composed of heavy cloth with sturdy steel eye holes for hanging.
Lavender, thyme, sage, rosemary, and other herbs are ideal for this planter. The planter is made from fabric.
The body dimension of 9 wall pocket planter is 10.91 x 8.9 x 2.99 inches.
However, you won't be able to grow anything huge or heavy in this planter.
Also, don't overwater the top row since the water will flow down and end up in the bottom pockets.
As a result, waterlogging may occur, and the root tissue of your herbs may begin to die.
You can get this on Amazon.
You can learn more about the 5 Best Self-Watering African Violet Pots.
Tips for Growing Indoor Herbs in Pots
To make your own Kitchen Herb Garden Indoors, remember these helpful hints.
1. Provide Sufficient Light
One of the most important things to remember is to provide enough light while growing herbs indoors.
Herbs require 6-8 hours of direct sunshine to thrive.
Also, Herbs planted in direct sunlight will undoubtedly offer the finest flavor.
Thus, it is best to put them in a bright area near a south-facing window.
Like me, it might be impractical for some people to provide natural sunlight to their herb.
In this case, you may purchase modest grow light sets from numerous garden stores or internet sellers.
Therefore, AeroGarden has developed various indoor gardening solutions, especially for those who cannot provide natural sunlight to their herbs.
Hence, their herb planter is equipped with an LED light system which is the most effective and convenient way to keep your herbs healthy.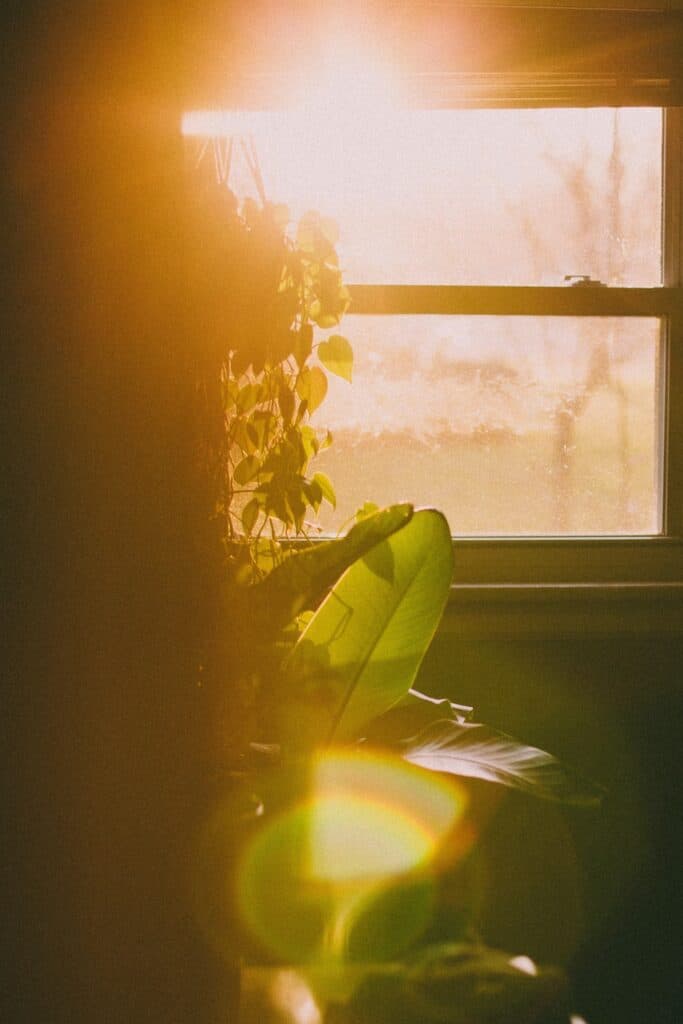 2. Water Infrequently but Thoroughly
The water may go right through the container and the drainage holes before it can be absorbed by the soil when you water your indoor herbs too fast. So, indoor plants benefit from gradual, thorough watering.
Similarly, herbs do not have to be watered daily.
Dependent on the quantity of moisture in your house, watering should only be done two or three times per week.
3. Temperature Requirement
Temperatures between 65 and 70 degrees are good for most herbs and are also suitable for most domestic situations.
You can also lower the temperature to 60-65 degrees if you wish to slow the progression of your herb plants.
As the reflected sunshine warms up the window glass, if the leaves come into contact with this glass, they might be burned.
So, take care of this factor as well.
4. Each Herb should be Grown in a Separate Pot
When done outside, growing numerous herbs in the same container is acceptable because you have a self-contained lighting system there.
However, maintaining the atmosphere will be more difficult for a single container with multiple herbs indoors.
Thus, if you wish to cultivate herbs successfully inside for a long time, consider allocating a separate container to each plant.
5. Ensure adequate air circulation
Make sure to give your herbs some breathing room when planting them indoors. Rearranging your herb garden regularly is a good idea.
When herbs are planted too close together, they will be deprived of sufficient airflow, contributing to disease transmission.
Thus, you need to ensure that your herb plants have adequate air circulation.
Conclusion
If you live in a major city, you know how difficult it is to find fresh herbs to season your food.
As a result, people today are restoring to container gardening.
Furthermore, while not everyone has a yard or enough space for an outdoor herb garden, indoor container gardening has become increasingly popular.
Also, regardless of your restricted area, you may always have fresh veggies by using the finest pots for growing herbs.
As a result, understanding and ensuring that the plant's requirements are satisfied is critical to effectively cultivating an indoor herb garden.