We long for fresh herbs straight out of the garden but may not have one; mine is no exception. No worries! We still have options to use pots for herbs safe for indoor settings.
Generally, herbs have shallow roots, so a 6-8 inch pot is ideal. Herbs that prefer wet soil do well in plastic jars, but terracotta ones would provide ample draining facility. Moreover, you can get a fancy hanging pot, a self-watering pot, or simply DIY a desired planter.
Planting in containers is easy, and it may also add a lot of style to your kitchen windowsill, patio, or balcony. But a lot goes into picking the safe pots for indoor herbs.
Before getting one, you need to look for the requirement of the herb, i.e., the size of the pot, the material, and the feasibility inside your home.
Things to Consider When Buying a Pot for Indoor Herbs
The secret to effectively developing an indoor herb garden is simply understanding and ensuring that the plant's needs are met.
So, many aspects must be considered when buying indoor herb pots.
1. Size of the Pot
The ideal pot size for any plant primarily depends on the type of plant you're growing.
The pot should be large enough to accommodate the plant's root system but not so big that it takes up too much space.
Most herbs prefer pots that are at least 6 to 8 inches in diameter and 6 to 8 inches deep where roots get adequate space and hold enough soil to support the plant's growth.
That said, larger herbs like rosemary or basil demand a bigger-sized pot of at least 12 inches across and 10 inches deep, as smaller pots can cause plants to be root-bound and growth is restricted.
When selecting a pot for repotting your herbs, ensure it has drainage holes to prevent water from accumulating in the soil and potentially causing root rot.
2. Material of the Pot
The market has a wide spread of pots and planters to choose from, but select the pot that suffices your conditions.
If your surrounding is dry, clay or porous pots that provide a good amount of drainage will not work for the herbs. Rather use a ceramic one, capable of retaining considerably more moisture.
Alternatively, you can use a plastic pot, beautiful and cost-effective, for herbs that prefer moist substrate. These are super light and easy to handle as well.
The only downside to plastic pots is their fragile nature which questions their durability.
Further, metal pots can be another option for indoor herbs, as they are both sturdy and long-lasting.
However, if exposed to direct sunlight for an extended period, the metal can get quite hot, causing the soil temperature to rise and eventually damaging the roots of your herbs.
3. Drainage Holes
Stagnant water is a big No for your herbs as it invites fungal disease and root rot.
Essentially, safe pots for indoor herbs must have a few drain holes to release the excess water.
If your planter lacks some, drill a few.
Further, when the water moves out slowly, put a few stones to the bottom of the container so that the roots of your herb aren't submerged in water.
4. Design & Appearance
Choosing a pot that complements your home decor can help make your indoor herb garden a visually appealing addition to your home.
Further, you can design and create one-of-a-kind herb planters by repurposing and transforming any unused home items.
For instance, a soup can could be your DIY Herb Planter. All you do is clean and dry the can and, using a hammer and nail, make a few drain holes in the bottom of your can.
Voila, your planter is ready.
Note: You can also decorate the outside of the can with paint, fabric, or washi tape to add some visual interest. Just make sure any materials you use to decorate are safe for use with plants.
Safe Pots to Grow Indoor Herbs in [2023]
Whether you want to grow some thyme or a wide range of herbs, there are several beautiful indoor platers to choose from.
Thus, this list will help you to choose the one for your indoor herbs.
1. Triflora Hanging Window Planter
Any plant would love to live in this triple-hanging planter, and it also won't occupy much of the space on the window sill.
It's ideal for herbs, succulents, vines, and other plants.
The metal and steel framework with a size of 24.75 x 42 x 5.75 inches adds a perfect display to your simple window.
However, water pouring through drainage holes onto your porch is a concern with hanging planters.
Even though the market offers you solutions like a saucer, you will have to pay more attention to the watering method and amount, which can be quite inconvenient at times.
2. Mason Jar Indoor Herb Garden
A passive hydroponic system is used in these jars, guaranteeing that your plants receive adequate nutrients and moisture.
It could be constructed of stainless steel, coconut husk, glass, activated carbon, and other materials and is suitable for indoor usage all year.
Thyme, mint, cilantro, and rosemary are all good choices for this container. It comes in the size of 6″ x 3.5″.
Not just the chic look, but these Mason jars are a cost-effective way to grow your kitchen essential herbs.
However, the main drawback of using a Mason jar is that it lacks drainage holes.
3. Self-Watering Herb Keeper
This self-watering, high-design planter is low-maintenance and stylish, which helps to maintain the freshness of your herbs.
There are a variety of self-watering jars to choose from, such as Cole & Mason Herb Box, Mini Cube Herb Planter, and Window Sill Planter Indoors.
Chives, parsley, marjoram, and mint are among the herbs that benefit from it.
The primary benefit of utilizing this planter is that it separates the water from the roots, i.e., it fulfills the plant's water need with simultaneous prevention from over watering.
Unfortunately, the self-watering pot would not be the best pick for dry soil-loving herbs like thyme and rosemary.
4. Stackable LED Indoor Garden Kit
The majority of your herbs require 8 to 10 hours of sunlight every day to thrive.
And, if you don't have a south-facing window for that, this planter can be your best option.
These planters are stackable and include built-in grow lights.
The automatic smart timer with a 16-hour on and 8-hour off setting is suitable for everything from fresh herbs to lush greens, veggies, and even flowers.
The material is Polyvinyl Chloride. Each planter level is 16.5″ x 5.6″ x 11.4″.
5. Harvest Elite 360
It may produce up to six different herbs throughout the year. It also does not require any soil, sun, or green thumb.
It's composed of stainless steel and comes in a variety of shapes and three different hues. Dill, thyme, curly parsley, basil, and mint are examples of herbs that happily grow in these pots.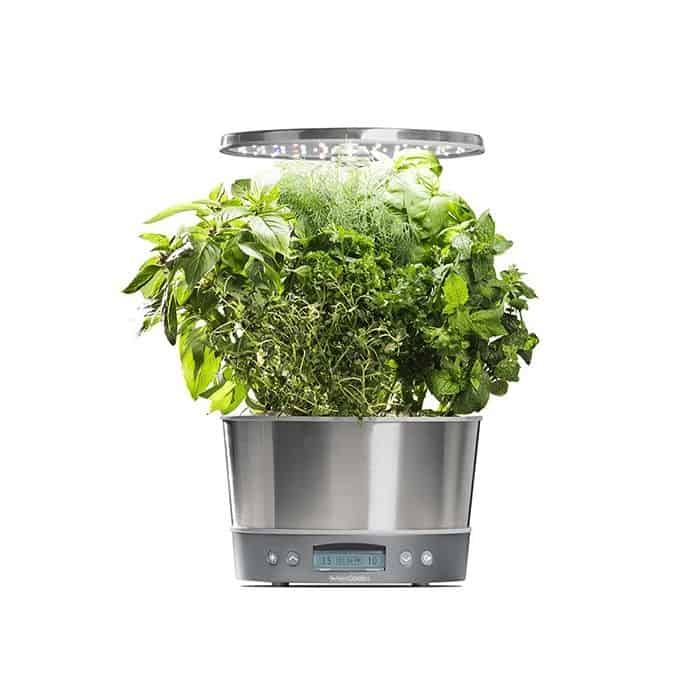 Thus, the product dimension is 9.25 x 9.25 x 17.4 inches.
While it looks complicated, assembling and operating the planter is very simple if you follow the instructions.
Along with easy handling, Harvest Elite 360 saves your herbs from overwatering and underwatering issues.
6. 9 Herb Window Garden
It's a kit for cultivating indoor herbs. With the aid of a comprehensive guide, you can effortlessly grow nine herb plants from scratch.
It's ideal for seedlings, with plenty of drainage and clever drip trays, and it's constructed of plastic.
You'll also get quality packets of nine various herbs, including chives, parsley, basil, dill, sage, oregano, thyme, mustard, and cilantro.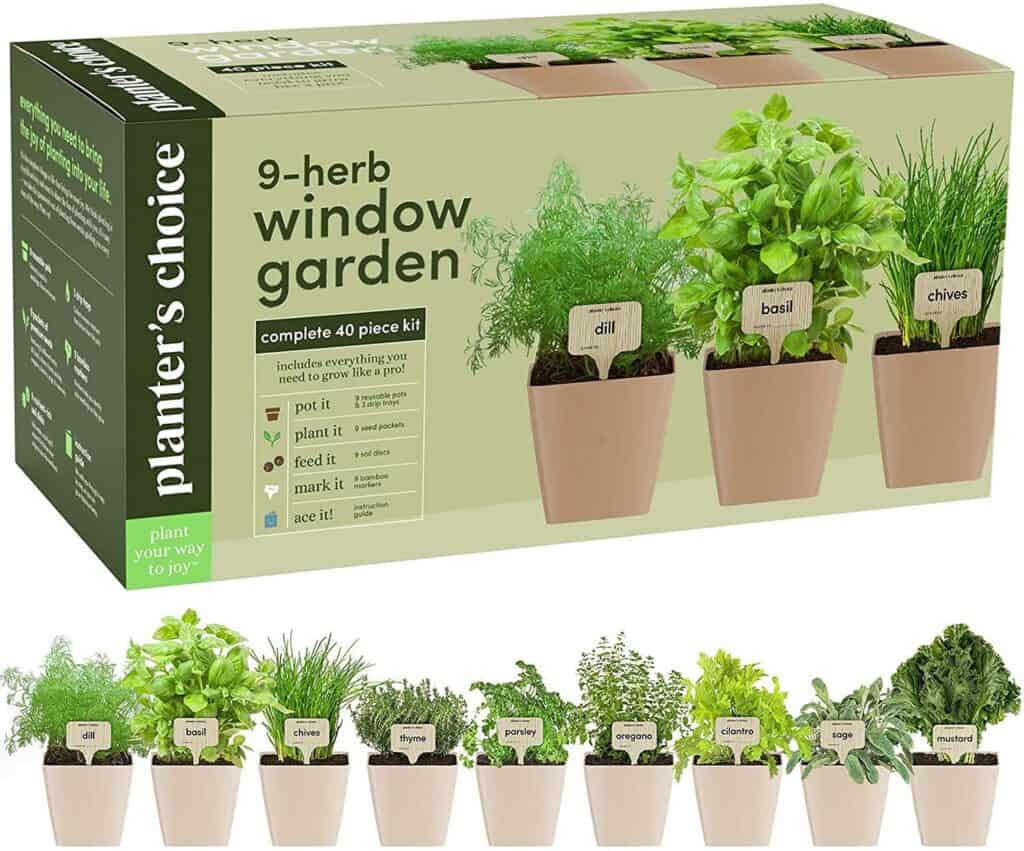 Thus The product dimensions are 4 x 4 x 4 inches.
It includes 9 reusable taupe plastic pots with excellent drainage and unique drip trays.
Thus, if you do not properly care for your plants and give them adequate sunlight, you risk molding the soil.
You can get it on Ubuy.
7. Dewplanter
For any gardener like me, missing to water the plant over and over, Dewplanter is a boon.
It's a competent planter that waters itself and removes air condensation.
Moreover, the plastic structure of 10.6″ long,6.5″ wide, and 5.5″ high makes it convenient to move the planter.
It will help your herbs get the right amount of care every day and successful indoor gardening.
Hence, this planter keeps the soil moist but not soggy, ensuring that your herbs stay happy and healthy.
8. Wall Pocket Planter
This planter features nine pockets for various plant types apt for condos and studio apartments lacking balcony space.
The heavy cloth wall pocket planter with steel eye holes for hanging helps keeps your countertops clear.
Usually, herbs like lavender, thyme, sage, and mint, are ideal for this 10.91 x 8.9 x 2.99 inches planter with 9 pockets.
Sadly, you won't be able to grow anything huge or heavy here.
Also, don't overwater the top row since the water will flow down and end up in the bottom pockets, which may result in waterlogging, and the root tissue of your herbs may begin to die.
You can learn more about the 5 Best Self-Watering African Violet Pots.
Tips for Growing Indoor Herbs in Pots
To make your own kitchen Herb Garden Indoors, remember these helpful hints.
Provide sufficient light: Herbs require 6-8 hours of direct sunshine to thrive. So, it is best to put them near a south-facing window.
Use well-draining substrate: A light, airy potting soil ensures proper growth and saves your tiny herbs from rotting.
Water infrequently but thoroughly: Herbs do not have to be watered daily. Depending on the quantity of moisture in your house, watering should only be done two or three times per week.
Occasional use of fertilizer: Herbs do well on their own, but the use of balanced, water-soluble fertilizer once a month helps herbs to flourish.
Harvest regularly: Regularly harvesting your herbs will keep them bushy and healthy. Only take a few leaves at a time to avoid stressing the plant.
Conclusion
Regardless of your restricted area, you do not have to refrain from a little biome indoors.
Explore and bring home the desired planter, and prepare delightful meals with fresh herbs along with some green visual pleasure.