Fresh herbs have an undeniable impact on the flavor of your food.
Therefore, it definitely won't be fun to run to the store every time you require some kitchen herbs instead of picking them from your favorite hanging pots.
Henceforth, having a kitchen herb hanging garden where you can pick your herbs anytime is easy.
Finding correct pots and suitable spots around the kitchen can be challenging unless you are looking for hanging pots.
I personally love herbs in aesthetic-looking hanging baskets, and if the time allows, I am fond of DIY hanging baskets too.
The best hanging pots for indoor herbs are ceramic, plastic, wood, and terracotta pots that are larger and deeper depending on the type of herb. The pots should have numerous drainage holes.
You may want to know more about how to choose the best hanging pots for your indoor kitchen herbs. If so, let's get started on selecting the favorite type of hanging pots for your herbs.
Things to Consider while Choosing Hanging Pots
Your herbs will thrive in the appropriate growing conditions if you choose the right hanging pot type and take proper care of them.
Additionally, understanding and meeting all the demands of the plants is the key to successfully growing an indoor herb garden.
Therefore when purchasing containers for indoor herbs, you need to consider numerous factors such as:
1. Size Requirements
The herb plant's overall size is influenced by the size of the pot you choose. Therefore, you need to select a container for your potted herbs that can support their matured size.
Selecting the perfect (right-sized) hanging pot can be difficult as herbs come in different shapes and sizes.
Generally, a hanging pot of size 12-16 inches is the best for growing herbs.
An herb can reach its maximum potential when the pot is just perfect.
A deeper pot stimulates and enhances the growth of the root system rather than a pot that are not so deep enough. Therefore, while getting a pot for herbs, I suggest you go for larger and deeper pots.
According to your herb's need, you can select the pots with a depth ranging from 5 to 18 inches.
Because basil has an extensive root system while parsley has a lengthy taproot, you need to make sure the pots you choose for parsley or basil have a depth of at least 18 inches.
Further, for low-root herbs like thyme or globe basil, a 6-inch pot is sufficient.
In winter, small pots make your herbs vulnerable to cold damage because of the insufficient soil for the insulation of roots.
In the summer, sufficient soil can hold moisture for your herbs instead of drying the roots up.
To sum up, select the hanging pot according to your herbs' needs.
2. Drainage Holes
Before buying hanging pots, you need to know what kind of pot you need. Does the pot require drainage holes?
The answer is obviously YES because poor drainage results in an oxygen-depleted environment, which can lead to root rot, and stunted plant growth.
In the worst-case scenario, your herbs can die on you.
For healthy growth and good aeration in soil, drainage holes are a crucial requirement for herbs.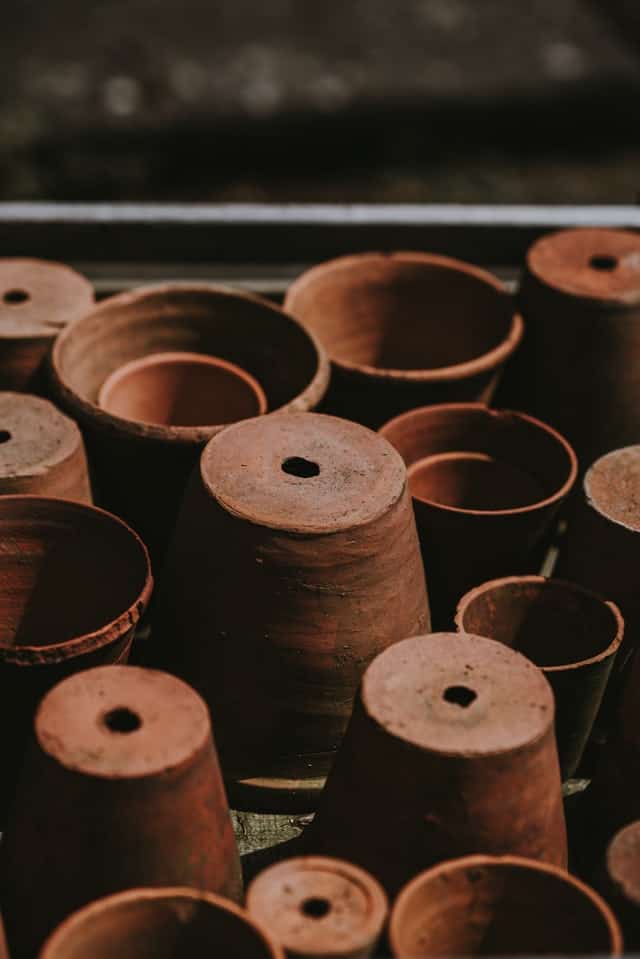 However, if you have already brought a container that is good for growing herbs but lacks drainage, you can take a suitable drilling tool and can drill drainage holes in it.
As it is known that most herbs despise having their "feet wet," even if your pots are hanging, let the excess water drain out.
Rainwater can be excessive for your herbs, so check for drainage holes block once in a while to avoid moist soil and susceptibility to root rot.
Sometimes the holes can be clogged. Therefore, you can add some pebbles to the bottom of your pot before adding potting mix, thus avoiding clogging.
3. Right Material
Herbs may thrive in any type of container. However, some are significantly better for growing herbs than others.
Therefore, here are some tips that may come in handy while selecting the container materials:
The pot's ability to withstand.
The pot's weight, as well as its friendliness to hanging once you fill it with soil and herbs.
The material's ability to retain moisture.
You can grow Herbs in metal, wood, plastic, terracotta, and ceramic pots as well.
However, metal pots, and to a lesser extent plastic (dark in color), tend to heat up faster in the sun and absorb all of the heat, so it will be best if you avoid planting your herbs in metal pots.
Therefore, to help you with the selection, here are some of the common materials available for herb containers, as well as the benefits and drawbacks of each.
Material Type
Benefits
Drawbacks


Ceramic Pots


The color of the pot does not fade and distort.

The rate of damage is lower than that of other material pots.

Do not retain water.

They have a slightly lower air permeability.


Plastic Pots


Easy to maintain.

Multiple choice on designs and colors to go with any decor.

Lightweight

Excellent choice for moisture loving herbs.
If left in direct sunshine, it attracts and stores heat.

Can fade in direct sunlight.

May not be very long lasting.


Terracotta Pots


The porous nature of the pot absorbs excess of water preventing your herbs from diseases and root rot.

Aids humidity to your herbs by slow releasing the absorbed water.
Retains water.

When used outside in cold weather, they may crack or break.

On a long run, fungal growth on outer area of pot affects the overall look.
4. Water Reservoir
With the increasing indoor houseplants aesthetic, the pots are also modified for plant parents' ease.
Therefore, there are self-watering pots that typically include reservoirs. Hence, instead of drainage holes to handle water overflow and drain surplus water, reservoirs work best for you.
Henceforth, preventing the rotting of plant roots and drowning plants, these pots allow easy and enough oxygen circulation.
The reservoir's main role is to hold water and slowly release it to your plant as needed.
Additionally, the reservoirs are available in a variety of sizes to match the containers.
Before you get one, you need to know the amount of water any reservoir can hold. The biggest ones usually have a 5-gallon reservoir, but the little ones only have 1 gallon.
Are you looking for easy self watering pots for your plants? Read on: How To Use a Self-Watering Pot for African Violets?
7 All-Time Favorite Hanging Pots for Indoor Herbs
For the kitchen herbs, potting them in hanging pots has to be the easiest and the most convenient way.
You can pick your herbs at ease if they are simply hanging on top of your kitchen basin.
However, there are different types of hanging pots available so choosing the right one for you can get confusing at times.
Are you confused about which type of hanging pots you want to get for your herbs?
Here is a summarized table on different types of hanging pots with the materials they are made of to make your buying process easy.
Pots
Picture
Pot Material


Umbra Triflora Hanging Planters
Metal, Steel

Keter Resin Rattan Set
Resin, Plastic

Sorbus Macrame Plant Hanger
Plastic, Ceramic,
Cotton, Jute

Hanging Wall Planter Meiwo
Plastic

Dokimiya Plastic Hanging Planter
(Self Watering)
Earthenware, Plastic
Polypropylene, Alloy Steel,

Elly Décor Hanging Planter
(Self Watering)
Polypropylene,
Rattan, Plastic

Mkono Ceramic Hanging Planter
Porcelain,
Ceramic, Rubber
1.
Umbra Triflora Hanging Planter
If you are looking for hanging pots that can be adjusted according to your convenience, then Umbra Triflora is the one.
For instance, without taking up much space, Umbra Triflora has suspending pots on a metal rod.
The whole set comes in the size of 24.75 x 42 x 5.75 inches, and each pot is 3 inches in diameter.
On moving the ropes along the rod, you can adjust the length of the string as per your need. Further, you can find them very durable and best situated for indoor herb gardens.
2.
Keter Resin Rattan Hanging Planter Baskets
Looking for durable as well as beautiful portable pots?
Then, Keter Resin Rattan set that comes in two is for you with a bigger pot size so you can plant more than one herb in them.
Further, these lovely spherical pots, which come in a set of two, are 13.78″ wide, 13.78″ deep, and 8.66″ high, making them ideal for your garden herbs.
Along with the aesthetically pleasing color, it offers an attractive woven look and texture.
The hanging chain and the hook attached at the end make it easy to hang indoors as well as on the balcony.
3.
Sorbus Macrame Plant Hanger
Sorbus Macrame hangers serve the best look for anyone with a macrame hanger lover. Any number of macrame hangers won't be enough once you get used to them.
They go both with the indoor and outdoor environment. The string can be up to 41″ and the pot diameter up to 12″.
Further, you can move them anywhere. For instance, you can place it near an entryway, a sunny window, a kitchen, an outside garden, a porch, or a balcony.
4.
Meiwo Vertical Garden Wall Planter
The newly updated Meiwo vertical planter is a 7-pocket wall hanging planter made of felt cloth.
Because of the material, felt, the pockets are durable and can provide good aeration to your herbs.
Since this one is the upgraded one, the planter pockets are more profound and larger. They can provide enough root space for vegetables and fruits like strawberries beside kitchen herbs.
Further, you can hang it on the fences or balconies and make your own "living wall painting. "
5.
Dokimiya Plastic Hanging Self Watering Planter
If you are looking for a lightweight self-watering hanging pot for your herbs, then Dokimiya Plastic Hanging Planter is for you.
They come with a detachable water-storage bottom plate and thus have space for water to reserve.
They go both with indoor and outdoor settings. Further, these lovely spherical pots come in a set of three and are 11.81″ wide, 42.12″ high with a 4.33″ diameter.
With this planter, your herbs can never go dry. Additionally, excess water or rainwater can run through the bottom, preventing root rot.
6.
Elly Décor Hanging Self Watering Planter
Chocolate brown hanging pots are trendy! Each of these particular planters comes with a rack that helps to establish a water reserve at the bottom.
Furthermore, the diameter of 13.60 inches with a height of 7.08, thus making it a suitable pot for any of your herbs.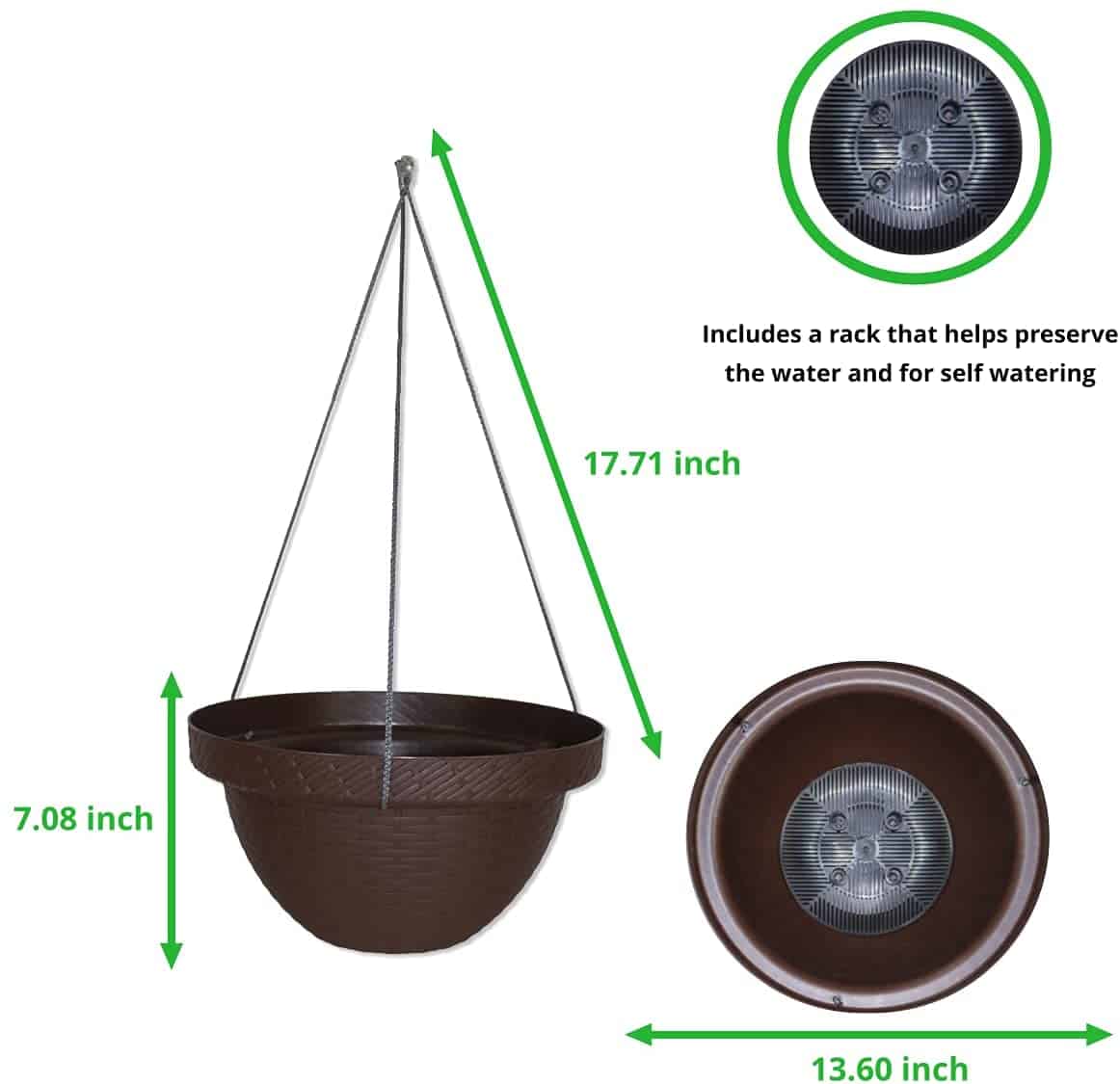 These pots are the perfect fit for you if you want your kitchen garden to look trendy and aesthetic.
7.
Mkono
Ceramic Hanging Planters
Ceramic pots offer different neutral colors that go perfectly with your decor. Therefore if you are fond of ceramics, Mkono Set is for you!
Further, this set includes two pots that are 9-inches in diameter and 4.2-inch deep.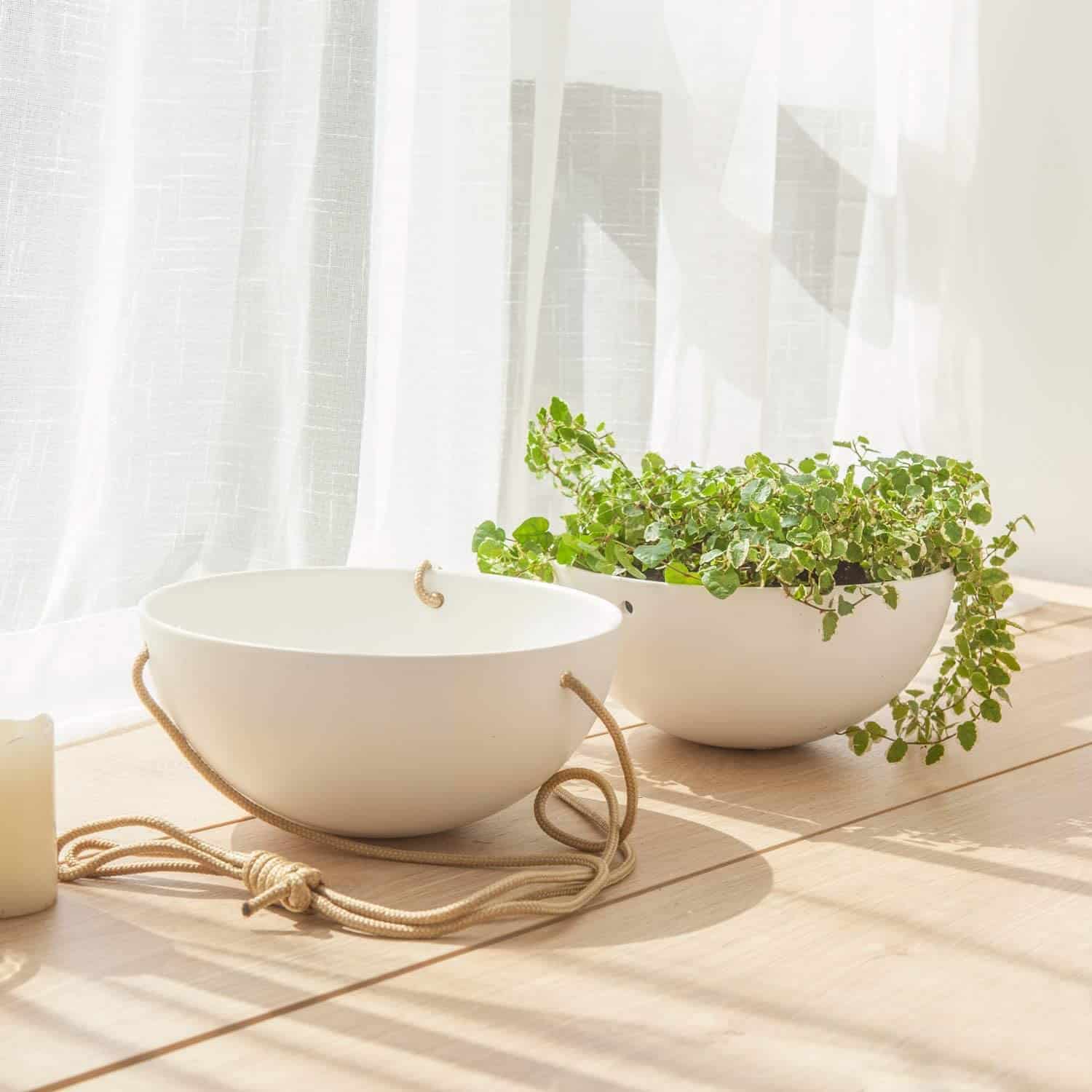 The planters also come with a detachable rubber cap to avoid soil or dirt leakage.
These white ceramic hanging planters offer a modern minimalism design for herbs as well as flowers. Hence these sets are best for your kitchen aesthetic too.
Selecting the suitable pot for indoor herbs is not enough unless you know your herbs requirements. Read on: Tips for Growing Indoor Herbs in Pots
DIY Hanging Pots for Indoor Herbs
With a bit of creativity in your free time, you can find so many easy ways to make your own hanging pots for indoor herbs.
So, Why not use creativity instead of paying for everything!
Additionally, in making DIY hanging pots, you can modify and create them to fit perfectly with your decor.
Hence, here are some of the easy ideas for DIY hanging pots for indoor herbs.
1. DIY Hanging Metal Planter for Indoor Herbs
You can make your own hanging metal planter with little effort.
Find a long cylindrical metal container.
Cut it in half, or any other desired cut such that it contains your plant.
Make two holes in each side of the two ends of the container.
Take two long nylon ropes of appropriate lengths and pass one each on one pair of holes.
Pass the two ropes through a hanging hook and simply tie the two ends of a string to make a complete loop.
In the end, you have two hanging hooks which carry one rope each on the two sides of the pot container.
Fill the container with your plant and potting mixture and hang it somewhere nice.
You can make this metal planter even lovelier by decorating and painting the metal container.
Or you can try recycling those empty, old tin cans to grow herbs in them.
Firstly clean the empty tin cans to make them sterile.
Make some draining holes at the bottom to drain the excess water from the soil.
Now, take some strong plastic ropes or wire as per your availability.
Further, plant your herbs and hang them in your kitchen, flaunting your DIY tin can herb garden.
Some containers are best for your herbs whereas some may not work best for you. Read on: Choosing the Best Container for your Growing Herbs
2. Water Bottle Hanging Herb Garden
Just like mason jars, empty water bottles are also relatively cheap and easily accessible in your own home.
All you need is a strong piece of wood, apart from a clean water bottle, a pair of picture hangers, some screws, and some cotton wadding.
Attach the picture hangers to the wood such that you can hang them vertically in a balanced position.
It would be best to cut the bottle in a shape that looks like a bowl with an elongated protruding neck.
Make sure that this part of the bottle is clean and sanitized.
Further, pin the topmost part of the bottle on the vertical wood platform using some screws.

DIY Water Bottle Hanging Herb Garden (Source: Pinterest)

Next, use the cotton wadding to block the neck of the bottle so that potting soil does not fall through it immediately. This allows the soil mix to occupy some space as well.
After adding suitable potting soil, you can plant your herbs.
However, you need to fill the inside of the bottle with the remaining soil mix leaving at least one inch of the top vacant.
You can use multiple bottles in a pattern which can make your pot arrangement more splendid!
Also watch,
Summing Up!
You need to know your herbs and their pot requirement in case of size and depth before you buy any for them.
Some herb's root systems can be bigger than others. As a herb garden enthusiast, I hope this piece will help you make a suitable choice for buying hanging pots for indoor herbs.
If your hanging pots do not go with your kitchen aesthetic, you can change your pots right away!
Your herb, as well as your's need, is equally essential while selecting the hanging pots!
Happy Potting!