Hanging pots have become flawless aesthetic decor that keeps indoor herbs safe from pets and kids' invasion.
Herbs perform and thrive well in terracotta, ceramic or wood pots that are slightly larger than root volume. Also, ensure the hanging pots have enough drain holes to let out excess water, protecting herbs from soggy soil issues.
While choosing the hanging pots for herbs, you must not go after the looks only but consider other care factors.
Thus, read till the end to learn how to select and buy the best hanging pots for herbs.
Things to Consider while Choosing Hanging Pots
Before giving herbs haphazardly chosen pots, you need to consider the herbs' growing nature and care needs.
Pots not aligning with the plants' care requirements will likely interfere with healthy growth.
Here are the things you need to consider before buying hanging pots for your herbs.
1. Size Requirements
Remember, if the pot is smaller than the plant's size, it will most likely suffer root-bound conditions.
Consequently, it results in the herbs' slow, leggy or stunted growth.
Before buying the pot, inspect how big your plant is and carefully choose the pot that is a few inches larger.
You can aim for pots with six-inch widths for smaller herbs like Thyme or Globe Basil.
Likewise, 8-10 inches pots are ideal for almost all kinds of herbs.
However, for herbs like Rosemary or Sage plant, aim to use larger pots of size 10-12 inches.
2. Drainage Holes
The pot must have multiple drainage holes for problem-free growth alongside the ideal airy, well-draining soil.
Without drain holes, the soil can get soggy, resulting in oxygen deficiency, root rot and stunted growth.
Therefore, ensure the pot has drain holes; if not, you can take drilling tools and drill one.
Remember, sometimes the holes can be clogged. So, add pebbles to the bottom before adding potting mix.
3. Right Material
Herbs may thrive in any type of container. However, some are significantly better for growing herbs than others.
In general, many gardeners often use terracotta, ceramic or plastic pots to grow herbs.
Material Type
Benefits
Drawbacks


Terracotta Pots


Porous nature of the pot absorbs excess water preventing herbs from diseases and root rot.

Aids humidity to your herbs by slow releasing the absorbed water.
Retains water and can crack and break in cold weather.


On a long run, fungal growth on outer area of pot affects the overall look.


Ceramic Pots


The color of the pot does not fade and distort.

The rate of damage is lower than that of other material pots.

Do not retain water.
They have a slightly lower air permeability.


Plastic Pots


Lightweight and easy to maintain.


Multiple choice on designs and colors to go with any decor.

Excellent choice for moisture loving herbs.
If left in direct sunshine, it attracts and stores heat.

Can fade in direct sunlight.


May not be very long lasting.
4. Water Reservoir
With the increasing indoor houseplant aesthetic, the pots are also modified for plant parents' ease.
Therefore, there are self-watering pots that typically include reservoirs.
Hence, reservoirs work best for you instead of drainage holes to handle overflow and drain surplus water.
Additionally, the reservoirs are available in various sizes to match the containers.
7 All-Time Favorite Hanging Pots for Indoor Herbs
For kitchen herbs, potting them in hanging pots has to be the easiest and the most convenient way.
Here are a few hanging pots suitable for indoor herbs that will go flawlessly near the kitchen basin.
Pots
Pot Material
Umbra Triflora Hanging Planters
Thermoplastics
Keter Resin Rattan Set
Resin, Plastic
Sorbus Macrame Plant Hanger
Plastic, Ceramic,
Cotton, Jute
Hanging Wall Planter Meiwo
Plastic
Dokimiya Plastic Hanging Planter
(Self Watering)
Earthenware, Plastic
Polypropylene, Alloy Steel,
Elly Décor Hanging Planter
(Self Watering)
Polypropylene,
Rattan, Plastic
Mkono Ceramic Hanging Planter
Porcelain,
Ceramic, Rubber
1.
Umbra Triflora Hanging Planter
If you are looking for hanging pots that can be adjusted according to your convenience, then Umbra Triflora is the one.
For instance, Umbra Triflora suspends pots on a metal rod without taking up much space.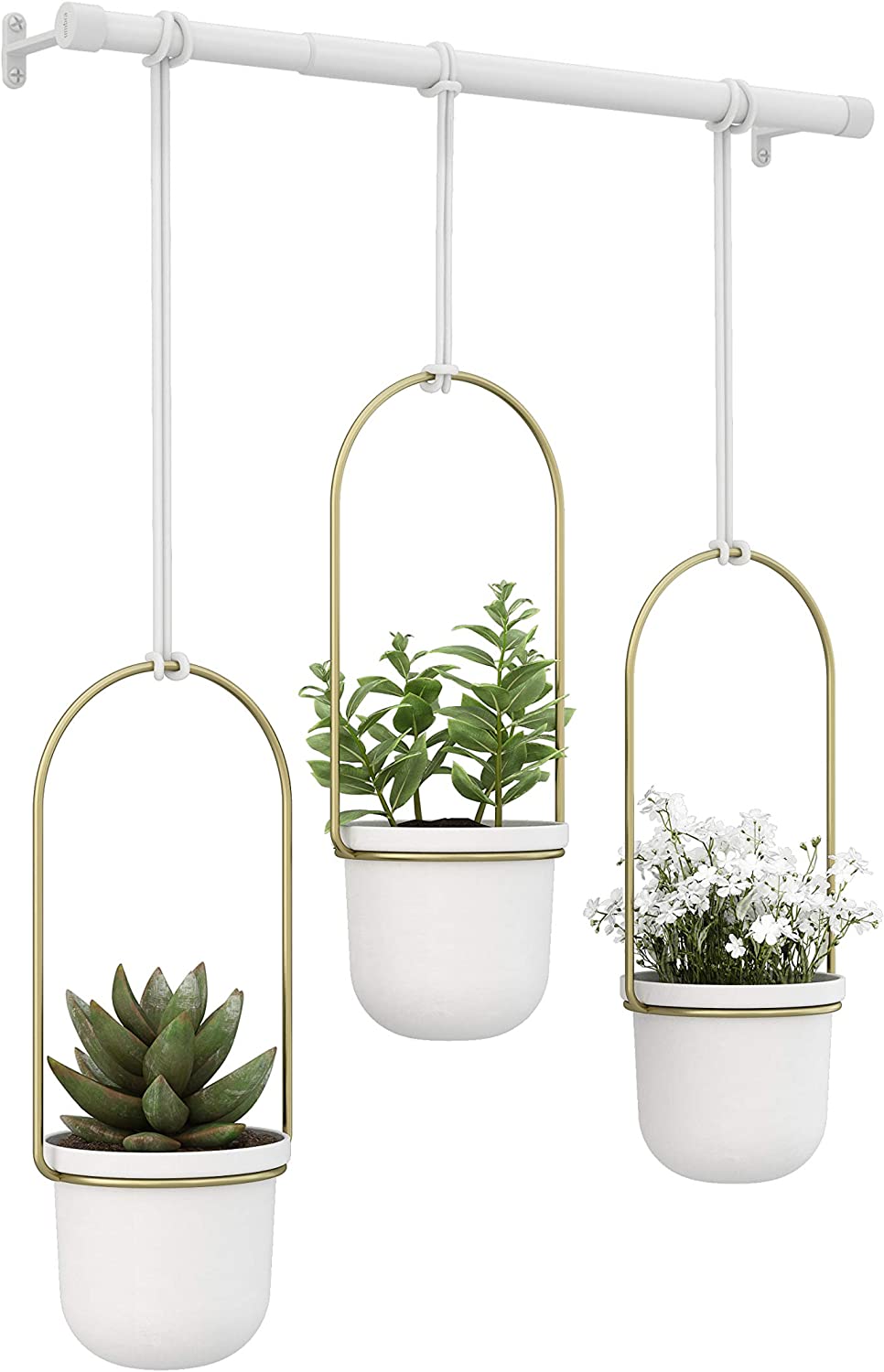 The set is 43.5 x 25 x 5.75 inches (L x W x H), and each pot is 3 inches long.
Adjust the string length as needed when moving the ropes along the rod. Further, they are durable and best suited for indoor herb gardens.
2.
Keter Resin Rattan Hanging Pots
The Keter Resin Rattan set comes in a bigger pot size so that you can plant more than one herb in them.
Further, these lovely spherical pots are 13.78″ wide, 13.78″ deep, and 8.66″ high, making them ideal for your garden herbs.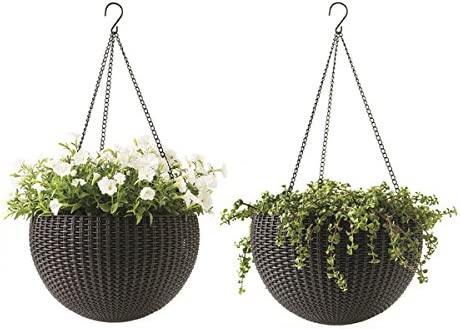 Along with the aesthetically pleasing color, it offers an attractive woven look and texture.
The hanging chain and the hook attached at the end make it easy to hang indoors and on the balcony.
3.
Sorbus Macrame Plant Hanger
Sorbus Macrame hangers serve the best look for anyone with a macrame hanger lover.
Any number of Macrame hangers won't be enough once you get used to them.
Sorbus plant hanger has a string of 41 inches long and a pot diameter of up to 12″.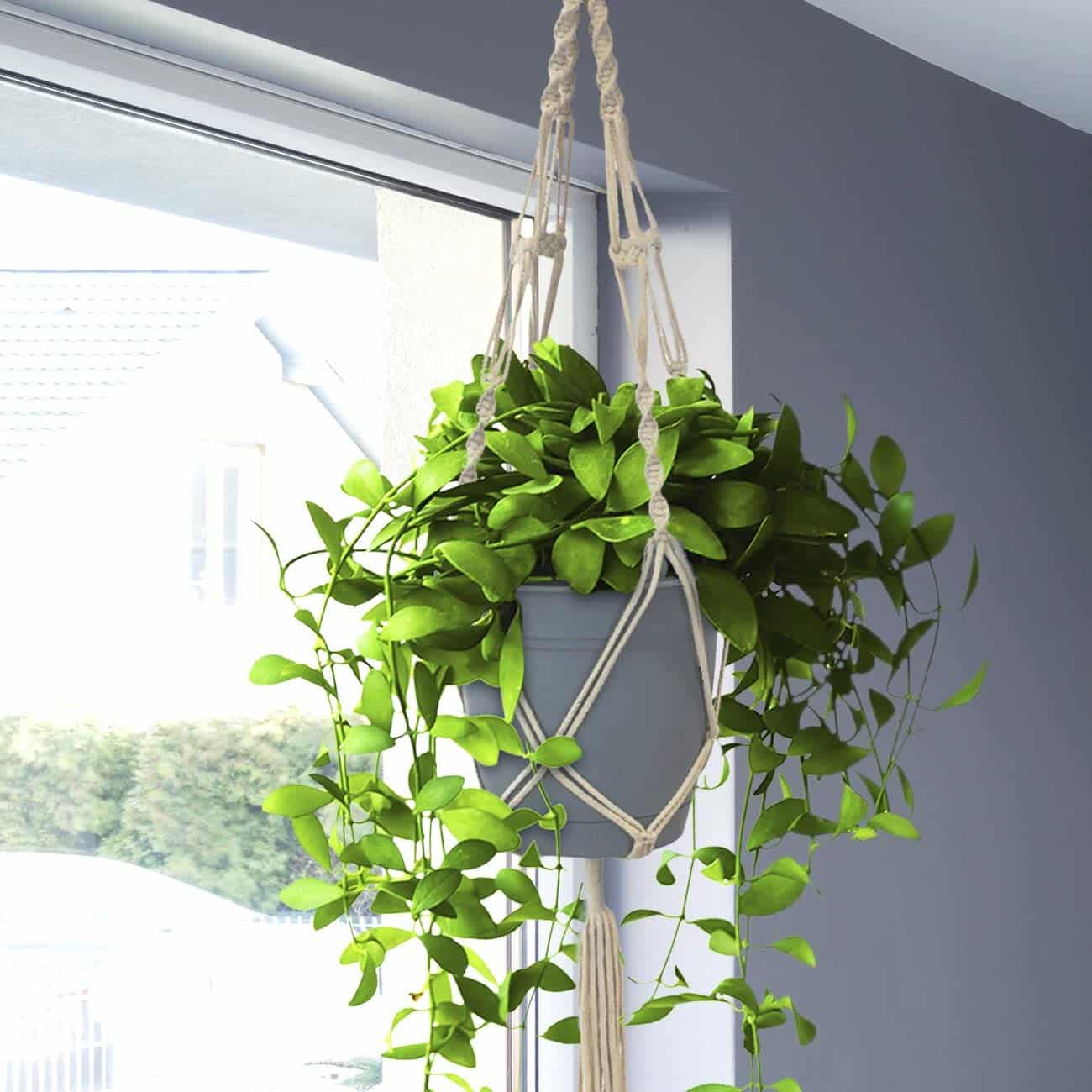 They can be placed indoors or outdoors and quickly move across.
For instance, you can place it near an entryway, a sunny window, a kitchen, an outside garden, a porch, or a balcony.
4.
Meiwo Vertical Garden Wall Planter
The newly updated Meiwo vertical planter is a 7-pocket wall hanging planter made of felt cloth.
Because of the felt material and pockets, the planters are durable and can provide good aeration to your herbs.
Since this one is upgraded, the planter pockets are more profound and larger.
They can provide enough root space for vegetables and fruits like strawberries beside kitchen herbs.
Further, you can hang it on the fences or balconies and make your own "living wall painting. "
5.
Dokimiya Plastic Hanging Self Watering Planter
The Dokimiya planter is a lightweight, self-watering hanging pot suitable for herbs.
They come with a detachable water-storage bottom plate and thus have space for water to reserve.
You can incorporate them both in indoor or outdoor settings. These lovely spherical pots come in a set of three and are 11.81″ wide and 42.12″ high with a 4.33″ diameter.
With this planter, your herbs can never go dry. Excess or rainwater can also run through the bottom, preventing root rot.
6.
Elly Décor Hanging Self Watering Planter
Each Elly Decor Hanging planter has a rack that helps establish a water reserve at the bottom.
Furthermore, the diameter of 13.60 inches with a height of 7.08, thus making it a suitable pot for any of your herbs.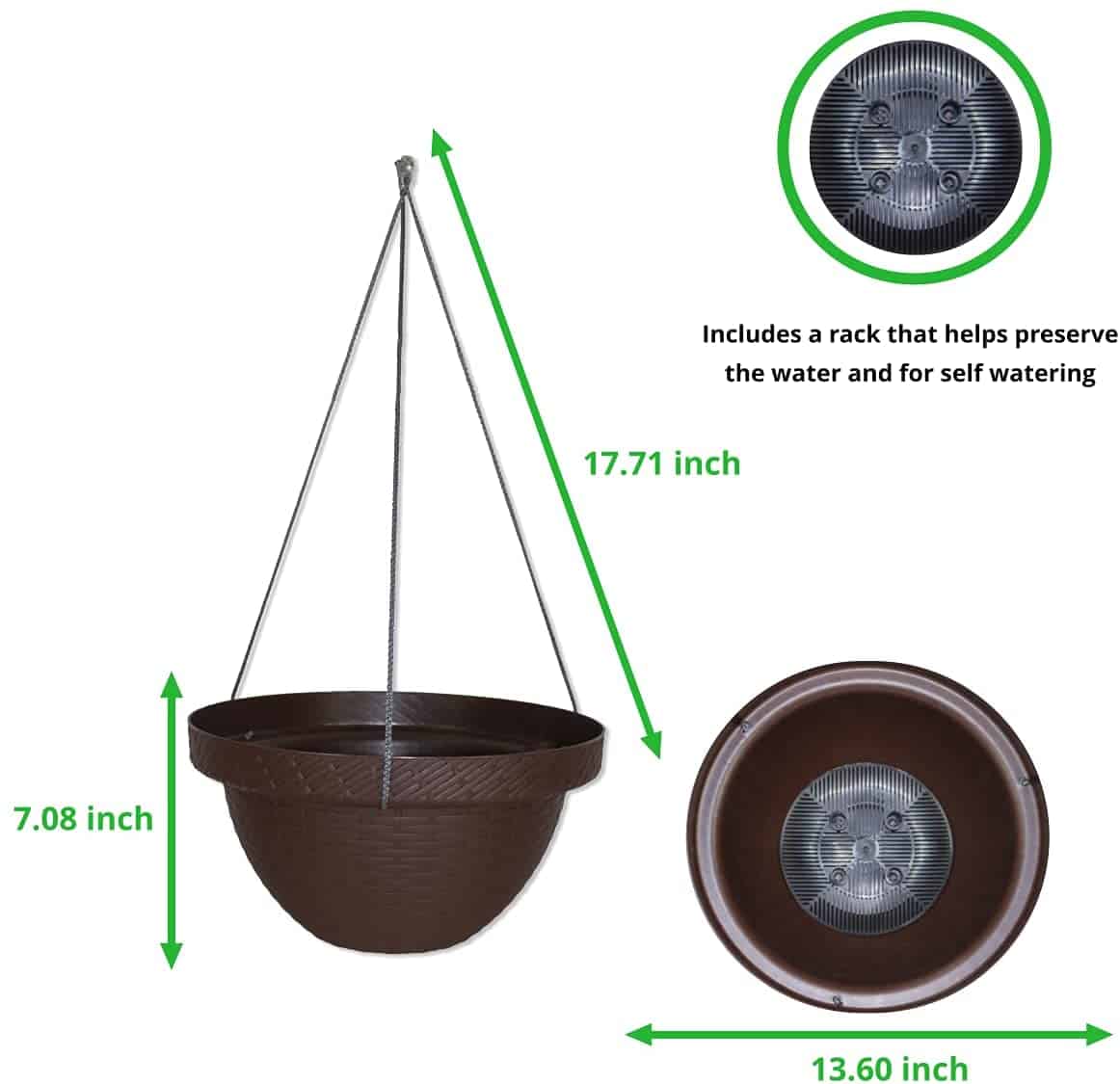 These pots are the perfect fit for you if you want your kitchen garden to look trendy and aesthetic.
7.
Mkono
Ceramic Hanging Planters
Ceramic pots offer different neutral colors that go perfectly with your decor. Therefore if you are fond of ceramics, Mkono Set is the one for you!
Further, this set includes two pots 9 inches in diameter and 4.2 inches deep.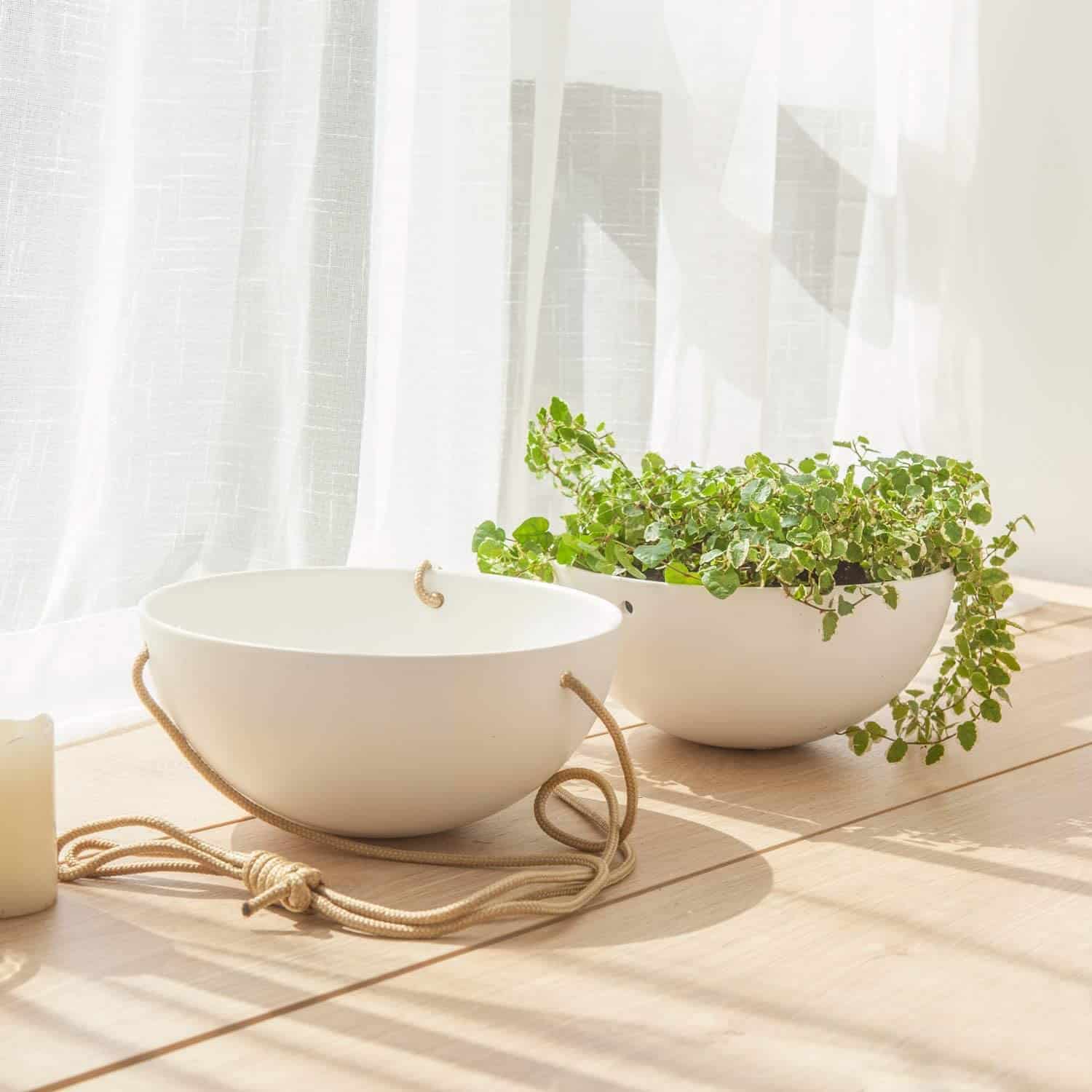 The planters also have a detachable rubber cap to avoid soil or dirt leakage.
With a white ceramic modern minimalist design, they flawlessly add aesthetic to your kitchen while providing excellent care for herbs.
DIY Hanging Pots for Indoor Herbs
With some creativity in your leisure, you can prepare cool, aesthetic DIY hanging pots for your indoor herbs.
Moreover, DIY hanging pots allow you to create and modify them to your heart's content to fit perfectly with your decor.
1. DIY Hanging Metal Planter for Indoor Herbs
You can use empty paint or cylindrical metal cans to make hanging pots for indoor herbs.
Make two holes in each side of the container.
Also, drill holes at the bottom to drain the excess water out.
Take two long nylon ropes of appropriate lengths and pass each on one pair of holes.
Pass the two ropes through a hanging hook and tie the two ends of a string to make a complete loop.
Fill the container with potting mixture, plant your herbs, and hang it somewhere nice.
Decorating and painting the metal container can make this metal planter even lovelier.
2. Water Bottle Hanging Herb Garden
Just like mason jars, empty water bottles are also relatively cheap and easily accessible in your own home.
Before hopping onto the DIY steps, ensure you have a strong piece of wood, a clean water bottle, picture hangers, screws and some cotton wadding.
Attach the picture hangers to the wood such that you can hang them vertically in a balanced position.
Cut the bottle into a shape that looks like a bowl with an elongated protruding neck.
Pin the topmost part of the bottle on the vertical wood platform using some screws.
Use the cotton wadding to block the neck of the bottle so that potting soil does not fall.
After adding suitable potting soil, you can plant your herbs.
Fill the inside of the bottle with the remaining soil mix leaving at least one inch of the top vacant.
You can use multiple bottles in a pattern, making your pot arrangement more splendid.
From Editorial Team
The Higher, The Better!
Incorporate your hanging pots planted with indoor herbs in relatively humid places like a kitchen 6 to 7 feet off the ground.
If you have a piece of wall art, strategically place your hanging pots near them to compliment the aesthetic decor.
All The Best!