We are a bunch of crazy plant parents who offer one-stop solutions for all your plant queries.
Taking care of plants both indoors and outdoors can help you ease your mind. Plus, it rewards you with the literal fruits of a little labor that goes into it.
Whether you are someone with zero experience when it comes to plants or an avid gardener, we have got you covered!
Every day we learn something new and eventually share it with you.
We hope that our website answers your questions and guides you in the best possible way.
Gardening is a hobby that requires patience and diligence. However, the feeling of watching a plant grow from seeds to flowers is unmatched.
Keep looking forward to more information. All suggestions and feedbacks are wholeheartedly welcome. We aspire to get better each day.
We're rooting for you!
WHO AM I?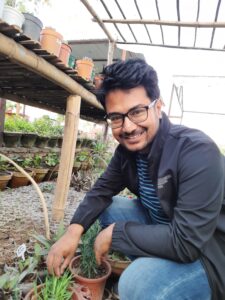 Hi everyone,
I am Aaditya, Founder of Plants Craze. I have been a plant enthusiast and a horticulturist for over a decade. It all started with helping my mom with her gardening every other day. Since then, I have developed a keen sense of passion for plants and gardening.
Thus, Plants Craze was born. I got a plot of land my father owned and turned the useless piece into a Plant Nursery. A passion that started alone has turned into a big family of crazy enthusiasts like me.
But setting a passion into a career path was challenging on its own. The team I built has been my most incredible support system so far. Success came through a lot of failures.
Plants Craze is the platform where you can grab tips and tricks to growing a plant from seedling to a whole process. The idea came through my experience in the Nursery. I wanted people not just around my city but around the real wide world to understand every trick that took me years to perfect. I wanted to share my experience.
Today, Plants Craze has a good audience worldwide.
WHAT WE GROW AT PLANTS CRAZE NURSERY
Today we have a large variety of flora and fauna. Some of the popular ones in our nursery are:
Money Tree

Baby's Tears

Monstera

Christmas Cactus Plant

Calathea Beauty Star

Hydrangea

Azalea

Begonia

Clematis, etc.
OBJECTIVE
We aspire to reach a greater audience to help answer their queries. We have the vision to create a plan for those seeking help in terms of gardening. At Plants Craze, we share tips for indoor and outdoor plants.

We have many articles relating to different species of plants. Easy access to understanding is our key focus for the audience.

Learning and sharing with our audience is the top priority.

Guidance on planting, growing, and harvesting.
Here's a small glimpse of what we do at Plants Craze.
CONTACT US
If you have any queries, we would be delighted to hear from you.
You can contact us at crazeplants[@]gmail.com
Please feel free to contact us and drop your queries anytime.
Eagerly, waiting for you.