As excited as you are to plant your elegant-looking African Violets, you must be wondering what the best way to grow them with minimal attention is.
The dilemma hits you when there are so many choices of techniques to nurture them. Self-watering pots are one of the ways to take good care of them.
Self-watering pots are perfect in today's time when most of us are busy bees juggling our personal and professional lives together.
You love to have your plants well maintained at home, but at the same time, there are time constrictions to manage with all other tasks.
Henceforth, self-watering containers are also a great idea for your African Violets when it is impossible to hover around them now and then.
Isn't it relaxing not to have to water your plants daily? It is a big relief when you have one less thing to think about amidst your hustling schedule.
The best five self-watering African Violet pots are as follows:
T4U Self-Watering Plant Pot.
FENGZHITAO Self-Watering Planter Pot.
Mkono Self-Watering Planter Pot.
Ceramic Self-Watering Planters.
TVP Pottery Urn-Shaped Self-Watering Planter.
You can find a variety of pots that has a self-watering feature.
However, this article will make your job easy to opt for the best self-watering pots for your pretty African Violets. Keep scrolling down for more information on it.
Do Self Watering Pots Really Work?
Self Watering pots do work well with their camel-like system.
Self-watering pots have water reservoirs that collect water at the bottom of the pots. Henceforth, it uses and distributes the stored water when your African Violets get thirsty.
The reservoir can store the water for up to two weeks.
Plants such as cactuses in the desert area have a natural system with a similar reserve process in their body for a long time.
And, they slowly use the water from the system to sustain themselves in hot climates.
The self-watering pots work similarly.
The following points will clarify the curiosity of how self-watering baskets actually work:
Self-watering pots use a capillary or wicking action process that transports water to the plant from the reservoir.
Usually, these pots have two baskets – inner and outer.
They have water reservoirs from where the water is slowly supplied as per the need. Hence, the soil's moisture is well maintained. Water indicators are a great help that comes attached to some of the pots!
As the plant's roots soak up water, the soil absorbs more, creating a balance of moisture in the soil.
Are Self-Watering Pots Good for African Violets?
Self-watering pots are great for African Violets. I love it myself! It is amazing for the new plant growers especially.
These pots are a big help as it takes you off from the hassle of watering the plants unevenly (dehydrating or drowning your African Violets).
Its advantages and varieties found in the marketplace are well mentioned in this article. There is no reason not to fit these self-watering pots for your African Violets.
Self Watering Pots Buying Guide for African Violets
There are many varieties of self-watering pots that differ in size, color, or material. Choosing the sizes and colors of the pot depends solely on your knack for good taste and requirements.
However, the material aspect is important to be very concerned about. It determines the quality and suitability of your specific African Violets.
1. Best Material for Self Watering Pots for African Violets
A specific self-watering pot is not needed for African Violets. However, I have described suitable ones for you.
Spoiler alert! Plastics and ceramics are the best ones mentioned in the five best self-watering pots for the African Violets section below.
Plastic pots give you an economic value as well as reduce the risk of damages and breakage. Whereas the ceramic looks very pleasing with its glistened body in various colors.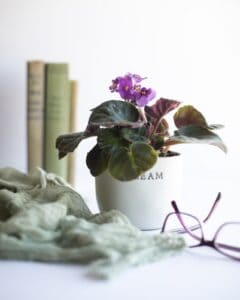 Another good utility factor is that the ceramic pots balance the plant's moisture level even when overwatered sometimes.
Say No to Clay Pots
Clay pots usually absorb the moisture really fast. As a result, the plant dries out very easily. The drought and wetness can disturb your African Violets.
They are not friendly and create friction with various mineral and water deposits in the pot itself.
Also, these pots are brittle and easily breakable, too, with a fall or any smacks.
2. Water Reservoir
Self-watering pots mostly have reservoirs instead of drainage holes that cater to the water overflow and drain away from the excess water.
It prevents plants' roots from rotting and plants from drowning by providing easy and adequate oxygen circulation.
The main purpose of the reservoir is to store the water and slowly let your plant absorb it as per the need.
The reservoirs come in various sizes according to the containers.
The large ones generally have a 5-gallon reservoir, while the small one has 1 gallon or less. You can choose then according to the size of the plant.
For example, if your African Violets are big enough, it is better to opt for the large one, which will provide adequate moisture for your plants.
These water reservoirs are the main essence of your self-watering pots.
3. Drainage Holes
Drainage is very critical for plant health. Drainage holes allow the pots to drain out excess water.
However, in self-watering pots, most of them usually do not have drainage holes.
If you'd prefer one, you can create a built-in one yourself with plugged drainage holes. These holes can be opened or closed at your convenience.
A point to remember here is that the drainage hole is not mandatory as it violates the function of a self-watering pot.
4. Self Watering Pots' Versatility
Self-watering pots have a versatile nature that is feasible for the indoor as well as outdoor environment.
The plastic material of self-watering plants helps to be flexible for both indoors or outdoors.
Some of the pots might not be friendly for outdoor usage. These are the ones without drainage holes.
The absence of drainage holes in the pots is mostly suitable for indoors only.
Whereas outdoor self-watering needs to have drain holes as they need to drain the excess water that may get in via overwatering or rainfall.
5. Dimension of The Pot
While shopping physically or online for your self-watering pots, you will be able to find various sizes with small, medium, and large. There are even lanky ones that are tall, narrow, or fat-sized.
The size ranges from 7 to 41 inches in height to 6 to 17 inches in width.
Likewise, you can opt for the best-fitted pot as per your African Violet size.
How To Use a Self-Watering Pot for African Violets?
Different self-watering pots work differently, according to their composition.
The most important part of all of these pots is to water properly without underwatering or overwatering.
You can check the water level in the reservoir whether there is excess water or about to dry out.
You can learn more about using a ceramic self-watering pot. The things you learn there can also be applied to African Violets.
5 Best Self-Watering Pots for African Violet
There are so many pots that you can look in the market for your plant babies.
Let me roll you down through the best ones if you look for the right self-watering pots for your African Violets.
1. T4U Self-Watering Plant Pot
Perfect for all the busy bees as the pot helps to avoid the hassle of watering your African Violets frequently.
T4U Self-Watering Plant Pot has a size of 5.5 inches in length and width and 4.75 inches in height.
T4U contains two layers of pots where you can find colors in the outer one with white, black, or blue.
Whereas the inner container with drainage plate (black in color) actually works as an indicator for water level alert.
It applies a smart self-watering system that demands to water the plant only once or twice a week.
The inverted test tube at the corner of the inner basket works as a water indicator showing the water level. It alerts us on when and how much water is required by your African Violets.
Another goodness of this pot is that it well-retains the nutrients of the plant and soil. Hence, it does not get lost through the drainage holes that flow away with the excess water.
These pots are well designed for indoor house plants.
You can find them on Amazon.
2. FENGZHITAO Self-Watering Planter Pot
The FENGZHITAO self-watering pot contains two outer containers and an inner one. The diameter of the inner pot is 3.14 inches and the length, width, and height of the outer pot are 4.13, 4.13, and 4.33 respectively. You may also find these pots in other sizes.
You can find various colors of these pots in the market. The best would be going with the transparent ones that can give a higher utility value. This makes it a lot easier due to the visibility of the water level inside the pot.
Another good thing about it has a special port for water injection that forbids the insects to breed in. Hence, you can have a clean water supply to your African Violets.
The FENGZHITAO name itself contributes to the feng shui term, which beautifies your surrounding. The pots are beautiful, sleek, and good-sized.
Refilling your pots once a week is an ideal time for your plants. Do not over or underdo it too.
It is good to check the water level time and again as the water absorption might differ in the winter and summer seasons.
As the reservoir can store the water for up to a week, you need not worry about watering if you plan a short trip with your family or friends. The pot takes well care of your African Violets!
You should be mindful of maintaining the reservoir's water amount till the water level mark only. Going beyond it can create flooding and overwatering the plant, resulting in fatalness.
You can find them on Amazon.
3. Mkono Self-Watering Planter Pot
You can find Mkono self-watering pot in various sizes, which you can choose accordingly in small, medium, or large as per your African Violet plant.
The aesthetic look of this pot is very minimal and sophisticated that comes in black and white color. The inside pot is black, whereas the outside is white.
The plastic material of the pot helps avoid breaking it faster and is adaptable to both indoor and outdoor environments.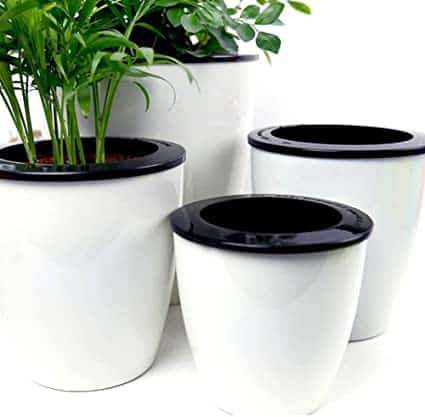 Speaking of the pot size, the inner pot is 3.9 inches in diameter with a depth of 3.2 inches. And the outer pot is 5.2 inches in diameter with a depth of 5.4 inches.
Similar to other self-watering pots, Mkono pot also distributes the water slowly to the plants as needed.
However, I like this pot the most because it helps to keep your African Violets hydrated for more than a week, up to around 10 days.
To use the pot safely for your African Violets, do not add water to the reservoir of the inside pot above 0.4 inches. Excess water can destroy your plants.
You can find them on Amazon.
4. Ceramic Self-Watering Planters
The ceramic self-watering pot, as in the picture, is made out of Granite. It has a fascinating shape with a beautiful shiny blue glaze, which constitutes both inner and outer pot.
The appearance of the pot is unique, which can add value as a decorative piece along with your African Violets placed in it.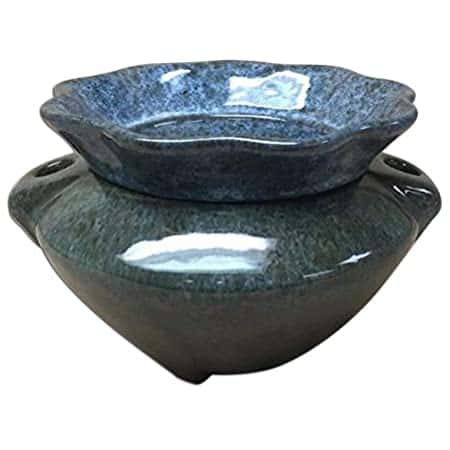 The pot itself is 6.75 inches wide with a depth of 4.5 inches and the mouth opening up to 3.5 inches.
This pot helps you retain water for a longer period with a stored reservoir for up to 1 to 3 weeks.
The side holes of the pot are the mouth to fill water which keeps the plant survive for a long time.
You will find pores inside the inner container, which absorbs water from the outer pot when needed.
You can find them on Amazon.
5. TVP Pottery Urn-Shaped Self-Watering Planter
These pots are perfect for providing enough moisture to your flowery plants.
There are two compartments in a TVP Pottery Urn-Shaped Self-Watering pot. There is an inner holding basket for your African Violets and an outer basket as a water-retaining pot.
The inner pot is 4 inches deep with a 3.5 inches mouth opening. On the contrary, the outer pot is 6 inches in width and 5 inches in depth.
It is a firm-looking pot with a thick outer layer that prevents water seepage; avoids creating a mess to the interior beauty of the house.
It also helps the plant survive for up to 1 – 3 weeks after every interval of watering. Another reason for you to not worry about your plants back home if you are on business trips or vacations.
You can find them on Amazon.
If you are in the mood to get creative, check out the YouTube video below.
Advantages and Disadvantages of Self-Watering Pots for African Violets
Everything in this world has its own pros and cons. And the self-watering pots are no different.
Let me show you the advantages and disadvantages of self-watering pots for African Violets.
Advantages
The following are the advantages of self-watering pots for African Violets.
1) Healthy Plant
Self-watering pots help to supply the right amount of water, avoiding drought or overwatering. The right water level keeps them vigorous without any fungal problems or discoloration of leaves.
2) Save Water
While pouring water to the plant in the soil, you can experience some of it evaporating in the open air itself. Whereas the self-watering pot utilizes water when needed from inside the pot.
This does not waste the water at all.
3) Ease Out
Our hectic days leave us with very little time to track each plant's health and watering schedules time and again. Therefore, these self-watering pots are a lifesaver for frequent travelers and busy people.
The pots provide enough moisture as per the requirement without checking on them in intervals. They make our life a lot easier with beautiful plants blooming around us.
Since there are varieties of pots available with different shapes, sizes, dimensions, and colors, you can choose the suitable one that best fits your African Violets.
Disadvantages
The following are the disadvantages of self-watering pots for African Violets.
1) Bad for Outdoors
African Violets are usually grown indoors. However, some do keep it outside too.
The outside temperature might sometimes fluctuate due to rain or high humidity conditions.
This can lead to overwater in the pots that get trapped inside the pot and supply the plant more water than needed.
2) Non-economical and Expensive
Self-watering pots are expensive than normal pots.
While investing the first time, it might feel that you are paying a higher price. However, in the long run, you will be saving water.
3) Algae and Fungus 
As busy as your schedule, you might lose track of cleaning your water reservoirs too.
An extension of more than a month with accumulated dirty water can create room for algae and fungus to creep up.
The chances are high since there is no free flow of air circulation inside the reservoir.
4) Mosquitoes Breeding
Self-watering pots are one of the hubs that mosquitoes love infesting on. However, there are preventive measures and remedies to stop mosquitoes breeding. Follow me below:
You can cover the water reservoir with a cloth (mesh material). This prevents the mosquitoes from getting inside the reservoir.
Pesticides such as mosquito dunks are also helpful to kill the mosquito larvas and even black flies. It is excellent to use it for your African Violets. However, it is discouraged for edible plants.
Shifting your container indoors is another way out if you have too many mosquitoes hovering around your reservoir.
Things to Remember While Using Self-Watering Pots
There are things you should always remember while using self-watering pots for your African Violets. Not doing so can result in some catastrophic circumstances.
1. Water Correctly
Despite your busy schedule, try to refill water in your pot once every week.
Do not overpour the water too.
Avoid completely drying out the self-watering container.
2. Natural Composts over Fertilizers
Add well-aged composts rather than liquid or time-release fertilizers.
You can use homemade composts made out of banana peels, potato skins, tea bags, garlic, or ginger covers.
The negative side of fertilizers can build up salts in the container, which needs to be avoided. Salts dehydrate the plants very quickly.
Watering can sometimes cause an issue. Check this article to find out more: Why Are My African Violet Leaves Turning Yellow?
3. Check Your Reservoir Regularly
It should not be left completely dry or even overflowing.
Check whether the water is clean or not (dirt, insect infestation, algae, fungus might be growing).
4. Maintainance and Cleaning Self Watering Pots
As much as self-watering pots make life easier, maintaining them is also not difficult. To keep them and your plant in good condition, I would recommend the following points:
Clean the Pot
Clean your pot every once a year. The area needs to be clean since the roots of the plants will be traveling towards the reservoir.
Do not worry; your self-watering pots can be easily cleaned up with home materials like soap, water, a towel, and a rag.
Learn how to clean the pot in much more detail.
You need to change the size of your pot once the plant starts growing. Not doing so can cram them up in the small ill-fitted pot. This affects the plant.
You can check out the below video for repotting your African Violets to another self-watering pot.
Maintainance in Winter Season
When the weather is very chilly outside, it is better to keep your self-watering pots indoor. This will avoid freezing your water in the reservoir.
Conclusion
There are varieties of self-watering pots in the market. You can choose the most suitable one considering the price, appearance, and size factors.
But why bother when I have got you covered here, right?
From the above information and options, you can be ready to get a self-watering pot for your African Violets, which is just perfect.
An additional tip for creative people: It is possible to create your own DIY self-watering pots! Check this video on YouTube to make your own self-watering pot.