Perfect gift ideas for any spicy food lovers close to you could be difficult, and not finding a gift until the last moment could be frustrating. Don't worry, we got your back!
Spicy food recipe books, hottest peppers, and hot sauces could be some unique gift ideas for spicy food lovers. Moreover, the younger generation finds spicy chips, noodles, and pickles more interesting.
If you really want to impress your spicy food lover friend, follow long for unique gift ideas
9 Unique Gift Ideas for A Spicy Food Lovers
Gifts are a part of long-running human civilization, but preference and timing matter when making a gift decision.
1. Chili Pepper Plants
Is there any better gift for spicy food lovers other than an entire pepper plant, no right?
Apart from the exotic ones, chilli plants are easily available in any local nursery and are budget-friendly.
You could also get pepper seed, grow the plant, and present it to your loved ones.
Besides the benefit of fresh chilli, taking care of a plant provides a sense of calmness.
Additionally, give your friend a basic idea about how to raise a plant and probable problems like yellowing leaves and peppers turning black.
You can make your gift more attractive with a fancy pot and personalize it with a waterproof name tag.
2. Spicy Food or Hot Sauce Cookbook
At home, we normally cook comfort food and food that we are used to. However, trying different cuisines that match your tastebuds is always a delightful experience.
Therefore, a hot sauce cookbook could be one of the best gifts for spicy food lovers.
The cookbook could range from Thai cuisine to Indian cuisine to African cuisine, where spices and peppers are staples in daily meals. While you may also get the ones that suits your taste buds.
You may easily find one in a bookstore, or a more convenient way would be online portals.
3. Homemade Spicy Pickles
Even if the spicy pickles ignite your palette, a handmade gift always has a sweet memory.
Moreover, handmade gifts provide a sense of belonging to your loved ones.
And making the pickle by yourself is anything but hard.
The most important thing while making a pickle is selecting the correct peppers that match your taste. Or, you can add a little drama using the
hottest pepper
available.
Further, clean the chilies, and add them into a clean and dry glass jar with some pink salt and vinegar.
Vinegar should be enough to dip all the chilies. Let them ferment for a few days, and the pickle is ready to be gifted.
Meanwhile, cooking blogs and YouTube have it all if you wish to try different recipes.
4. Hottest Chip
Ever since the introduction of the 'One Chip Challenge' by Paqui in 2016, hot chips have been a sensation over the internet.
And they come lovingly packaged in an adorable tiny coffin box. Sounds interesting, but the taste is not loving. It will kick you down the floor.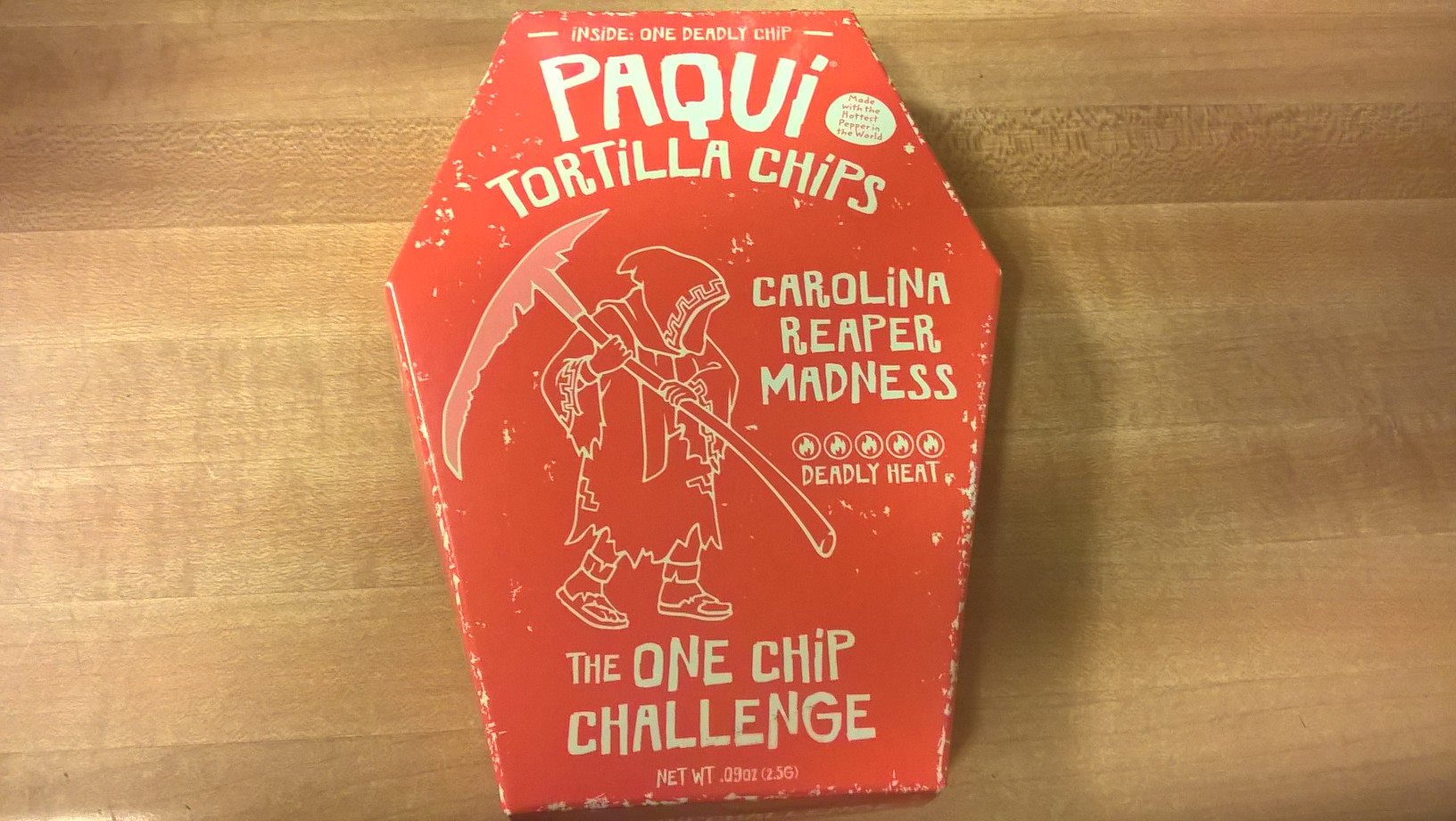 Surprisingly, the set of warnings in the box increases the anticipation among everyone looking forward to consuming it.
But, before you open the hottest chip, prepare a glass of milk to be on the safe side.
No gluten guilt for health freaks! These are actually tortilla chips.
However, the chip measures up to 2 million blazing SHU, which could give you cramps. So, brace yourself with these unique gift ideas for spice lovers.
5. DIY Hot Sauce Kit For Spicy Food Lovers
A hot sauce-making kit is a perfect present, a fascinating experience in a single box for someone unsatisfied with any brand of hot sauce.
But making your own favorite custom item is a treat anyone can enjoy.
The DIY Gift Kit from
Amazon
includes peppers like chipotle, Anchi pasilla, ghost pepper, and habanero, additional supplies (a funnel, gloves, and glass bottles), and an instruction manual.
Further, you select the pepper of your choice, add the spice blend, and make the sauce.
The kit also has a sticker label for you to quote a message for your loved ones.
We recommend you keep it away from small kids and pets to avoid any mishaps.
6. Siracha Keychain
Siracha hot sauce combo includes a 9-ounce bottle of siracha, one 1-ounce and 1.7-ounce keychain, and a 9-ounce bottle of siracha that are refillable.
You can get them from Amazon, as it comes in handy when eating out or in a restaurant to match the spice level you prefer.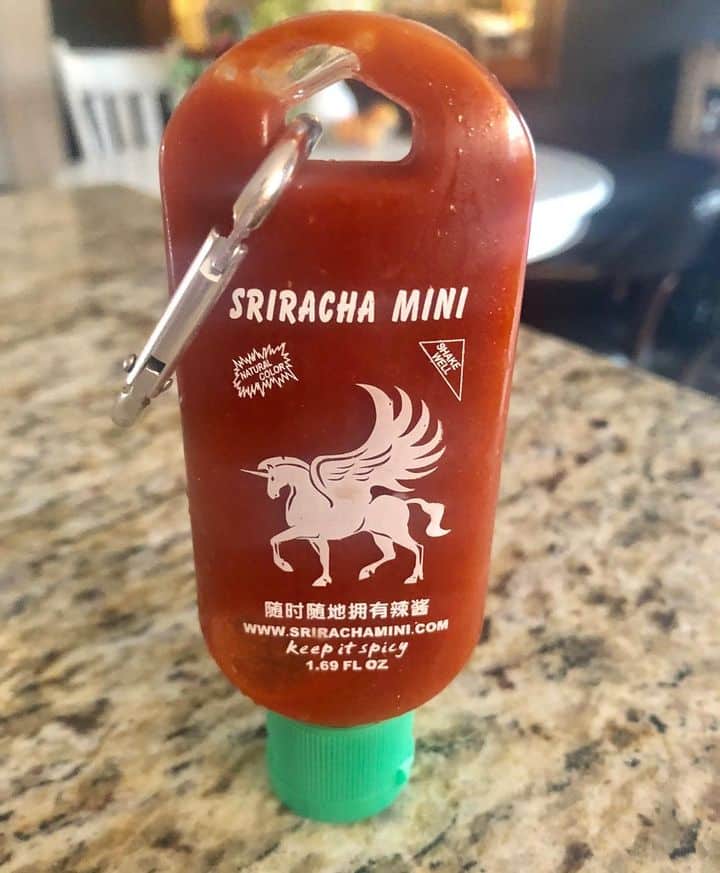 Also, the easy-clip carabiner smoothly attaches your Sriracha2Go to your keys, purse, bag, etc.
Adding to it, the leakproof bottle makes it even better for someone who loves travelling and doesn't have to compromise with the taste.
7. Customized T-shirt Gift For Spicy Food Lovers
Everyone loves a standard T-shirt. But for a spicy food lover, you can give a unique t-shirt.
Special here means t-shirt with unique prints. Generally, you can customize your designs or buy a t-shirt online.
In addition, the next idea would be you can paint a T-shirt by yourself. You can buy a standard plain T-shirt of your choice.
You can draw a picture of the hottest pepper, sauce, and spicy food cookbook or write quotes that show love for spicy food.
They will love this gift. Moreover, whenever they wear the spicy food t-shirt gifted you, they will never forget you.
8. Stainless Steel Pepper Corer
You may be wondering about the idea of gifting a pepper corer. But for a spicy food lover like me, it's a kitchen essential.
All you need to do is push the corer into the pepper, twist, and scoop out all the pepper seeds without any hassle.
Not only it makes your job mess-free, but it also saves you from irritation caused by chili pepper.
Meanwhile, the pepper corer shortens your prep time when you serve stuffed jalapenos or some pepper salad for a large family dinner.
9. Alka Seltzer Gum
Trying out food of different spice levels can give you the adrenaline kick, but its after-effects are unpleasant.
Heartburn, acid indigestion, or an upset stomach are quite common the next day.
Alka Seltzer Gum could be among the best gift ideas for spicy food lovers.
This gum will neutralize the acid in seconds after you chew them. And you will feel minty fresh.
Moreover, all you need to do is ordered them online or get a bunch from your nearest store, arrange and pack them like a bouquet and present it to your friend.
Meanwhile, it could be a viral tiktok idea too.
6 Additional Gift Ideas for Spicy Food Lovers
FAQs About Spicy Foods
What is a spicy food lover called?
There is no particular name for a person who loves spicy food.
But netizens often use the terms 'hot chiliphile' and 'spicy-ophile' to describe someone obsessed with chili.
Are spicy foods healthy?
While many believe the capsaicin present in pepper to be healthy as they help increase metabolism and burns calorie faster.
However, high spicy content can disturb bowel movement and cause stomach aches.
From Editorial Team
Consider Allergies or Dietary Restrictions!
Some spicy foods may contain common allergens like gluten or nuts, so be mindful of ingredient labels.
Also, consider the recipient's flavor preferences to make your gift ideas the best for spicy food lovers.