Are you bothered by weeds and nasty pests like slugs and snails regularly infesting your prized flower garden, ruining your harvests?
Then, it is time you create a permanent barricade that keeps your garden bed away from lurking predators.
In short, you need to create a DIY raised garden bed!
Build a DIY raised garden bed by choosing a proper location and sturdy frame (wood, metal, or concrete) fastened to preferred dimensions. Add a landscape fabric before adding the appropriate soil mix (organic and inorganic matter).
Voila! A basic raised garden bed is ready to start planting your preferred crops.
Remember, your choice of raised garden bed is limited by your budget, space, and creativity. Read more to learn how to build different raised garden beds at home.
Benefits of Building DIY Raised Garden Beds
Raised garden beds are a great option to create any garden to your preference.
Let us say it is a garden within a garden!
In fact, raised garden beds are often more productive and used for growing crops such as tomatoes, herbs, strawberries, and so on.
The ample height of the raised bed also provides enough room for plant roots to expand and prevent soil from compaction.
Many gardeners prefer raised beds as they are easy to maintain and monitor. However, consider the space and initial construction cost before beginning to create one.
There are four most significant benefits to building DIY raised garden beds.
1. Budget Friendly
The surmounting cost does not come as a surprise, considering the price of cinder block, brick, steel, and wood.
According to Lawn Starter, building a professional-looking raised garden bed will cost anywhere between $104 to $210.
However, you can save half of the cost if you are to build one yourself.
Swiftly create a DIY raised garden bed with your chosen materials, such as reasonably priced cedar boards, galvanized metal material, landscape fabric, and cardboard.
Keep in mind that the project cost will depend on the type of raised garden bed's size and quality.
2. Frame Materials of Your Choosing
A raised garden bed can be built from various sturdy materials.
Wood boards and lumber are the most preferred choices as they are cheap to obtain, build, and break.
Some other choices include stone, bricks, patio pavers, concrete pieces, cinder blocks, corrugated metal, etc.
Here are a few options.
| Material | Avg. Cost (Per sq. ft.) |
| --- | --- |
| Corten Steel | $11.20 |
| Vinyl | $12.50 |
| Cinder Block | $13.25 |
| Boulders | $16.41 |
| Timber | $17.38 |
| Rammed Earth | $17.50 |
| Brick | $19 |
| Poured Concrete | $22.80 |
Raised beds made of stone, bricks, cinder blocks, and corrugated metals are more durable, while woods are cheaper yet reliable options.
Make your estimate of the choice of material, but also decide whether it is solid and durable enough to endure your raised garden bed.
3. Plant Crops Earlier in the Season
A significant advantage of building raised garden bed is that you can plant your crops earlier than usual.
The soil in the raised garden beds warms up quickly and stays away from the garden, which keeps it from the risk of cold temperature and soil compaction.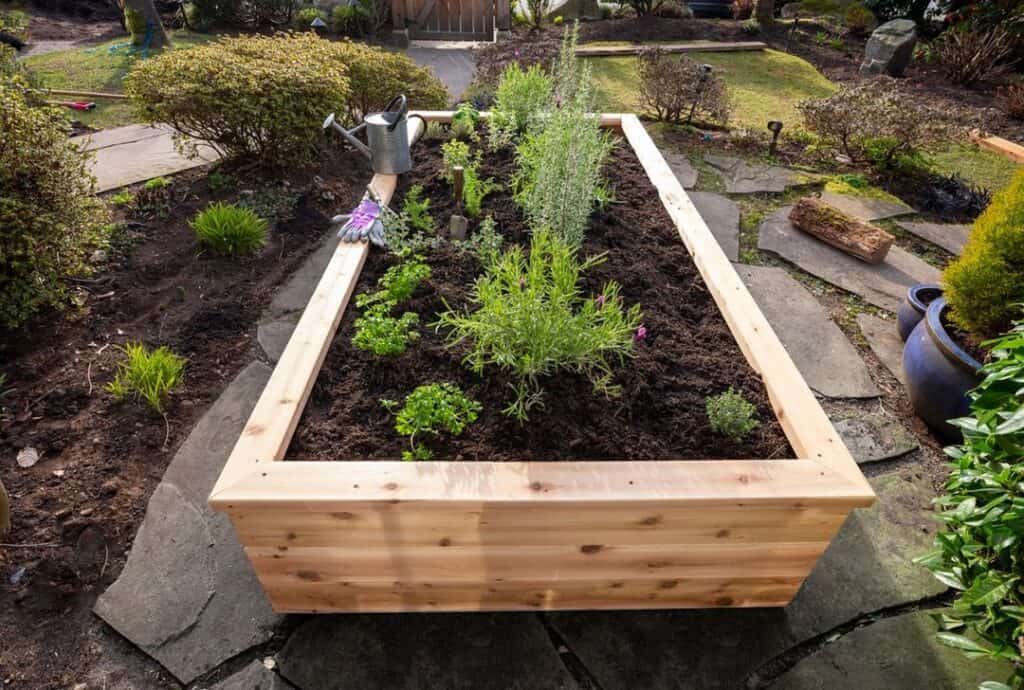 Therefore, you can plant your seeds or saplings earlier than the growing season to witness quick yields.
Consider growing petunias, basil, lemongrass, and vegetables like peppers, squash, and onions in the raised garden bed.
However, remember to cover the bed with a plastic sheet to lock in a warm temperature if the risk of frost is still looming.
4. Keeps Weeds and Pests Away
Building a raised garden bed will be handy if weeds and pests regularly infest your garden.
The raised garden bed is elevated from the ground and covered with robust material which keeps weeds and pests from infesting the raised bed's soil.
However, cover the raised bed with landscape fabric, paper, wood, or other robust material.
It will prevent weeds and pests like aphids from moving into the raised bed soil effectively.
Factors to Consider Before Building DIY Raised Garden Bed
Although making a DIY-raised garden bed is not very complicated, remember to plan well to avoid minor nuisances.
Budget, location of the garden bed, type of soil, layout, etc., are some essential factors that many gardeners forget to consider.
Here are a few essential factors to consider when building a DIY-raised garden bed.
1. Budget of Raised Garden Bed
Building a DIY-raised garden bed would depend on the project's materials, size, and purpose.
A typically raised garden box kit costs $145 on average, but you can also build one for under $100.
Some high-end raised garden box kits may go over $200 as well. You can save a lot on acquiring bulk materials if you plan to build multiple raised garden beds.
Here is the cost for different kit materials.
| Kit Material | Avg. Cost |
| --- | --- |
| Galvanized Steel | $104.18 |
| PVC or Vinyl | $119.18 |
| Wood | $148.12 |
| Composite Wood | $210.46 |
Remember, working around with unfamiliar materials will likely rake up your bill.
Building with materials like natural stone and brick may cost more if you do not have the necessary skills to install the material because not everybody can hire a professional who charges hourly.
2. Size of Garden Bed
A sizeable raised garden bed will typically cost more to acquire materials than a small raised garden.
Moreover, the larger raised garden frame will take longer and more effort to complete.
Long raised garden bed with minimal paths makes irrigation easier, such as the one measuring 6, 8, or 10 feet long and 3 to 4 feet wide.
However, you can always consider the size of your garden before building one or more raised garden beds.
3. Layout of the Garden Bed
The layout should be a significant consideration for any raised garden bed.
A raised garden bed that is too short will limit the plant's root growth, while anything taller will take in more soil and effort during irrigation.
Build a raised garden bed with at least 8 inches of soil to accommodate healthy root growth.
On the other hand, deep rooting crops such as tomatoes, sweet potatoes, and watermelons do best with 24 to 36 inches of depth.
However, its height also depends on whether you are trying to grow fruits, vegetables, herbs, or flowering plants.
The raised garden bed that is too crowded with high-nutrition requiring vegetables will deprive the plants of essential nutrients and affect the harvests, requiring a slightly larger garden bed.
On the other hand, herbs can be grown close to each other, requiring a small-sized raised garden bed.
4. Location of the Raised Garden Bed
Build a raised garden bed in an appropriate location, such as a warm and cool or sunny and shaded location, to benefit specific plants.
Growing vegetables require at least 8 to 9 hours of full sun each day, with warm and less soggy soil.
You should place your raised garden bed from north to south to give it the most sun exposure and ample air circulation.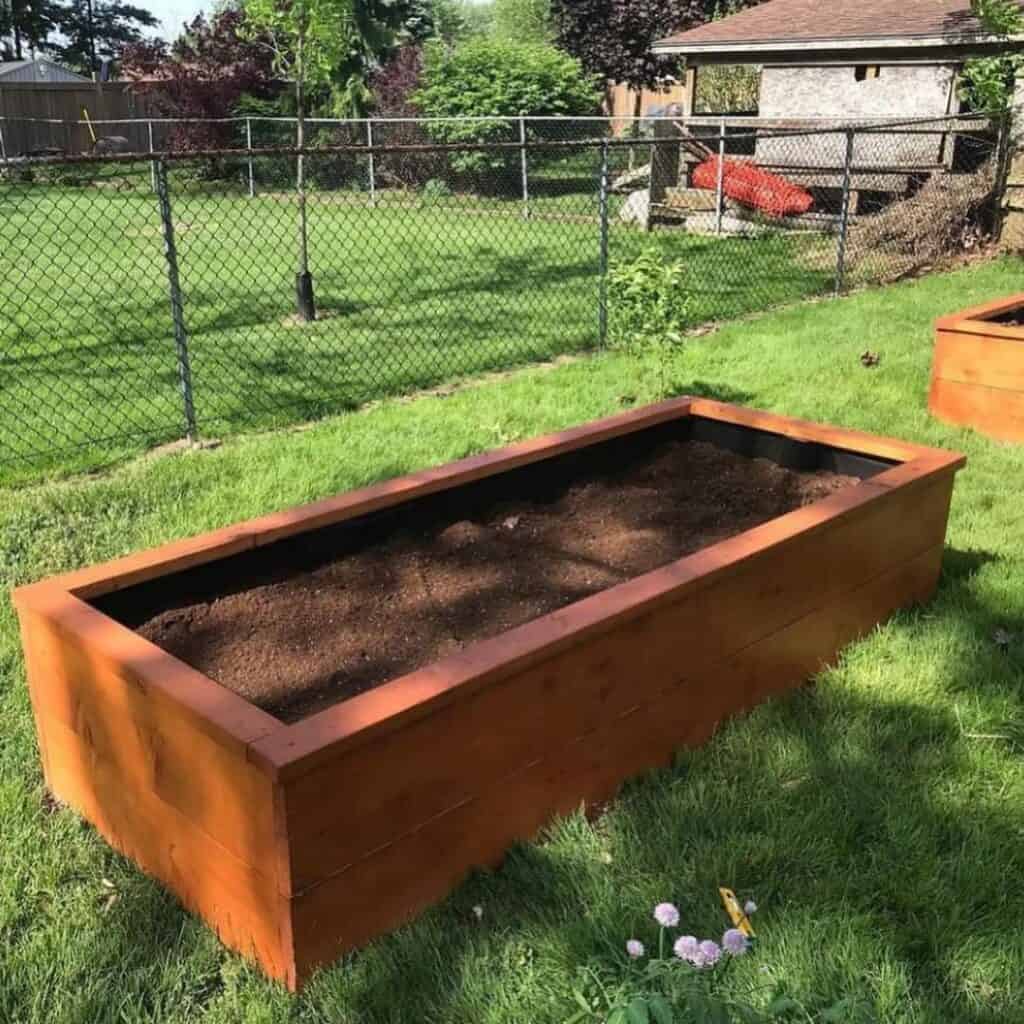 Plants like Coral Bells, Foamflower, Lungwort, and Foxglove are shade-loving plants that will benefit from shaded locations in the garden.
5. Type of Soil
The choice of soil will vary depending on the plant's nutrition, soil compaction, and water absorption level.
Raised garden beds are elevated off the ground, requiring a more absorbent soil mix to retain water and nutrients.
Coco coir, vermiculite, perlite, and compost mix are appropriate for most houseplants that require both organic and inorganic potting mix.
Moreover, using garden soil is more likely to invite weed growth, which may be a nuisance.
You can also create a Lasagna method where you layer the bottom with leaves and grass clippings and top it off with wood chips, barks, and then potting soil.
Aim to get no more than 50% organic matter, with compost making up only 10 to 20% of the total soil volume.
Note: Remember to use balanced plant food to give the soil an additional nutrient boost for obtaining healthy harvests.
Materials Needed for Building Raised Garden Beds
Here are the materials and tools required for building raised garden beds.
| Material and Tools | Specification |
| --- | --- |
| Wood | Cedar or cypress board, composite wood, and natural wood are considered the most versatile choices. |
| Concrete Blocks | Concrete blocks are sturdier option but may leach toxic materials found in the fly ash that poisons vegetables fruits, and herbs. |
| Bricks | Building a brick raised garden would be best for strength and quite cost-friendly |
| Metal | Use galvanized metal frames that does not corrode under intense humidity. |
| Landscape Fabric | Lay the bottom with landscape fabric to prevent weed growth, stabilize soil, and help with moisture retention. |
| Heavy-Duty Plastic Sheeting | Attach the plastic sheeting on innersides of the raised beds. |
| Potting mix | Make your own mix or use Miracle-Gro® Raised Bed Soil |
| Fertilizer/Compost | Miracle-Gro® Shake 'n Feed® All Purpose Plant Food |
| Compound Miter Saw or Circular Saw and Blades | To cut and shape wood planks. |
| Drill/Driver & Bits | Appropriate for metal and concrete block frames |
| Tape measure | To measure frames for layout and sizing. |
| Magnetic hex screwdriver or drill bit | To attach wood planks in place |
| Stain | To waterproof the frame structure and create base for painting. |
How to Build a Basic DIY Raised Garden Bed?
Building a raised garden bed is more straightforward than it may look; even a novice can make one out of scratch.
You can use the raised garden bed kit with instructions to build a basic structure.
Here is the breakdown of the instructions to create a basic raised garden bed within a few hours.
Step 1: Prepare the Wood Frames
Determine the bed frame sizes, which can be as small as 2×4 feet.
Measure and cut the frames for each side using a compound miter saw or hacksaw.
Drill pilot holes and attach the wooden post to the frame.
Next, drill pilot holes, and connect all sides with multiple hex screws to fix frames together.
Note: The height of the raised garden bed will determine how many wood frames you may need.
Step 2: Prepare the Location
Outline the garden area using a measuring tape and marker.
Otherwise, place the frame in position and outline it using a shovel.
Next, prepare the location by removing grass and weeds using a shovel.
You can level the garden by removing excess soil, especially when using the sloped garden bed.
Step 3: Strengthen Wood Frames
Add a landscape fabric to one end of the wood frame.
Otherwise, use mesh hardware cloth which keeps the raised garden bed away from the soil.
Consider stapling the inside frame walls with a heavy-duty plastic sheet if the wood frame is not rot-resistant or has significant gaps.
Make the garden bed sturdy by adding a stake in each corner and drilling holes through it to screw the stakes.
Consider drilling holes at least 3-inches apart to add two screws per stake.
Do not forget to use outdoor wood screws to avoid metal rusting.
If your raised garden bed is longer than 8 feet and taller than 18-inch, you should add cross bracing to prevent it from bowing outwards.
Take aluminum flat stock and drill holes on each side to attach the cross brace to either side of the posts using screws.
Step 4: Add Soil and Plants
Place the finished frame in place and start adding soil mix.
Use a mulch and soil calculator to estimate the potting mix and nutrients you may need.
Next, place the plant in appropriate space in the soil.
Finally, do not forget to water the soil to moisten the structure.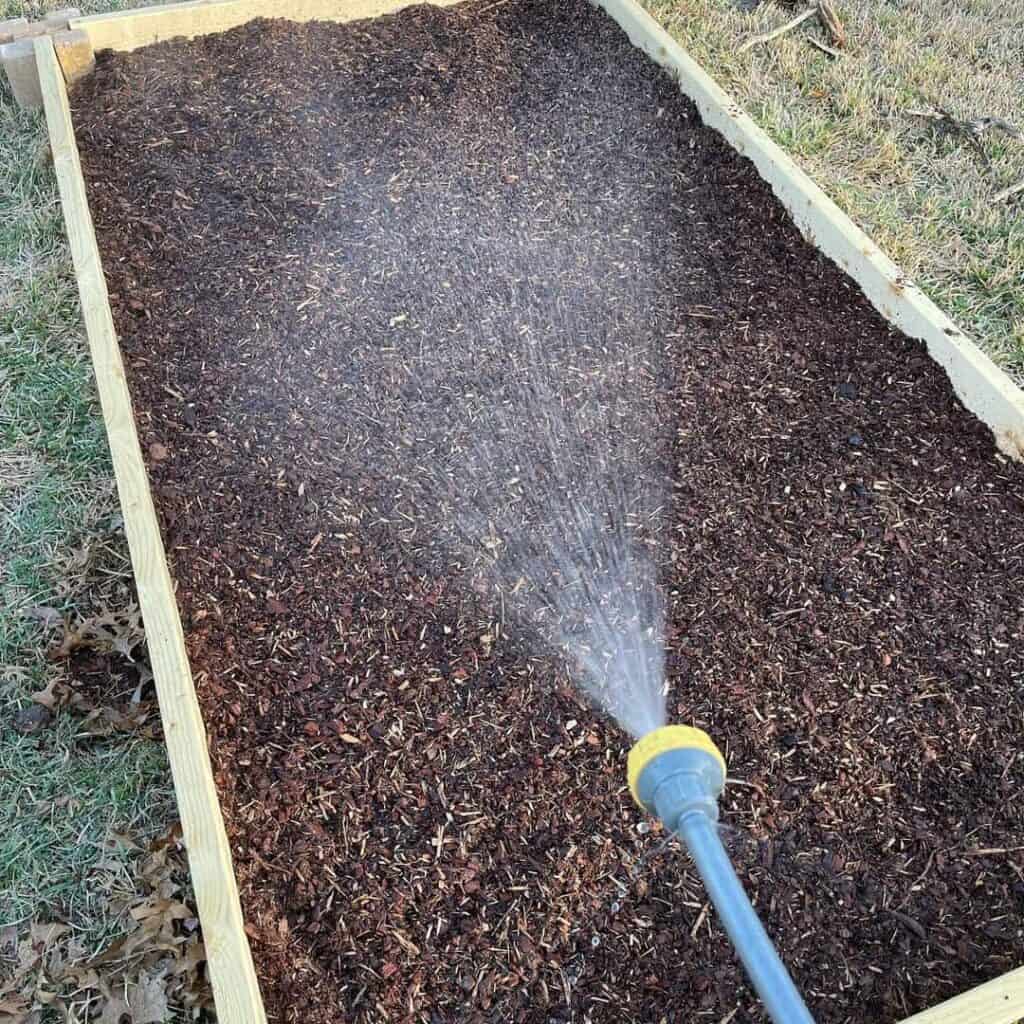 Some DIY Raised Garden Beds Ideas With Pictures
Here are a few ways to create raised garden beds to give them a unique approach.
1. Pentagonal Garden Bed
The approach is the same as creating a basic wood-based raised garden bed.
However, instead of creating a rectangular or square shape, you will build a pentagonal-shaped raised bed.
Ensure to cut the frames to create six individual pieces and connect them using wood posts to create a sturdy structure.
2. Trough Garden Bed
If you own a horse or cattle farm, you will likely own a few troughs to feed the animal.
Spare a few troughs to create a unique raised garden bed.
The metal troughs would be sturdy enough to hold potting soil and plants.
Remember to layer the inside walls with heavy-duty plastic to prevent corroded metals from leaching into the soil.
3. Spiraled Garden Bed
Create a spiraled garden bed by layering different sizes of rocks in a spiral shape.
This structure works effectively to create a sloped layer of the raised garden bed to give an effect of a fountain.
Otherwise, you can also layer bricks in the shape of a spiral.
4. Raised Garden Bed with Stands
Create a plain wood raised garden bed and add a wooden stand underneath to keep it above the ground.
The garden bed with a stand works excellently if you live in a colder region to keep the bed elevated from the floor.
It also prevents weeds and pests from invading the garden bed and works best for plants grown in crates, such as strawberries.
5. Milk Crate Garden Bed
If you own a few wooden or metal wood crates, you can choose to convert them into a raised garden bed.
Repurpose the milk crate by layering the inside with heavy-duty plastic to avoid soil leakage.
The best part is you can stack one crate over the other two to create layered garden beds.
6. Cinder Block Garden Bed
Cinder blocks are heavy and may stack well against each other without the fear of being dislodged.
You can create multiple shapes of the raised garden bed with a cinder block.
Moreover, the hollow space inside each cinder block can be used as a pot to grow smaller plants, creating a unique mini-garden.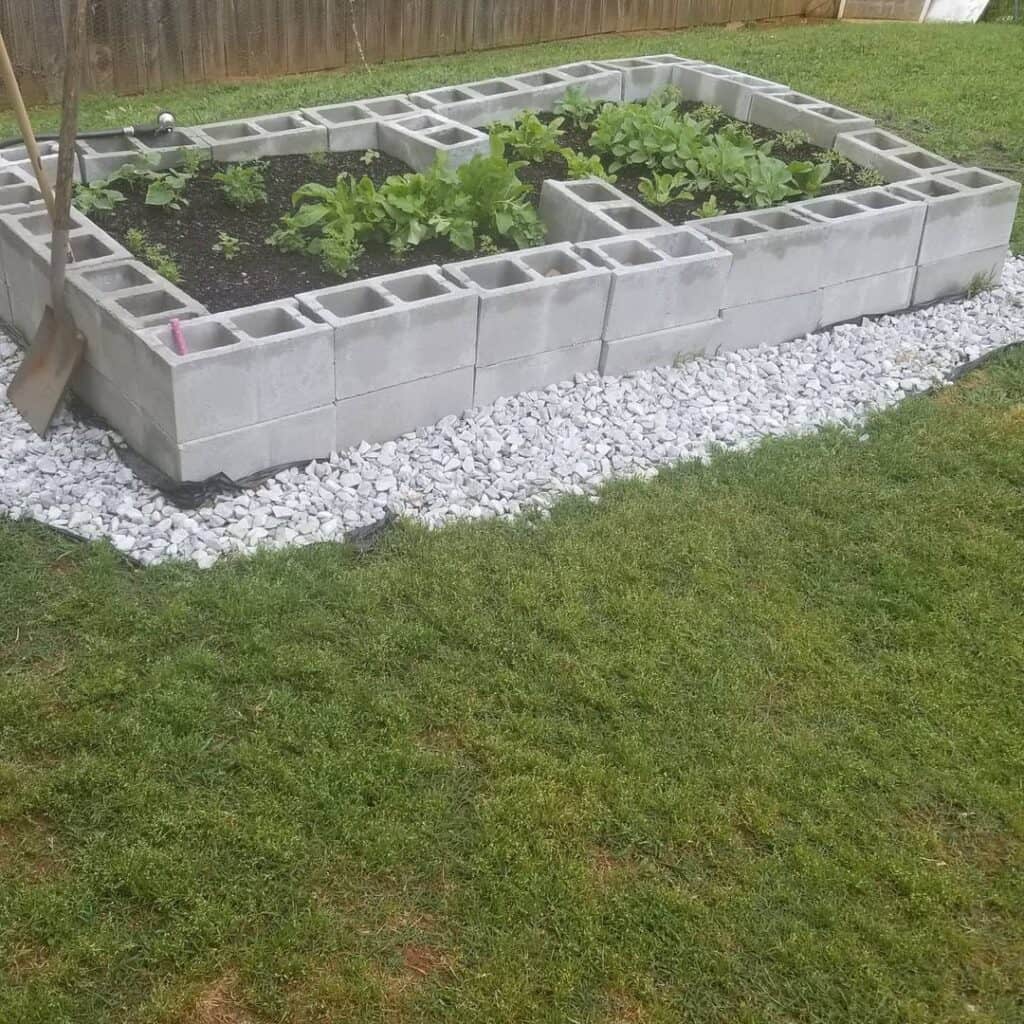 7. Galvanized Steel Garden Bed
One of the cheapest options, you can attach used or new galvanized steel frames to each other.
Use a wooden post to attach each frame and drill the posts to fasten it with a screw. However, do not forget to layer the bottom with landscape fabric, cardboard, or newspaper.
8. Landscaping Timbers Garden Bed
Landscaping timbers work great as raised garden beds. All you need to do is stack two or three timbers to each other and use adhesive to glue the ends together.
It is usually inexpensive and very attractive to look at.
What to Plant in DIY Raised Garden Bed?
You can grow a wide range of garden and houseplants in raised garden beds.
Therefore, there are no limitations to what you can or cannot grow.
Here is the list of flowers, vegetables, herbs, and fruits you can successfully grow in raised garden beds.
Variety
List of Species
Specification
Vegetables
Arugala, Tomatoes, Beets, Broccoli, Brussel Sprouts, Cabbage, Carrot, Celery, Collards, Cauliflower, Eggplant and roots
Keep a distance of at least 4 inches and at most 18 inches in-between.
Place them in location with 6-8 hours of full sunlight.

Flowering Plants
Cardinal flowers, Sedges, Monskhood, Petunias, and Pansies
Small perennials (6-12 inches) and taller perennials (18-36 inches apart).
Place them in a location with 6 hours of full sun and some afternoon shade.
Fruits
Pumpkins, Gourds, Cantaloupe, Watermelon, Muskmelon, and Cantaloupe
Place each plant 3-5 feet apart form each other.
Place them in a location with 8 hours of full sun.
Herbs
Russian sage, Rosemary, and Lavender
Place them 3-12 inches apart from each other.
Ensure it gets at least 4 hours of sunlight each day.
Succulents
Sedums and Echeverias
Plant them close to each other without worrying about spacing.
Leave as much as 1 inch in-between.
Provide partial sun and shade to prevent scorched leaves.
FAQs About DIY Raised Garden Bed
Which Direction Should I Place the Raise Garden Bed?
You should naturally place the long side of the raised garden bed to the south.
It ensures all the plants get optimal and even light exposure and prevent one row of plants from getting taller than the other.
Should I leave the Raised Garden Bed's Bottom Empty?
You can choose to add a landscape fabric to the bottom or let it be.
Leaving it exposed to the garden ensures the plants have more space to extend their roots.
However, avoid doing this if the raised garden bed's soil composition differs from the garden's.
Can I Install a Raised Garden Bed on a Concrete Surface?
You can install your raised garden bed structure over a concrete surface.
However, add a protective layer such as landscape fabric, cardboard, or heavy-duty plastic at the bottom to prevent damage to the concrete floor.
Conclusion
Raised garden beds are a great way to induce a specialized garden for plants. Remember to start constructing the structure in late winter or early spring to kickstart the new growth.
However, ensure that the raised garden beds do not interfere with the rest of the garden plants.
Follow this guide to create a perfect raised garden bed at home.
Related Article: How to Create a Pea Gravel Patio