Choosing the right pot for your Monstera equals finding the right home and successful growth.
Generally, Monsteras do best in concrete, terracotta, or unglazed clay pots or planters, ranging from 8 inches to 2 feet for babies and mature plants. Also, the pot must be about 2 inches wider than the previous one when repotting.
They are flexible enough to perform indoors and outdoors if provided with proper care, so the priority is the planter selection for this tropical wonder.
Things to Consider When Buying a Monstera Planter
The common objective of growing any plant in a planter is to allow gardeners easy operations and ensure to meet the plant's needs.
When considering the right pot for your Monster, you must be mindful of various aspects, such as the right size, drainage, and many more.
1. Size of the Pot
With around 48 varieties of Monstera present, the size of the pot depends on the type and their growth stage.
Generally, the young and dwarf Monstera does well in an 8-inch diameter pot, and the mature one requires a 2 ft (60 cm) pot.
Also, Monsteras do not like being rootbound and have a moderate growth rate. Repot them every 2-3 years in a pot at least 3 inches larger than the prior ones.
Monstera's aerial roots grow from 1 to 3 feet, so you may need the planters for it accordingly.
While potting, look for spacious pots to support and accommodate the Monstera's root but too large.
The extra space in the container will retain too much moisture, and the soil dries slowly, whereas, in constricted space, the pot-bound condition appears quicker, restraining nutrients and water from reaching the different parts of the plant.
This could result in the plant's restricted growth and cause wilting, leaves dropping, discoloration, and shedding.
2. Drainage Holes
Monsteras are sensitive to soggy soil, so having enough drain holes in the pot is mandatory.
This further elevates into pests and mold attacks, leading to the blackening of leaves.
Having drainage holes at the bottom of your pot will prevent such issues from destroying your Monstera. You may drill a few if your desired pot lacks sufficient drainage.
3. Material
The market has a huge variety of pots and planters to choose from, from terracotta to glazed/unglazed ceramic to plastic jars to metal options in different shapes, sizes, and colors.
Amidst the wide choice, your Montera would love to be cramped in a pot that fulfills proper drainage. For that, terracotta or ceramic pots are considered the best for the Monsteras.
Further, ceramic or terracotta pots are timeless and offer your Monstera a minimal aesthetic look. The only drawback to these pots is their weight.
Material Type
Pros
Cons
Terracotta Pots
Allows moisture and air circulation

Resistant to fluctuating temperature
Heavy weight and fragile

Their porosity can cause salt buildup
Plastic Pots
Light weight, inexpensive and durable

Retains double the moisture compared to clay pot
Non-permeable so inadequate drainage

Traps more heat
Glazed ceramic pots

Holds enough moisture and won't dry out fast

Sudden change in temperature does not affect the pot
Restricts proper air circulation

High risk of chipping and breakage
Metal Planters
Less prone to cracks and breakage

Can be recycled
Fertilizers might damage the outlook of the pot

Metal planters overheat the plant's root
4. Appearance & Design
Lately, plants and planters have become a way to create a statement in a room or home.
Consider using a bright-colored planter to add a little kick to a plain corner, while for a colorful room, opt a little beige, greyish pot equally balances the theme and helps the Monsteras pop out.
To help the plant liven up your living space, you may add your own choice of color or DIY a planter accordingly.
10 Best Planters for Monstera [2023 Choices]
Scrolling down the internet, you may come across tons of planters with all their specifications mentioned.
Rather than making things easy, the wide selection sometimes makes us indecisive.
To help you out, we have listed ten popular planter options, especially for Monsteras.
1.
Elly

Décor 10″ Planter

If minimalism is the theme of your home, then you'll not want to miss the Elly Décor 10″ Planter.

The pot offers color options, from grey ceramic to white stone Cantera to black onix and natural terracotta, with ample drainage holes at the bottom, allowing the outflow of excessive water.

The porcelain planter is 10-diameter x 8″ and comes with a complementing 1″ tall saucer.
Likewise, the pots are thick and durable for indoor and outdoor placements. It also offers insulation on cold days and reduces heat accumulation on hot days.
2. HBServices USA Self-Draining Pot
The HBServices USA Self-draining pot is a unique design container self-watering function built into the container.
Similarly, this 12″pot (12 x 12 x 12.5 inches) consists of caster wheels connected to the bottom of the container for easy movement.
It is also UV-resistant, preventing the pot from fading or peeling when exposed outdoors for a long time.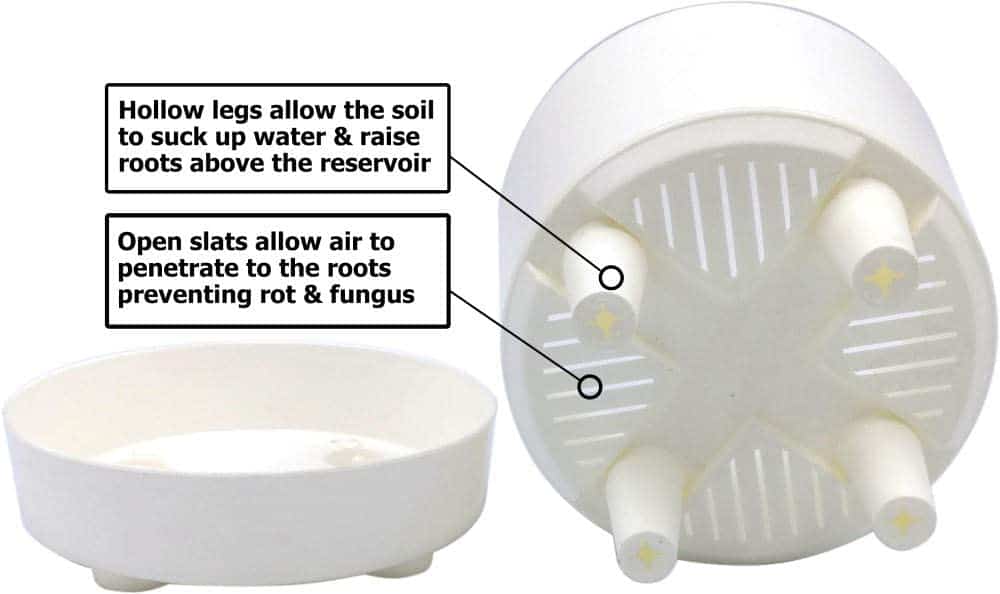 Meanwhile, another plus point of this planter is the attachment of risers to the bottom saucer. It saves your beloved floor from getting water stains.
Also, these unique containers prevent exposure of Monstera's fragile roots to various diseases.
3. Kazeila Ceramic Planter
The Kazeila Ceramic Planter is a dream pot with its beautiful white outlook, consisting of a saucer, rubber stopper, drainage mesh net, felt pad, and planter filler.
This Monstera planter is made of refractory ceramics and boasts a fully glazed finish. The design of drainage holes helps drain excess water timely and effectively to extend the life of plants.
Unlike the regular pot, you don't have to worry about frequent re-coloring on the pot, as it is resistant to color fading.
With the matte white cylindrical design, the unique planter leverages a simple, elegant, and modern look on the frosted surface.
Amazon offers these pots in 3 sizes, small (6 inches), medium (8 inches), and large (10 inches).
4. Arcadia Gaden Products Terracotta Pot
Arcadia Garden Product's pot is a little twig to the classic terracotta pot with a unique 10 x 10 x 5 inches design.
What makes these a perfect choice as Monstera planters are their weather-resistant nature. The Arcadia Gaden Terracota Pot can hold out against monsoon rain to winter snow.
Moreover, the pot is curated of recycled plastics, wood dust, and stone powder, adding to the green footprint (eco-friendly).
You can notice drainage points marked at the bottom of the planter, where you can drill the holes as required.
5. Brass Gold Large Planter
Kimsty design's large brass gold planters are unforgettable decorative elements that will give off a unique look to your living space.
It adds a modern mid-century style to your home and provides enough space for the plant's roots to flourish.
The planter saves you from assembly hassles, for it comes with black metal legs interlocked during manufacturing for stable support when ordered from Etsy.
Moreover, plugs for the drain holes make it easy for the gardener to drain the excess water as required.
6. Bloem Self-Watering Planter
The Bloem's self-watering planter is a flowerpot with a convenient self-watering disk that helps store reserved water for plants to use later.
The planter measures 17.75″ X 17.75″ X 13.75″ in diameter, suitable to home the Monsteras.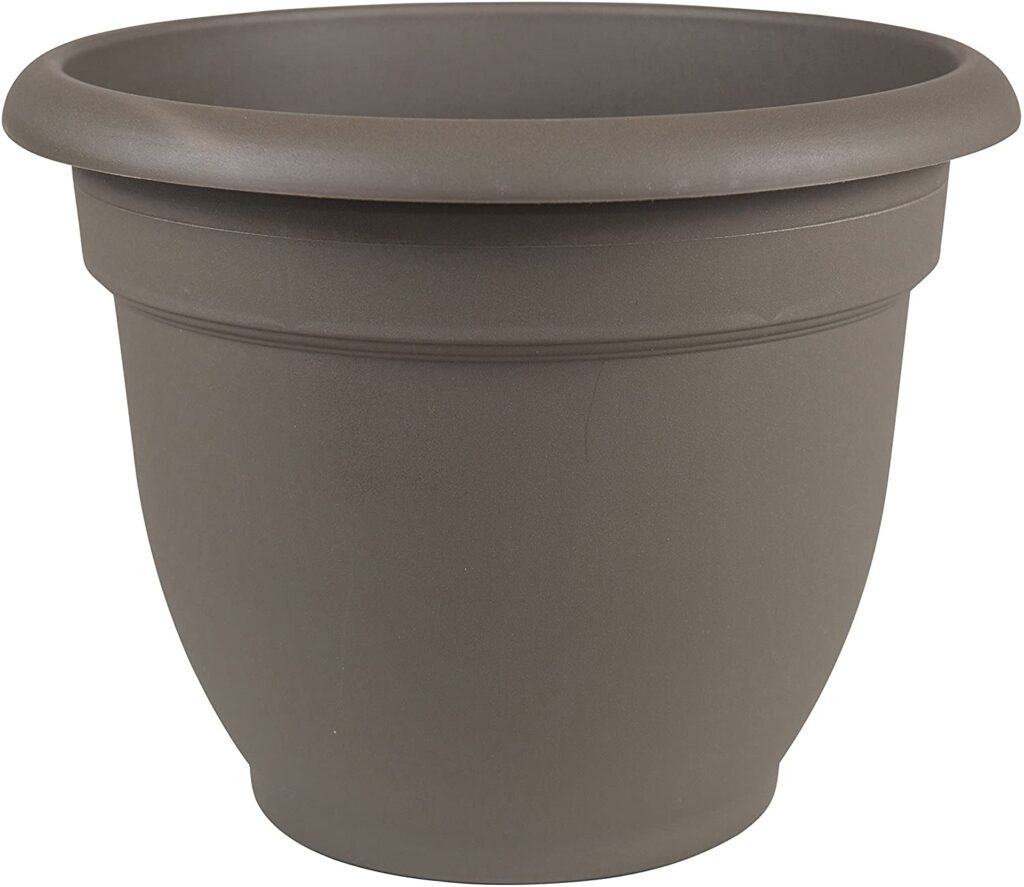 This flowerpot and planter boast a traditional, classic rolled rim suited for a side table, terrace garden, and patio. Similarly, the pot has an optional drainage hole that safeguards your plant against root rot and other diseases.
Although plastic, the durable and premium-quality material ensures long-lasting color and withstands extreme weather conditions.
7. Fox & Fern Ceramic Pot
The Fox & Fern perfect white ceramic pot has a diameter of 11.6″ and a height of 10.6″. Despite the ceramic outlook and texture of the pot, it is 70% lighter and more durable than a standard ceramic pot.
It comes with clean lines and organic forms representing the Mid-Century Modern style.
Similarly, the pot comes with an optional drainage plug, giving you the option of whether you have drainage holes or not.
However, the planter is on the expensive side compared to the others on this list.
8. Kante Lightweight Pot
If you are looking for various colors and sizes to match your living space, the Kante Lightweight pot has it all.
The 14″ X 14″ X 12″ Kante Lightweight Pot has smooth lines and a round shape that can accommodate a good medium size plant without looking crowded.
The pot features a slate gray concrete surface with visible pores, adding an attractive touch to your décor and creating a warm ambiance.
It is made of resistant fiberglass and concrete, making it durable during harsh weather and suitable for indoor and outdoor placements.
9. Rivet Rustic Pot
Adding a simple Rivet Rustic Pot can sometimes bridge modern and classic styles in your home.
This Monstera planter has a white exterior with an electroplated silver finish and a darker grey interior that ticks all the Amazon rating boxes for style, sturdiness, and durability.
Besides, it is made of stoneware and has a 7-inch diameter of 6.25″ in height, weighing 2.77 pounds, suitable for mini Monsteras.
Coming to its maintenance, take a soft, clean cloth, and a few wipe stroke does the job to clean the stoneware planter.
10. HC Companies Round Planter
The HC Companies has been selling a medium-sized (12 x 12 x 12.07 inches) and lightweight (weighs 1.8 pounds) round planter with self-watering technology that could be a perfect home for your Monteras.
Interestingly, the pot comes with removable drain plugs that allow you to regulate drainage and aeration, matching the requirement of Monstera Dilacerata, Monstera Borsigiana, and Monstera Slitepecana.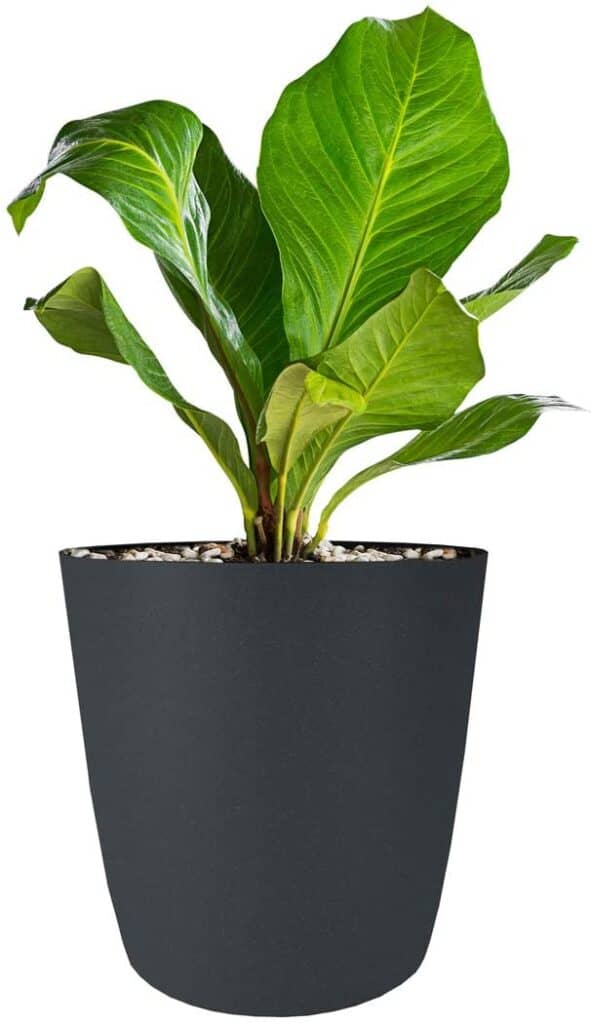 The reservoir at the bottom of the planter makes it easy for the plant owner to manage hydration even when the Monstera is left unattended for quite some time.
Our go-to Amazon has it if you are wondering where to get this planter.
From Editorial Team
The purpose of using any planter is primarily to make gardening and plant care more accessible, but your responsibility as a plant parent doesn't end here.
Ensure you provide adequate care, proper sunlight, watering, and temperature for your Monstera to thrive in the planter of your choice.