If you have already owned Monstera and fancy it to grow to a fuller size, you must provide it with a proper planter.
Monstera needs repotting once every two to three years, so the pot or container needs to be capable enough to cater to soil, roots, and standing.
Generally, monsteras do best in concrete, terracotta, or unglazed clay pots or planters, ranging from 8 inches to 2 feet for babies and mature plants. Also, the pot needs to be about 2 inches wider than the previous one when repotting.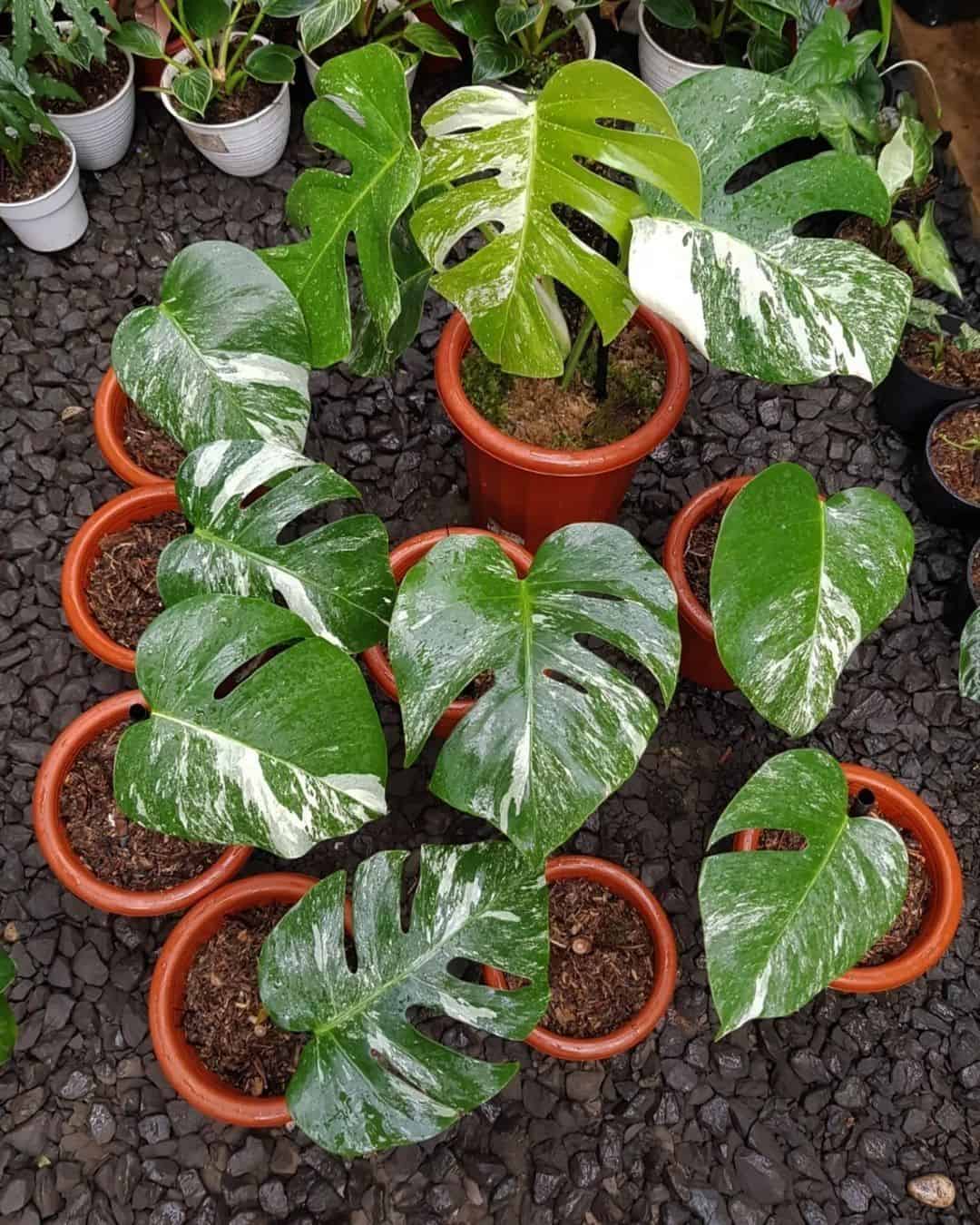 They are flexible enough to perform indoors and outdoors if provided with proper care, so the first priority is the planter selection for this tropical wonder.
So, today, I have come up with different kinds of pots for the monstera, which will help your plant grow faster and healthily.
How to Choose the Best Pot for Monstera Plants
Choosing the right pot for your Monstera equals finding the right home and successful growth.
When considering the right pot for your Monster, you need to be mindful of various aspects, such as the right size, drainage, and many more.
so, let's have a look at the essential aspects of your Monstera pots:
1. Appropriate Size
One of the crucial needs for your Monstera's proper maturity is the appropriate pot size. As the plant grows, the plant size automatically needs to change.
If you own a young or baby Monstera, you can use a pot with a pot diameter of more than 8 inches (20 cm). Similarly, the mature Monstera will require a pot size of 2 ft (60 cm).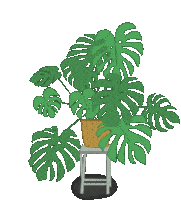 Moreover, you can provide your Monstera with sizes of 6″, 8″, 10″, and 14″ depending on the size.
If you want to keep your Monstera outside, a bottomless container can work best, encouraging the roots to extend into the ground freely.
Since the monstera has a moderate growth rate, it is better to repot the plant in a pot of 2-3 diameters more than your previous pot.
Challenges with Extra-Large Pots
For the enormous growth of your Monstera, you may provide your plant with extra-large pots.
However, in such cases, the extra space in the container will retain too much moisture, and the soil dries slowly.
Due to excessive moisture, your plant will suffer from overwatering resulting in root rot and an increase in the tendency to tip over.
Challenges with Small Pots
Like extra-large pots, making a home out of small pots for your monstera will also cause trouble for your plant.
Due to close-up space in the container, your plant will result in rootbound, restraining nutrients and water from reaching up the different parts of the plant.
This will affect the monstera's growth and cause wilting, dropping, discoloration and shedding.
2. Drainage Holes
If you are new to Monstera, you should know that the luscious plant loves moisture, but they do not like soggy soil.
Not having drainage holes in your pot will leave your Monstera vulnerable to overwatering and causes the following issues:
The plant has black spots on its leaves.
The leaves turn yellow and brown.
The root rot will appear.
It causes blossom end rot.
Having drainage holes at the bottom of your pot will prevent such issues from destroying your monstera.
Place your Monstera in a plastic pot and make at least five drainage holes to ensure the escape of water from the corners and the bottom.
Besides, you can also ensure the container's drainage after the water is collected in the tray beneath the container.
If you need help with this, check the video below!
3. Material
As a monstera owner, you have multiple choices for pots such as terracotta, glazed ceramic, and plastic pots.
Among the possibilities, ceramic or terracotta pots are timeless and serve a minimal aesthetic look to your Monstera. They are, however, weighty.
Opt for a lightweight plastic pot instead if you don't want to bother to move the heavyweight.
However, if you reside in a humid climate, there might be a chance of melting the pot, so you may need plastic and metal planter.
A metal planter will give your home rustic aesthetics but may cause overheating and overwatering effects if not supervised.
Similarly, the fertilizers provided to the plant might damage the metal, cause root rot, and hamper the plant's growth.
Make sure you purchase a saucer along with the planter, which will assist in collecting the overwater and keep your floor or soil dry easily.
Let's have a look at the pros and cons of different pots based on materials.
Material Type
Pros
Cons
Terracotta Pots
Allows moisture and air circulation access

Perfect for temperature changes and durable
Quite fragile in the freezing climate

Their porosity can cause salt buildup.
Plastic Pots
Beneficial for moisture loving plant due to non-porous walls

Easy to make drainage holes and inexpensive
Exposure to humid or hot climates might melt the pot

The texture of the pot might cause soggy soil.
Glazed ceramic pots

Comes in unique and aesthetic designs

Sudden change in temperature does not affect the pot
Restricts proper air circulation

Not suitable for moisture-loving plants
Metal Planters
Gives off rustic vibes

You can recycle old metal containers as well.
Fertilizers might damage the outlook of the pot.

The pot may contain lead which is harmful to the plant.
4. Types of Pot
After understanding the pots made of special materials, you can not ignore the ideal styles that promote aesthetic and overall quality planter pots.
So, here is a table to exhibit the different types of planters based on designs.
Types of Pot
Specifications
Bottomless Pot
Helps unleash the pent-up roots

Allows the roots to grow down into the ground
Hanging Pot
Helpful in hanging decorative plants from buildings, where garden space is at a premium, and from street furniture for environmental enhancement
Freestanding Pot
Frees up space in the kitchen cupboards, invest in a standing pot rack
Self-Watering Pot
The best technique to cultivate some tropical plants is to use self-watering pots.
Self-watering containers use a reservoir system to keep their contents moist. You simply fill a water storage tank, which is normally located at the bottom of the container.
The reservoir's main purpose is to hold water and gradually release it to your plant as needed.
Similarly, there is an overflow hole, so the extra water drains out easily. These pots will allow easy and enough oxygen circulation, preventing plant roots from rotting and drowning.
If you need to know more, keep some moments for Self-Watering African Violet Pots.
5. Depth of the Pot
The pot needs to be deep enough to support a stake and moss pole for Monsteras to climb up.
Vegetables with leaves can grow in 6 to 8 inches deep pots, but root vegetables will need containers between 8 and 14 inches deep. However, vegetables that bear fruit can grow in 12 to 16-inch-deep pots.
Monstera's aerial roots grow from 1 to 3 feet, so you may need the planters for it accordingly.
10 Best Planters for Monstera
Monstera has 49 varieties and may not need individual planter selection for all but the type and growth of monstera matter the choice.
So, I have selected the best and most comfortable monstera planters to make the procedure more manageable for you.
1.
Elly

Décor 10″ Planter

If you are a fan of minimalism, then you'll love the ceramic Elly Décor 10″ Planter.

The pot comes in various colors, including gray cement/white stone cantera/black onix and natural terracotta, with drainage holes at the bottom.

The porcelain planter is of 10 diameter x 8″ and comes with a complementing 1″ tall saucer.
Similarly, the drainage hole at the bottom allows the outflow of excessive water.
Likewise, the pots are thick and durable for both indoor and outdoor placements. It also offers insulation on cold days and reduces heat accumulation on hot days.
2. HBServices USA Self-Draining Pot
The HBServices USA Self-draining pot is a unique design container self-watering function built into the container.
Similarly, the 12″pot (12 x 12 x 12.5 inches) consists of caster wheels set connected to the bottom of the container, allowing easy transportation access.
It is also UV-resistant, preventing the pot from fading or peeling when sunlight exposes it.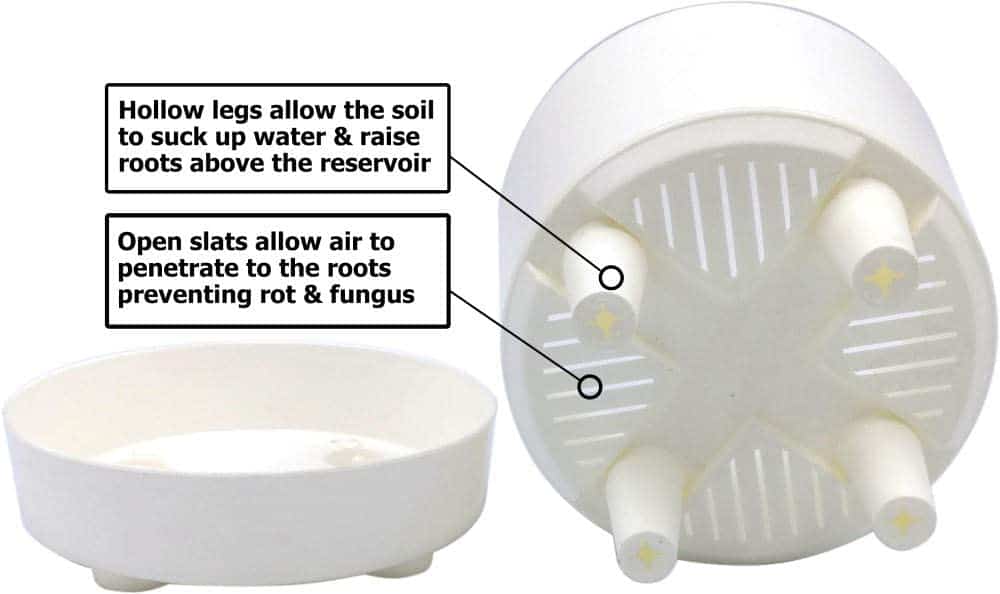 The hollow legs of the container stretch deep into the reservoir and allow the soil to absorb moisture while holding the plant above the water surface.
The bottom saucer is engineered with risers that help lift it away from the floor and to prevent circular water stains typical of other flat-bottomed planters.
Likewise, such an innovative container prevents exposure to the fragile roots of Monstera from suffering from various diseases.
3. Kazeila Ceramic Planter
The Kazeila Ceramic Planter is a dream pot with its beautiful white outlook, consisting of a saucer, rubber stopper, drainage mesh net, felt pad, and planter filler.
This monstera planter is made of refractory ceramics and boasts a fully glazed finish. The design of drainage holes helps drain excess water timely and effectively to extend the life of plants.
It is suitable for any workplace or house, indoor or outdoor, as it is resistant to color fading.
This monstera planter comes with the smallest size of a pot having 6″ outer diameter × 5″ inner diameter × 6″ height, whereas the biggest size you'll get is 10″ outer diameter × 9″ inner diameter × 10.″
With the matte white cylindrical design, the special planter leverages a simple, elegant, and modern look on the frosted surface.
4. Arcadia Gaden Products Terracotta Pot
Arcadia Garden Product's pot might be the right option if you are looking for a uniquely designed terracotta pot.
If you measure it, you may find the planter with 10 x 10 x 5 inches.
The pot is made through recycled elements such as stone powder and recycled plastic, giving it a sustainable touch in your collection.
Similarly, the pot is also weather resistant and can be used indoors and outdoors. It can withstand snow, sleet, rain, heat, and UV rays won't fade the planter easily.
Also, you can notice drainage points at the bottom of the planter, making it easy for you to drain holes.
5. Brass Gold Large Planter
The Kimisty NEST planters' brass gold large planters are unforgettable decorative elements that will give off a unique look to your living space.
The monstera planter sizes ranging from 6″ X 6″X 15″ to 10″X10″X21″ in diameter.
It mimics the modern mid-century style and adds timeless minimal style to your home. If you style and locate the planter right, they will look like Egyptian treasures.
The planter comes with metal support and a black metal stand. Similarly, it also has a drainage hole at the bottom of the pot provided with a plug.
There is no need for installation because the metal legs are already connected during production for stable, non-wobbling construction.
This monstera planter is ideal for indoor usage and can be perfect for living room, master bedroom, and kitchen decoration.
6. Bloem Self-Watering Planter
The Bloem's self-watering planter is a flowerpot that comes with a disk that provides support to save water.
The monstera planter measures 17.75″ X 17.75″ X 13.75″ in diameter, which can be enough to home for your monsteras.
Similarly, this unique planter also features a convenient self-watering disk that helps store reserved water for plants to use at a later time.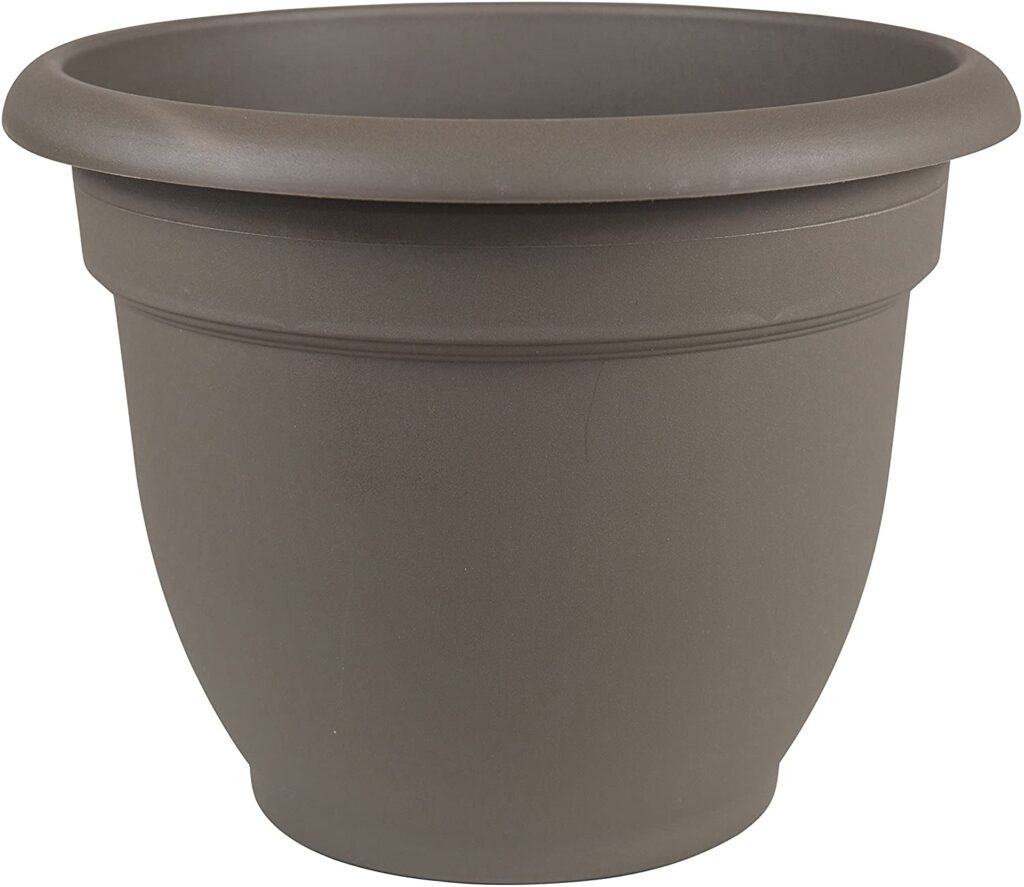 This flowerpot and planter boast a traditional, classic rolled rim suited for both indoor and outdoor spaces.
Similarly, the pot has an optional drainage hole that safeguards your plant against root rot and other diseases.
Although the planter is plastic, it is still composed of entirely UV-stabilized plastic, making it a perfect pot for indoor and outdoor.
7. Fox & Fern Ceramic Pot
The Fox & Fern perfect white ceramic pot has a diameter of 11.6″ and a height of 10.6″. Although the pot's outlook and texture are ceramic, it is 70% lighter and more durable.
It comes with clean lines and organic forms to represent the Mid-Century Modern style.
It can add a clean, crisp, and modern look to your household or office space.
Similarly, the pot comes with an optional drainage plug, giving you the option of whether you have drainage holes or not.
8. Kante Lightweight Pot
If you are looking for a variety of colors and sizes to match your living space, then you need to look at the Kante Lightweight pot.
The planter measures the diameter of 14″ X 14″ X 12."
The smooth lines and round shape of these Kante planters assist you in maintaining a sleek look throughout your space while compacting a good amount of plants without looking crowded.
The pot features an actual slate gray concrete surface with visible pores, which will add an attractive touch to your décor and create a warm ambiance.
It is made of resistant fiberglass, which makes it durable during harsh weather and can be placed indoors and outdoors.
You can adore your monsteras outdoor areas such as your patio, deck, and garden or indoors in your kitchen, living room, and bathroom.
9. Rivet Rustic Pot
The Rivet Rustic pot is an aesthetic pot that has an electroplated silver outlook with a darker grey inside.
This pot will add a classic and sophisticated look to any space with or without a plant; if monstera is there, nothing will be needed.
Besides, it is made up of stoneware and has a 7″ an inch diameter by 6.25″ in height, weighing 2.77 pounds. The pot will be suitable if you are a big fan of mini monsteras.
This monstera planter also has a white exterior with an electroplated silver finish and a darker grey interior. So, this piece helps bridge modern and classic styles in your home.
10. HC Companies Round Planter
The HC Companies round planter will provide a chic look to your living space with its beautiful dark color pot. It measures 12 x 12 x 12.07 inches and weighs 1.8 pounds.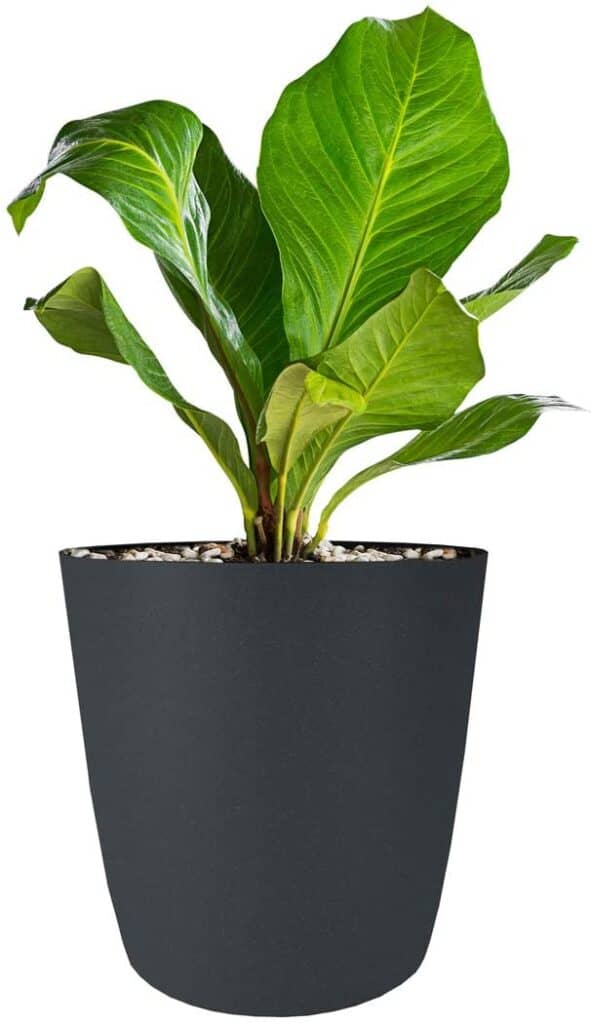 These pots are lightweight and strong and have removable draining holes that control the aeration and hydration of the plant.
Similarly, this monstera planter functions with the innovative technology of a self-watering pot, which helps make it easy for you to leave plants unattended.
Where to Buy Monstera Planters
After knowing the type and size of your monstera, you may be wondering about the places to buy the above-mentioned planters.
Jump over this table to find the beautiful and amiable planters for monsters.
Conclusion
Among all of the mentioned pots, the one best known to be suitable for your Monstera is Terracotta pots. If terracotta pots are unavailable, you can also make ceramic pots.
I hope this article has narrowed down your choice for the perfect home for your monsteras.
Aside from the pots, be sure to provide your monstera with a suitable environment; in no time, you'll see them thriving and growing.
You may also need to read Hanging Pots for Indoor Herbs if you own other indoor plants.
Till then, Happy gardening and Take care!