I always try to maintain the small patch of Honeydews to serve my family with sweet fruits in the mid-summer.
As Honeydews are harvested in summer, they are a suitable fruit to taste on a blazing sunny afternoon. But to take a bite, you need to grow Honeydews first.
Generally, to grow Honeydew, sow the seeds in early spring about 1 to 1.5 inches deep in the warm, well-draining soil having a temperature of 18°C. If there are already seedlings, plant them in the garden soil when the ground is warm.
If you sow the Honeydew seeds in mid-March, you can reap the fruits in mid-June.
So, go through this entire article if you have planned to grow and harvest Honeydews like me.
What Do Honeydew Seeds Look Like?
Honeydews are the third most cultivated annual melons after watermelons and cantaloupe.
They have long growing seasons, from early spring and lasting up to early fall, but are ready for harvest in summer.
Honeydews bear unique cream-colored fruits, unlike other green melon varieties, but the seeds are almost the same size and shape as their melon kin.
Have a look at the table to know additional features of Honeydew seeds.
Seed Metrics
Characteristics
Shape
Oval to Oblong
Length and Width
Length: About 7 mm
Width: About 3 mm
Color
Green when freshly harvested
Yellow-brown when dried

Weight
0.043 to 0.052 gram
Germination Time
7 to 14 days
Sowing Season
Spring
Sowing Depth
0.5 to 1.5 inches
Germination Initiator
Temperature
Germination Temperature
Around 18 degrees Celsius
Soil Type For Germination
Moist and well-draining
Fruit Harvesting Period
About 75 to 120 days after germination
Fruit Harvesting Season
From mid-summer to early fall
When to Plant Honeydew Seeds?
Honeydew takes days ranging from 65 to 100 days to get maturity and flower.
Before this, pollination should be completed, and bees are the pollinators of Honeydew, helping the plant to produce fruits during mid-summer.
Once pollination is completed, the small bulb present behind the bloom's base transforms into a ripe melon within 30 to 35 days.
You can crack open the fruits to harvest the seeds and scoop the seeds out using a spoon and air-dry them.
Air-dried seeds of Honeydews remain viable up to 4 years after the harvest.
If the seeds are ready, you can freshly sow them in spring.
However, if you live in cold areas, it is better to start seeds indoors, about 3 to 6 weeks before the last frost.
Besides, each Honeydew plant can produce two to six melons. This will keep you craving for it all summer.
Plus, you will have enough seeds to propagate Honeydews in the next growing season.
How to Grow Honeydews?
There are two ways of growing Honeydew, including seeds and seedlings.
Seeds are the best way to start Honeydew if there are no seedlings available. To grow Honeydew, you need to sow the seeds in pots indoors or outdoors in the garden soil in early spring.
Take seed starting mix and fill them in biodegradable pots of about 3.5 inches wide.
Place 2 to 3 seeds per pot about 1 to 1.5 inches deep into the soil and about 2 inches apart.
If you direct-seed in the garden soil, select a sunny site, and plant the seeds 3 inches apart in groups of 3 to 4 seeds.
Seeds require an optimum temperature of 18°C for germination, so place a heating mat below the pots.
Spray water to keep the soil moist.
Seedlings shall emerge within 7- 14 days.
After the seedlings show two true leaves, move the pots to a window that receives the most light.
You can also grow the seedlings beneath 16 hours of fluorescent grow lights, but give them a dark photoperiod for 8 hours daily.
Once the seedlings are three to four weeks old, transfer them to a larger pot at least 18 to 24 inches in width.
Fertilize them with half strength of complete indoor houseplant food during this time.
Since Honeydews are vine plants, you can move them to a single pot after their vines reach about six inches in length.
Before transplanting the seedlings outdoors, harden them by moving the potted plants in the shade outdoors for a week.
Protect them from wind and frost at night using a frost blanket. If there is heavy frost, move the plants outside in the morning and indoors at night.
This hardening process allows the plant to prevent transplant shock when you transfer them to the garden soil.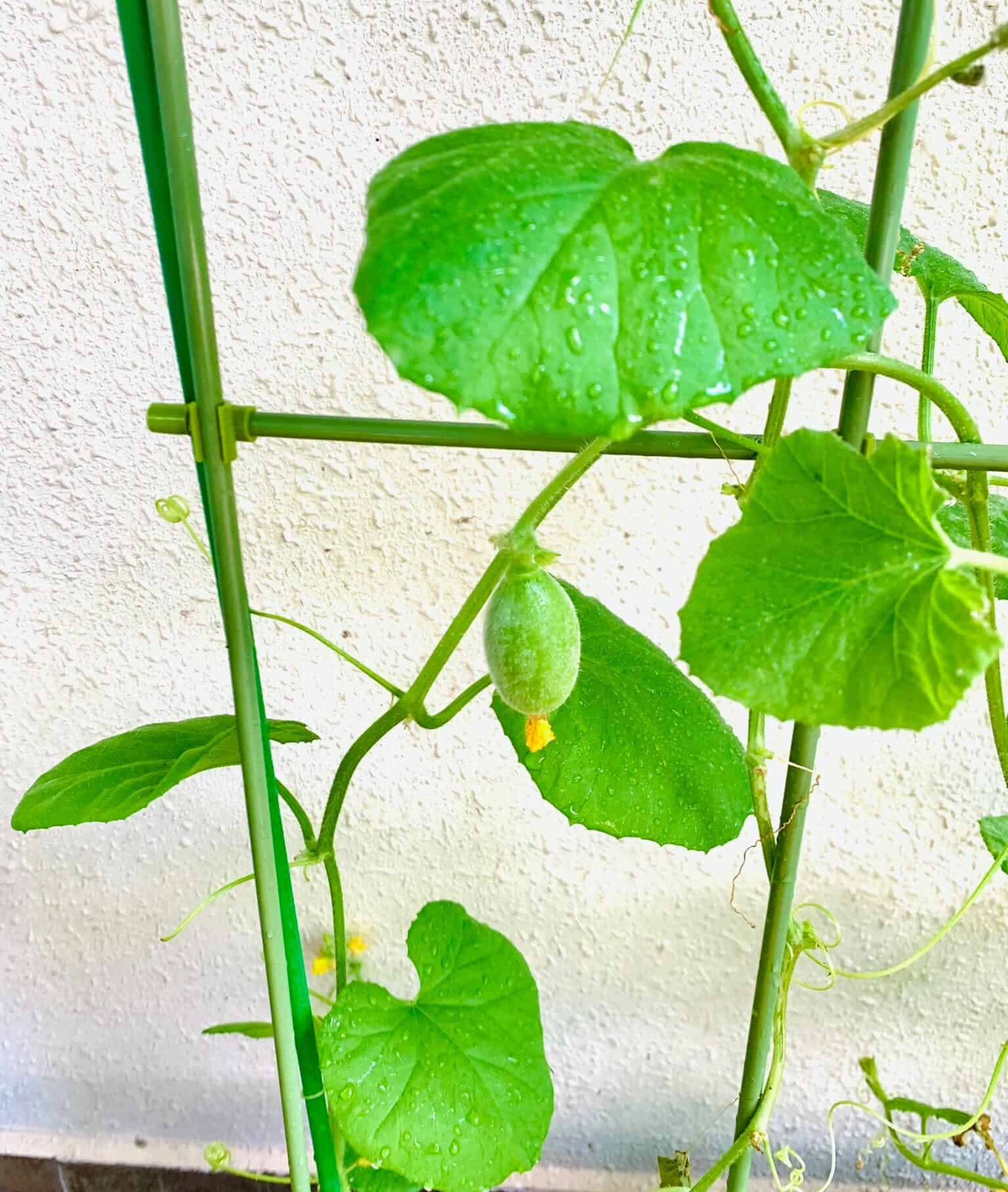 If the plants are ready to plant in the garden soil, you can set up a trellis for the vines to climb.
Growing Honeydew on trellis demands spacing so keep the seedlings at a distance of three to four feet.
Here's a quick instructive video about tying Honeydew melons to the trellis!
Care for Honeydews After Planting
If you care for Honeydews after planting, you shall secure a successful yield from your plant.
The following tips will be helpful in this process.
Keep weeds under control by regularly removing them or using mulch to suppress their growth.
Use a moisture meter to verify if the plant is under a dry spell. Keep watering if the soil dries and prevent waterlogging issues.
Use drips to deliver an adequate amount of water directly into the plant's roots.
Tie the stem of the plant softly to the trellis scaffold if you are growing them on a support structure.
Don't move the vines once they have attached to a support. They are delicate and easily injured.
Avoid the mature melons from touching the ground. Instead, support them in a mesh bag tied to the trellis to prevent them from falling.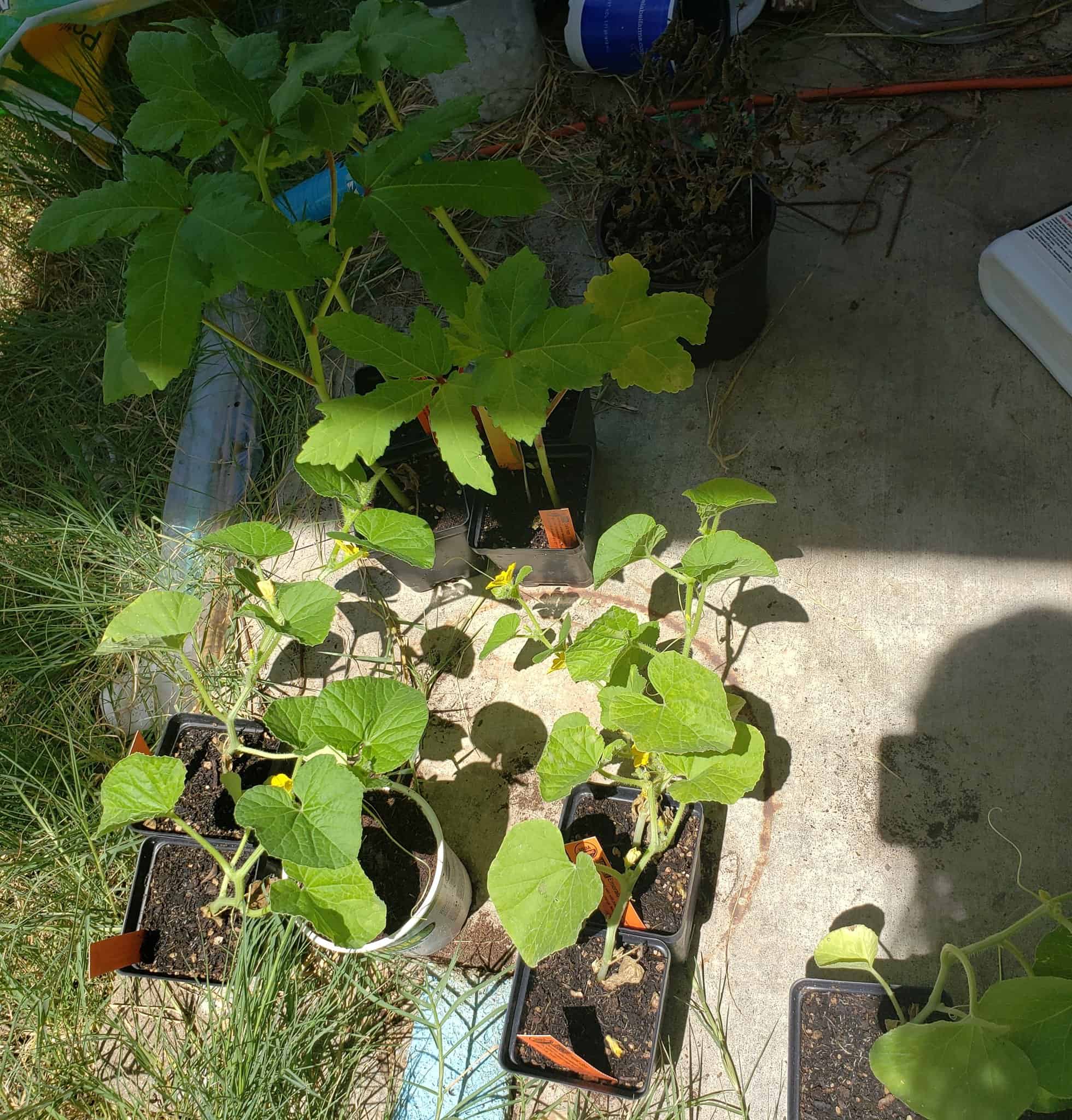 To prevent pest or insect attacks, place the ripe melons on pieces of wood or on a pot.
Use sterilized pruners to harvest the ripe melons by cutting the vines.
Sustain the relative humidity levels of 65% to 75%. Flowering, fruiting, and foliage development of the plant occur between these levels.
Fend off insect damage by preventing the intercropping with same family crops such as squash, pumpkins, or cucumbers.
Keep fungal diseases in check by using fungicides such as Myclobutanil and Bonide.
You can apply fungicide once a season if there is no disease but you need to spray it up to six times per season if there is frequent appearance of disease attacks.
Conclusion
"The fruit of patience is sweet" is what you need to keep reminding yourself while growing Honeydew.
This variety of melon takes a long to mature but won't fail you in taste!
Growing Honeydew from the seeds is fun, and you can do it with your family by spending only few hours on Sunday.
If you have grown Kalanchoe at home, you may also need to harvest and grow its seeds.
Happy Gardening!