The digital world has grown so much faster than has left behind the trend of physical shopping.
As much as we like to shop for food and clothes on internet portals, buying flowers has also become a thing now.
Orchids are some of the most beautiful plants to buy for your home, but finding them online can be tricky! What's the best place to look for them?
Where do you look for the best deals? If you are just a beginner and don't know any, you might be wondering where to locate them and the best options for Orchid delivery.
Be mindful to select the stores that give prompt service, good packaging, fresh and healthy Orchids at your doorstep.
Today, we'll go over exactly what to look for when purchasing Orchids online and several places to search!
10 Best Places to Buy Orchids Online
There are many sites we can find plants. However, in many of the online plant stores, it isn't easy to find the families of Orchids.
No worries! We are here to help you out hunt to hunt for them.
Where to Buy
Price Range
Specification
Garden Goods
$18.95 - $28.95
Easy to track order and delivers within 1 - 5 business days.
The Sill
Range of $90
Only delivers in USA and takes 7-10 days for delivery
Plant Vine
$22 - $52
30 day guarantee facility and free shipping over $100
Telefora
$47.49 - $118.74
Same day delivery in USA. They provide decorative pots
Walmart
$32 - $90
Quick deliveries and engaging customers with genuine web feedback
FLOWERBX
$65 - $200
Provide complementary gift wrappings. Availaibility of luxury orchids
Marlow Orchids
$10 - $30
High rated website with home grown orchids
UrbanStems
$55 - $85
Flexible and quick delivery with yellow, white and purple orchids
Odom's
Generally: $20 - $40
Exclusive: $100+
Great for gifting and rare orchids are available
Brookside Orchids
$10 - $90
Good for both seedlings and full grown flowers
1. Garden Goods
You can find a variety of plants in Garden Goods. They are highly known for plants marked with competitive pricing and high-quality products.
Garden goods have various features that make it easier for customers to buy their plants.
Likewise, you can find the following convenient features in their services:
Easy to track orders by placing the email ID and order number.
Safeguards your personal information by not misusing it. Data in the communication portal with the clients and the company are kept private.
They use FedEx Express to deliver goods within 1 – 5 business days.
No shipping charges for orders above $175.
Advantages of Option Warranty Claim facility.
They provide prompt delivery with good packaging.
Orchids Available
Species of Orchids such as Lamium Orchid Frost and Jewel Orchid are available. Garden Goods have a price range of $18.95 to $28.95.
The bunched-up flowers of Lamium Orchid Frost with 3 – 5 groups of pinkish-purple look perfect. At the same time, Jewel Orchids give a touch of white flowers on thick dark green leaves.
Both the Orchids are well described on the online page about the caring guides and background of the Orchids.
2. The Sill
The Sill is a great portal to find Orchids that have numerous varieties. They have an entire team to give the best service possible.
The Sill provides a very professional mechanism to suit the modern market of consumers. They deliver only in the United States and not other parts of the world.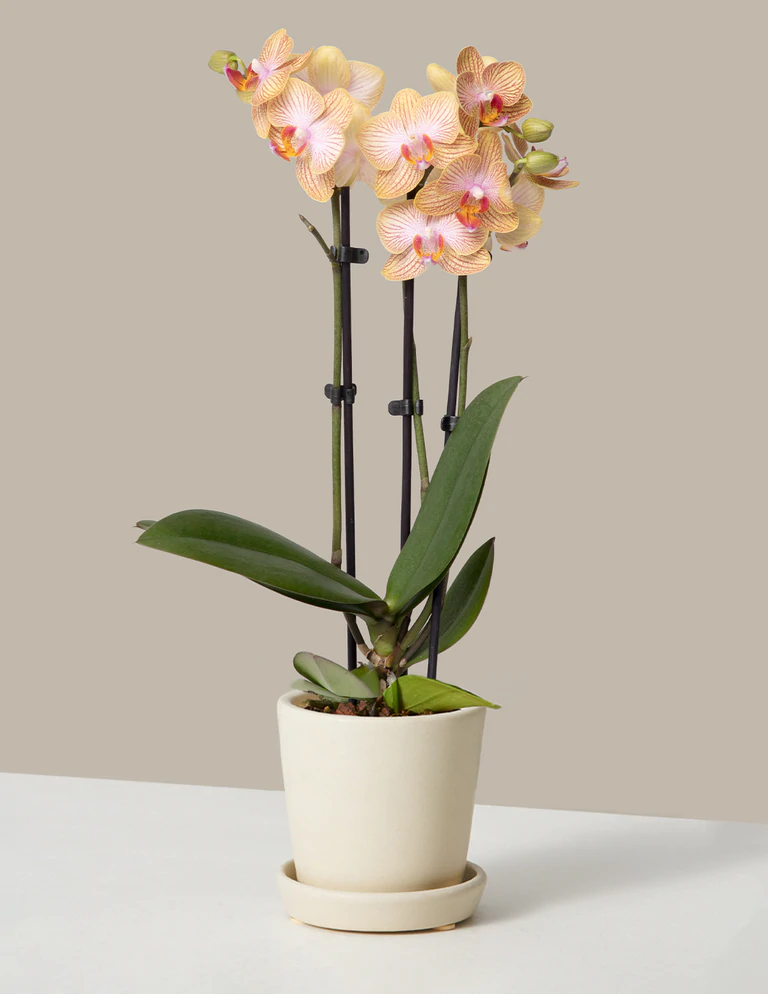 They provide different convenient services such as;
Delivers product within 2-4 business days.
All packages ship via UPS carbon neutral shipping which means their shipping reduces environmental carbon footprint.
They ship in winter as well. They include heat packs to keep u=your plant warm in transit.
Orchids Available
Here you can find pretty flowers with colors ranging from pink, white, yellow, blue tints.
They have an elegant-looking simple pot with vibrant florals in it. Most of them are plain shades.
Some available varieties are;
Pink Orchid
Spotted Orchid
White Orchid
Petite White Orchid
Petite Orange Orchid
There are beautifully dotted Phalaenopsis orchids with white and pink blooms. This one is my favorite! Most of the flowers are in the range of $90.
3. Plant Vine
Two plants fanatic best friends founded the company; Plant Vine has given many customers the best customer experience.
They aim to create an incredible journey in purchasing the plant from their site.
Along with just selling the products, the owners seek to give the best possible quality, providing advice and ensuring optimum shipping conditions.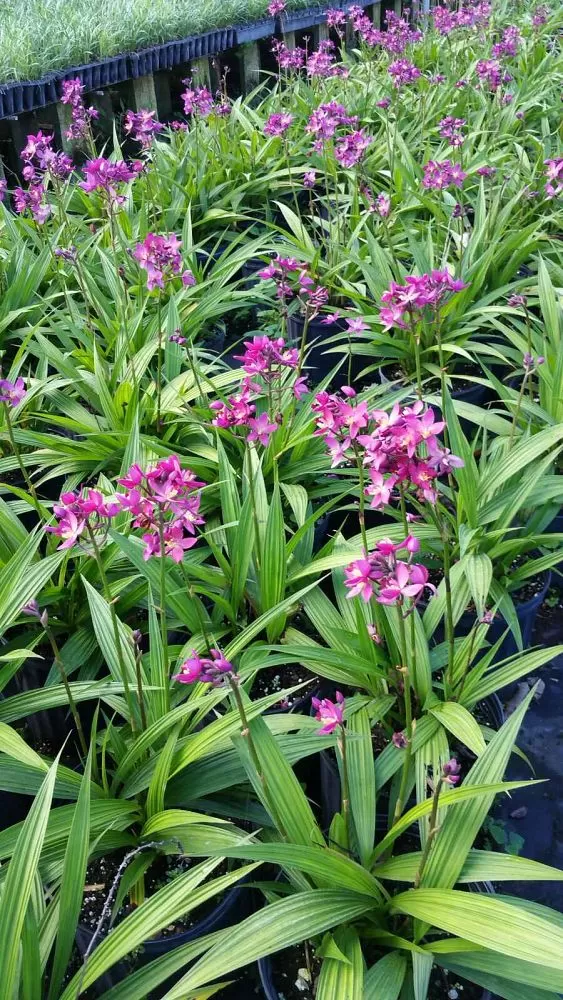 Here you can find a wide range of plants that are both indoor and outdoor florals.
Some of the professional and attractive services that they provide are:
Plant Vine sends the photo of the plant for confirmation before they send it to its customers.
A provision of a 30-day guarantee facility
Easily track orders by just providing email id and order ID.
Free shipping on all orders over $100
However, Plant Vine does not accept returns on material due to the nature of living plants. They offer a 30-day guarantee on all of their products.
Plant vine promotes environmental awareness by using recycled cardboard and bamboo.
Orchids Available
You can find varieties of Orchids that are purplish-pink and even with vibrant orange ones. The prices range from $22 to $52.
The prices vary according to the pots they provide along with your plants. Some are simple black, and some with a ceramic touch of brown.
Orchids like Spathoglottis Plicata, Sorbet, and Reed Stem are readily available.
4. Teleflora
Teleflora is a very versatile and great platform to purchase flowers and plants. There are a lot of varieties that you can keep fondling on the online site.
It is exciting and worth purchasing with the offers/ discounts during different occasions such as Christmas and Valentine's day.
They even have a separate section for birthday flowers. Isn't that cute!
They have 24 hours service, readily available to acquaint your queries. The good thing is that they even do same-day deliveries if you are situated in the USA.
There are time slots available for their active services. Being a member of Teleflora can give you a lot of service benefits. The details are listed on their website!
Orchids Available
A wide range of Orchids is available in Teleflora from pink, purple, white, yellow colors. The Orchid flowers are very artistic and are vibrant with their uniquely shaped foliage.
Every different Orchid is given proper names according to its nature and looks. Here, the price range starts from $47.49 to $118.74.
Each comes with a very decorative pot perfect for your interiors.
Teleflora does delivery all around the world internationally. You can easily view the list of countries they transport.
5. Brookside Orchids
Brookside Orchids is one of the very well-known online shops specifically for purchasing the best-grown orchids. They are loved for their California Orchid blooms.
Their nursery is located in the Portola Valley near San Francisco.
There is a wide range of Orchids with a lot of varieties and choices. They have been continuing in this flowering field for over 40 years since 1979.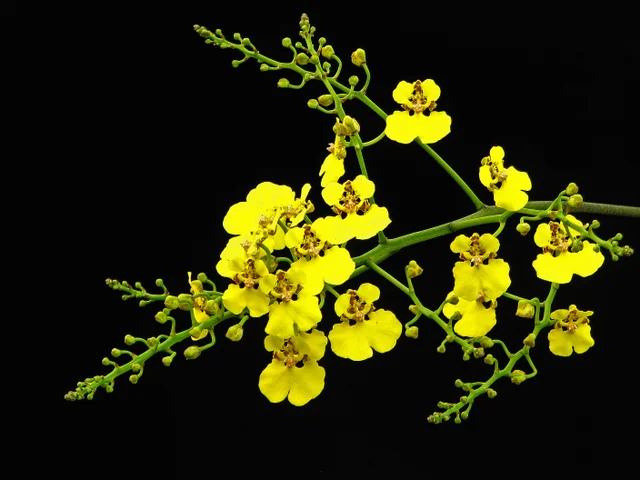 Brookside Orchids has a retail store too. They have good rating feedback with above 5+ stars. The flowers are grown in the nursery of Pacifica and Menlo Park.
It is shipped nationwide in the United States only on Mondays and Tuesdays. They have delivery options through Express or FedEx.
Orchids Available
You will find a wide range of exotic orchids in different colors; light to dark in the shade or subtle to vibrant colored florals. As mentioned earlier, the shapes and sizes also come in large varieties.
Some varieties are;
In bloom/ In spike Orchid
Paphiopedilum lowii aureum 'Hilo Gold'
Phalaenopsis deliciosa
Phalaenopsis equestris coerulea
Dendrobium
Along with the matured flowers, they even sell seedlings/ buds.
The blooming flowers cost about $90 and above whereas young buds are only within a range of $10 to $30.
They consist of spikey ones, blooming, and fragranced flowers. Many opt for this place for gift purposes, as they provide cards and flowers to make your gifting experience better.
6. Walmart
Walmart is a very old franchise that is a supermarket selling various products. Recently they have been popular with both offline as well as online shopping.
It is queer that we do not think about Walmart when buying houseplants. However, it can be an option for you.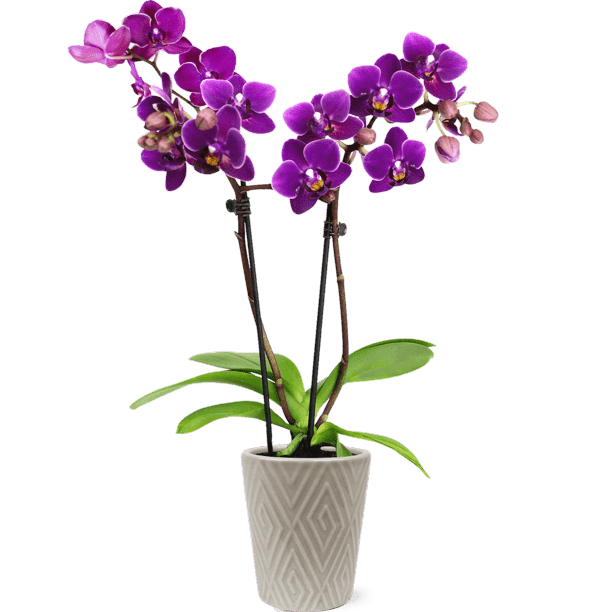 Walmart is very conscious about its budget and provides a service of two to three-day deliveries. You can visit Walmart Fulfillment Services for more information.
Their online platform is based on genuine remarks and comments about the product. They have excellent customer engagement, which helps us extract the correct reviews.
They provide prompt delivery service within three days and well packaging.
Orchids Available
Since Walmart has a wide range of product bases. The choices are a lot. Do not get confused with the artificial and natural Orchids they sell here.
The online portal sells many beautiful Orchids. Some available varieties are;
Blue Ginger Dichorisandra Thyrsiflora
Cattleya
Oncidium
Dendrobium
Vanda
Phalaenopsis
The price range starts from 4$ up to 100$ depending upon the varieties. It can take quite some time to choose the right one among various options.
7. FLOWERBX
FLOWERBX is extensively known for its high-end flower market. They are beautifully displayed and placed with sleek pots.
Their signature look is with black ribbons circling the pots, especially for the Orchids.
Same-day deliveries are possible in Manhattan and Los Angeles only. While the next-day deliveries are possible throughout the United States.
They quickly and readily get the flowers dropped to the located address at home, offices, or any mentioned venues.
The best part is that they provide complimentary gift wrapping if you are thinking of gifting someone.
The site also provides a paragraph related to Orchids' excellent, caring guide.
Orchids Available
You can find beautiful bunched-up Orchids with pretty colors. They are long-stemmed, flaunting their flower tops.
Some available varieties are;
Powder White Cymbidium Cut Orchid
Magenta Phalaenopsis Cut Orchid
Delft Blue Vanda Cut Orchid
Amaranth Pink Phalaenopsis Cut Orchid
The Orchids here are priced premium with high-quality florals. They provide a touch of elegance and a great aesthetic to your space.
Well-priced Orchids are found at $65, whereas the highest goes up to $200.
8. Marlow Orchids
Marlow Orchids have a limited variety of Orchids. They do not operate in the mass market but instead have a small bunch to sell that are purely organic grown at home.
Most of them are hybrid Orchids that are mostly not common in markets.
The Orchids are freshly grown and well preserved from damages only transported around the United States.
It is so because Marlow Orchids is located in New York itself at 2272 Scottsville Rd and delivers within its country only.
Marlow Orchids generally deliver within a week or to 10 days.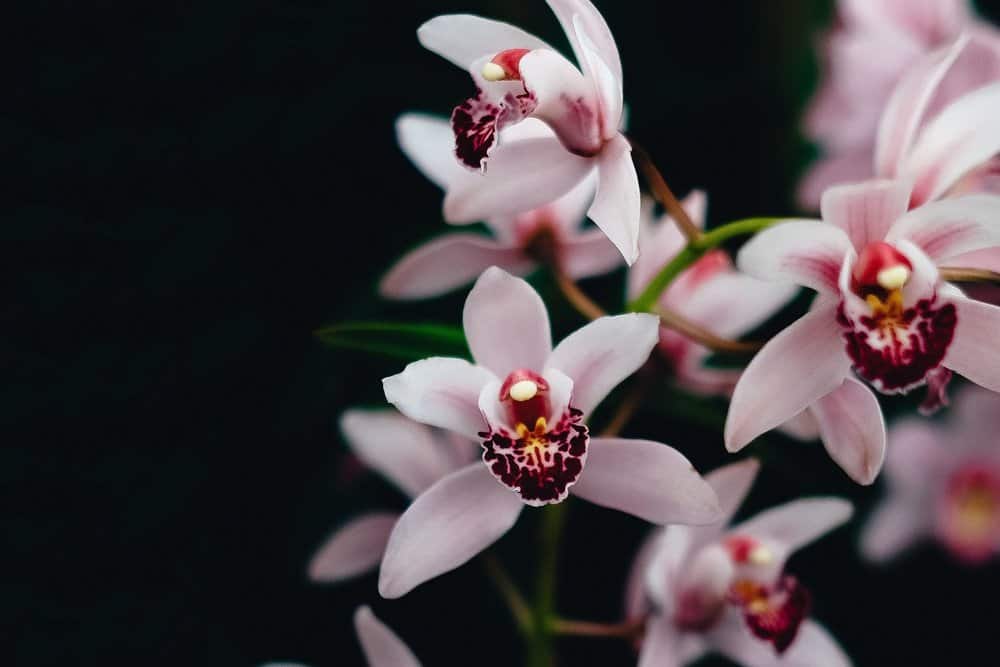 Orchids Available
Marlow Orchids usually do not supply fully grown orchids. They leave it up to you to take care of the baby plants and relish the time of nurturing them.
They have a variety of hybrid Orchids such as;
Oncidium
Paphiopedilum
Cattleya
Phragmipedium
Dendrobium
Lady's Slipper Orchids
Angraecoids
They do not charge prices as the flowers are also very simple and not highly decorated by fancy pots.
Most of their flowers' prices are $10 to $30. The prices seem a bit less because they are still budding.
9. Urban Stems
Urbanstems is very flexible and quick at its delivery. The service is provided on the same day or right the next day at your doorstep.
Most plant lovers choose this site for gifting their loved ones. It is a perfect place to pamper yourself and others!
Urban Stems are very concerned about their plants and flowers to keep them vibrant and fresh. They do not compromise the quality.
If you want your Orchids to be designed in bouquets, you are at the right place. They even hire designers to provide you with the best possible service and end products.
Orchids Available
All the Orchids are well potted with various colors and designs/ sizes. Nevertheless, they always provide elegant-looking ones.
You can gift your loved ones or pour some self-love while playing with a range of meaningful colors;
Yellow Orchids: a spirit of youth, friendship, and happiness
White Orchids: Elegance and Purity
Purple Orchids: a sense of Royalty
The best thing about this place is that you get good-quality Orchids at an affordable price. The range starts from $55 to $85 amounts.
10. Odom's
John Odom is the founder of Odom's, and he, with his team, has been operating the business for more than 50 years.
They are known to be one of the biggest retail growers throughout the United States, with a massive area coverage over 90,000 square feet.
Odom's florist is located on Florida's southeast coast, Fort Pierce.
They are more actively participating in shows than just idly growing in greenhouses.
They are closed during major holidays and on Sundays. So the best time to place orders to them is from 9 am – 5 pm on Mondays and 9 am – 2 pm Saturdays.
Odom's mainly sell fully grown Orchids than just tiny buds that are only shipped in the USA.
You can visit their page to gift orchids to your loved ones and provide gift certificates!
Orchids Available
Many options are available such as Lady Slippers, Vandas, Phalaenopsis, Oncidiums, C. lueddemanniana, Aerides odorata, and a collection from Cattleya Orchids.
Generally, the Orchids' prices range from $20 to $40. You can find exclusive Orchids that are quoted more than $100 too.
Tips to Take Care of Orchids
Orchids are not fussy plants that need high maintenance. However, a few simple things should be considered to keep them blooming and looking exotic throughout the years.
Here are some of the tips and tricks to follow to get your best looking healthy Orchids:
Provide your Orchids with 12 to 14 hours of bright indirect sunlight. Place your Orchids near the east or west east-facing window.
Watering once a week is ideal for you to keep your Orchids healthy. Water it until the top layer looks dark and wet but does not overflow out of the pot.
Using rainwater and lukewarm water is best for Orchids.
Orchids need a chunky potting mix with a pH of 5.5 to 6.5 to thrive.
Quick Tip: Mix 1 part bark fines, 1 part perlite, and 1 part sphagnum peat moss to make a potting mix for good aeration and drainage.
They prefer a shallow container with 4 to 6 drainage holes. Terracotta pots are best to use as they allow air and water to pass freely.
Repot your Orchids once every two years. While doing so, add fresh potting mix accordingly and opt for a few inches larger pot than the current one.
Orchids prefer humidity levels of 50 to 60%. You can use a humidifier, pebble tray, or mist the plant frequently to maintain the optimum humidity level.
Orchids cannot stand extreme temperatures that are too hot or too cold. An ideal temperature range would be between 16 – 22°C (60 – 75°F).
Fertilize your Orchids every week during their growing season. After their growth stagnates at a point, fertilizing only once a month is well enough. You can also use 20-20-20 balanced fertilizer.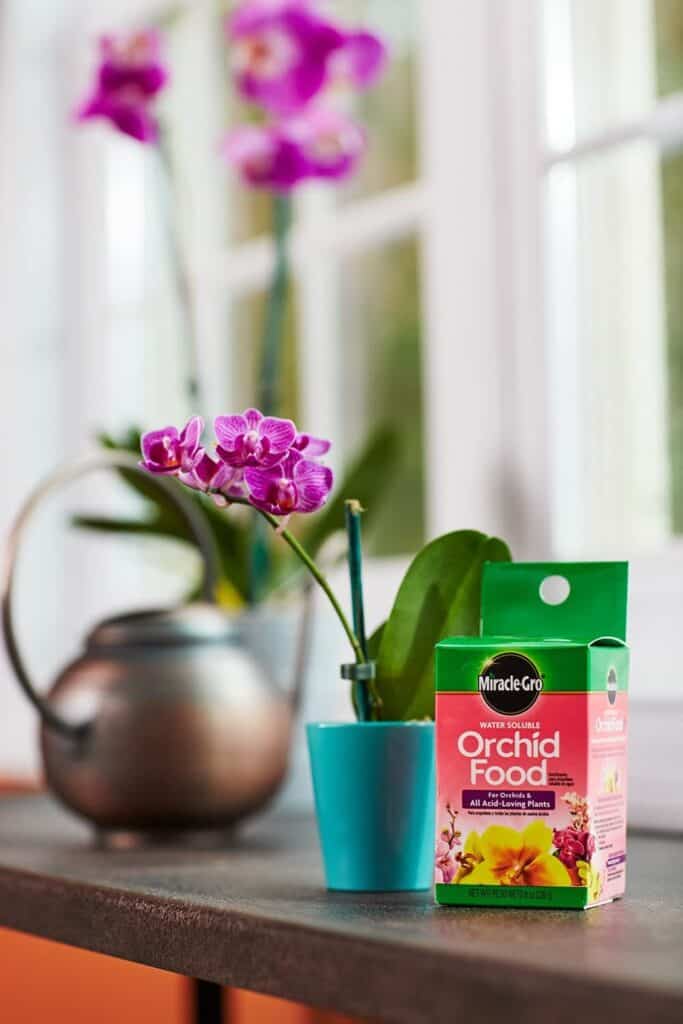 Nasty pests can attack your Orchids like Scales, Mealybugs, and Aphids or diseases. So, it is always better to watch out and keep investigating your plants now and then.
Cut out all the yellow or brown leaves if you see any of them. Also, plucking out the dead blooms can divert the energy to the freshly grown buds and leaves.
However, do not trim Orchids' roots, as the plants' roots transfer oxygen and nutrients all over the parts.
Check out the below video for a visual representation of a great care guide to your Orchids.
You might even experience droopy Orchid leaves due to improper care. For the possible solution and guide, you can check the article: Why Are My Orchid Leaves Drooping?
Conclusion
It isn't easy to pick just one Orchid to buy from all these options.
Tell us about your favorite Orchid stores and how your experience with the service went!
Alongside the purchase, taking well care and maintaining them is equally important.
The care tips mentioned above will assist you in caring for your magnificent Orchids.
Good luck with your Orchids!