Unique, stunning blooms of Orchids are excellent choices to buy for decor, but finding them online can be tricky as not all online shops are worth it.
Before you buy Orchids online, ensure the retailer has a good reputation with positive customer reviews and the quality of the Orchids they provide. As Orchids are fragile, so be mindful to select the stores that give prompt service, good packaging and shipping.
Read on to find well-reputed best online stores or places that offer high-quality Orchids to buy alongside an Orchid care hack.
10 Best Places to Buy Orchids Online
Thanks to the evergrowing internet, you can tap into varieties of exotic Orchids at your fingertip and buy them online.
However, all glittery things online are not gold, as scammers are ready to catch you off guard.
Now, let us begin with the best places to buy Orchids online without further ado.
1. Garden Goods
Garden Goods is highly renowned in the plant market with competitive pricing and high-quality products.
Species of Orchids such as Lamium Orchid Frost and Jewel Orchid are available.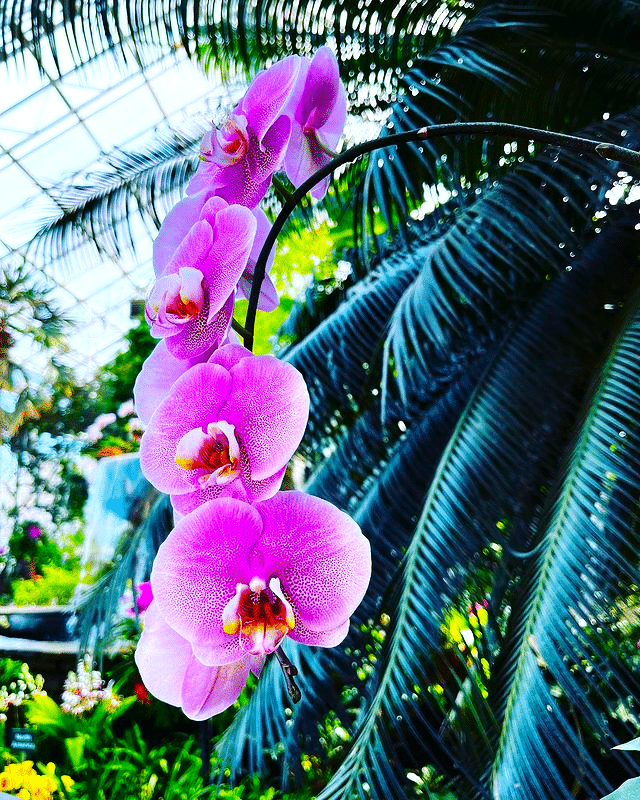 Both the Orchids are well described on the online page about the caring guides and background of the Orchids.
Garden Goods provide features like product tracking, warranty claim and no shipping charges for orders above $175.
Furthermore, they use FedEx express to deliver your beloved Orchids within 1-5 business days.
2. The Sill
The Sill is a great portal to find Orchids that have numerous varieties. They have an entire team to give the best service possible.
They have varieties of Orchids ranging from pink, spotted, white, petite white or orange, dotted Phalaenopsis Orchids, and so on.
In addition, The Sill promises to deliver the product within 2-4 business days and uses UPS carbon-neutral shipping.
Interestingly, they also ship in winter and include heat packs to keep plants warm during transit.
3. Plant Vine
With an aim to create an incredible journey in plant purchasing, Plant Vine has given many customers the best shopping experience.
They give the best possible quality products and provide advice ensuring optimum shipping conditions.
You can find varieties of Orchids like Spathoglottis plicata, Sorbet, and Reed Stem.
To ensure you receive what you see online, Plant Vine sends a photo of the plant before shipping.
Furthermore, they allow customers to track orders via email and order ID.
4. Teleflora
Teleflora is a versatile platform for purchasing flowers and plants. There are a lot of varieties that you can keep fondling on the online site.
It is exciting and worth purchasing with discounts for occasions such as Christmas and Valentine's day.
A wide range of Orchids is available in Teleflora from pink, purple, white and yellow colors. Each comes with a very decorative pot perfect for your interiors.
They have 24-hour service to answer your queries and offer same-day deliveries if you are in the USA.
5. Brookside Orchids
Brookside Orchids is one of the very well-known online shops specifically for purchasing the best-grown Orchids.
They are located in the Portola Valley near San Francisco and are loved for their California Orchid blooms.
You will find a wide range of exotic Orchids in different colors; light to dark in the shade or subtle to vibrant colored florals.
Some of the Orchids varieties include Paphiopedilum lowii aureum 'Hilo Gold,' Phalaenopsis deliciosa, equestris coerulea and Dendrobium.
Brookside Orchids has a retail store with good rating feedback of 5 stars. The flowers are grown in the nursery of Pacifica and Menlo Park.
They ship nationwide in the United States only on Mondays and Tuesdays via Express or FedEx.
6. Walmart
In addition to offline services, Walmart offers online services where you can find a wide range of Orchids.
Some of the Orchid varieties you can find in Walmart are Cattleya, Oncidium, Dendrobium, Vanda and Phalaenopsis.
Walmart is very conscious about its budget and provides a service of two to three-day deliveries.
They have excellent customer engagement and have secured genuine good remarks and comments about the product.
They provide prompt delivery service within three days with proper packaging.
7. FLOWERBX
Extensively known for high-end, luxurious flowers, FLOWERBX offers Orchids in signature sleek pots with black ribbons.
They offer Orchids like Powder White Cymbidium, Magenta Phalaenopsis, Delft Blue Vanda and Amaranth Pink Phalaenopsis.
FLOWERBX offers same-day deliveries in Manhattan and Los Angeles only, but next-day deliveries are possible throughout the USA.
The best part is that they provide complimentary gift wrapping if you think of gifting someone.
The Orchids here are priced premium with high-quality florals.
8. Marlow Orchids
Marlow Orchids have a limited variety of Orchids and do not operate in the mass market.
However, they sell purely organic and homegrown Hybrid uncommon Orchids you might not find on other platforms.
Some are Oncidium, Paphiopedilum, Cattleya, Phragmipedium, Dendrobium, Lady's Slipper Orchids and Angraecoids.
The Orchids are freshly grown, well preserved from damage, and only transported around the United States.
Marlow Orchids generally deliver young baby Orchids within a week or ten days.
9. Urban Stems
Most plant lovers choose Urban Stems for gifting their loved ones as they hire designers to prepare bouquets.
They provide fresh, vibrant Orchids of yellow, white and purple as they make a meaningful gift at an affordable price.
Urban Stems are very flexible and quick with their delivery, and the service is provided at your doorstep on the same day or the next day.
10. Odom's Orchids
Alongside 50 years of service, Odoms Orchids are one of the biggest Orchid retailers in the USA.
Odom's mainly sell fully grown Orchids rather than tiny buds only shipped in the USA.
Some of the most popular Orchids they offer are Lady Slippers, Vandas, Phalaenopsis, Oncidiums, Aerides odorata, and a collection from Cattleya Orchids.
They use FedEx or UPS for faster, reliable shipping of the Orchids, but they do not ship in winter months.
Tips to Take Care of Orchids
The regal appearance of Orchids demands meticulous care to keep them blooming throughout the years.
Here are some tips and tricks to make Orchids thrive.
Place Orchids in the east or west window, ensuring 12-14 hours of bright indirect sunlight.
Aim for once-a-week watering using rainwater to keep Orchids hydrated.
Maintain the temperature of about 60-75°F and humidity at around 50 to 60%.
Use balanced fertilizer every week during the active growing season and reduce it to once a month once the plant growth stagnates.
Provide chunky, porous nutrient-rich soil of pH 5.5 to 6.5, facilitating moderated water retention and well-drainage.
Give Orchids terracotta pots with multiple drain holes to allow excess air and water to pass freely.
Repot your Orchids once every two years using fresh potting mix in a few inches larger pot than the current one.
Regularly prune off yellow and brown leaves and carefully deadhead spent Orchids flowers.
From Editorial Team
Orchids: Beauty With a Purpose!
Besides the ornamental purpose, Orchids offer medicinal and culinary benefits that you can leverage.
Carefully buy the Orchids from any sites I mentioned above and enjoy the beauty that alleviates stress.
All The Best!