White tulips have always been the flower of dreams for many girls all around the world.
With their vibrant colors, dramatic forms, and regal height, Tulips are unlike any other flower in your yard.
If you love Tulips like me, these stunning spring blooms, which are best planted as bulbs in the fall, are a must-have for any garden or future landscaping plans!
Choosing white tulip kinds to plant in your yard is challenging because there are so many. In addition, within each species, tulips appear in a variety of sizes and shapes. To help you spread out, here are some of our favorite varieties of white tulips.
Similarly, white tulips are one of the most exquisite selections for gardens and indoor arrangements during the spring.
Likewise, rich, well-drained soil, regular watering, and a little fertilizer will typically suffice to ensure that these blooms grow robust and colorful.
Keep reading to find out your ideal white tulips, which will bring color and joy to your space and collection!
How Many Varieties of White Tulips are There?
Tulips are the most popular bulbs, and most gardeners plant them in containers as a sign of spring.
Although there is no specific given to the varieties of White Tulips, there are approximately 3,000 recorded tulip varieties, classified into fifteen categories depending on blossom kind, size, and blooming season.
Get a look at the classic houseplant, Prayer plant and it's 15 different types.
12 Types of White Tulips that will look great in your garden
As it is, Tulips are beautiful plants that are admired by many; however, white tulips are magical, which leaves everyone stunned by their beauty.
If you know how to grow white tulips, they will look stunning. Here are some of the most fabulous planting suggestions!
| Common Name | Origin |
| --- | --- |
| Tulip Catherina | Turkey |
| Purissima Tulip | Central Asia |
| Tulip Mondial | Netherlands |
| Tulip Danceline | UK |
| Sapporo Lily Tulip | Netherlands |
| Flaming Baltic Tulip | Breezand, The Netherlands |
| Signature Fringed Tulip | Netherlands |
| White Triumphator Lily | Netherlands |
| Pays Bas | Netherlands |
| White Prince Tulip | Netherlands |
| Spring Green Tulip | Netherlands |
| Maureen Tulip | France |
1. Tulip Catherina
Catherina is a lovely white Single Late Tulip cultivar.
The plant grows tall with creamy white blooms and appears lovely in landscaping projects for parks and gardens.
Similarly, the tallest category of Tulips, Single Late Tulip bulbs, has exquisite big flower heads on long stems. Their height varies between 22 and 28 inches.
Not only that, Catherina features oval-shaped flowers that come in a variety of colors and represents pure love and pleasure for all time.
Choose a location that gets plenty of sun for these tulips.
If you live somewhere with a lot of sunlight, make sure they have some shade so the petals don't burn.
Catherina, which blooms in the late spring, makes excellent cut flowers and border plants.
| | |
| --- | --- |
| Blooming Time | May |
| Bulb Size | 12/ + cm |
| Plant Height | 24-26 inches |
| Lifespan | one to two weeks |
2. Purissima Tulip
Tulip' Purissima,' an award-winning white tulip cultivar, is a refined and elegant tulip loved by gardeners and regarded as one of the most excellent white tulip varieties.
It features a creamy foundation and large pure white elongated petals.
Similarly, it is a recognized Fosteriana Group member that can withstand wind and rain because of its powerful steam.
Likewise, it blooms in early to mid-spring and can be seen in full bloom for up to three weeks.
Purissima prefers an environment with cool winters and warm, dry summers.
This Tulip, which grows to 14-16 inches tall, was easy to naturalize and will return year after year, much to our joy.
Not only that, with other early flowering bulbs produce beautiful harmonies.
On the full sun, in rich, fertile, medium moisture, well-drained soils, Purissima Tulips is in its element!
| | |
| --- | --- |
| Blooming Time | Early to Mid Spring |
| Bulb Size | 10/11 cm |
| Plant Height | 12-18 inches |
| Lifespan | 1-2 weeks |
3. Tulip Mondial
Mondial Tulip has huge snow-white flowers with a double row of fluffy petals encircling a creamy yellow core that endure long.
This fragrant Double Early Tulip has been a favorite since its introduction in 1997.
Similarly, the beauty of Mondial will brighten up the landscape in the early to mid-spring.
It's easy to cultivate and looks excellent in beds, borders, and containers.
Likewise, it will boldly resist April's rains, growing just 8-2 inches (20-30cm) tall on sturdy stems.
It thrives in full sun on soils that are rich, fertile, and well-drained.
In addition, Mondial prefers mild winters and hot, dry summers.
| | |
| --- | --- |
| Blooming Time | Mid-Late Spring |
| Bulb size | 12/+ cm |
| Plant height | 8-12 inches |
| Lifespan | Approximately 10 days (in vase) |
4. Tulip Danceline
This plant is truly stunning, with a plethora of totally double, almost peony-like flowers to enliven the spring garden.
Tulip' Danceline' has stunning huge white double flowers with rich raspberry petal tips on robust stems.
Similarly, soft green feathering on the outer petals adds a fashionable touch and a crisp new appeal.
Nothing in the garden compares to the variety of colors and forms Tulips provides in April and May.
In addition, the color of Danceline varies from passionate reds, brilliant oranges, darkest purples, and sunny yellows to beautiful pastels and pure white.
Fill a prominent bed or formal parterre with these intense colors in splashes in the perennial border or at an entrance.
| | |
| --- | --- |
| Blooming Time | Late April |
| Bulb Size | 12 cm |
| Plant height | 20 inches |
| Lifespan | 1-2 weeks |
5. Sapporo Lily Tulip
The Sapporo Lily Flowering Tulip, which blooms in pure white, makes an excellent garden plant.
Flowers that bloom to a height of 4-5 inches! Sapporo Lily is great for perennial gardening!
It's a tall-stemmed plant that works well in formal beds as well as natural perennial borders. Long pointed petals reflex in lily blooming tulips, which are frequently bordered with a contrasting hue.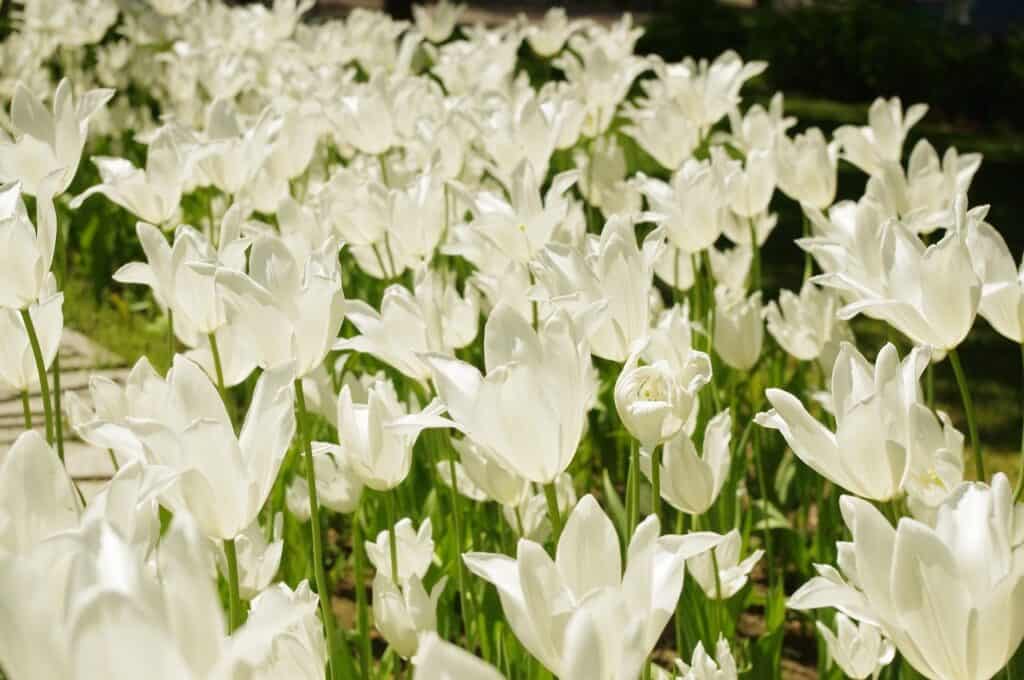 One of the most accessible bulbs to cultivate is S. Tulips. Plant in well-drained soil in full sun or moderate shade this fall to get the benefits in the spring.
Similarly, plant them in a protected spot since they are prone to wind damage.
In addition, late-blooming tulips are often planted in the autumn, with most Claudia Lily Flowering Tulips blooming in the late spring.
| | |
| --- | --- |
| Blooming Time | Late April- Early May |
| Bulb Size | 4-5" |
| Plant Height | 11.8-19.7 inches |
| Lifespan | 1-2 weeks |
6. Flaming Baltic Tulip
Tulip' Flaming Baltic' will brighten up your world even before you get close enough to appreciate the intricacies.
The white, fringed blossoms of this beautiful bicolored Tulip have distinct purple patterns. 'Flaming Baltic' goes nicely with various colors.
Some of its primary colors include orange tulips that contrast with the purple patterns and deep purple tulips that catch up on the purple markings.
In addition, their deep-plum 'flame' marks contrast sharply with the spotless white backdrop provided by the petals, giving them all the Rembrandt tulip flair you'd expect.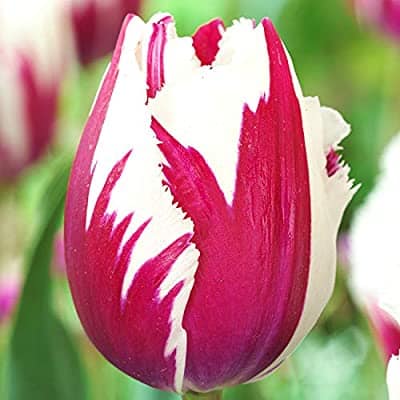 With 18-inch stalks, these tulips can withstand the wind and rain of spring storms.
Similarly, the brilliant and dramatic hues of this Tulip will benefit from complete to partial shade.
Likewise, the Flaming Flag will bloom in your yard in mid-spring if you plant it in the fall before the first severe frost.
In addition, allow this Tulip to grow out 4-6 inches before planting the bulb 6-8 inches deep to protect it from the cold over the winter.
| | |
| --- | --- |
| Blooming Time | April-May |
| Bulb Size | 12 cm |
| Plant height | 16 to 26 inches |
| Lifespan | 1-2 weeks |
7. Signature Fringed Tulip
The petals of the Daytona Fringed Tulip are pure white, like the wings of a swan, and provide a lovely aspect to the yard.
Similarly, this white beauty's serrated, feathery borders are unequaled in the landscape and look fantastic in a moonlight garden!
In addition to their beauty, these tulips bloom for an extended period.
However, if you decide to keep it in your garden, plant it away from the boundary.
It will be able to peak over shorter plants because of its 22-inch stalk.
| | |
| --- | --- |
| Blooming Time | April-May |
| Bulb Size | 12/+ cm |
| Plant height | 17 inches |
| Lifespan | 1-2 weeks |
8. White Triumphator Lily
With its long-lasting and enormous, pure white reflexed petals, award-winning Tulip' White Triumphator' is a classic beauty that you cannot overlook.
When swinging in the spring air, this Tulip blooming in the late spring garden creates an attractive and graceful spectacle which awes the audience.
Similarly, plant this beauty in a wind-protected position to create stunning harmonies with other late-season flowering bulbs.
It is important to note, Triumphator Lily grows up to 26-28 inches tall.
In addition, it thrives in full sun and fertile, medium-moisture, well-drained soils. Prefers mild winters and hot, dry summers.
| | |
| --- | --- |
| Blooming Time | Late April-May |
| Bulb Size | 16-18 cm |
| Plant height | 26-28 inches |
| Lifespan | 1-2 weeks |
9. Pays Bas
The scenery is refreshed and lightened by the velvety, ivory-white petals with creamy highlights.
Pays Bas is a hardy species that looks just as well in a vase as in the yard.
Similarly, Pays Bas is French for "Low Lands," It is called for the flower bulb-growing region.
The Pays Bas is a rigid tulip type that blooms in mid-spring and can withstand heavy rainstorms.
They have shorter stems and bright white blossoms, making them perfect for garden borders. These tulips are also ideal as cut flowers since their stems will keep them from drooping in the vase for longer.
Make space for these flowers in your fall garden where they'll get lots of light but yet have some cover during the warmest portion of the day.
| | |
| --- | --- |
| Blooming Time | April/May |
| Bulb Size | 12cm |
| Plant height | 18-24 inches |
| Lifespan | 1-2 weeks |
10. White Prince Tulip
A peaceful white tulip in full bloom! White Prince is a single early tulip that is all white.
Similarly, it'll be one of the earliest tulips in your spring tulip garden to bloom.
The White Prince is one of three 'Prince' tulips that make up a dream team: the Yellow Prince, the Purple Prince, and the White Prince.
It's an excellent cut flower, and the 14-inch stem holds up well in a vase.
Early in the spring, this Tulip blooms with a beautiful milky white blossom.
In addition, when planting the White Prince, make sure it gets plenty of sunlight while also getting some partial shade to avoid burning the delicate petals.
| | |
| --- | --- |
| Blooming time | Spring |
| Bulb Size | 12/+ cm |
| Plant height | 15 inches |
| Lifespan | 1-2 weeks |
11. Spring Green Tulip
Tulip 'Spring Green' is an uncommon tulip with its beautiful ivory-white blossoms and subtle green feathering.
The Spring Green is a beautiful white and green tulip with a long-lasting bloom that blooms in late spring and lasts until early summer.
Similarly, these have robust branches that can tolerate spring weather while still being a good-cut flower option.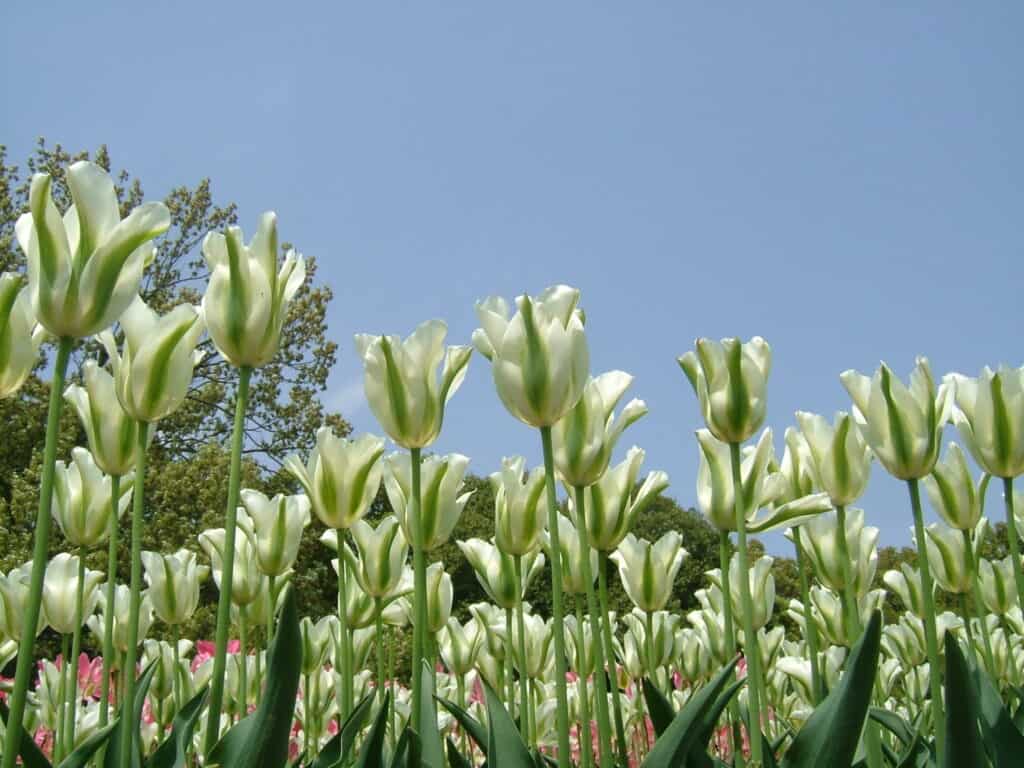 Its 20-inch stem allows it to fill in the center of vase arrangements as well as garden beds.
It looks stunning when planted with dark-colored tulips in spring borders.
While generating stronger colors, full sun with partial shade will preserve this Tulip from the more severe heat that creeps in throughout late spring and early summer.
| | |
| --- | --- |
| Blooming Time | Late Spring |
| Bulb Size | 12cm |
| Plant height | 12-22 inches |
| Lifespan | 1-2 weeks |
12. Maureen Tulip
Maureen is one of Scheepers' most well-known hybrids, and with good reason.
The Tulip is also known as a French tulip and was introduced in the 1950s.
'Maureen,' a tall, classically-shaped tulip with wonderful off-white blooms that bloom in May, is a tall, classically-shaped tulip with lovely off-white blossoms.
Similarly, it has exquisite form, with oval or chalice-shaped blooms.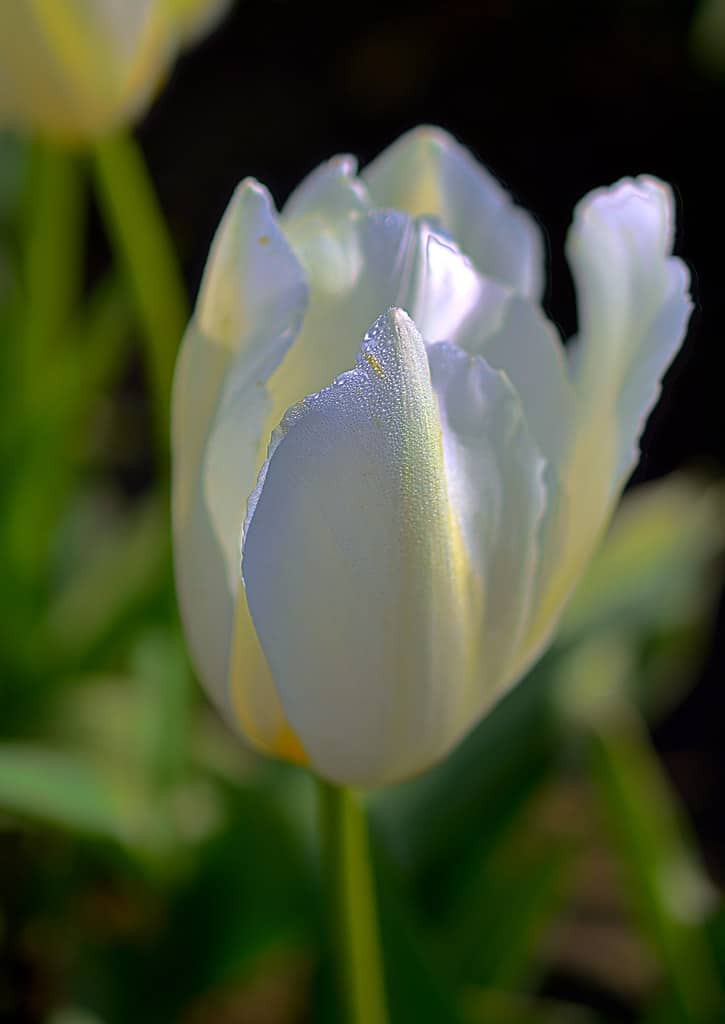 The blooms of this Tulip open pale yellow and grow to a dazzling, gleaming marble-white color.
In addition, it is the ideal partner for Menton, as it blooms later than other Scheepers hybrids.
Likewise, because the stems are tough and resilient, they're ideal for trimming or growing in more exposed areas.
Maureen is also considered one of the best white Tulips, whether in a landscape or a bouquet.
| | |
| --- | --- |
| Blooming Time | May |
| Bulb Size | 12+ cm |
| Plant height | 26-28 inches |
| Lifespan | 1-2 weeks |
White Tulips Care Tips
Tulips thrive in damp, cool-to-cold winters and hot, dry summers. In the fall, plant the bulbs 4 to 8 inches deep in a sunny place with well-drained soil (a depth three times the size of the bulbs).
Similarly, place the bulbs 2 to 5 inches apart (depending on size). Again, tulips look best when planted in groupings of ten bulbs or more.
Here are some of the significant factors regarding the proper care of white Tulips:
Tulips may thrive in full sun or moderate shade, but they prefer at least six hours of direct sunshine every day.
White Tulips may thrive in almost any soil type, although they prefer sandy soil rich with organic matter. To enhance the texture of heavy soil, add organic ingredients.
It would be best if you watered your tulips once a week. Tulips require 17mm of water every week, or 2/3 of an inch, especially in the late winter and early spring.
Tulips thrive in temperatures below 55 degrees Fahrenheit. The plant's maximum temperature tolerance is 29 degrees Fahrenheit.
The optimum tulip bulb fertilizer will have a 9-9-6 nutritional ratio. You should also use a slow-release fertilizer while fertilizing tulipS.
The insects penetrate the tulip leaves and drink the sap, weakening the plant and discoloring the leaves. Application of insecticidal soap is one technique of control.
Tulips thrive in pots or containers and are easy to grow. Use a ceramic pot with drainage holes at least 8.5 inches (22 cm) in diameter.
FAQs About White Tulips
Are White Tulips toxic?
Although Tulip is known for its beauty, it still has toxic aspects to be aware of.
Tulips contain toxin-producing alkaloid and glycoside chemicals, which are concentrated in the bulb.
As a result, dizziness, nausea, gastrointestinal discomfort, and, in rare cases, convulsions and death can all be caused by eating tulip bulbs.
Get to know whether your Fiddle leaf Figs are toxic to your furry companion!
Can White Tulips Thrive Indoors?
You can plant tulips, daffodils, crocus, hyacinth, and other cold-hardy spring bulbs in pots to blossom indoors in late winter.
Cold treatment and placement of bulbs in a chilly, sunny window in your home can force bulbs to blossom.
In addition, mildew and mold should be absent from the bulbs.
Conclusion
These tulips are stunning and would add a touch of class to any yard, indoor planter, or floral arrangement.
Although the different kinds listed here have a lot in common, each has its peculiarities that you must understand to grow them successfully.
Similarly, Tulips reward you and your yard with a spectacular spring show if you take care of them.