The boss lady of "Rare Beauty," Selena Gomez, 30, has rare hobbies and possessions apart from singing and acting. And that would be the garden of Selena Gomez.
This side of the emerging beauty entrepreneur might not be openly visible to a normal audience, but I bet we Selenators know it all.
At least more than the rumors swirling between Selena Gomez and the former One Direction member Zayn Malik.
What Does Selena Gomez Garden Look Like?
Selena's garden equals her versatility in music.
Hold on! Before you barge over me with the series of trolls and memes for misunderstanding, let me break it down for you.
The 11,500 sq ft mansion in the Encino neighborhood of Los Angeles has six bedrooms, ten bathrooms, and a lavish backyard, not less than any tropical oasis.
This chic-looking garden of Selena, filled with native plants, sometimes serves as a professional studio too. Don't believe me?
Look at an Instagram post where the Queen thanks Vogue for visiting her home for the cover shoot of the April 2020 edition of the magazine.
Basking in the Californian sun under the shade of Areca palm, she quotes, "Thanks @voguemagazine, for stopping by my place- you're welcome back anytime."
Further, on the magazine cover, Selena wears a fuzzy floral dress. Interestingly, we couldn't help but zoom in on the background to adore the palm fronds right before the seabreeze bamboo.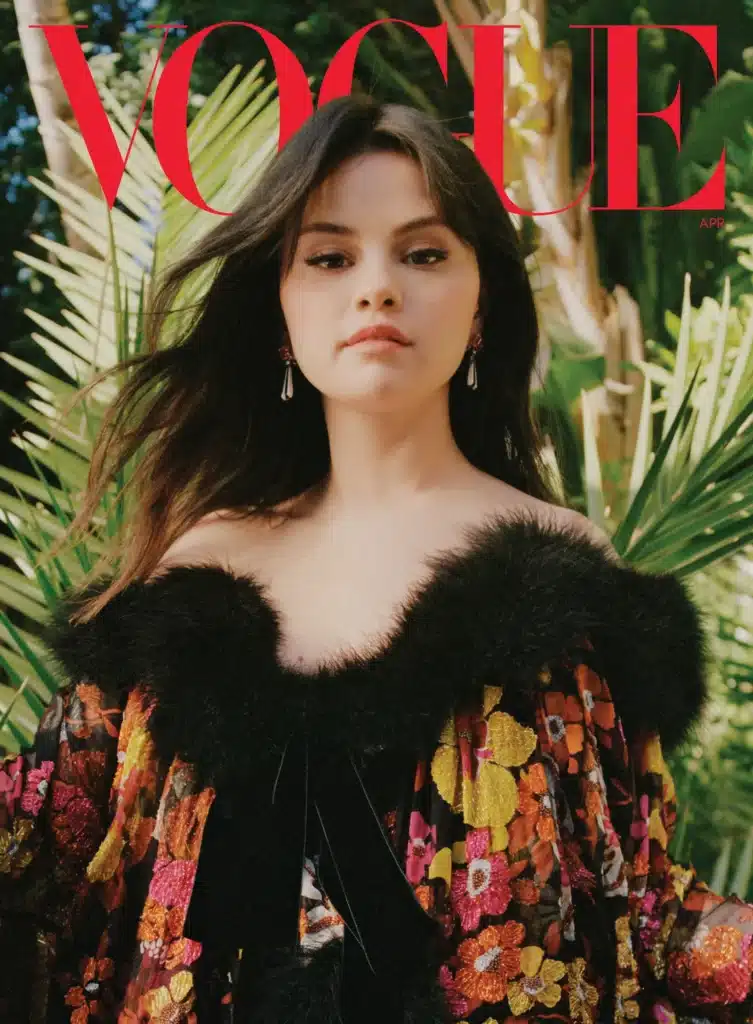 No wonder her friends love to hang out and celebrate in her backyard, even for no reason. I mean, who wouldn't mind a celebration amidst the greenery?
Not just her current L.A. home but the diversity of indoor plants in the Malibu beach house, the set of her cooking show "Selena+Chef," makes us believe that she prefers having hints of green for freshness and peace of mind wherever she goes.
Fiddle leaf fig, french hydrangea, and herbs like basils are some plants visible in her cooking show episodes aired on HBO.
Moreover, she has her dracaena corn stalk plant (easy to propagate) right at the end of the kitchen counter, bridging the gap between the living space and the kitchen.
How Does Selena Gomez Take Care of Her Garden?
Despite her busy schedule, be it for making music or first-hand involvement in her glam beauty line and long shooting hours, her garden looks too good to be true.
We could assume that she has gardening helps to keep up with the regular needs of Zone 9-10 tropical plants that she owns.
But in an interview, she mentions her favorite pastime is roaming around in her home garden, which could be her time with the plants.
Along her regular walk on the picturesque lawn, she might sometime pull on her gardening gloves, get a trowel, watering can, or a pair of pruning gear, and start pampering her green babies by weeding, watering, or pruning.
How to Create Your Own Celeb Garden Like Selena Gomez?
Creating a garden just like Selena would be a tough nut to crack, unlike her makeup look, which has many online tutorials. But I got you covered.
To make your garden a replica of Selena Gomez's garden, you'll need a few tropical plants that suit your USDA zone.
Even if you do not get the exact plant, you can add their alternative to mimic a similar ambiance.
For instance, monstera could be a great substitute for fiddle leaf fig, while sago palm and kentia palm can replace the normal areca.
As for the care, bottom water the indoor plants, and for the backyard ones, follow your regular watering routine, i.e., twice a week.
And when it comes to maintaining the aesthetic, you can use the minimalistic and elegant yet quirky ceramic pot with muted tones, just like the donut pot on her countertop, along with a few succulents.
From Editorial Team
Many of us know how much Selena advocates mindfulness and mental well-being, and gardening as a hobby suffices the purpose.
Lets us indulge in the same and support the cause, simultaneously aiding nature and sustainability!