There is something about rockstars indulging in gardening, and it might not be a far-fetched idea for someone with 'plant' in his name.
Robert Plant and his band 'Led Zeppelin' have grooved us with his serene music and thought-provoking lyrics for a long time. As a 'Plant' lover, I was happy to discover that Robert is also into gardening.
Join me on this journey to dive deeper into the paradise of Robert Plant Garden, situated on Wellington Road, London.
What does Robert Plant Garden Look Like?
Currently, in his mansion in London, rumored to be around £1.4 Million, you will see a lot of greenery in the surrounding.
Saying maybe he spent around £400 Thousand on the trees and plants around his mansion would not be an overstatement.
When you enter the mansion, you will be welcomed by
12 beautiful pots
containing yellow daylilies.
Two beautiful, well-trimmed hedges surround the pots.
In a video he posted doing ALS Ice Bucket Challenge, you can see him surrounded by surreal greenery.
I guess Robert Plant took his lyrics "You need cooling, baby, I am not fooling" seriously.
Looks like Percy is a big fan of spider plants, as we can see two of them in the video.
Also, you can see a well-grown clematis plant in the video above.
If you look at the bottom of the videos, you can see beautiful potentillas smiling at you.
Thus, you can conclude that you cannot keep 'plant' away from Robert Plant.
What Keeps Robert Plant Garden Growing?
Irrefutably, Robert is not very vocal about his gardening habits and his love for plants.
But his image with a shovel from the late 70s proves he loves pouring hard work into his garden. And I am pretty sure his charm for gardening has not faded away with age.
His garden's blooming flowers and thriving plants prove how much he loves his plants.
Robert Plant Showcases His Love for Plants on His Social Media
Apart from hundreds of posts relating to music and his tours, Robert showcases his love for flowers, trees and plants sometimes.
In one of his posts, he publishes beautiful Hawthorn flowers with a feather. God knows what goes on in his marvelous mind.
And it is not just for his namesake; I can guarantee you that. Robert's love for plants can be witnessed clearly in his Instagram posts.
Like, this other picture where he is flaunting the labyrinth made in hedges in his garden.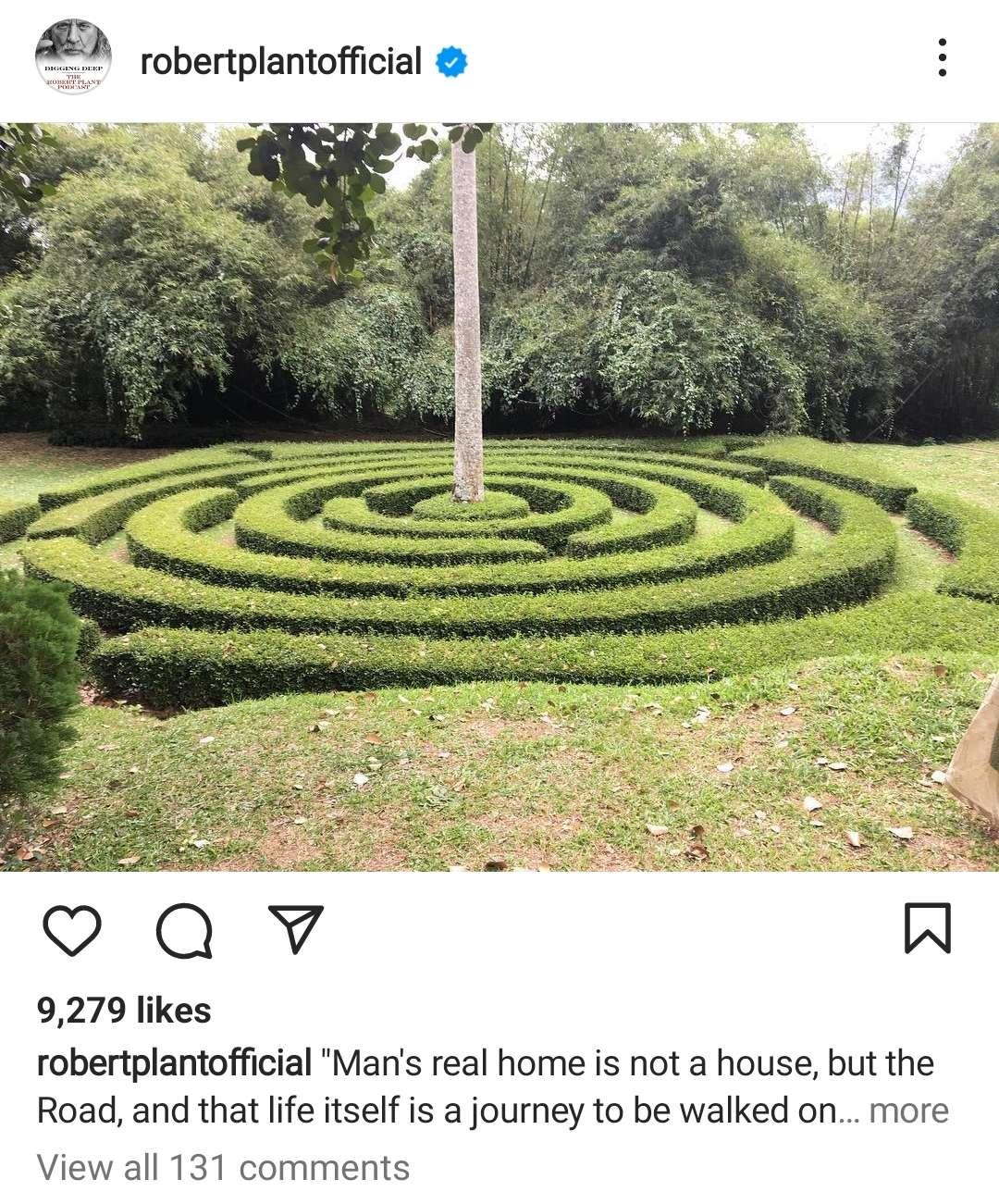 The flaunting of his garden does not end here. Besides the flowers and enticing mazes, Robert has a soft spot for trees.
Be it the periphery of his house or his garden, he never backs down from showcasing them.
For example, look at this picture of Blackthorn he posted on his Instagram.
As a huge Led Zeppelin and Robert Plant fan and also an avid gardener, it was a huge honor for me to write about him and his garden.
Editor's Note
Well, that brings us to the end of our virtual tour of Robert Plant garden and his gardening habits.
In the end, let me sign off with a plant cum rock and roll pun.
"Robert Plant, while Roger Waters."