A watering can is, of course, one of the finest methods to keep your house plants well-watered.
They are also known as watering pots, are an excellent way to keep your houseplant collection happy and healthy.
Generally, mini watering cans have small and tapered spouts. These cans help water indoor plants as they control the water stream.
This article will guide you about ten cute different mini watering cans for your indoor plants.
Find out what features you should look for.
Is a Watering Can Useful to Water Indoor Plants?
A watering can is a versatile and essential tool for gardening or plant care arsenals.
Watering cans are helpful to break up the pressure-giving stream of water into tiny droplets and drench the soil just adequately.
Even outdoors, watering cans can be helpful in light irrigation processes, especially when surface irrigation is not possible during dry seasons.
These simple gardening tools can also apply liquid fertilizers to the crops.
Let's have a look at some of their benefits.
1. Controlled Pouring
Watering cans provide a controlled and consistent stream of water, avoiding any water leakage beyond the plant. In addition, it is convenient for plants that dislike overhead watering.
2. Easier to Reach your Plants
Plants that grow in hanging pots or prefer watering in their roots are difficult to water. Long spout watering cans are helpful to reach these plants.
3. Consistent Measurements
The amount of water you supply and the number of waterings should be consistent.
A watering can is helpful in this regard as measurements will be consistent for every watering.
Features to Look for in a Mini Watering Can
You must consider numerous factors while selecting a watering can, ranging from the purpose of use to the size of the area to be irrigated.
When watering, make sure to direct the water to the exact location where the plant is developing.
Dripping on foliage can produce scorched patches, and the root system can get overstressed, becoming exposed and dry, leading the blooms to become ill.
Whether you are growing your plants indoors or outdoors, you have to look for specific watering can features.
1. Type of Watering Can
Are you looking for an indoor can, a gardening tool, or something decorative? The fundamental characteristic that can identify watering cans is their purpose.
Indoor Watering Can
It is intended to be used to water potted plants. Their small size distinguishes them: the volume of this watering can not exceed 0.25-0.5 gal (1-2 liters).
A tiny watering can be placed next to a plant on a windowsill or bedside table.
Gardening Tool
Iron watering cans are popular gardening tools for watering beds, shrubs, and young trees.
Their capacity is typically between 1.3 gal (5 liters) and 2.6 gals (10 liters).
They feature a broad neck with beveled sides to keep water from spilling on them while being carried.
Some varieties come with an extra funnel for the neck and a specific nozzle.
Decorative Can
These decorative watering cans are no longer considered tools because their sole purpose is to adorn the inside of a home or garden.
You may purchase a ready-made ornamental watering can or embellish an old metal pot if it is in good condition.
These watering cans are often filled with soil and planted with flowers. As a result, they often blend in with the rest of the surroundings.
2. Size of the Can
For light-duty daily works, you could buy one that is just handy enough. For instance, a small convenient watering can is best to water small indoor plants.
On the contrary, if you are to water an enormous indoor garden, choose a watering can that is comfortable to lift and water but does not need frequent refilling.
It would be best to choose a watering can that can hold at least enough water for all your plants so that you do not have to refill your can in the middle of your waterings.
A standard can hold a gallon of water would be ideal, but anything just below or around that range would be enough for mini cans.
3. Spout Length
Watering cans with long spouts are more effective with some plants, particularly those with big foliage or those in difficult-to-reach regions.
For indoor plants, a long spout watering can be best, especially when hanging pots and plants that are delicate to overhead watering.
For example, watering African Violets, you would prefer a watering can that has a slender neck so that you can water under the leaves properly.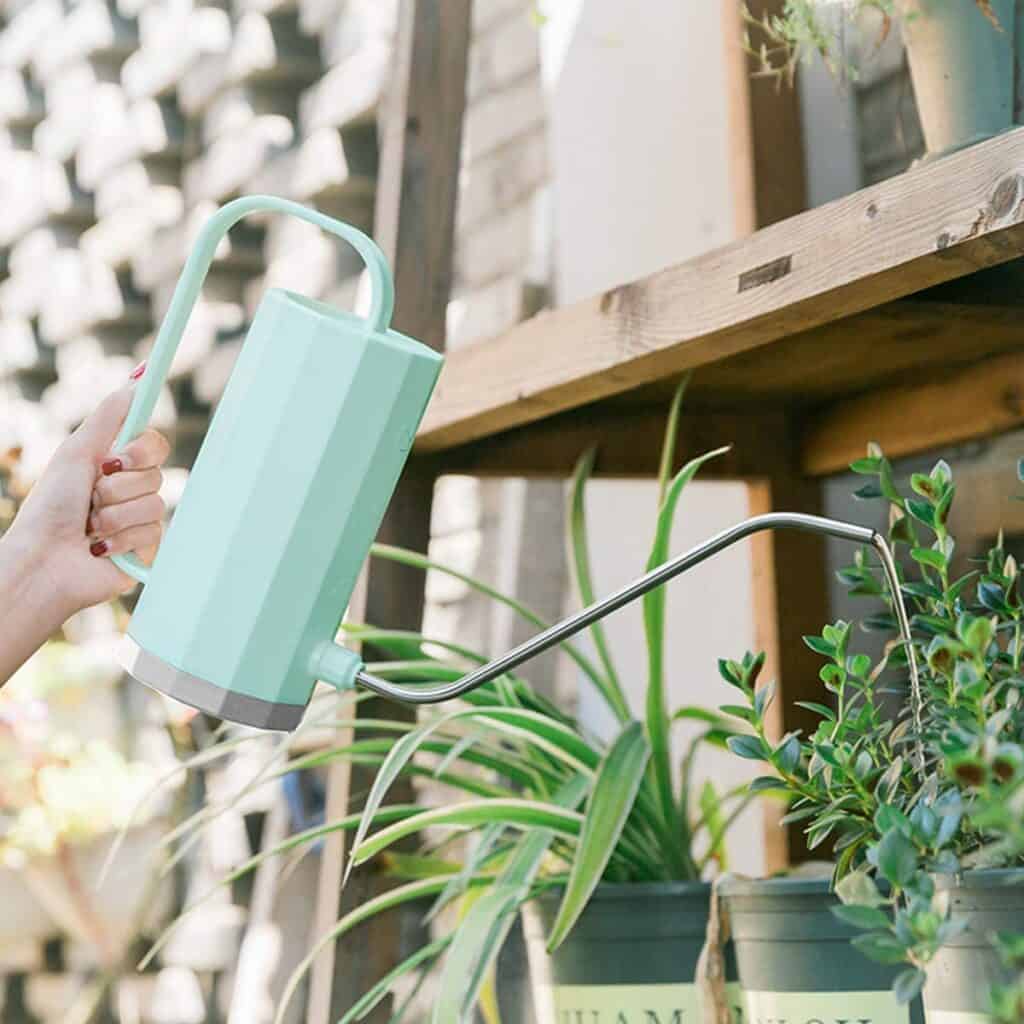 A watering can with a shorter neck or shorter spout would be more than sufficient for those plants that go well, even with overhead watering.
4. Position of the Handle
While buying a watering can, you should experiment with it by holding the can to check if it is comfortable enough to pour water.
A double-handled can would be handy for those who want better stability without much effort.
5. Material of the Can
There are numerous types of mini watering cans that one can find in the market.
For those that require a watering can for outdoor plants, a can made up of weather-resistant galvanized steel is highly preferred.
These types of watering cans are extra durable. They can withstand conditions of wind, rain, and direct intense sunlight.
However, mini watering cans are used explicitly for indoor plants. Thus, standard plastic watering cans are suitable.
Let's look at some of the types of mini watering cans and the materials they are made up of.
Plastic Watering Cans
Plastic cans are visually appealing and can greatly suit your indoor garden aesthetic. In addition, these water cans are versatile, sturdy, and highly functional.
Plastic watering cans won't rust and can thus last for a longer time if used and stored correctly. They are light and can be easily refilled too.
The water flow through plastic watering cans is light and consistent, making it an ideal watering tool for indoor plants.
Metal Watering Cans
These watering cans are also handy for the quality watering of your garden. But they are found to degrade over time.
Galvanized steel water cans don't rust from rain or other harsh conditions like tin water cans do. However, alkaline soil can corrode this type of can. These watering cans could be made up of brass, stainless, and copper too.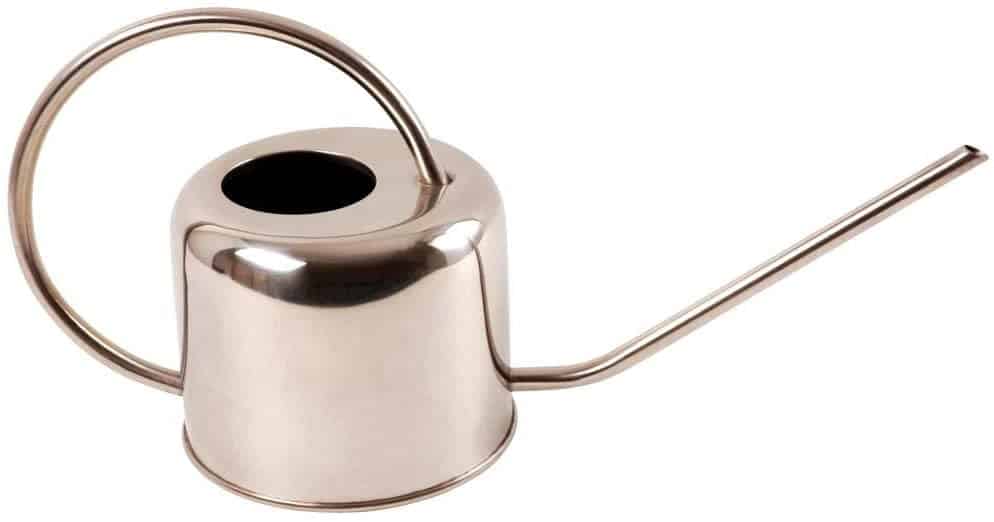 6. Look for Extra Spray Nozzles
A salesperson will encourage you to purchase additional spray nozzles too. However, a nozzle is not required to irrigate a large shrub.
A constant trickle of water, on the other hand, will wet the soil and therefore nourish the plants.
However, if you wish to water young plants or seedlings, you must use a nozzle. In this case, a nozzle is the best compliment.
It is best to select nozzles with detachable filters; these are quite simple to remove and wash away.
Nozzles are reasonably priced for their size, and it is better to restock at a time because they are little and easily misplaced.
7. Style and Aesthetics
Choosing a can that best suits your home decor or garden's aesthetic for indoor plants would be great.
For instance, a sleek metallic option would be an ideal match for someone who prefers a minimalist vibe.
Top 10 Cute Mini Watering Cans for Indoor Plants in [current-year]
I'm not much of a gardener, but these chic watering cans have completely inspired me to become a plant parent.
If your watering can doesn't match the rest of your decor, consider these elegant alternatives that are shelf-worthy beauties in their own right.
Read this section to learn more details about the ten cute and highly rated mini watering cans for indoor plants.
1.
Bangerz Sunz Elephant Watering Can
The mini cute Elephant shaped watering can is a multifunctional watering container for houseplants.
The durable design is specially built to withstand weather damage.
They have a long spout with a removable cap that is brass-faced. It makes it easy to water a lot of houseplants, especially succulents.
Pros
Highly durable [Made from plastic, it does not rust]
Efficient and consistent watering stream
Beneficial to water African violets, Orchids and Seedlings
Cons
You can't fill the can to the top.
The spout may clog up after some months.
2. Novelty Indoor Watering Can
This watering can is considered to be the best value tool. It is a 0.5 gallon can that is deemed to be a mini to medium-sized can.
Simple in design and structure, this can be used indoors and outdoors.
Pros
Comfortable and large handle allows proper control
Long spout
Made up of impact-resistant plastic
Good value can account for the storage capacity it offers
Cons
Not suitable for your indoor garden aesthetics
The filling hole is too small.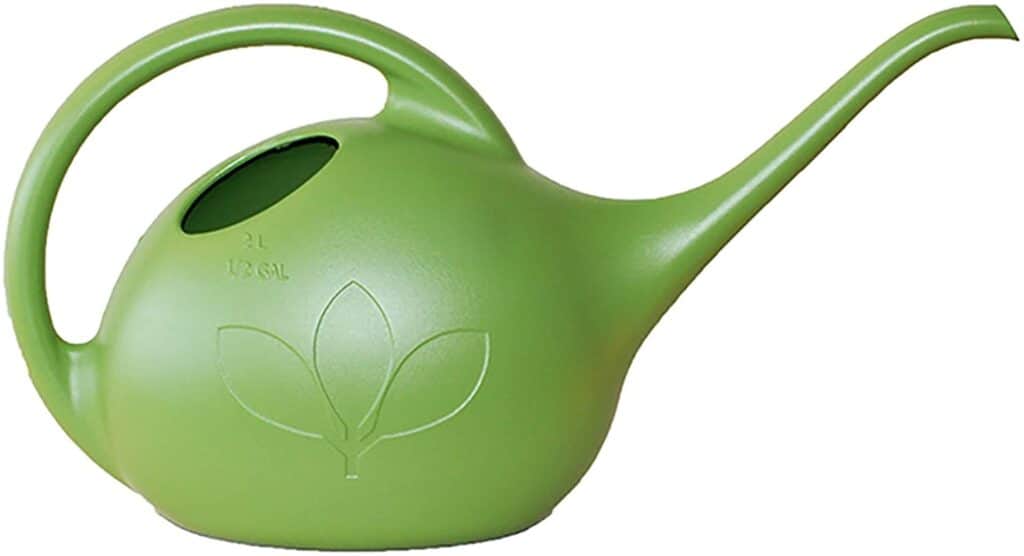 3. Blomus Limbo Watering Can
The Blomus Limbo watering can is a sleek and modern can that fits every indoor garden's aesthetics. But, unfortunately, it is an expensive yet stylish watering can.
This tall and sleek can features an angled spout. The spout is long, and the can comes in three colors, typically white, charcoal and grey.
The can also hold enough water to drench a variety of indoor plants. Especially handy to water succulents, this stylish can is considered the best splurge.
Pros
Great fit to your indoor garden aesthetics
Provides Minimalist vibes
Long and angled spout
Cons
Highly expensive
Water leaks from the base of the spout
4. Qilebi Watering Can
The Qilebi Watering Can is a versatile watering can with a detachable nozzle. This can is suitable for both indoor and outdoor use.
The watering pot is constructed of high-quality plastics, has a strong wall, is anti-fall and compression, and is not easily aged or broken.
You can apply a steady stream of water as well as a gentle shower to your indoor plants using this detachable nozzle.
The can also has a removable spray cap for its spout.
This charming and versatile can is pretty affordable and gives an excellent value to its users.
Pros
It consists of a detachable nozzle
Consistent and efficient stream of water
Large storage capacity
Affordable
Cons
It might leak from the bottom
5. Bloem Aqua Rite Watering Can
The Bloem Aqua Rite watering can is an indoor watering can considered being a small and cute option.
It has a thin spout that allows easy viewing of the level of water on the can.
This Can work substantially well for indoor plants as it can be positioned to pour water only to the roots rather than spreading the water all over the plant.
It is specifically manufactured for the watering of small plants. So for those looking for a watering can of a convenient size, this is the can to go for.
Pros
Thin, long, and curved spout
Decent size and the thin neck allows comfort to the gardener
Good value can account for the storage capacity it offers
Affordable
Cons
Not suitable for indoor garden aesthetics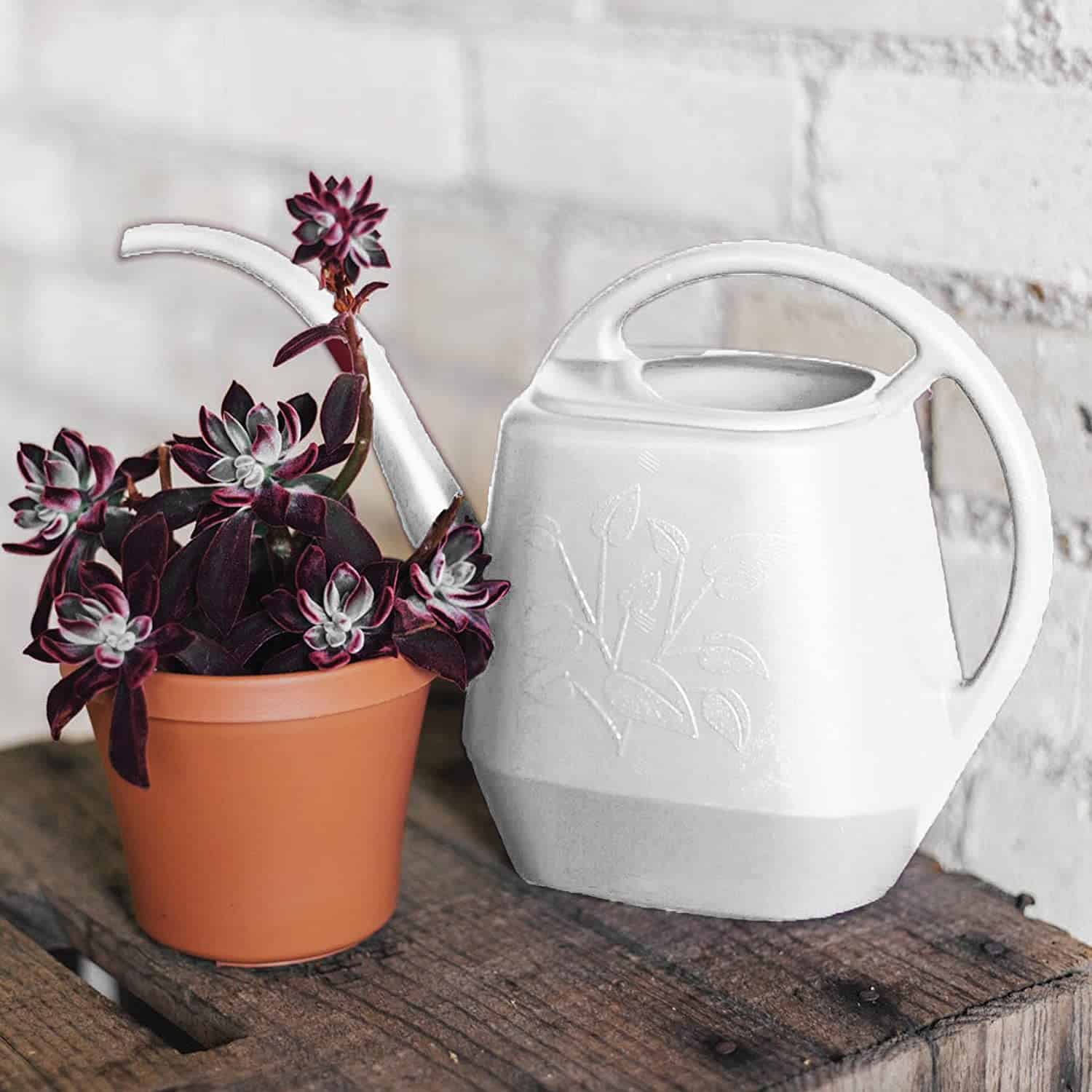 6.
E.Palace Mini Stainless Steel Water
The E.Palace Mini Stainless Steel Water is an indoor watering can, with its aesthetics being an inarguable consideration to gardeners looking for a mini watering can.
It is made up of premium solid stainless steel, with its finishing on the stainless steel being hand polished.
The metal watering can thus look sleek and fits well to a modern indoor houseplant garden.
It has a long spout that makes it considerably easy to reach out to hanging plants.
This might not be the best watering you are looking for for a large indoor garden as it requires constant refilling.
Pros
Great fit for your indoor garden aesthetics and offices
Long spout
Affordable
Highly durable
Cons
7. WhaleLife Indoor Watering Can
The WhaleLife Indoor Watering Can has a fluent line design with a chic aesthetic feeling.
It has a transparent pot design. It, thus, becomes easier to control the flow of water.
The can is used explicitly for watering indoor plants but still has a storage capacity of 1.4L.
So, it is handy for those who require a watering can for their large indoor houseplants garden. In addition, the can is sensitive to corrosive sprays.
Pros
The level of water is visible from the outside
Reduces the issue of frequent refilling
Affordable and durable
Cons
8.
E.Palace Stainless Steel Water Can
The E.Palace Stainless Steel Water Can provides gardeners with almost a futuristic feel. It is a modern watering can design with a globe-shaped body.
The can also has flexible pouring options. One needs to twist the end of the spout and then choose one of the two options: a steady and consistent watering or an even lighter shower. The can is made up of stainless steel and plastic.
Pros
An excellent fit for your garden aesthetics
Adjustable pouring options
Durable
The long and narrow nozzle design is ideal for hard-to-reach areas and proper watering.
Cons
9.
Homarden 30 oz. Copper Colored Watering Can
The sleek and sophisticated Homarden watering can is made up of steel. The can is incredibly lightweight and is ideal for watering indoor houseplants.
Pros
Highly durable
Lightweight, which allows comfort for the gardener
Extended spout that allows for longer reach
Great as a decorative tool
The small size of the can and the free-standing fill hole enable rapid refilling for effective plant watering.
Cons
Less water storage capacity
You can not fill the water all the way up.
10. IKEA Vattenkrasse Watering Can
The watering can has a dual purpose: useful and attractive. Decorate your house with plants in a planter that matches your aesthetic.
A startling and amusing décor that will stand out in your house. The watering can is composed of galvanized steel, which is resistant to rust.
Pros
The perfect fit for your indoor garden aesthetics
Cons
Should be handled and stored with extra care
Less water storage capacity
The Bottom Line
A watering can is beneficial for taking care of your plants. There are several types of watering cans that you can find in the market.
It would be best to choose a watering can as per your requirements. It should be suitable for you and the maintenance of your plants.
A watering can is a day-to-day tool required to maintain your plants. So, choose it wisely and choose the one that is both comfortable and durable.
You may also be interested in reading 8 Best Plant Spray Bottles for Watering Plants.