Houston Botanic Garden is an ideal oasis to refresh your mind with the help of majestic nature and its wonders.
Spanning over 132 acres, Houston Botanic Garden features more than 350 plant species alongside different wildlife. The garden focuses on broadening the importance of balance in the ecosystem in all age groups while making the experience fun and rejuvenating.
So, let us dig into the article to learn everything you need to know before packing your picnic to Houston Botanic Garden.
Quick Info About Houston Botanic Garden
Located in southeast Houston, a 20-minute ride from Downtown I-45, Houston Botanical Garden is a nonprofit organization formed in 2002.
It all began thirty years ago with a vision to create a world-class garden in Houston that preserves and adds to the city's ecosystem of cultural institutions.
The Houston Botanical Garden project began when the Houston City Council agreed to transform the former Glenbrook Golf Course.
Finally, the serene, lush oasis featuring a wide range of plants reflecting various Texas habitats was opened to the public on September 18th, 2020.
The botanical garden is designed in such a way that it would inspire visitors to spacious grounds.
Furthermore, it is located near Hobby Airport, making the garden accessible to all residents of Houston.
Meanwhile, the garden's strategic design encompassing Sims Bayou incorporates detention and floodplain volume mitigation to overcome susceptible flooding.
Top Attractions at Houston Botanic Garden
The 132 acres of Houston Botanic Garden comprises many exotic, native trees and plants accompanied by wilderness.
But that is not what stands out in the green space of the "Space City."
The graceful garden, surrounded by majestic Sims Bayou, features eight themed informative garden galleries and 2.5 miles of walking trails featuring a sheer range of topography.
Beyond that, the garden's mission is to enrich life through discovery and education regardless of age.
So, here are the top attractions of Houston Botanic Garden that will soothe your eyes and mind simultaneously.
The Global Collection Garden: Sprawls over three acres hosting more than 350 species of exotic plants and features tropical, subtropical and arid zones where visitors can play scavenger hunts.
Stormwater Wetlands: A natural habitat for wildlife that balances the garden's ecosystem by providing a natural defense against flooding and improving water quality.
Coastal Prairie: Features a wide range of prairie grasses and wildflowers and highlights the beauty and diversity of the coastal ecosystem alongside the challenges due to habitat loss.
Culinary Garden: Highlights the history, importance and diversity of the edible and medicinal plants and features Mediterranean, Americas and Health & Wellness corners.
Susan Garver Family Discovery Garden: An interactive space featuring a treehouse, water play area, a boardwalk maze around a lagoon and a butterfly garden designed to engage children and families.
Community Garden: Space for Houstonians where they can learn new sustainable gardening & planting techniques via classes and resources from the garden.
Pine Grove: A serene area designed for visitors to relax and enjoy the surrounding Texas' native tranquil pine forests.
Woodland Glade: Shrouded by a peaceful setting of magnolia trees and sculpted hedges, it offers rental open space for visitors to perform weddings or other ceremonies amidst the tranquil nature.
Things to Do at Houston Botanic Garden
Houston Botanic Garden is a safe place in the Space City where anyone can escape from the fast-paced reality and surrender to mother nature.
Starting from January 2023, Houston Botanic Garden now displays magical artistic light displays set along the illuminated path of the walking trails on selected evenings only.
As it is very hyped and loved by all visitors, the parking and admission tickets must be booked in advance.
Other than chilling and spending time with your friends and family, there are many things to do.
Broaden your plant knowledge by exploring various themed informative gardens.
Participate in various resourceful classes to learn the latest planting and gardening techniques.
Wear comfy shoes and take an hour or two-long hikes through the walking trails to keep yourself physically active.
Register yourself for events like the City Nature Challenge, mediation alongside renowned Yogi Ashokananda and forest gardening program series.
Educate children on nature's unfathomable importance and beauty while keeping them engaged in fun activities around the water play area, butterfly house and maze.
Pack a picnic to connect and strengthen the bond with your close ones while contemplating the pristine nature.
If possible, volunteer in ongoing garden outreach programs to give back to the community.
Best Time to Visit Houston Botanic Garden
If you want to feast your eyes on all-green bucolic nature accompanied by vibrant blossoms, plan your visit during the Spring.
Furthermore, Houston Botanic Garden is open to the public daily from 9 am to 5 pm, rain or shine.
But, they are closed on major American holidays like Thanksgiving, Christmas and New Year's Day.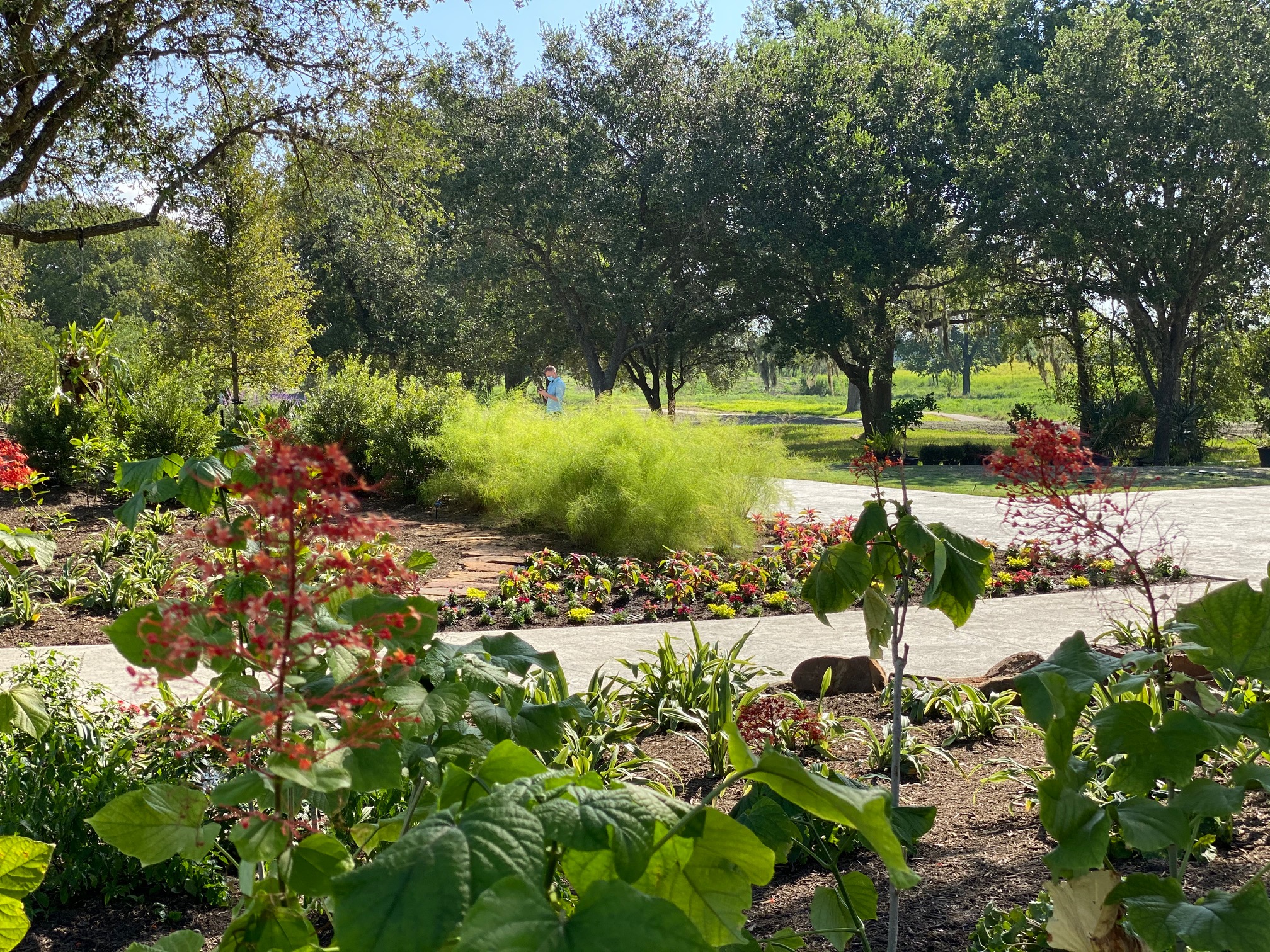 As the garden's official website provides in-depth information about upcoming events, ensure to give it a check before packing your bags.
Also, the garden features Sunday concert series from 4 to 6 pm to offer a refreshing outdoor cultural experience with the aural sensations of nature.
Costs to Visit Houston Botanic Garden
The Houston Botanic Garden is a cashless place and suggests visitors buy tickets in advance online.
You can also register online for workshops and private tours that cost $75.
But the picnic grove is accessible to everyone without any admission ticket to the garden. But all other garden parts require an entry ticket with the following costs.
| Week Days | Adults | Children | Students | Group |
| --- | --- | --- | --- | --- |
| Friday - Sunday | $15.00 | $10.00 | $10.00 | - |
| Monday - Thursday | $12.50 | $8.00 | $8.00 | $7.50 |
Remember, the garden has timed ticketing, so your ticket will be scanned for entry within the hour indicated on the ticket.
If you are an hour or so late than the timed entry time, you should stop the ticket window to exchange your ticket.
Apart from it, you can also become a member to leverage various benefits for a year.
Here is the cost according to the membership levels.
| Membership Levels | Price |
| --- | --- |
| Individual | $50 |
| Dual | $75 |
| Family | $100 |
| Family & Friends | $125 |
| Supporter | $250 |
| Patron | $500 |
Directions to Get Houston Botanic Garden
The Houston Botanic Garden is located at 1 Botanic Lane, east of I-45 South on Park Place Blvd.
If you are visiting the garden via car ride, try entering 8210 Park Place Blvd or following the map below.
Meanwhile, a metro route 005-Southmore runs along Park Place Blvd and the closest stops to the entry gate are 853 at River Dr. and 848 Hartford St.
Likewise, the entry bridge of the garden includes a dedicated lane for bicyclists and pedestrians.
They also have a bicycle rack near the southeast corner of the Picnic Grove, but it follows a first-come, first-serve policy.
From Editorial Team
Rules to Follow!
The garden allows visitors to take pictures for personal use only with all garden rules and regulations in mind.
However, you must register for an advanced reservation and fee for professional photography.
Also, pets are not allowed until and unless they are properly identified service animals to assist visitors with disabilities.