Sometimes pets can be a huge annoyance if you have plenty of indoor plants adorning your living space. They might nibble on your exotic plant and occasionally uproot them out of sheer curiosity.
Boredom can make them aggressive. That is where a healthy cat grass kit comes into play.
A cat grass kit will distract your nosey little pets and keep them occupied away from your beloved plants.
Cat grass is a healthy snack for your pets full of nutritional minerals. Here, we have listed the six most popular and widely used cat grass kit. They are easy to set up and require minimal care. Additionally, Pet Greens Self Grow Pet Grass is considered the best by consumers all over the world.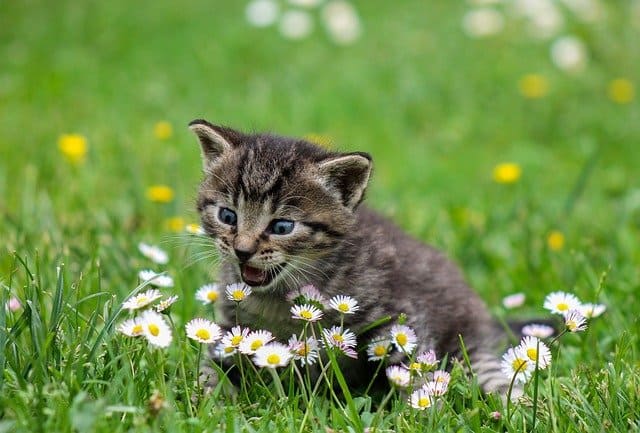 Cats and dogs love a good cat grass kit. They love to nibble on it time and again, depending upon their health needs.
Did you know that a single cat grass kit in a suitable growing condition can easily feed your cat for up to one year or more?
Read along to learn the basics of owning a cat grass kit and find out the best one for your pets.
What is Cat Grass Kit?
A cat grass kit is a small container filled with grass that cats love to nibble. It is a safe plant for human as well as animal consumption.
They are usually cereal grass that adds a wide range of nutrients to your pet's diet.
A single cat grass kit may contain various cereal sprouts to meet a diverse nutritional need or be specific.
For instance, you might want to get a barley cat grass kit if your cat loves barley grass.
Usually, it comes in a blend of common grasses typically harvested from seeds of oats, rye, barley, or wheat. And the most common ones are wheat and barley grass.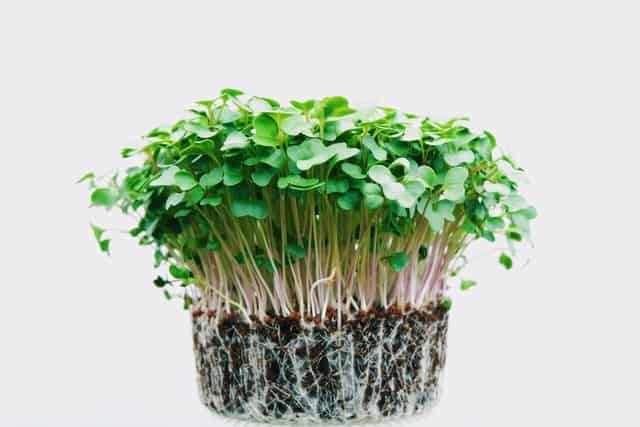 You will find various cat grass kits online and in a wide range of pet stores and even in plant stores.
Cat grass is particularly advantageous to cat owners. It serves as a natural and multi-nutritional snack to support the digestive system of your pets.
Let me share some quick fun facts about cat grass kits. I mean, who doesn't love some fun facts.
Humans also consume cat-grass. They might have a different kit for their cats and themselves, but it is the same kind.
Cat grass kits contain many vitamins – niacin, vitamin A and D, folic acid, and some amount of chlorophyll. You can add them to your salad or smoothie for a healthy nutritional boost.
How Long Does Cat Grass Last?
It isn't exactly easy to pinpoint the lifespan of cat grass. Most people report that their cat grass does not last very long or as little as a month.
Although cat grass kits have a short life span, they don't have to be that short.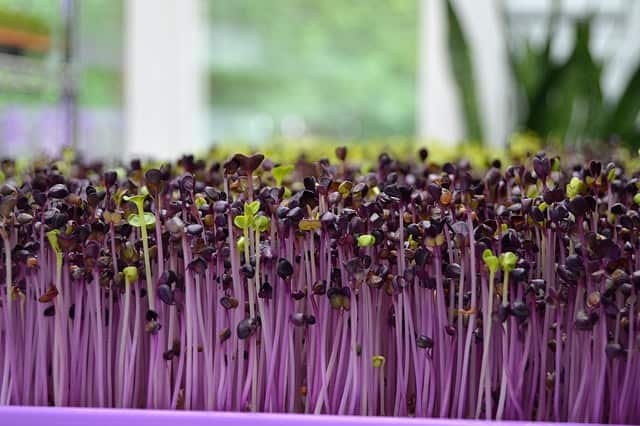 Your cat grass kits can last for a long time, depending upon their type and growing conditions. However, it is not going to last forever.
Typically, there are two specific types of cat grass kits:
Annuals: They last only up to a year.
Perennials: They can last more than a year.
The second most crucial factor in determining the lifespan of your cat grass is the rate of consumption and the wear and tear caused by playful pets.
If you see slight discoloration or the grass begins to wilt, it is time to get a new cat grass kit.
Know Which Cat Grass Type You Need
Again, the critical question – what does your cat prefer in terms of taste?
Below you will find the various types of cat grass available and their nature.
If your pet is a bit towards the aggressive side, get yourself rye cat grass. Rye cat grass is much more durable and flexible.
For sweet lovers, you might want to get an oat grass. They are very flavourful, and if your cat enjoys sweet things, they will love them.
If you feel like your pet requires an extra nutrition boost, opt for wheat cat grass. They are packed with an excessive amount of vitamins, minerals, and amino acids.
Barley grass is very exclusive in terms of taste and nutrition. Most pets, whether cats or dogs, tend to enjoy the taste.
A combined mix of various types of cat grass will ensure that your pet has a balanced diet.
Other Types of Cat Grass Kits
Cat grass kit comes in different types. Let's briefly check them below.
1. Planting Kit
This particular kit comes with all the necessary components. Just make sure you assemble them appropriately.
2. Self Grower
This is perfect for busy people who would like easy-to-set cat grass. It is all ready, and all you need to do is add in some water.
3. Kit with Reusable Planter
It comes with everything you need to get healthy cat grass. The container is entirely reusable.
4. Compostable Kit
These kits are very eco-friendly. All the components of this kit are biodegradable.
5. Kit with A Toy
Some cat grass kit comes along with a toy for your pets. Get two for the price of one!
6. Bulk Seed
This starter kit comes with only seeds and no other starter components. It can be ideal for someone who already has a kit and merely wants some seeds.
Things to Consider While Buying Cat Grass Kit
One of the most important things to consider while getting your pet a cat grass is – what does your pet prefer?
There are not so many varieties of cat grass in the market. Hence, finding the one that your cat enjoys the most will not be a huge problem.
Below are few things you might want to consider before buying cat grass.
Make sure that the cat grass kit is 100% safe and organic.
It should be non-GMO (genetically modified organisms) and completely chemical-free.
It is best to buy your cat grass kit from a trusted or a reputed seller.
Make sure they are in the right container of appropriate sizes according to your need. If you have a handful of cats, invest in a large cat grass kit that comes with a large container.
Your cat grass should have a few drainage holes to prevent rotting and unhealthy sprouts. Hence, read through the specifications carefully.
Keep an eye on the descriptions related to the growing substrate used for the kit. As for indoor kits, best opt for ones with coco peat.
Check the type of seeds present in your cat grass kit. After all, if your cats don't like sprouts barely, better not spend any money on those.
Make sure your container looks pretty on the kitchen counter or beside your window if you are into aesthetics. On a brighter note, I have included one such pretty-looking cat grass kit below on the list.
6 Best Cat Grass Kit
Here are the top six cat grass kits for your pets to devour on.
Please look at each of their pros and cons and choose the one to suit your need.
1. Pet Greens Self Grow Pet Grass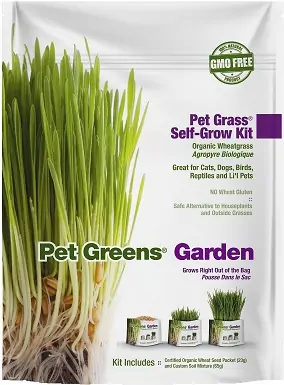 If you want an effortless cat grass kit, get yourself a Pet Greens Self Grow Pet Grass. Open the packaging, and there you have it!
Give it some water, and within a few weeks, your pet will have something to nibble on.
If your cats are gluten sensitive, this is a perfect pick. Additionally, this will help your pet get rid of the smelly breath.
Pros
Requires minimal care and maintenance.
Easy to grow and set up.
Grows rapidly.
Cons
It might not be the perfect match for all pets.
2. SmartyKat Sweet Greens Cat Grass
Well, if you are someone who would like to make the most of their money's worth, this is your go-to cat grass kit.
Get some potting mix, plant pot, and water. Now, you are good to grow your own cat grass. They will germinate in a few weeks.
Your pets will enjoy the sweet and succulent taste of this extraordinary cat grass.
Pros
Grows swiftly.
Very budget-friendly.
Easy to use.
Cons
It can get moldy if overwatered.
3. The Cat Ladies Organic Pet Grass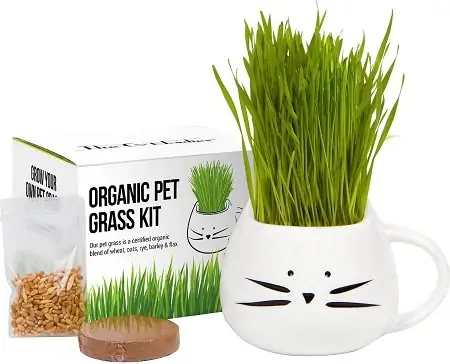 Along with the cat grass seeds, you will get a pretty mug with a cat face for free! Whether you choose to use this kitty mug for your morning tea or as your cat grass pot, the choice is yours.
This starter kit is a mixture of barley, oat, and wheat – everything highly nutritional.
This kit might be a bit towards the expensive side; however, it is worth the money.
Pros
The mug, definitely!
Non-GMO seeds.
Helps with digestion.
Cons
4. Petlinks Nibble-Licious Organic Cat Grass Seeds
As for this cat grass kit, you will have to buy the seeds, soil, and planter pot separately. Well, you have freedom of choice in terms of seed type and the container.
You can plant as many seeds as you want and save the rest for later. Well, it saves your money for the next time.
They are certified and organic oat seeds that are grown and picked in the USA.
Pros
Control over the plantation.
Certified organic seeds.
Harvested in the USA.
Cons
5. The Cat Ladies Organic Pet Compostable Grass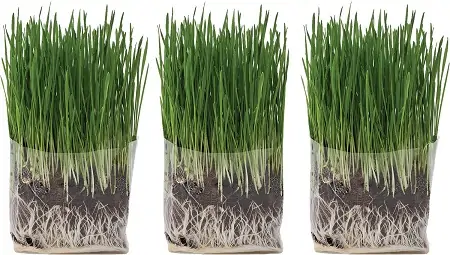 If your pets are heavy feeders, you might want to invest in this bulky The Cat Ladies Organic Pet Compostable Grass.
It consists of three different kinds of seeds packets. More choices for your pets! It contains rye, oats, wheat, and barley seeds.
Follow the instructions carefully, and the cat grass should germinate in a week.
Pros
It comes with three packets of seeds.
Organic seed.
Perfect for plenty of pets.
Cons
If your pets do not like cat grass, it is a waste of money.
6. Van Ness Oat Garden Kit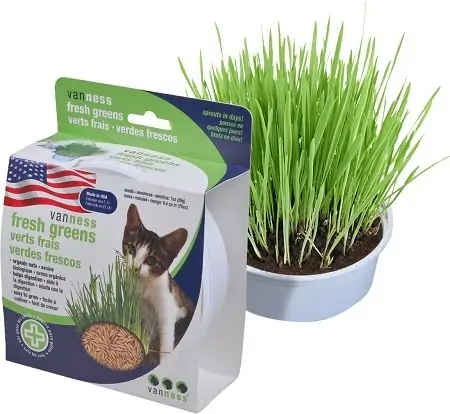 If you have a tiny cat and want to try out cat grass for the first time, this could be a good start.
It is a small grass kit with a container, seeds, and growing medium. All you need to do is add some water and wait for a week.
The container is not very deep, and the grass will not hold very strong. However, as a starter kit, it is perfect for beginners.
Pros
Best for beginners.
Sprouts very fast.
Buy one and get three free offers.
Cons
Cat Grass Grow Kit Instruction
Getting and setting up a cat grass kit is extremely fun and easy. There are various cat grass kits in the market, and each comes along with its own customized set of instructions.
Make sure to follow the instructions carefully.
Most cat grass kits are ready-to-use, meaning tear the packaging and pour in some water. And, you are all done! And, others might need a tiny bit of effort.
Below you will find the few steps you should take to set up and start growing your very own cat grass kit.
Step 1: Remove the seed packaging and pour the required amount of seeds into a small bowl. Soak them overnight for at least 12 hours to speed up the germination process.
Step 2: If your cat grass kit comes along with a growing container, that is brilliant. If not, find a small container with a few drainage holes and fill in with the growing substrate. If your cat grass kit did not consist of a growing medium, you might use coco peat.
Step 3: Sprinkle the soaked seeds over the topsoil. Now, cover it with a thin layer of the same growing medium.
Step 4: Water the seeds using a spray bottle. Make sure you spray the kit at least twice a day. The growing medium should be kept moist at all times.
Step 5: Do not keep your cat grass kit in direct sunlight. It is best to position them indoors, away from direct light.
That's all there is growing healthy cat grass. You will see that within a week, your cat grass will begin sprouting. And in about a month, your cats can enjoy these organic delicacies.
How to Care for Cat Grass?
Cat grass is easy to take care of. However, if you want a continuous and uninterrupted supply of cat grass for yourself and your pet, there are several steps for you to be mindful of.
1. Maintain a Proper Watering Schedule
The most common reason some people fail to keep their cat grass alive is overwatering. Make sure not to overwater the kit.
Water only when the topsoil is slightly dry. A frequent watering schedule can lead to the development of fungi in your cat grass kit.
It is best to use a spray bottle while watering your cat grass kit.
2. Overfeeding Should be Discouraged
Sometimes your pets can overfeed on the cat grass and leave it empty. This is especially true when you have recently introduced this nutritional snack to your pets.
Your cats can stress the plant affecting its growth by disproportionate chomping.
3. Good Lighting Condition
Cat grass requires a healthy amount of indirect light for healthy and fast development. However, make sure to keep them away from direct sunlight to avoid drying.
On the contrary, if you place them in a dark spot for too long, they tend to turn yellow or light green.
Place them on a window with a frosted glass pane to allow filtered light.
4. Precise Temperature
Cat grass is not very tolerant when it comes to temperatures. Anything below the required temperature can stunt the plant. And, anything above can cause the plant to dry out.
An ideal temperature would be between 16 and 19 degrees Celsius.
5. Proper Ventilation
Cat grass loves a well-ventilated and airy location. It would be ideal for placing your cat grass beside a window or mounting it on a wall for proper airflow.
However, make sure to keep it away from cold air drafts.
6. Trim Them Often
Although I am sure your cats will do the trimming once in a while, it is necessary to make sure they are well pruned. A healthy trim encourages new growth.
Trim at least one inch of the cat grasses every once in a while. This prevents the leaves from looking floppy.
Remember, you can give those trimmed leaves to your pet. They will happily munch on it.
7. Keep the Pests Away
The most common pests found in cat grass kits are white worms, slugs, and aphids. Sometimes your cats bring them along, and other times, they just come on their own.
It is best to check the kit once in a while. It is advised not to use any insecticide for your cat grass kit to avoid poisoning.
However, if you see any bugs, spray the plant with neem oil and place the kit beyond your pet's reach for at least two weeks.
Or, get yourself a new cat grass kit. After all, no one likes to eat bugs!
8. Do not Fertilize Your Cat Grass
Well, fertilization might do some good to your cat grass if used appropriately. However, as for your cats and yourself, they do a lot of harm.
Hence, it is best to keep the cat grass away from any plant vitamins and fertilizers.
FAQs About Cat Grass Kit
I have had a few of my friends come up to me and ask the same questions now and then. Allow me to clarify some things about the cat grass kit below.
How Much Cat Grass Should I Feed My Cat?
Cat grass should not comprise more than 10% of your cat's total calorie intake. And, it is best not to let them munch on these frequently daily.
Although there is no general rule, twice a week would be perfect.
Is There Any Difference Between Wheatgrass and Cat Grass?
Many people are confused if they should feed their pets with cat grass or wheatgrass.
Wheatgrass is a variety of wheat that produces soft shoots. In comparison, cat grass is a mixture of various grains that are much easier to digest.
Nevertheless, both work great as a healthy snack for your cats.
Why Do Cats Love Cat Grass?
There are two important reasons cats love cat grass; first, they have an upset stomach, and cat grass helps them throw up. Second, they love sweetness and tenderness.
Conclusion
If you want to get a cat grass kit, go ahead and order them right away.
Furthermore, you might be thrilled to know about the plenty of health benefits of cat grass for your pets. From preventing constipation to encouraging water intake, they do almost everything!
After all, are there any other better ways of keeping both your pets and house plants happy and healthy?
Not only your pets but your houseplants will also thank you for adding a cat grass kit to your prized collection of indoor plants.