Aloe vera plants are incredible plants for several reasons. And so finding the best pots for aloe vera plants can be tricky, to say the least, with so many choices out there.
Aloe veras are those perfect indoor and outdoor additions that present themselves with a unique look and render us numerous health benefits. No wonder it is famous as the "magic plant."
But, do we know how exactly to tend to these beauties? As insignificant as it might seem, do we know how important it is to invest in a suitable pot?
The best pots for aloe vera plants are ceramic pots and terracotta pots, about five to ten percent larger than the plant. The pots should not be too deep and should have numerous drainage holes for the proper exit of excess water.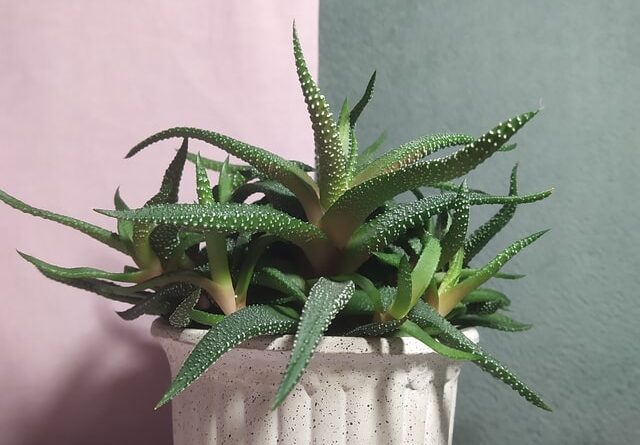 Whether you are a beginner or an expert concerning gardening, knowing the specific requirement of your plant is vital.
And, it is more accurate in the case of succulents like aloe vera. After all, they are fussy plants with little to no patience.
Without further ado, let's go ahead and find out the best type of pots for your aloe vera.
Things to Consider When Choosing the Best Pots for Aloe Plants
Aloe vera plants are native to hot climates in Omen in the Arabian Peninsula.
And, if we want to get those beautiful 2 feet tall aloe we can flex on our social media, we better make sure they receive similar growing conditions.
An ideal pot type, along with minimal care, gives your aloe that perfect growing condition.
If you want a happy aloe, here are a few of the essential aspects you might need to consider before buying the best pots for aloe vera plants.
1. Size Requirements
You might get tempted to invest in a large pot, assuming you might not need to re-pot often and thinking your plant will probably grow into it. However, that's not the case.
Unlike many other plants, aloe vera plants love smaller pots. Furthermore, their roots do not mind being root-bound. In fact, they love it!
Did you know that larger pots allow the roots to spread out excessively, causing fragile roots and stunted plants?
Larger pots hold moisture for an extended period of time, a no-no for the aloe vera plant. You might kill your plant by mistake!
As aloe vera plants are native to deserts, they are naturally adapted to grow in dry soil. They soak up all the water at one go and store it in their body for later.
And, if we use a considerably larger pot, they will start absorbing more water than necessary and ultimately begin to rot.
Hence, it is important to ensure only one to two extra rooms around each root side.
The simple equation is to get a pot about 5 to 10 percent larger than the size of your aloe vera plant.
My personal recommendation would be to get a pot that is 4 to 5 inches in diameter and 2 to 4 inches tall for best results. Trust me; you can thank me later!
2. Best Material
The material of the plant pot plays a massive role in determining the health of your plants, whether indoors or outdoors.
Aloe vera plants can grow in various pot materials such as terracotta, metal, plastic, wood, resin, and ceramic.
But what's the best one?
When it comes to succulents like aloe vera, a pours pot material is the most ideal. And the best pot material is either terracotta or ceramic.
Outdoor aloe vera grows best in these natural materials as they do not heat up excessively in the sun.
And for aloe veras in indoor settings, such earthen pots permit excess water evaporation, ensuring healthy roots.
If you have a tiny aloe vera plant, invest in a good ceramic or terracotta pot for healthy and efficient development.
However, if you have a large and mature aloe vera (probably about 1-year-old), you can also opt for non-natural pots.
A large aloe vera plant has sturdy roots with little air exchange, and the drainage holes are enough for the water flow. Furthermore, these robust roots are strong enough to break the pretty ceramic pots.
Hence, for small aloe vera plants (less than a year old and petite in size), go for clay or terracotta pots, and mature ones, plastic or resin pots are the most suitable.
Personally, I would not recommend using a wooden pot for aloe vera as they retain an excessive amount of moisture.
Likewise, metals pots are also not the best choice as they can cause heat stress to the plant.
| Material Type |  Advantages | Disadvantage |
| --- | --- | --- |
| Terracotta pots   | Ensures a brilliant flow of both water and air to and from the surrounding to the roots. | Prone to algae formation on the outer part of the pot affecting the looks. |
| Clay or Ceramic pots | Ensures a good level of absorption of excess water from the roots. | Prone to breakage and fine cracks. |
| Plastic pots | Looks much cleaner and tidy. Does not allow the growth of microorganisms like algae on the outer visible part. | Can cause root rot due to excessive water retention in the soil. |
3. Water Drainage
Aloe vera plants are excessively prone to fungal infection and rot rots; hence, drainage holes are necessary. It is essential not to let your aloe plant sit on a wet medium and promote the exit of excess water.
Before buying that picture-perfect pot for your aloe vera plant, make sure to check the insides for drainage holes. Most of the planters come with a few drainage holes and a tray to collect the water.
However, some of the pots (usually plastic pots) may lack drainage holes.
You know, baby pothos would be another great addition to your indoor collection.
If you find that the plant pot you recently bought does not have any drainage holes, exchange it or create a few holes on your own.
A few ceramic pots come with large single drainage holes rather than a few frequent ones. You may place a small stainless-steel gauze to prevent the flow of potting mix along with the water.
Drainage holes and gritty potting mix complement each other to give you the aloe vera of your dreams. Hence, make sure the pot has at least one drainage hole at the bottom. However, the more, the merrier!
4. Depth of the Pot
Aloe vera is a slow-growing plant; the same applies to its root system. A deep pot stimulates the growth of roots rather than the development of the plant.
Furthermore, if you use a deep pot for your aloe vera plant, you will see that baby aloes are absent.
Small aloe offsets are more common and frequent in shallow pots than deeper ones.
Hence, make sure that your aloe vera pot is around two to three inches deep.
5. Water Collection Tray
The water collection tray not only looks aesthetic but also makes it easy for you to estimate the amount of water required for your aloe vera plants.
The trick is to stop watering your aloe once you see water collecting in the tray below.
Note: The most common mistake an aloe vera owner can make is not emptying the water collecting tray after each watering schedule.
If you do not empty the tray, the water collected will get re-absorbed in the pot. Hence, the roots of your aloe vera plant stay longer in water.
Root rot is the most common reason leading to the death of aloe vera plants. And improper use of water collection tray amplifies the chances.
Well, I would suggest you invest in the plant pots that come along with a complimentary drainage tray.
If you are looking to add some more plants to your indoor collection, cape primrose is great!
Tips for Choosing The Right Pot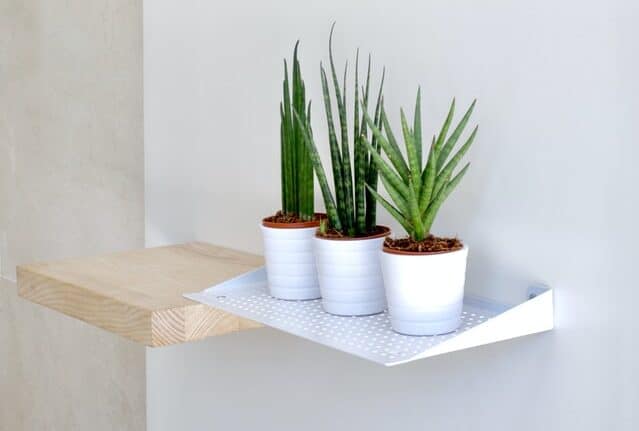 And, how about a few tips and tricks that will further assist you in selecting the most appropriate or the best pots for aloe vera plants for your prized aloe vera.
Let's get into it.
It is best not to opt for glazed or plastic-coated ceramic pots as they will retain excess moisture in the soil—a perfect place for fungi and bacteria.
If you are a busy plant lover and don't have the time to clean the pots of your aloes time and again, best not to go for a terracotta pot as they are prone to algae formation.
If you want your aloe to look aesthetically pleasing, try to choose a contrasting pot.
10 Best Pots for Aloe Plant
If you are thinking of getting a good pot for your magical herb, here you will find the ten best pots for aloe vera plants.
Good looks and just enough space are enough for brilliant aloes.
Below is a summarized look at the best pots.
1. Brajttt 4-Inch Cylinder Ceramic Flower Pots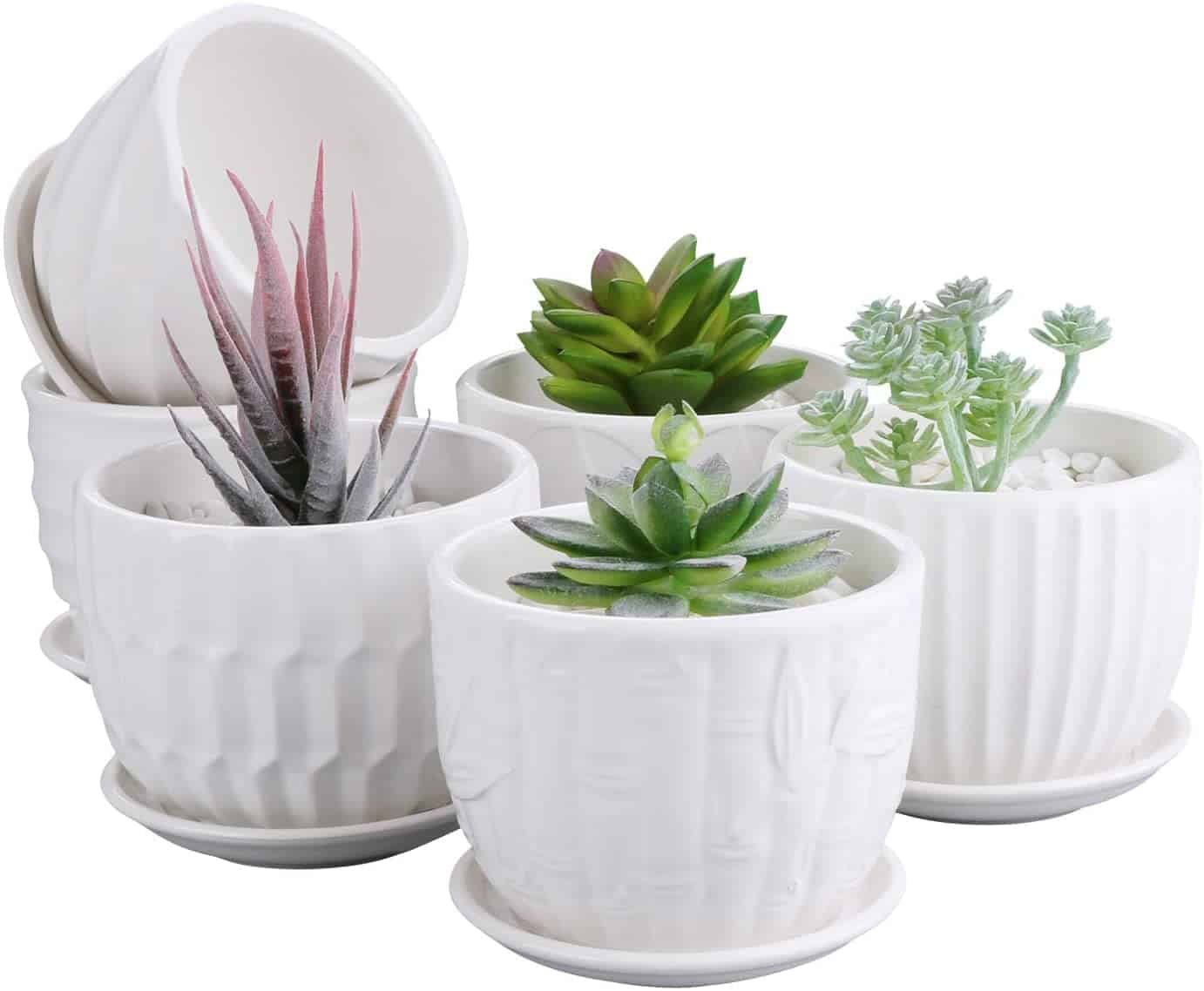 These 4-inch white ceramic pots come in a set of six, along with beautiful drainage trays. They are 3.6 inches tall and are best suited for tiny aloe vera plants.
You can either place all of these pots together or in separate rooms.
Each pot is slightly different in texture and pattern. They are very durable and best situated for both outdoor and indoor aloe veras.
2. HOMENOTE White Succulents Pots
If you want three for one price, get yourself HOMENOTE White Succulents Pots.
They come in three different sizes of 3.8 inches, 5 inches, and 6 inches pots for your three different sizes of aloe vera.
If you are looking forward to giving a traditional look to your modern decor, they are a perfect fit.
These elegant pots come with a matching bamboo drainage tray.
3. La Jolíe Muse Large Succulent Planter Pots
If you are into hand-crafted materials, this planter pot is the perfect addition to your handicraft collection.
This grey pot with a rose gold rim looks elegant as either a tabletop or you can hang them using a plant hanger.
It is 8 inches in size with large drainage holes.
Further, they come along with a rubber plug to ensure your table remains clean.
They are a durable and very reliable option for your aloe vera.
4. MyGift 10-Inch Rectangular Modern White Ceramic Pot
Rectangular pots are trendy!
This particular white and sleek rectangular planter pot comes with two drainage holes and a matching drainage tray.
It is about 10 inches long, 5 inches wide, and 4 inches tall. This boxy and slender shape is typical for your indoor aloe veras.
If you want to display your aloe veras grouped in a minimalist style, go for this one!
5. D'vine Dev Terracotta Pots for Plants
These all-natural terracotta pots come in a set of three to meet the diverse size requirement of your aloe veras.
They are uniquely shaped into a cylinder with a matte finish. These terracotta pots come with a pretty little drainage tray along with some stainless-steel nets.
Talking about the size, they come in three – 4,2 inches, 5.3 inches, and 6.5 inches. All of the pots have a matching height.
The perfect eco-friendly addition to your plant collection.
6. POTEY Mid Century Ceramic Pot with Wood Stand
These 4 inches-tall and 5.2 inches-wide planter pot comes with a sturdy wooden stand and linear hand-glazed patterns enough to catch the attention of your guests.
If you have medium to large aloe vera plants, this is precisely what you will want.
Not to forget that this particular ceramic pot is crack and breakage resistant.
Is there a better way to showcase your beloved aloes?
7. JORAIR Ceramic Plant Pots with Saucer & Drainage Hole
Are you a lover of black and white? If so, I am sure you will enjoy JORAIR Ceramic Plant Pots.
They come in a set of two black and white pots and weigh around two pounds. A big plus here, the pot comes along with a removable saucer and ergonomically designed drainage holes.
These ceramic plant pots are 10.63 inches tall and 5.71 inches wide. Perfect for large aloe plants!
Additionally, they are scratch-proof and can withstand extreme temperatures.
8. Brief Succulent Pots
These elaborative succulent pots come in a set of two and are perfect for your medium to large-sized aloe vera plant. Their eccentric design will brighten up any corner in your living space.
They are 5 inches in diameter and are made up of high-quality cement.
Their heat-resistant feature is a big plus, and you can use them for both your outdoor and indoor aloe veras.
9. Ceramic Plant Pots, Vivimee
Who doesn't adore a good old tribal print, right? And a beautiful aloe vera with a tribal printed pot makes perfect sense.
They are made up of high-quality fired red clay and have excellent permeability. Just what our aloes want.
These 5 inches planter pots come in a set of two with a beautiful cylindrical design. Go ahead and add some colors to your living space!
10. POTEY 053801 Ceramic Planter Flowerpots
As stylish as it gets, these marbled patterned aloe vera plant pots are not only eye-pleasing but also plant-friendly.
These modern and elegant designs will leave both your aloe vera plant and living space sparkling with grace.
They are designed in a way that you can either hang them or place them on a tabletop.
It comes in two pots (4.8 inches and 6 inches in diameter), along with a drainage hole and a rubber plug. No mess, no pests!
The excellent news is aloe vera plants do not get root bound very quickly. Hence, you won't be required to change the pot of your aloe plant as frequently as you do for your other plants.
However, if your aloe plants want a re-pot, they, for sure, will ask for it without hesitation.
The following are the signs that your aloe plant is ready for a re-pot.
Roots start creeping out the drainage holes.
Some tiny roots start coming out of the topsoil.
The plant looks too crowded.
The water gets absorbed as soon as you water the plant.
You will see numerous baby aloes on the top of the soil.
The plant pot appears considerably heavy.
If you have used a terracotta or clay pot, you might see fine breakage lines.
How to Water Aloe Vera in Pots?
Aloe vera are desert plants. They can do pretty well in the absence of water; however, too much water is a big no!
These plants in pots are extremely prone to root rot due to over-watering. And, if you are using a plastic pot, the possibility of root rot is higher.
Hence, the following steps might help you determine the accurate watering schedule for your aloe vera in pots.
Indoor and potted aloe veras require less watering in comparison to those outdoors. Hence, before watering your plant, make sure that the topsoil has dried out completely.
Depending upon the size of your aloe vera, you can water them once or twice in fifteen days.
Stop watering your plant when you see the water running down the drainage holes.
Ensure you empty the water collected in the drainage pot to avoid re-absorption through the roots.
Conclusion
Lastly, I hope you are familiar with all the steps involved in selecting the best pot for your aloe vera.
And, if you realize that you have been letting your plant sit in an unfit pot, go ahead and change the pot right away.
To enjoy the beauty and health benefits of aloe vera, make sure to grow it in a fitting pot!