Did you know that the higher the temperature, the more water vapor the air can hold? So, plants that prefer warmer temperatures need humidifiers.
There are several commercial humidifiers for plants based on tank capacity, coverage, work hours, filters, smart technologies, and noise level. But you also boost humidity by grouping, misting and showering the plants.
Due to low humidity, growing tropical plants indoors can be daunting.
It should not be a problem if you own a humidifier, but let this article be your guide if you don't.
How Often does the Plant Need Humidifier?
Lack of humidity in plants leads to the degeneration of plant cells, browning, drying of leaf edges, withering of plants, and ultimately even their death.
And, sometimes, plants are unable to absorb water from their roots. Besides, Central heating, air conditioners, heaters, and fireplaces can also reduce indoor humidity.
So, you must maintain ideal humidity for plants to thrive and bloom.
The average indoor humidity is between 40% and 50%, which is insufficient for most houseplants.
| Plant Type/ Stage | Humidity Requirement |
| --- | --- |
| Leafy greens | 50-70% |
| Tropical plants | 40-60% |
| Herbs | 40-70% |
| Orchids | 40-70% |
| Cacti | 10-20% |
| Ferns | 40-50% |
| Germination stage | 90-100% |
| Vegetative stage | 50-60% |
| Flowering stage | 40-50% |
But, all plants do not need high humidity. The longer the water stays in the leaves, the higher the chances of diseases and pest infestation.
The best time to run a humidifier for plants is in the morning, between sunrise and noon, when the temperature and light intensity is higher.
However, avoid using a humidifier at night as the plant does not absorb all the moisture and invites mold growth.
What Kinds of Humidifiers are Best For Plants?
Today's market has many humidifier choices depending on work function, affordability, and effectiveness.
1. Warm Mist
It diffuses warm mist by heating the water, making it ideal for colder regions to keep both plants and space warm.
It might leave behind minerals on the tank, requiring frequent cleaning.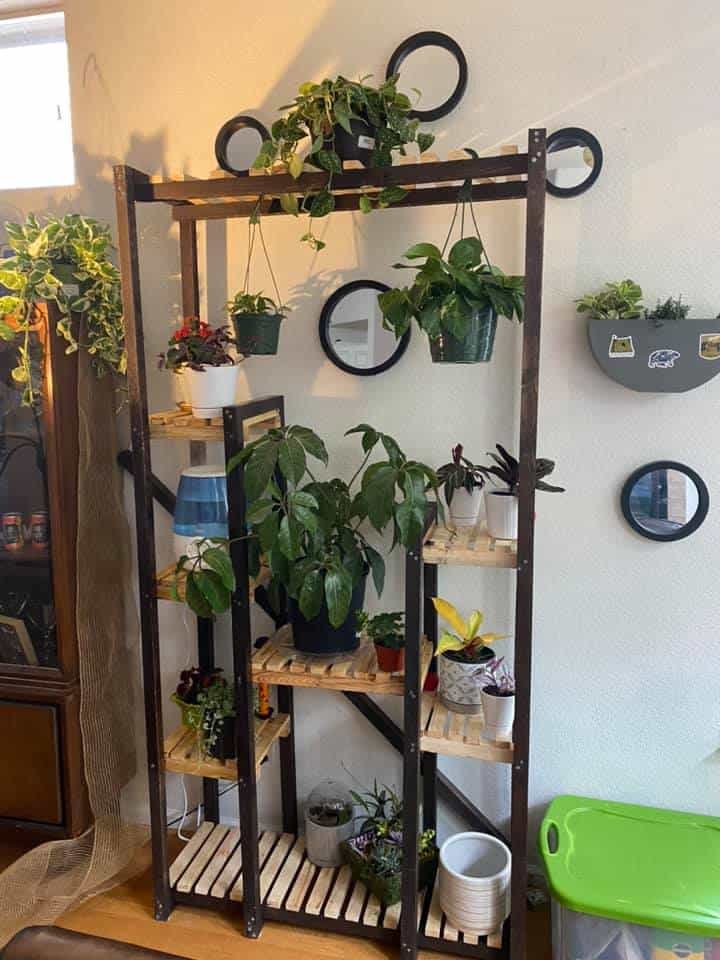 Also, it is quite nosier and riskier for children as the steam might burn them.
2. Cold Mist
Cool mist diffuses cool air without heating, making it ideal for warmer regions.
It consumes less energy, is less nosey, and is easier to breathe cool air.
But, it doesn't kill bacteria, which might result in algae and mold growth, requiring frequent cleaning and changing of filters.
Cool mist has two types of discharge technologies.
A. Ultrasonic Humidifier: It vibrates at ultrasonic frequencies to create extra-fine mists that diffuse with the help of a fan.
B. Evaporative Humidifier: It pushes water through internal wick filters that remove impurities and minerals. Afterward, fans create airflow that pushes the cool, evaporated mist into the air.
How to Select the Best Humidifier for Plants?
You can also use a regular humidifier for plants. Choose the one that offers various technologies and features suitable for both hydroponic gardening and personal use.
Let us look into some factors you should consider before buying a humidifier.
1. Size of Room
The larger the room, the bigger the humidifier you need.
Here is a general list to guide you in purchasing the best humidifier for plants according to size.
Up to 300 square Feet room – Small Humidifier
Between 300-450 square feet of room – Medium-sized Humidifier
Rooms above 450 square feet- Large Humidifier
2. Location of Humidifier
Generally, cool mist humidifiers have a large coverage than warm mist as they use a fan to push the mist into the room. So, choose the one that fits your space the best.
Similarly, heating vents, cooling vents, sunlight intensity, and room ventilation also alter humidity.
So, look at the environmental condition you live in before you buy one.
3. Noise Level
It definitely is infuriating when humidifier noise distracts you from work or sleep. So, do not forget to check the noise it creates before you buy one.
Generally, warm mist humidifier produces larger noise compared to cool mist ones.
4. Set up and Maintenance
As humidifier requires constant refilling and cleaning, choose the one that is easy to work with. If you are busy, choose the one with a timer for shutting down.
Choose a humidifier for plants that can operate for at least 12 hours straight.
And touchscreen or nightlight are other considerable factors you should consider before buying one.
5. Mist Temperature
A warm mist humidifier heats water, thus creating vapor that humidifies the room.
They might be riskier for children and pets as they release hot mist.
Similarly, mist temperature impacts the room temperature. For example, a warm mist humidifier might keep the plants warm in colder regions.
6. Filter Life
Filters help remove unwanted particles from the water to produce clean mists. Similarly, humidifiers leave white residues in the filter if the water is harsh.
Similarly, the filter life of every humidifier is different. Choose the one with a higher life span, and do not hesitate to change one after it expires.
7. Tank Capacity
Generally, a humidifier with a 6-liter tank capacity can run for 24 hours at high humidity and 60 hours at a low level.
Choose a humidifier with a bigger tank, as it needs constant refilling if the room is larger.
8. Other Features
You should look for features like leakproof, ease of cleaning and filling, and rotating nozzle while buying them.
Also, search for modern technologies like humidistat that measures humidity in air through a built-in humidity sensor to allow pre-set humidity levels.
Top 10 Best Humidifiers for Plants
After learning the basics about humidifiers, we are now ready to choose the one that best suits us. But picking the best humidifier for plants is a trickier and tougher task.
So to assist you, we have listed the top 10 best humidifiers for plants, along with their features, pros, and cons.
1. Best Overall Humidifier:
LEVOIT Smart Humidifier
The whooping tank capacity of 6 liters of this humidifier can function for 60 hours straight. Interestingly, it is made with BPA-free materials, so it lasts longer and is safe.
Besides, it has automatic connectivity that allows you to connect to and control it through the free VeSync app.
Another cool feature about it is that you can control it via voice and pre-set humidity levels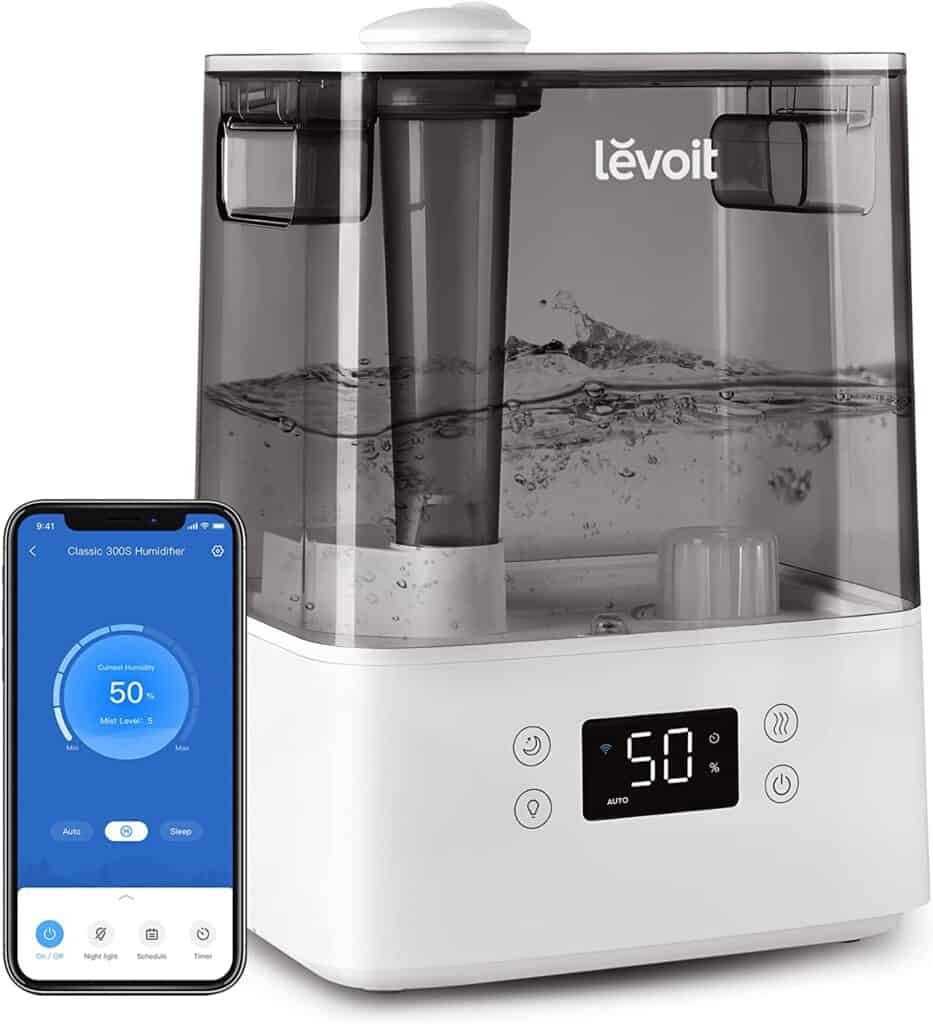 Pros
A top-fill makes refilling and cleaning the tank easier.
You can use it as an essential oils diffuser.
Also, it features a night light option.
It is quite functioning, making it ideal for bedrooms.
Cons
It can be only an extra expense for smaller spaces.
As you cannot turn off the led panel lights, it might be a problem for those who like complete darkness at night. But you can use something to cover the power led.
2. Most Effective and efficient:
DCMEKA Mini Small Humidifier
It is incredibly convenient for small rooms, and its small size makes it space-saving.
The humidifier has a tank capacity of 3 liters and operates for 10 hours easily. It comes up with 6.6 feet USB cable and features a night light.
Most importantly, it supports both continuous and intermittent misting, so you can switch according to your needs.
Also, you need not worry if the tank gets empty while you are out, as the device automatically shuts down after emptying the water.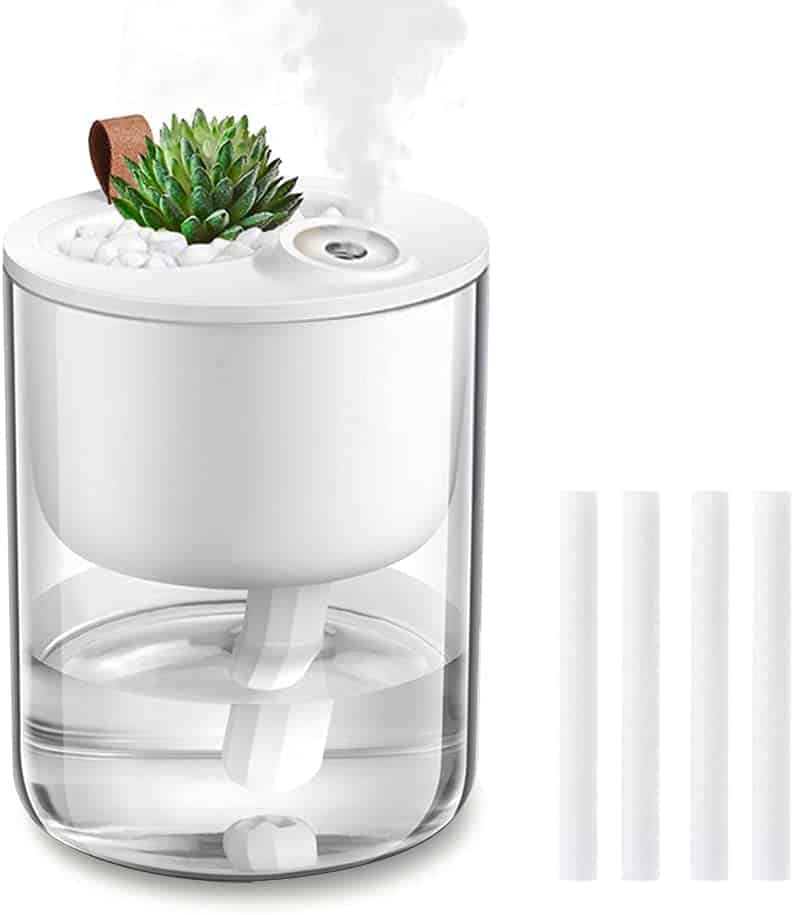 Pros
You can control all of the features through a single button.
It supports the top filling, which makes refilling and cleaning easy.
It is Ultrasonic, so it produces less noise.
Also, it has a small plant pot on the water tank's lid where you can add essential oils.
Cons
The tank capacity is small, so it is unsuitable for larger spaces.
The tank requires frequent cleaning. Otherwise, there is a high chance of mold growth inside the water tank.
3. Budget Friendly:
Vicks Warm Mist Humidifier
Vicks Warm Mist Humidifier features technology to add medicated vapors into the air, which helps relieve cough and congestion.
With a tank capacity of 1 gallon, it can operate for 24 hours straight and maintains humidity between 40-60%.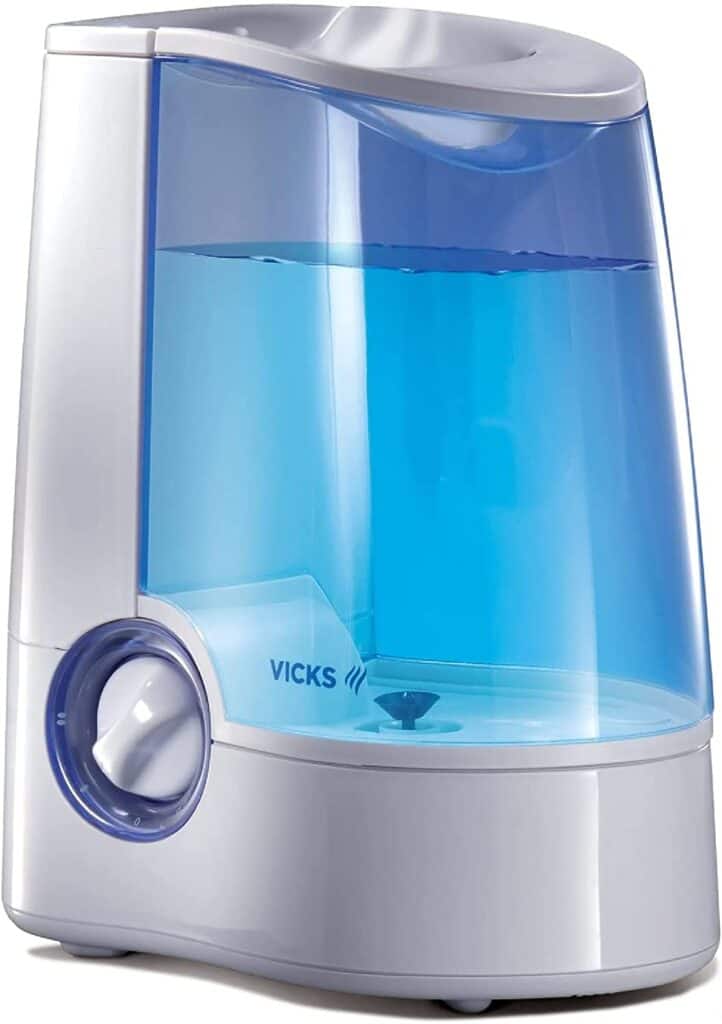 Pros
You can use it when the air is dry, in allergy season.
It keeps the temperature warm as it functions by heating water.
Cons
As the tank capacity is small, you cannot use it for larger spaces.
As the humidifier emits warm vapor, you need to keep it away from the reach of pets and children.
The night light function cannot be turned off, so it might be problematic if you like complete darkness while sleeping.
4. Quite Functioning:
LEVOIT Cool Mist Humidifier
LEVOIT Cool Mist produces 24dB of sound at the low setting and 30dB at higher, so you can enjoy quiet functioning with this humidifier.
It has a water tank capacity of 0.63 gallons or 2.4 liters and is made up of BPA-free material.
Also, it features an automatic shut-off function when the tank is emptied.
Most importantly, it operates in 3 mist levels; 24 hours in low settings, 13 hours in a medium setting, and 9. 6 hours in a high environment.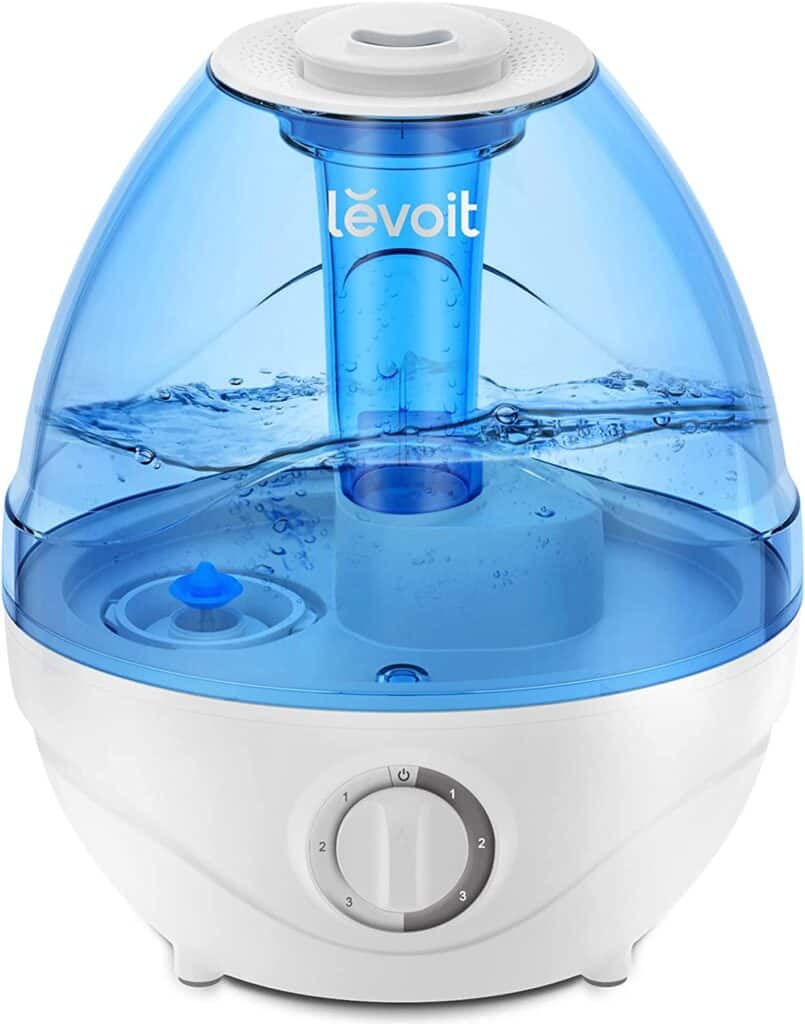 Pros
It comes with a cleaning brush, making the cleaning process easier.

Also, it has a detachable silencer making the cleaning process more manageable.

The humidifier is beginner friendly and is perfect for small rooms.

It does not soak floors or pieces of furniture.
Cons
It has a small tank capacity.
Using harsh water might cause white dust in the tank, which makes cleaning the tank difficult.
5. Most Compact:
Magictec
Cool Mist Humidifier
Made of ABS material, Magictec is durable and can operate 24 hours.
Besides, it has a transparent water tank of 2.5 liters that allows you to check the water level and fill it accordingly.
Its most attractive feature includes its full-circle rotatable nozzles that rotate, diffusing fine mist using ultrasonic technology.
Similarly, it is extremely quiet as it produces less than 30 dB of sound.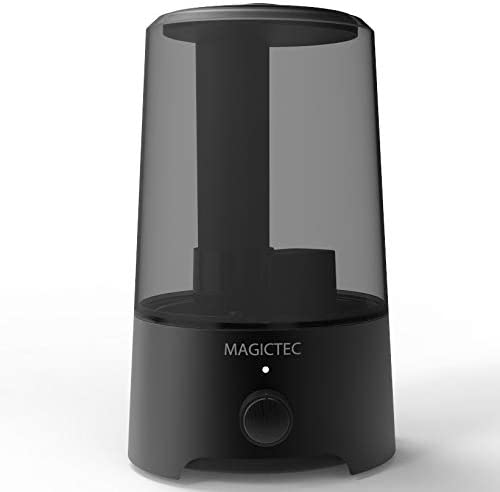 Pros
The small size of the tank makes it ideal for smaller rooms.
It supports automatic turn-off features when the tank is empty.
You can adjust the humidity level according to the plant's requirements.
Cons
You might struggle while refilling the tank as it requires the dissembling of the machine.
The led light is extremely bright, so it might not be ideal for a bedroom.
A few of the product users have complained about its difficulty in cleaning.
6. Best Features for Well Price:
Vicks Cool Mist Humidifier
This humidifier does not need replacement filters and can operate for 30 hours.
As the Vicks humidifier features Scent Pad Heater, you can also utilize it as a diffuser.
Also, the water holding capacity of 1.2 gallons makes it an ideal addition to a larger room with many plants.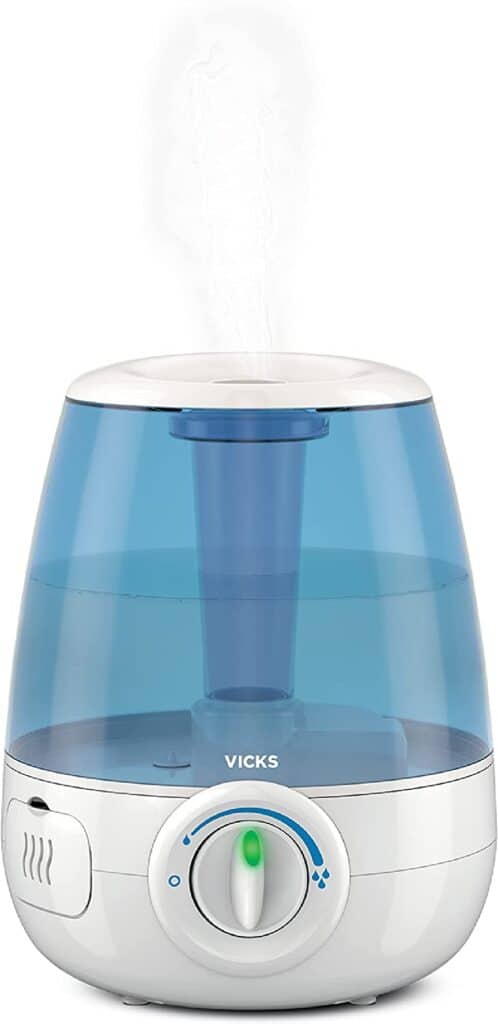 Pros
The humidifier is less noisy, ensuring a better night's sleep.
It has multiple functions like a humidifier, vaporizer, and steam inhaler, which help relieve cough and congestion.
You can easily control the intensity and direction of the mist so that this humidifier can be perfect for newbies.
Cons
It does not support an automatic shut-off feature after the water is emptied, so you need to put an eye on the humidifier.

You might face white dust problems if the water is not distilled. It is best to avoid harsh water to ensure its longevity.
7. Biggest Tank Capacity: TBI Pro 6L Humidifier
TBI Pro supports modern design and smart technologies like high-technology LED displays and remote control.
With a whooping tank capacity of 6 liters, it covers 750 square feet easily and can run for 48 hours.
Its best feature is the full rotating nozzle, a 360-degree nozzle that disperses water uniformly.
Also, it supports three operating modes; high, medium, and low, so you can switch the humidity requirement accordingly.
Pros
The humidifier is easy to use, clean, and refill.
It features one button for all controls.
Due to its bigger tank size, it is ideal for large spaces.
It also has a touchscreen, timer settings, and sleep mode features.
It has a medical stone mist for better purification.
Cons
You need to readjust the parameters every time you operate it.
Some of the consumers have complained about leaking after using it only for a year or 2.
Also, buyers are dissatisfied with its functioning and have complained about its durability.
8. Best Humidifier Based on Lifespan: AquaOasis Cool Mist Humidifier
A tank capacity of 2.2 liters makes AquaOasis humidifier a perfect addition to your small room.
Some of its astounding features are its automatic shut down feature when the water runs out, its 360-degree rotating nozzle that maintains uniform humidity, and its operation hour of 24 hours straight.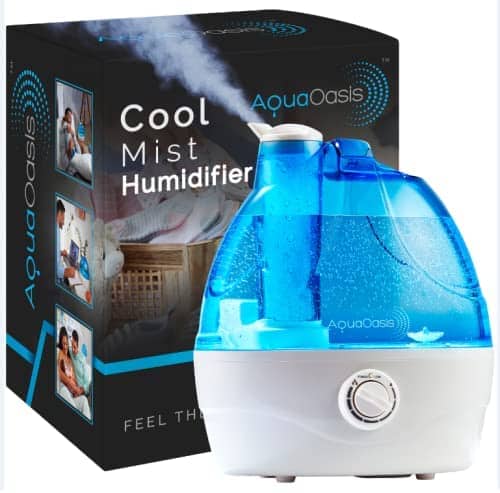 Pros
The design is filter-free, so it does not require high maintenance and hence is perfect for newbies.

It produces only feeble sound, so it's ideal for bedrooms.

The humidifier has a Lifetime Warranty.
Cons
Not perfect for large areas or large spaces indoor gardening.

The humidifier can drip water and leave slightly high moisture, sometimes soaking furniture and pillows.
9. For Clean Germ-Free Air:

Honeywell UV Humidifier
Honeywell UV Humidifier produces cool, invisible, uniform mists that run on an automated evaporative system.
With a whopping 1.1-gallon tank capacity, it features 3-speed settings to adjust moisture output and sound level.
Besides, you can operate it for 24 hours straight without any worries.
Its best feature is its wicking filter that captures minerals from the water, thus preventing white dust formation.
Pros
The humidifier is perfect for a medium-sized room.

It kills germs that reduce the chances of mold and bacteria formation.

Its water tank is dishwasher safe.

It is 25% quieter than comparative models.
Cons
It is slightly expensive so it might be tight for your budget.

It does not feature an automatic shut-off feature when water runs out.
10. Best for Preventing White Dust: Honeywell Cool Moisture Humidifier
Honeywell Cool Moisture Humidifier features a wicking filter that traps minerals from the water preventing white dust formation on furniture and floors.
Besides, its filter is also treated with protection that prevents mold growth by up to 99.99%.
Also, a humidifier comes with a 1.5-gallon water tank and can operate for 36 hours.
Pros
It has a top fill design which makes water filling easier.
It features an illuminated water window from which you can check water levels.
Cons
It might be a comparatively expensive humidifier for you if you stand on a limited budget.

It can be louder while functioning sometimes.
Tips to Use Humidifier for Plants
Owing a plant humidifier has no benefit if you do not use it properly. Besides, excessive-high humidity is a red flag to plants as it is a pests and diseases hub.
Hence, here are a few tips to better use the humidifier for plants.
The ideal distance between the humidifier and the plant is between 3-6 feet.
Avoid using humidifiers at night, as air has some moisture with lower temperatures.
Using it frequently throughout the day is ideal for plants requiring about 60-70% humidity.
It is preferable to use distilled water and avoid harsh water for the longevity of filters.
Clean your humidifier 1-2 times in a week to prevent mold and white dust.
Humidifiers with filters require periodic filter changes. Filter lifespan depends on the models, so check the manual and change it accordingly.
Avoid placing humidifiers directly on hardwood floors or materials that wrap excessive moisture. You can set your humidifier underneath a tarp or towel instead.
You need to be cautious with warm mist humidifiers as they are riskier for pets and children.
It is ideal for placing humidifiers in higher locations like tables, shelves, etc. Diffusion is easier when you put them in higher areas.
How to Increase Humidity for Plants Naturally Without Humidifier?
Factors like the number of plants, type of plants, maintenance, and affordability of humidifiers are a matter of concern.
If buying a humidifier is not convenient for you, it should not be an excuse for skipping the plantsmen lifestyle.
You can increase the air's humidity by using natural and mechanical techniques.
1. Misting the Plants
It helps plants to trap moisture when their pores are open for carbon dioxide intake.
Similarly, the plant loses less water through transpiration as there is already water on the leaf surface.
However, you should mist the plants only in the morning or midday and avoid it after the sun sets.
2. Provide a Shower to the Plant
When you bathe the plants, it washes pests and eggs and simultaneously helps maintain humidity for plants.
However, you should not shower the plant frequently, as it wets the soil.
Consider showering your plants twice a week in summer and once in 2-3 weeks in winter.
3. Wet Pebble Tray Method
Take a tray, some wet pebbles, and water, and leave it under plants. It helps increase humidity as the water in the tray evaporates.
Remember, the water level should be below the pebble to prevent roots from sitting in the water.
4. Group Houseplants Together
When you group your houseplants, it naturally creates a humid zone through natural precipitation.
However, grouping houseplants together might spread diseases and pets, so avoid grouping the infected plants.
5. Place your Plants in Humid Areas
Placing your plant in the bathroom and kitchen is an excellent way to benefit from high humidity naturally.
But, ensure that the place is well-ventilated to prevent mold and other fungal infections.
Final Thought
Choose the humidifier that prevents white dust, kills germs, and has modern features like different modes of operation, automatic control, Wi-Fi connectivity, etc.
As high humidity is a pest and disease hub, you must maintain adequate airflow in your room.
Buy a humidifier and let your space jazz up with greens.