Ordering Palm trees online can become excruciatingly tricky if you are unaware of what you are looking for, such as the palm tree species, sizes, and growing habits.
Some grow only a few feet but require much care, while others climb 30 feet with minimal supervision.
Amazon, Walmart, Bloomscape, and Lively Root are some online nurseries offering varied palm tree specimens, reasonable prices, quick delivery options, affordable shipping fees, and a complementary care guide for new growers.
We have listed some of the most reliable online retailers and nurseries specializing in selling palm trees to make matters easy.
What to Know About Ordering Palm Trees?
Before looking at online stores, let us share a few tips to ensure you buy the right product.
1. Compare Between Products
Once you decide on the correct plant, compare the product among different websites to strike the best deal.
Online retailers often display varying prices for the same product, including delivery times and delivery costs.
2. Determine the Required Care
Before buying any plants, you must know about their care requirements.
Therefore, assess whether you can provide the proper growing condition for your preferred plant using this table.
| USDA Zones | Palm Tree Species | Specification |
| --- | --- | --- |
| 10-12 | Coconut Palm, Zombie Palm, Foxtail Palm, Florida Thatch Palm, Triangle Palm | They need moderately warm climate around the year. |
| 9-11 | Date Palm, Puerto Rican Thatch Palm, Queen Palm, Everglades Palm, Caranday palm, Spindle Palm, King Palm | They grow at temperature of 25°F-40°F. |
| 8-11 | Californian Fan Palm, Cabbage Palm, Chinese Fan Palm, Mexican Fan Palm, | They can withstand mild winter but need warm temperature mostly. |
| 7-11 | European Fan Palm, Saw Palmetto, Windmill Palm | They can withstand the low temperature below 10°F but favor warm temperature. |
3. Find the Right Price
Identifying the right buying price is vital because not all sellers advertise the same price on their websites.
If you know the seller and his product are right, do not hesitate to spend more.
Unless you are intending to buy Coco de Mer that could cost up to $9,000, be ready to pay anywhere from $55 to $800 for a single plan tree.
4. Inspect the Product
While it can be impossible to know whether a plant displayed online is in the proper condition, you can at least check with the seller before adding it to the shopping cart.
Check for the following points with the sellers.
Foliage -Inspect whether the palm has shiny green leaves or yellowing and browning foliage that indicates damage.
Trunk -Look for a compact trunk with no holes that indicate zero pest infestation.
Roots -Ask your seller to show a healthy root system that is white-yellow colored.
If you wish to grow your palm tree at home but buy one online, here is a complete guide about growing Pony Tail Palm species.
Where to Buy Palm Trees?
You can easily find an online store that delivers a palm tree to your home, regardless of state or country.
However, not all online stores will have varieties of palm trees. Therefore, feel free to check out different sellers before deciding.
Here is a list of fifteen online stores, nurseries, and retailers selling palm trees.
1. Amazon
Amazon is the largest online retailer in the country, with a catalog of over 12 million products.
As Amazon displays hundreds or thousands of products for a single search, you must be specific with your choice.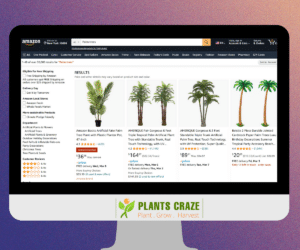 The online retailer giant may display artificial and natural plants for any search; because only a few sellers offer live potted plants.
CostaFarms is one particular seller on Amazon that sells various indoor and outdoor plants, including palm trees.
Pros
They offer reliable and quick delivery with free delivery options for members.
They also offer pick-up delivery that is available in different cities.
Amazon offers package returns for up to 30 days (depending on the seller).
Cons
It may be challenging to find the right product from the vast catalog.
Not every product displays the price; hence, you must add it to the cart to estimate the final cost.
Not all sellers are verified, so you will likely find some fake ones too.
2. Walmart
Walmart is the largest store in the US, with almost 4,473 physical stores and 158 distribution centres.
You can order from millions of products, including different specimens of the palm tree, and get it delivered within 2-5 days.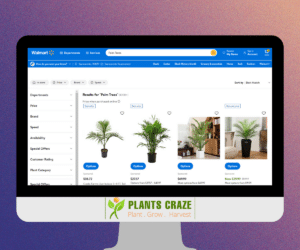 The best thing about Walmart is that they will get your product delivered within a matter of days, no matter where you live,
Pros
They offer different delivery options, including same-day delivery.
Buying from Walmart means you pay what you can afford.
They offer more competitive prices.
It is a stop shop for all kinds of plants and plant products.
Cons
While Walmart employs anti-counterfeit measures, it is still possible to get fake products.
Non-members must pay a hefty delivery fee ($7.95-$9.95) per order.
3. Bloomscape
Bloomscape is a go-to online retailer for all kinds of houseplants that ships to 48 states in the U.S.
You can buy from indoor plants, newbies, and annuals or perennials and get it delivered within days.
They have deep horticultural roots running through the business dating back five generations in the U.S. Therefore, you will buy from one of the most renowned plant stores.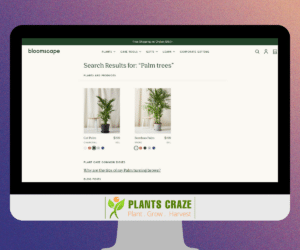 They boast a catalog of indoor palm trees and ornamental palm plants at $190.
Along with choosing the palm plant, you can also pick the desired color for the container.
Pros
You can pick from a wide range of ornamental palm plants.
Choose from Parlor, Bamboo, Date, Chinese, and Ponytail Palms.
Every palm tree arrives potted with the appropriate soil mix and choice of incredible Eco pots.
Cons
They do not offer express delivery or preferred pick-up dates.
You are less likely to find palm trees appropriate for outdoor decoration.
4. Lively Root
Lively Root is a leading eco-friendly plant store specializing in various houseplants, including palm trees.
Hailing from San Marcos, California, it typically sells mature palm species (at least 34″) and delivers to homes and offices nationwide.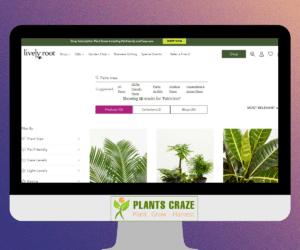 Choose your favorite palm tree from Sago and Cat Palm.
Moreover, they will put it in an eco-friendly container with the color of your choice and get it delivered in a secured bundle.
Pros
Eco-conscious plant nursery.
They offer more varieties of Palm plants.
Cons
The shipping fee is slightly more expensive than most online retailers.
Minimum prices start from $132.
5. The Sill
The Sill is your go-to online retailer for ornamental houseplants, including palm trees.
They specialize mainly in houseplants appropriate for indoor settings like homes and offices, so do not expect to buy large palm tree species.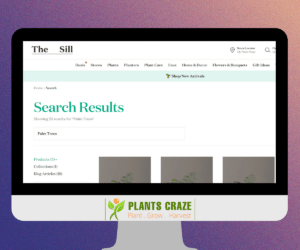 At least, you can brag about getting a plant delivered from New York, where The Sill Store is located.
Pros
Choose from chic, minimalist, and modern Eco pots and containers.
Pick a few of the best ornamental palm plans for your home and office.
The cost is reasonably priced.
Cons
They do not offer a wide range of palm trees selection.
The catalog only includes ornamental palm plants.
The delivery days are slightly longer.
6. Etsy
Etsy is unlike any other online retailer. It showcases products from local, independent, and small-scale producers nationwide.
Although smaller, Etsy boasts a unique catalogue of live palm trees appropriate for all kinds of homes and offices.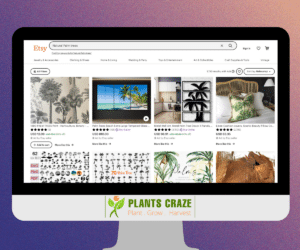 If you wonder about the price and delivery, they sell anything under $100 and ship worldwide using UPS or FedEx.
Pros
You can find a wide range of palm tree specimens.
Choose from some of the rare Palm tree species.
The cost is reasonably priced.
Cons
The delivery time is slightly longer.
7. EZ Palms
EZ Palms is an online retailer for wholesale palms, decorative palms, and plants for landscaping needs.
Experienced with growing and selling all kinds of palm for over 30 years, they export their product worldwide.
They also provide architectural landscape custom design for resorts and local private residential homes.
EzPalms has been certified by the Department of Agriculture of Plant Industry since 1994.
Pros
Choose from a wide range of indoor and outdoor palm trees.
Get your product shipped worldwide.
Buy wholesale products at low prices.
Cons
Their website does not display shipping details like delivery days and shipping fees.
8. Fast-Growing Trees
With a vast growing facility in South Carolina and a countrywide shipping facility, Fast Growing Trees has become a reliable retailer of trees, shrubs, houseplants, and especially palm trees.
Moreover, they offer a 30-day Alive & Thrive guarantee so that you can return or compensate for damaged plants.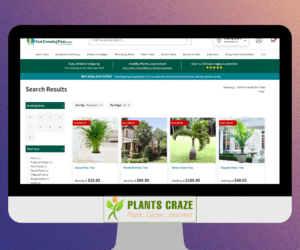 For outdoor palm tree lovers, you can order from Windmill, Christmas, Mexican Fan, Bottle, Pindo, and Sylvester Palm Trees.
Pros
Fast Growing Trees is highly rated by consumers (4.65 stars from 85,722 reviews)
They guarantee a 30-day return policy on all plants.
Excellent customer service and shopping experience.
Cons
Some plant species may cost slightly higher based on availability and shipping fee.
The delivery period is slightly longer.
Find out more at FastGrowingTrees.
9. Real Palm Trees
As the name suggests, Real Palm Trees is your ultimate destination for all sizes and specimens of palm trees.
If you are wondering, there are well over 200 options, including Areca, Ponytail, Parlor, Bamboo, Banana Palm, Australian Fan, Bismarck, and Blue Hasper Palms.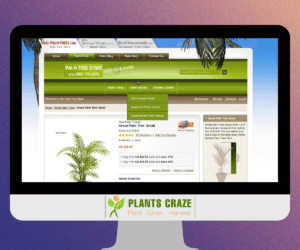 Pros
They have five different growing centers around the country, making it quicker to deliver the product.
Real Palm Trees also ship for free on specific products or collections.
They have an extensive collection of palm trees.
Cons
Shipping for locations may take longer if the chosen plant is over 6 feet.
10. Brighter Blooms
With over 15 years in business, Brighter Blooms very well understand their customer's needs.
You will find a great selection of palm trees, including Windmill, Areca, Lady Palm, Queen, Sago, Needle, European Fan, and Pygmy Date Palms.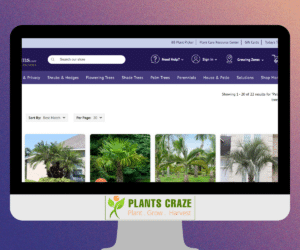 Before buying, consider checking the star rating system, honest customer reviews, and community feedback before buying your preferred plant.
Each plant gets delivered from the growing site of Fort Mill, South Carolina.
Pros
Enjoy significant discounts on bulk orders.
Brighter Blooms has an overall rating of 4.56 stars from 16,909 reviews.
They provide alteration, addition, or swapping of the order until the last moment.
Cons
All sales are non-returnable without prior permission and a 25% restocking fee.
11. Nature Hills
Nature Hills is the largest online plant nursery in the country, with a great selection of palm trees, houseplants, and plant products.
Take advantage of their Bulb Bonanza to grab huge discounts on bulk orders and enjoy free shipping to any state.
Check out their catalog for popular outdoor and ornamental palm trees like Neanthe Bella, Jelly Palm Mediterranean Fan, and Windmill Palm.
Pros
Order bulk products over $130 to enjoy a flat shipping fee of $25.
Enjoy a free gardening guide.
Cons
The shipping fee is more expensive than most other online retailers.
Outdoor Palm Trees for Sale
After navigating the sites, you might have some ideas about purchasing the Palm tree. Here is a list for your convenience.
From Editorial Team
Things to consider before and after buying Palm trees
Buy a cheap version of Palm tree first to let you know if the plant can survive and grow best.
Also, quarantine the plants for 1-2 weeks and spray them with fungicide if the infection is visible.