Ordering palm trees online can become excruciatingly tricky if you are unaware of what you are looking for, such as the palm tree specimen, sizes, and growing habits.
FYI, palm trees come in many specimens and sizes that can be grown indoors and outdoors.
Some grow only a few feet but require a lot of care, while others climb 30-feet with minimal supervision.
Therefore, you should be informed about appropriate palm trees for homes and gardens and where to buy them.
Consider buying a Palm Tree from a reliable online retailer or nursery that offers varied palm tree specimens, reasonable prices, quick delivery options, affordable shipping fees, and a complementary care guide for the new growers.
However, you should not just start buying live plants from the first website you land upon or follow the advertisements that promise great deals on plant purchase.
Check whether the seller is authentic and delivers what they promise, and assess the plant's condition (if possible) before placing your order.
We have listed some of the most reliable online retailers and nurseries that specialize in selling palm trees to make matters easy.
What to Know About Ordering Palm Trees?
Before we start looking at the online stores, let us share a few tips to ensure you are buying the right product.
1. Compare Between Products
Before settling for any plant, consider comparing different specimens to find the right one for your home.
Once you decide on the correct plant, compare the product among different websites to strike the best deal.
Online retailers often display varying prices, including delivery times and delivery costs, for the same product.
Therefore, comparing the product between different websites will help you find the right product at the best price
2. Determine the Required Care
Once you find the right product, start assessing whether you can provide the right conditions for the plant's growth.
Some tropical palms require warmth and high humidity, while others grow well in temperate and cold conditions.
Saw Palmetto Palm is a cold-hardy palm that survives well in dipping temperature, while Date, Zombie, Windmill, and Foxtail Palm require warm tropical conditions.
Therefore, assess whether you can provide the proper growing condition to your preferred plant using this table.
| USDA Zones | Palm Tree Species | Specification |
| --- | --- | --- |
| 10-12 | Coconut Palm, Zombie Palm, Foxtail Palm, Florida Thatch Palm, Triangle Palm | They need moderately warm and tropical climate around the year. |
| 9-11 | Date Palm, Puerto Rican Thatch Palm, Queen Palm, Everglades Palm, Caranday palm, Spindle Palm, King Palm | They can tolerate low temperature of 25°F and high temperature up to 40°F |
| 8-11 | Californian Fan Palm, Cabbage Palm, Chinese Fan Palm, Mexican Fan Palm, | They can withstand mild winter but need warm temperature most of the time in a year. |
| 7-11 | European Fan Palm, Saw Palmetto, Windmill Palm | They can withstand the low temperature below 10°F but need warm temperature to encourage plant vigor. |
3. Find the Right Price
Identifying the right buying price is the key because not all sellers advertise the same price on their websites.
Some specialized nurseries will charge slightly higher because they sell their products, while resellers like Amazon and Walmart may display lesser prices.
If you know that the seller and his product are right, do not hesitate to spend more.
Unless you are intending to buy Coco de Mer that could cost up to $9,000, be ready to pay anywhere from $55 to $800 for a single plan tree.
However, if you want to save expenses, consider taking advantage of discounts, seasonal offers, and bulk purchase deals offered by online retailers like Amazon or Walmart.
4. Inspect the Product
While it can be impossible to know whether a plant displayed online is in the proper condition, you can at least check with the seller before adding it to the shopping cart.
However, do not expect the retailers to provide the required information about the plant like the nurseries do.
Check for the following points with the sellers.
Foliage -Inspect whether the palm has shiny green leaves or yellowing and browning foliage that indicates damages.
Trunk -Look for a compact trunk with no holes that indicate zero pest infestation.
Roots -Ask your seller to show the condition of the root. A healthy root system is white-yellow colored.
If you wish to grow your palm tree at home but buy one online, here is a complete guide about growing Pony Tail Palm Species at home.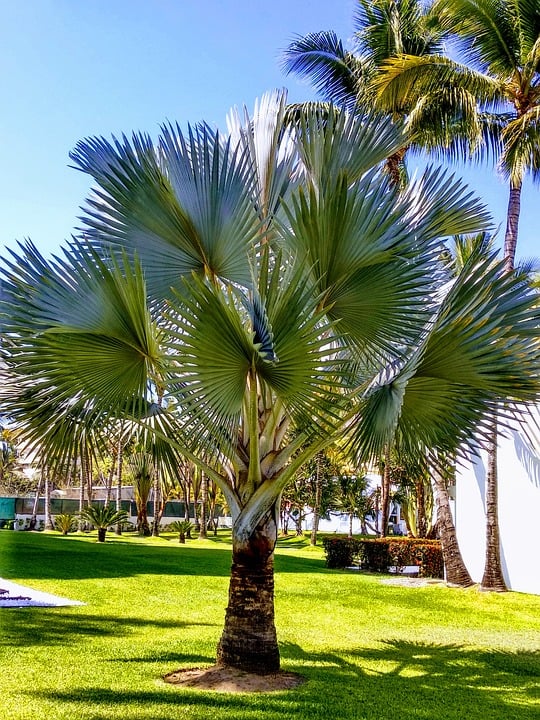 Where to Buy Palm Trees?
You can easily find an online store that delivers a palm tree to your home no matter what state or country you live in.
However, not all online stores will have varieties of palm trees. Therefore, feel free to check out different sellers before deciding.
Here is a list of fifteen different online stores, nurseries, and online retailers specializing in selling palm trees.
1. Amazon
Amazon is the largest online retailer in the country, with a catalog of over 12 million products.
No wonder you can find any species and sizes of the palm tree on Amazon.
As Amazon displays hundreds or thousands of products for a single search, you must be specific with your choice.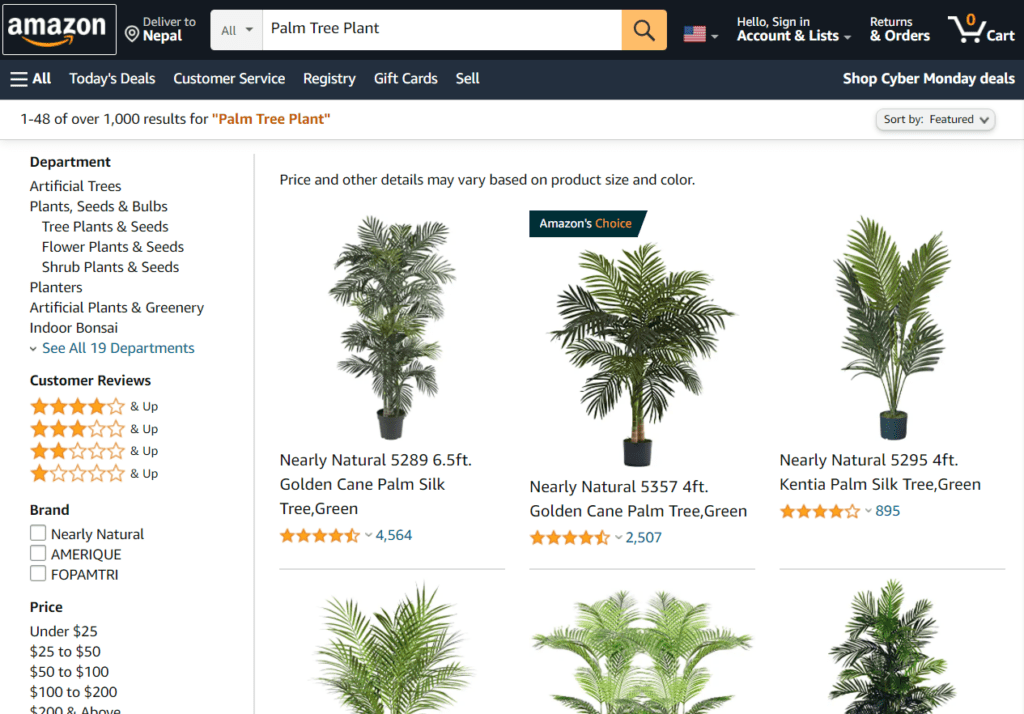 The online retailer giant may display artificial and natural plants for any given search; because only a few sellers offer live potted plants.
CostaFarms is one particular seller on Amazon that sells various indoor and outdoor plants, including palm trees.
Delivery
Amazon offers a selected shipping date so that you can receive the item on your preferred date.
Your order will likely arrive within 4-8 days.
It offers a free delivery option to its prime members and two preferred days of the week for receiving items.
Find the applicable shipping fees.
Pros
Amazon has a wide range of sellers and different price options
They offer reliable and quick delivery with free delivery options for members.
They also offer pick-up delivery that is available in different cities.
Amazon offers package returns up to 30 days (depending on the seller)
It offers In-Garage delivery through Key by Amazon service.
Cons
It may be challenging to find the right product from the vast catalog.
Not every product displays the price; hence you need to add it to the cart to estimate the final cost.
Not all sellers are verified, so you are likely to find some fake ones too.
Shipping costs can vary from seller to seller.
Visit www.Amazon.com to find out more.
2. Walmart
Walmart is the largest store in the US, with almost 4,473 physical stores and 158 distribution centers.
You can order from millions of products, including different specimens of the palm tree, and get it delivered within 2-5 days.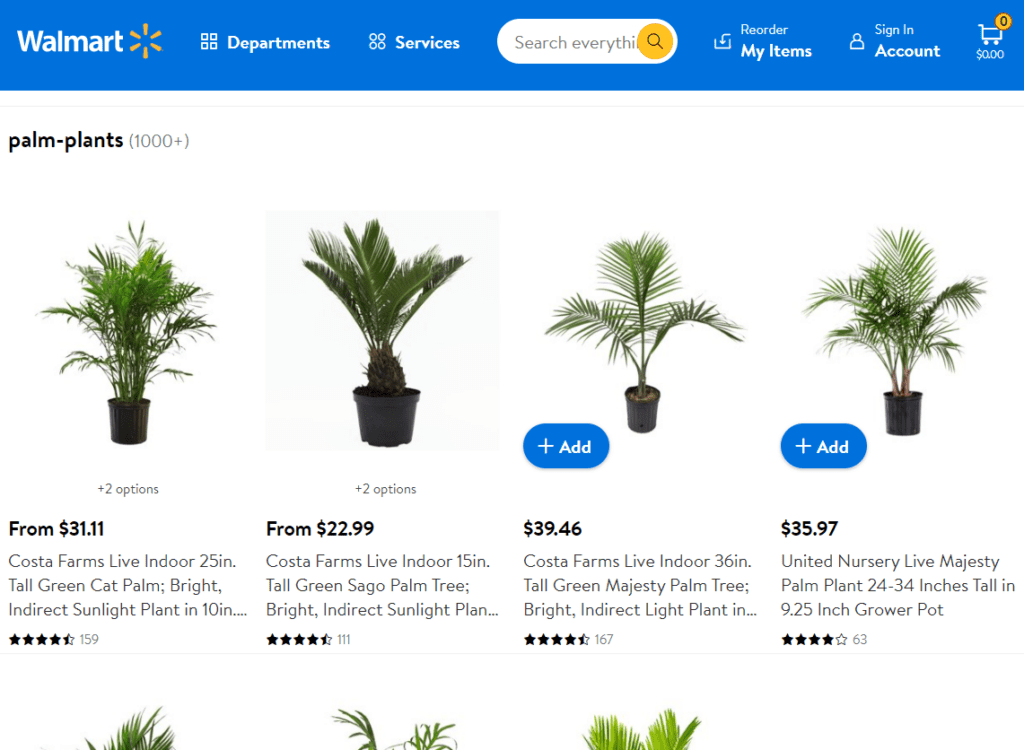 Choose from both indoor and outdoor palm trees at prices ranging from $23 to $470.
The best thing about Walmart is that they will get your product delivered within a matter of days, no matter where you live,
Delivery
You must pay a fee of $7.95 or $9.95 per delivery if you are not a member of Walmart+.
Walmart+ users can get the same-day delivery as well as other benefits for a $98 annual fee.
For express delivery, expect to pay $10 on top of the existing delivery charge.
Pros
They offer different delivery options, including same-day delivery.
Buying from Walmart means you pay what you can afford.
They offer more competitive prices.
It is a stop shop for all kinds of plants and plant products.
Cons
While Walmart employs anti-counterfeit measures, it is still possible to get fake products.
Non-members must pay a hefty delivery fee ($7.95-$9.95) per order.
Shop more of Palm Trees at Walmart.
3. Bloomscape
Bloomscape is a go-to online retailer for all kinds of houseplants that ships to 48 states in the U.S.
You can buy from indoor plants, newbies, and annuals or perennials and get it delivered within days.
They have deep horticultural roots running through the business dating back five generations in the U.S. Therefore; you will be buying from one of the most renowned plant stores.
They boast a catalog of indoor palm trees and ornamental palm plants ranging from $79 to $190.
Along with choosing the palm plant, you can also pick the desired color for the container.
Delivery
They guarantee to deliver within 5-7 business days to any part of the country.
Order over $75 to get free shipping. Order under $75 is subject to a $10 shipping fee.
Use the tracking number to access your shipment's progress.
Pros
You can pick from a wide range of ornamental palm plants.
Choose from Parlor, Bamboo, Date, Chinese, and Ponytail Palms.
Every palm tree arrives potted with the appropriate soil mix and choice of incredible Eco pots.
Cons
They do not offer express delivery or preferred pick-up dates.
You are less likely to find palm trees appropriate for outdoor decoration.
Visit Bloomscape to shop more.
4. Lively Root
Lively Root is a leading eco-friendly plant store specializing in a wide range of houseplants, including palm trees.
Hailing from San Marcos, California, it typically sells mature palm species (at least 34″) and delivers to homes and offices throughout the country.
Choose from your favorite palm tree ranging from Sago, Ponytail, Lady Palms, Pygmy, and Date Palm.
Moreover, they will pot it in an eco-friendly container with the color of your choice and get it delivered packaged in a secured bundle.
Delivery
They guarantee to deliver within 7-10 days.
The shipping fee depends on the plant size. Small plant ($15.59), Medium plant ($19.95), and Large Plant ($26.95)
Pros
Eco-conscious plant nursery
They offer more varieties of Palm plants
Cons
The shipping fee is slightly expensive than most online retailers.
No free shipping.
Minimum prices start from $132
The delivery days are slightly longer.
Visit Lively Root to shop more.
5. The Sill
The Sill is your go-to online retailer for ornamental houseplants, including different kinds of palm trees.
They specialize mainly in houseplants appropriate for indoor settings like homes and offices, so do not expect to buy large palm tree species.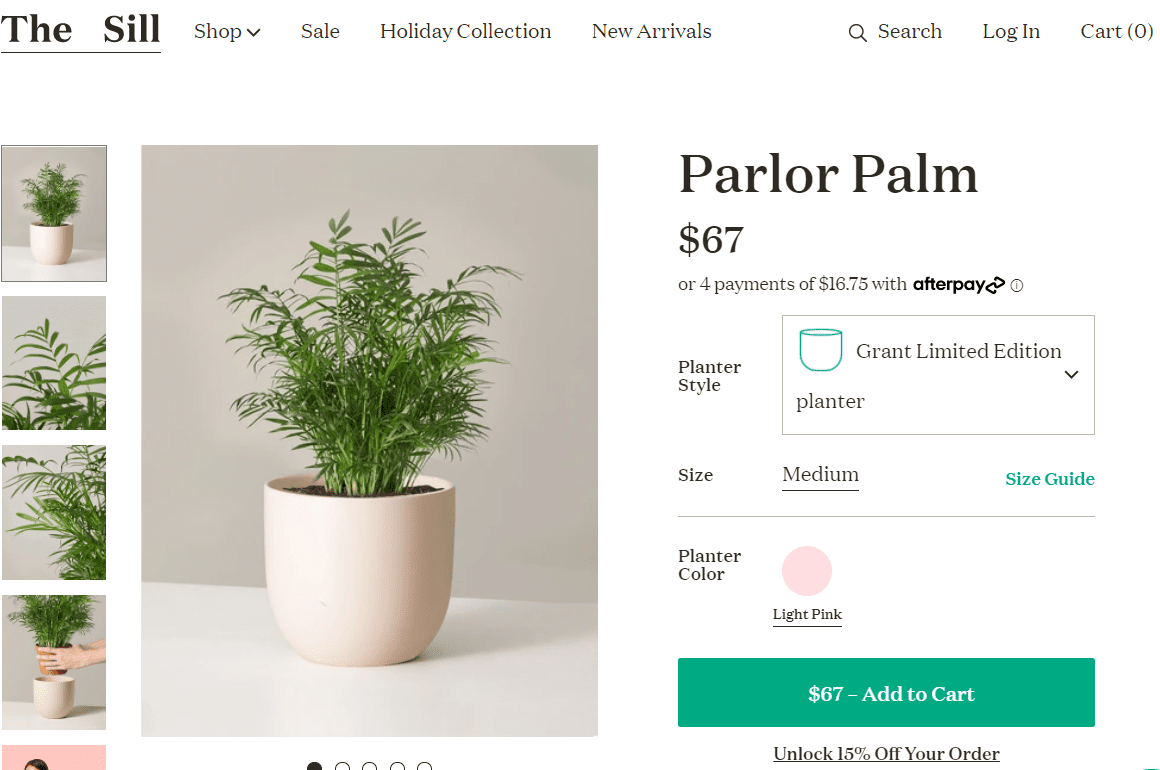 At least, you can brag about getting a plant delivered from New York, where The Sill Store is located.
Planted in a fancy pot, you can get one for as low as $38 for Parlor Palm and $62 for a Ponytail Palm.
Delivery
They guarantee to deliver within 5-8 days.
Expect to pay a flat shipping fee ranging from $5 to $25, depending on your order.
Become a member of Plant Parent Club to enjoy free shipping.
Pros
Choose from chic, minimalist, and modern Eco pots and containers.
Pick a few of the best ornamental palm plans for your home and office.
The cost is reasonably priced.
Cons
They do not offer a wide range of palm trees selection.
The catalog only includes ornamental palm plants.
The delivery days are slightly longer.
Visit The Sill to shop more.
6. Etsy
Etsy is unlike any other online retailer. It showcases products from local, independent, and small-scale producers around the country.
You can find handicrafts, painting, artistic home decor items, clothing, and houseplants.
Although smaller in size, Etsy boasts a unique catalog of live palm trees appropriate for all kinds of homes and offices.
Choose from a wide range of favorite indoor palms like Parlor, Windmill, Areca, Majesty, Coconut, and Kentia Palm Tree.
If you are looking for something unique, they also offer rare palm species like Lady palm Rhapis Excela, Elephant Ears, and Cardboard Palms.
If you wonder about the price and delivery, they sell anything under $100 and ship worldwide using UPS or FedEx.
Delivery
Expect to get your shipment within 7 to 10 days.
The shipping transaction fee is a 5% transaction fee on the cost of shipping.
Pros
You can find a wide range of palm tree specimens.
Choose from some of the rare Palm tree species.
The cost is reasonably priced.
Cons
The delivery time is slightly longer.
Visit Etsy to shop more.
7. Costa Farms
Costa Farms is a dedicated plant retailer that grows exotic houseplants in Apopka, Florida, and ships them around the country.
Choose a tropical gem-like Palm tree from Costa Farms and get it delivered to your doorstep.
You can choose from various outdoor palms like Butterfly Palms, Chinese Fan Palms, Kentia Palms, Pindo Palms, and ornamental palms like Pygmy Date Palm, Cat Palm, or Areca Palm.
Along with selling palm trees, they also offer home growers information about the appropriate growing conditions and tips.
Delivery
They usually ship between 5 to 7 days.
Check with the seller to find the shipping fee.
Pros
They offer a wide range of palm trees for indoor and outdoor decoration.
You can get all the information about the growing condition, repotting, and disease control with your product.
Cons
They do not ship to California due to a lack of certain Agriculture Certifications.
Get more info at CostaFarms.
8. EZ Palms
EZ Palms is an online retailer for wholesale palms, decorative palms, and plants for landscaping needs.
Experienced with growing and selling all kinds of palm for over 30 years, they export their product worldwide.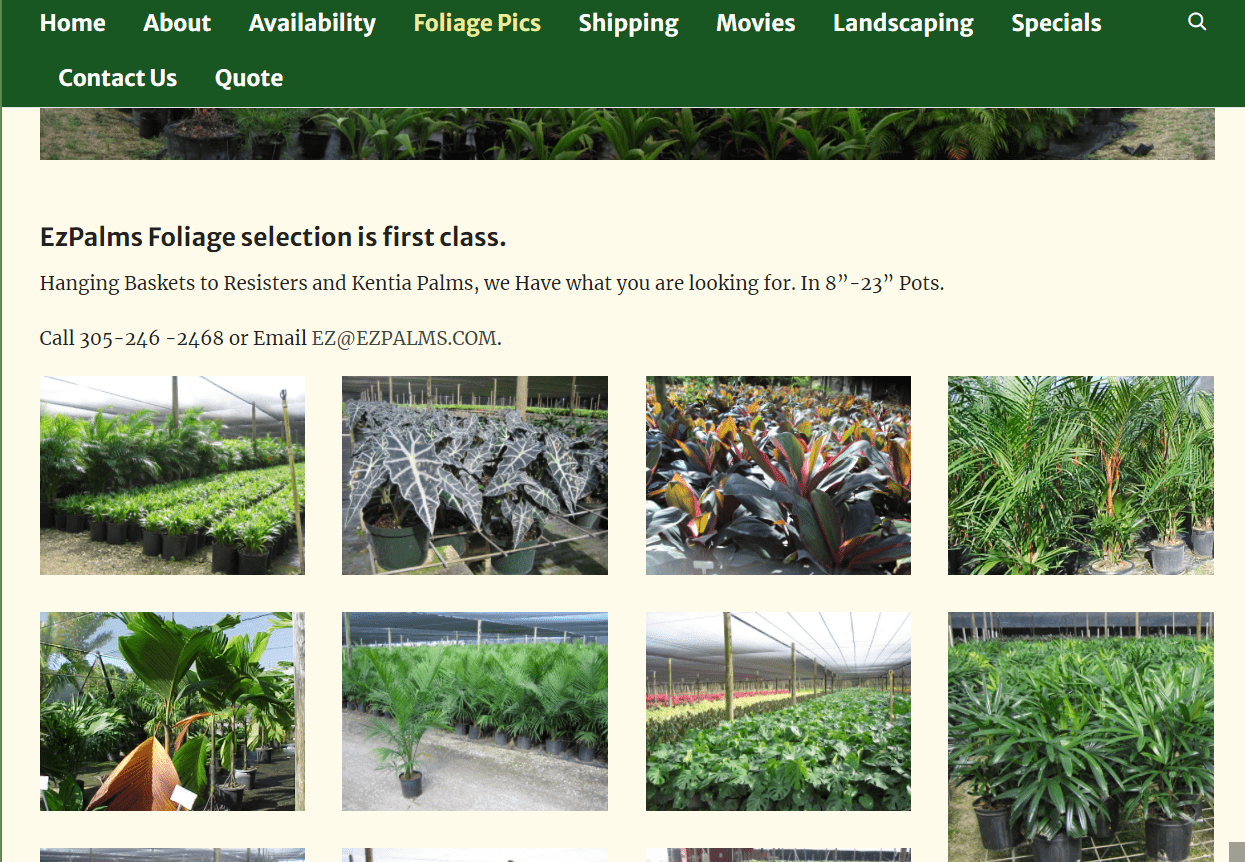 They also provide architectural landscape custom design for resorts and local private residential homes.
EzPalms has been certified by the Department of Agriculture Department of Plant Industry since 1994.
Delivery
Get in touch with customer support to learn about shipping days and fees.
Pros
Choose from a wide range of indoor and outdoor palm trees.
Get your product shipped worldwide.
Buy wholesale products at low prices.
Cons
They do not display shipping details like delivery days and shipping fees on their website.
Visit EZPalms to find more.
9. Home Depot
Home Depot is your ultimate retailer for home improvement needs, decorative items, and houseplants.
You can shop at the physical Home Depot for your favorite palm plant or even order products online.
However, the store is not known for selling a wide variety of palm trees, so you need to suffice with only a few types. Choose from Majesty Palm, Ponytail Palm, or a Cat Palm.
Delivery
Enjoy free delivery on every product over $45.
Expect 3-5 business days for parcel ground delivery and 5-10 days for home delivery.
Pros
Enjoy free shipping for orders over $45.
Become Pro Xtra members to enjoy shipping and rewards.
Cons
It does not offer many choices on houseplants.
Visit HomeDepot to find out more information.
10. Fast Growing Trees
With a vast growing facility in South Carolina and a countrywide shipping facility, Fast Growing Trees has become a reliable retailer of trees, shrubs, houseplants, and especially palm trees.
They are well regarded for their extensive facility, healthy set of plants, and reliable shipping facility.
Moreover, they offer a 30-day Alive & Thrive guarantee, so you could return or compensate for damaged plants.
If you happen to check their catalog, you will find an extensive collection of indoor palm species, including Majesty, Pygmy, Date, Fishtail, Sago, Parlor, and Ponytail.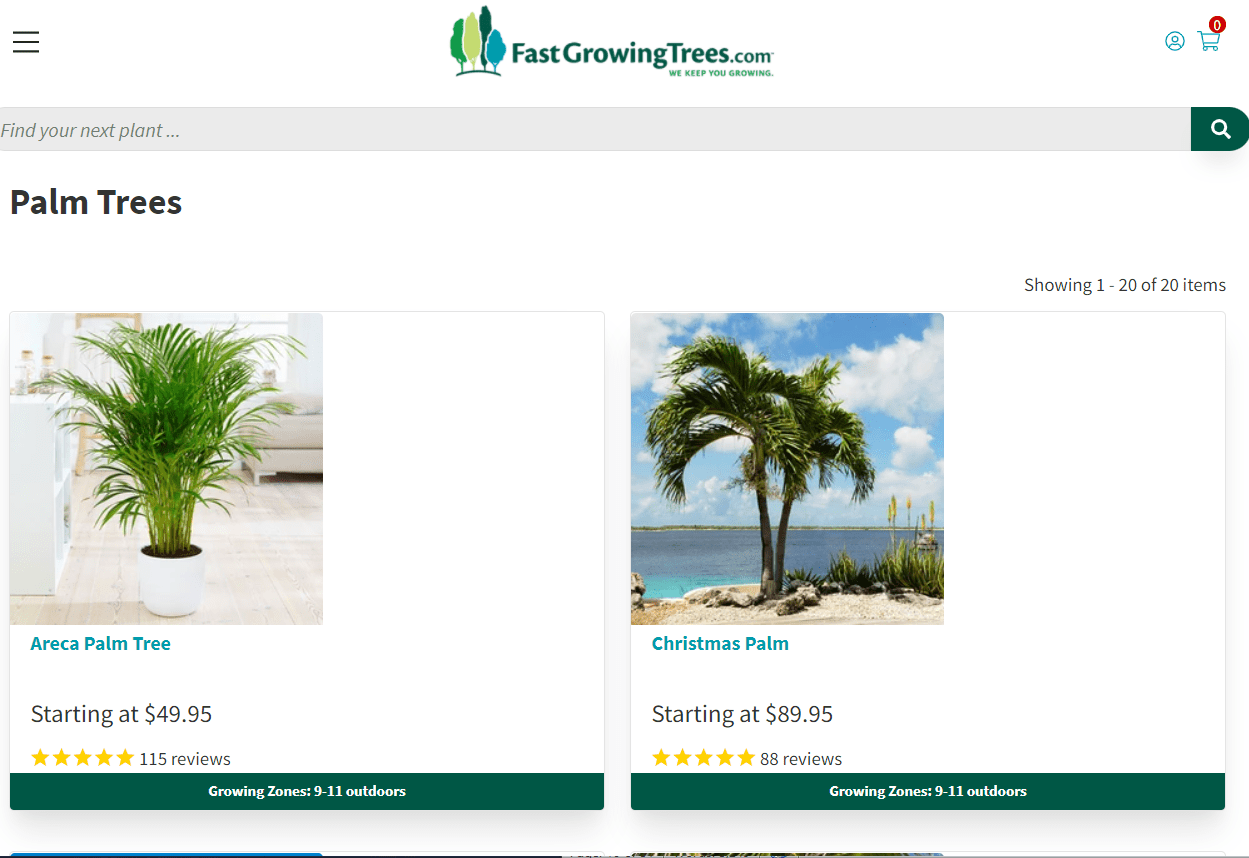 For outdoor palm tree lovers, you can order from Windmill, Christmas, Mexican Fan, Bottle, Pindo, and Sylvester Palm Trees.
Delivery
They ship within 7-10 days and deliver the next day if you live close by.
Get in touch with customer support to learn about shipping days and fees.
Pros
Fast Growing Trees is highly rated by the consumers (4.65 stars from 85,722 reviews)
They guarantee a 30-day return policy on all plants.
Excellent customer service and shopping experience.
Cons
Some plant species may cost slightly higher based on their availability and shipping fee.
The delivery period is slightly longer.
Find out more at FastGrowingTrees.
11. Real Palm Trees
As the name suggests, Real Palm Trees is your ultimate destination for all sizes and specimens of palm trees.
If you are wondering, there are well over 200 options to pick from, including Areca, Ponytail, Parlor, Bamboo, Banana Palm, Australian Fan, Bismarck, and Blue Hasper Palms.
Moreover, their prices start from $50 and go upwards of $750, so you could find one that suits your budget.
Delivery
They ship countrywide within 7-10 days.
Depending on your location, they will also ship within 48-72 hours.
Free shipping deals are available. (Get in touch with customer support to learn about shipping fees.)
Pros
They have five different growing centers around the country, making it quicker to deliver the product.
Real Palm Trees also ship for free on specific products or collections.
They have an extensive collection of palm trees.
Cons
Shipping far locations may take longer if the chosen plant is over 6-feet.
Find out more at RealPalmTrees.com
12. Brighter Blooms
With over 15 years in business, Brighter Blooms very well understand their customer's needs.
You will find a great selection of palm trees, including Windmill, Areca, Lady Palm, Queen, Sago, Needle, European Fan, and Pygmy Date Palms.
Before buying, consider checking the star rating system, honest customer reviews, and community feedback before buying your preferred plant.
Each plant gets delivered from the growing site at Fort Mill, South Carolina.
Delivery
They typically ship between 5-8 days.
Get in touch with customer support to learn about shipping days and fees.
Pros
Enjoy significant discounts on bulk orders.
Brighter Blooms has an overall rating of 4.56 stars from 16,909 reviews.
They provide alteration, addition, or swapping of the order even till the last moment.
Cons
All sales are non-returnable without prior permission and a 25% restocking fee.
Find more information at Brighter Blooms.
13. Real Tropicals
Real Tropical is a popular online retailer for tropical plants, including indoor and outdoor palm trees.
Enjoy a great collection of palm trees, including Sabal Palm, Arikury Parrot, Asian Climbing Rattan, Australian Dwarf Palm, Australian Fan, Bermuda Palmetto, Blue Feather Hesper Palm, and more.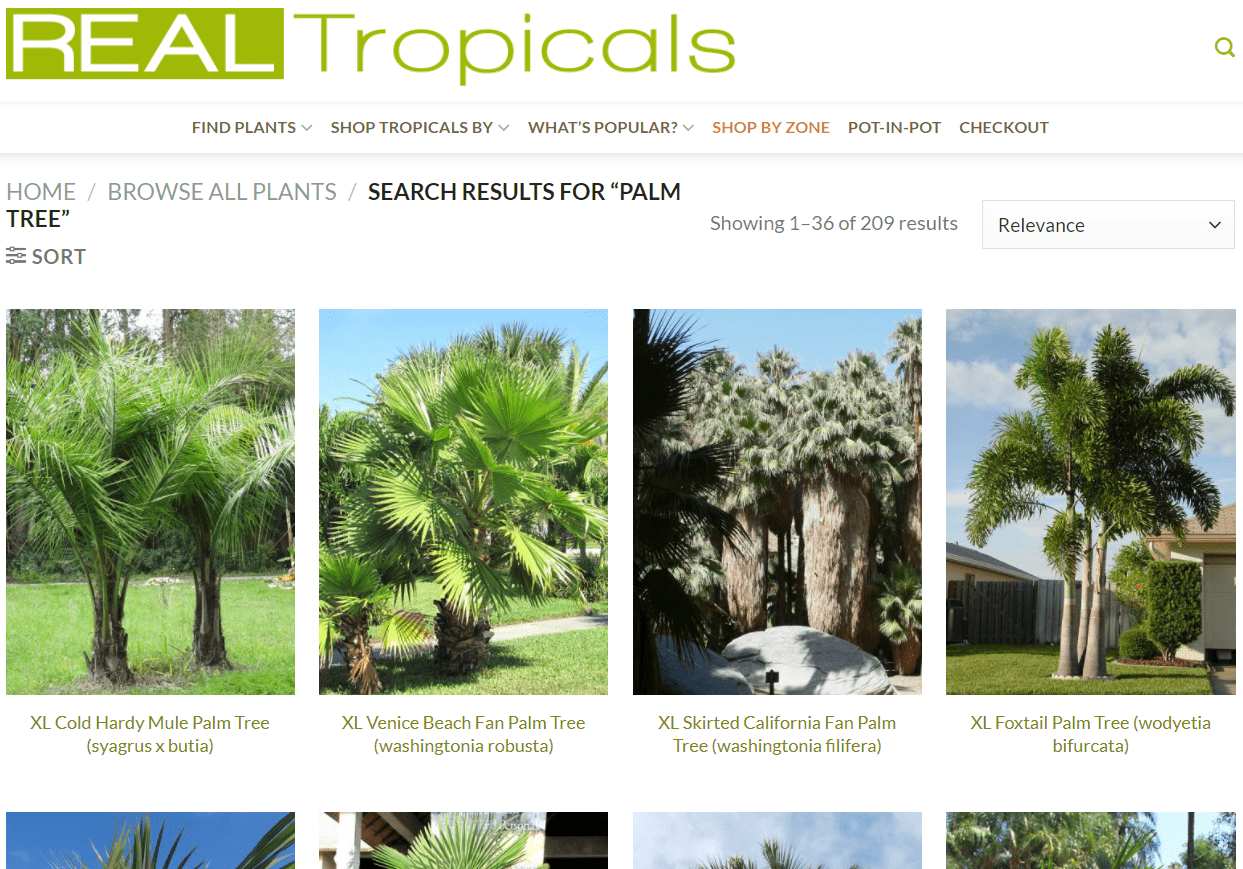 Each palm tree is grown using the pot-in-pot method, so you can easily remove the tree from the ground in winter and store them inside your garage before reinstating them in spring.
Delivery
They deliver to 48 states within 7-10 days.
The shipping fee for one plant costs $14.84 with $1.5 per additional item.
Pros
They offer a great selection of indoor and outdoor palm trees.
They use the pot-in-pot method, so you can easily remove and reinstate each tree on the ground.
Cons
The UPS ground shipping to states other than Florida and Georgia is slightly expensive.
Find more information at RealTropicals.com
14. Nature Hills
Nature Hills is the largest online plant nursery in the country, with a great selection of palm trees, houseplants, and plant products.
Take advantage of their Bulb Bonanza to grab huge discounts on bulk orders and enjoy free shipping to any state.
Check out their catalog for popular outdoor and ornamental palm trees like Neanthe Bella, Jelly Palm Mediterranean Fan, and Windmill Palm.
Moreover, they offer a free garden guide for all home growers.
Delivery
They ship within 5-8 business days.
Delivery up to $19.99 costs $14.95 shipping and handling cost.
Pros
Order bulk products over $130 to enjoy a flat shipping fee of $25.
Enjoy a free gardening guide.
Cons
The shipping fee is expensive than most other online retailers.
Find more information at Naturehills.com
15. Palm Trees Direct
Palm Trees Direct is a renowned plant retailer located in the sunshine state of Florida.
Enjoy a wide range of palm trees ranging from different specimens, indoor and outdoor palms, landscaping, and ornamental houseplants.
Their widely shopped South Floridan palm species include Bismark, King Alexander, and European Fan Palm.
Delivery
They offer quick and affordable shipping options.
Enjoy free shipping on bulk orders. (Get in touch with customer support to learn about shipping days and fees.)
Pros
They offer a wide range of palm plants for home and outdoor decoration.
A registered member can enjoy huge discounted prices on wholesale orders.
Cons
The shipping fee and delivery date are not available on the website.
Find more information at Palm Trees Direct
Basic Care Tips
Now that you have different online retailers to buy your preferred palm trees, let us share some essential care tips for the freshly brought palm tree.
1. Soil Condition and Lighting
Most warmth-loving palm trees do best in full sun, while some prefer both sun and shade. Therefore, provide bright indirect lighting for indoor palm trees.
They thrive in slightly acidic soil. If your garden or potting soil runs alkaline, consider amending it with some sulfur or sphagnum peat moss.
They prefer good draining soil with organic material like perlite, moss, and pumice, especially indoor palm trees.
Keep the tree's roots moist until you plant them on the soil. Then, dig a hole twice as deep and wide as the root ball.
They need moist soil conditions for a month or two, so consider deep watering each week.
For outdoor palm trees, trim away weeds regularly and add mulch around the plant base before winter to protect from the chill.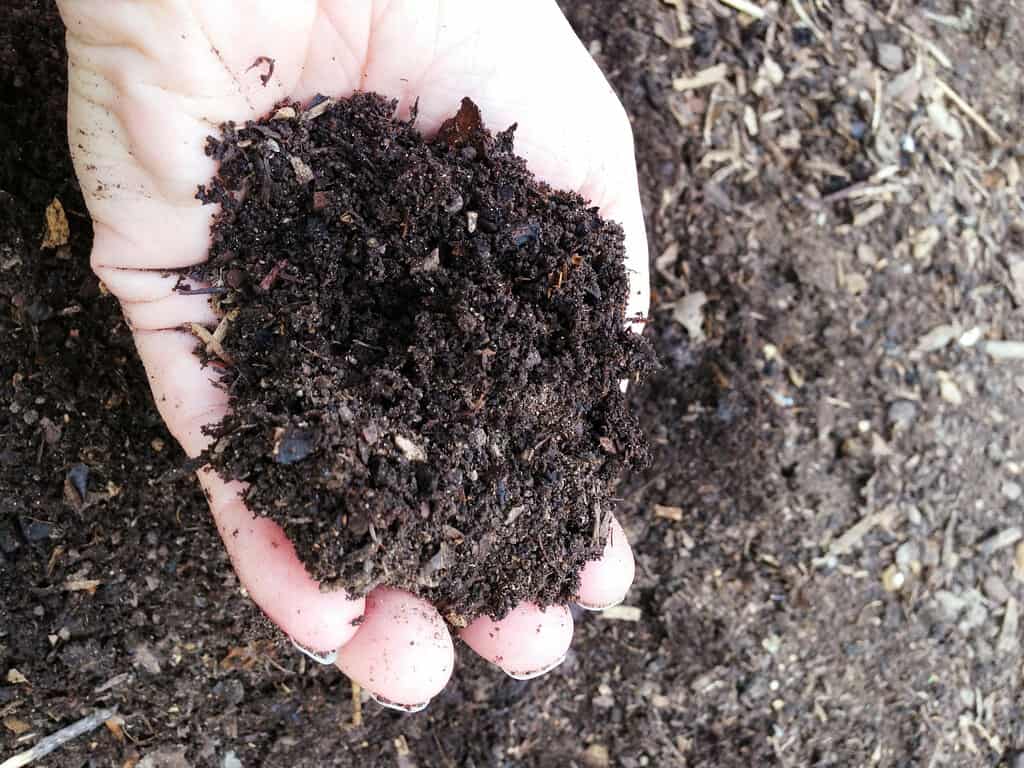 2. Watering and Nutrients
Once they are established, they do not need regular watering. Deep watering every 2-3 weeks should suffice.
Feed the plant with a slow-release fertilizer meant for palm trees every three months during the growing season.
Do a foliar feeding in spring for trees grown outdoors.
Feeding once a month should suffice for mature palm trees.
Check out our article on Watering Ponytail Palm to learn more about watering your indoor palm plant.
3. Palm Tree Pruning
Indoor palm trees and young palms need pruning every growing season.
Cut off dead or damaged leaves and fruitings as they appear.
Avoid entirely topping off the tree as it stalls the growth.
For outdoor palms that are not comfortable to reach, wait for the dead leaves to fall off naturally.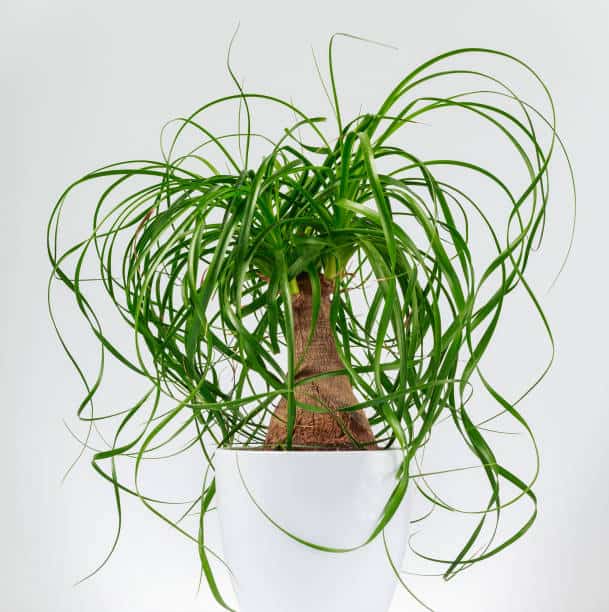 4. Pests and Diseases
Palm trees are prone to several types of fungus, such as fusarium wilt.
You can quickly treat the disease with a fungal spray.
Outdoor palm trees are less likely affected by pests, but indoor palm trees like Cat Palm and Ponytail Palm are especially susceptible to different kinds of problems.
| Pests | Preventive Measures | Solutions |
| --- | --- | --- |
| Spider mites | Apply water to pathways and other dusty areas at regular intervals, Clean and sterilize your equipment. | The rubbing alcohol or neem oil you have around the house also can kill spider mites. |
| Scales | Prune and dispose of infested branches, twigs and leaves. | Remove existing scale on houseplants by rubbing gently with a facial-quality sponge or cotton swab dipped in rubbing alcohol. |
| Mealybugs | Reducing feeding and watering, wipe foliage regularly | Mix 1 cup of rubbing alcohol with few drops of Dawn dish soap and 1 quart (32oz) of water and spray it on the plant. |
| White Aphids | Don't over fertilize your plants, check your plants frequently for the presence of aphids | Spray neem oil, insecticidal soaps, and horticultural oils |
Conclusion
Growing a tropical plant like a Palm tree at home is an excellent choice because they are easy-to-grow plants.
You can bring a freshly brought palm tree and quickly grow them in your garden within a few steps, or even grow one from seeds.
However, most indoor palm trees may require a lot of caring regarding watering, humidity, lighting, and fertilizing compared to outdoor palm trees.
Therefore, consider talking to the seller about primary care and the growing needs of the palm tree specimen while placing an order.
Most nurseries and growers provide a free growing guide for their products, making it easy for first-time growers.
Read more about taking complete care of indoor palm plants.