Unlike any other USDA zone, you'll get to enjoy harvests and plant blooms longer in Zone 9.
This is because the minimum average temperature of Zone 9 is 20°F to 30°F favoring the growth of several fruits, vegetables, herbs, and shrubs. Carrots, cabbage, cauliflower, parsley, basil, thyme, peonies, caladium, citrus, and succulents can grow well in this zone.
Along with favorable climatic conditions, seasonal care is required for better yield. So, follow along for the same.
All About Zone 9
The Department of Agriculture (USDA) divides the U.S. into 13 hardiness zones based on the average annual minimum temperature.
Following this, Zone 9 is a plant hardiness zone that includes areas with a minimum average temperature range of 20°F to 30°F (-6.7°C to -1.1°C ) with occasional dips below freezing during winter months.
Typically, this zone includes regions with mild winter temperatures and long, hot summers favoring a longer growing season than most areas in the U.S.
Starting from the western coast of California, this zone includes central Florida, Southern Louisiana, parts of Texas, and Puerto Rico as well.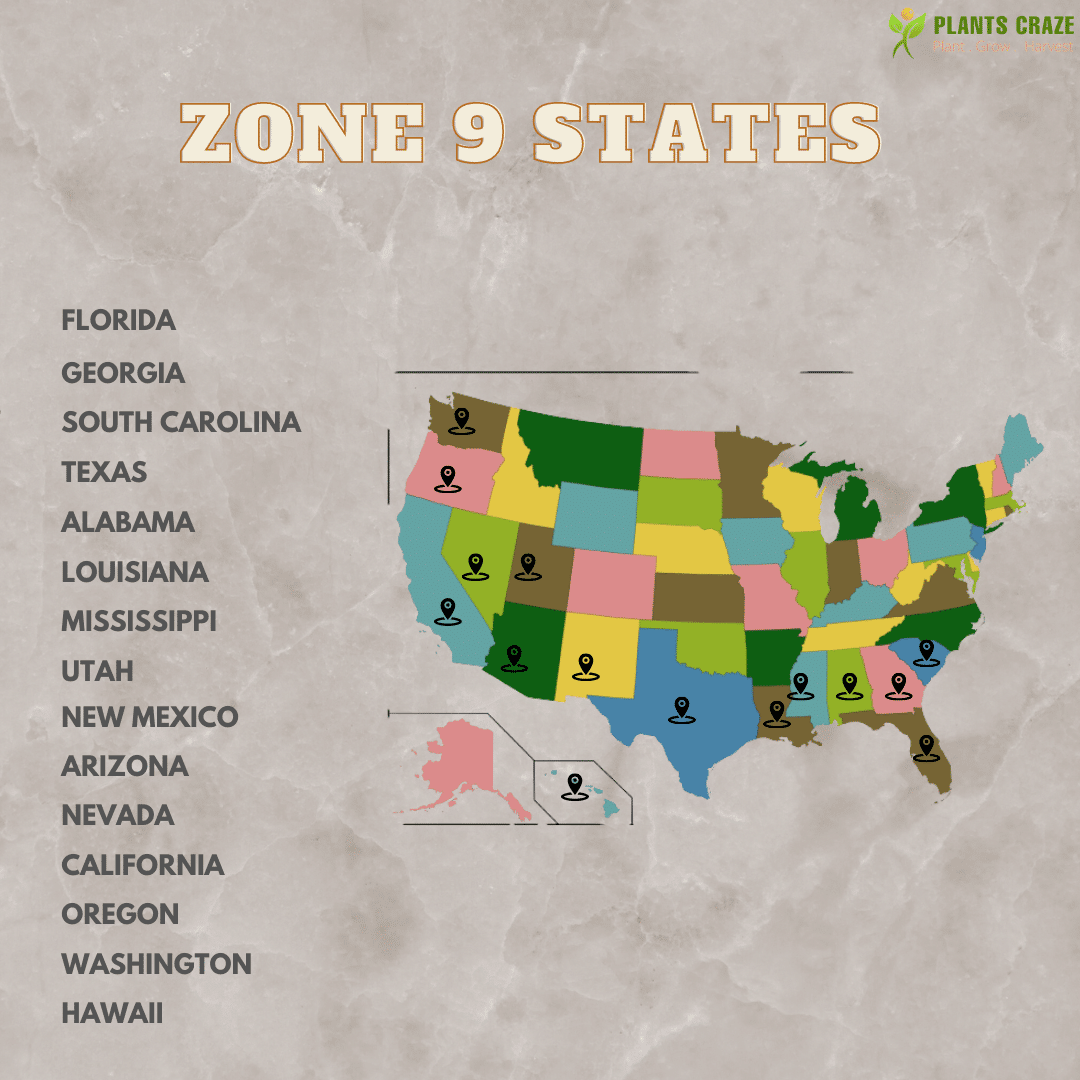 Usually, the length of growing seasons in this zone ranges from 250 to 300 days, starting from February till December.
Further, Zone 9 is subdivided into 9a (20°F to 25°F) and 9b (25°F to 30°F), suitable for a wide range of vegetables, fruits, succulents, shrubs, and herbs.
Popular Plants for Zone 9
Regarding the plant in Zone 9, the region offers ideal conditions for a wide range of cold-hardy and warm-hardy plants.
Moreover, the year-round growing suitability in Zone 9 aids in the successful growth of several tropical and subtropical species.
Generally, planting is done after the last frosts have fully passed, i.e., from early March onwards in Zone 9.
With seasonal changes and unforeseen weather, the frost date might fluctuate. So, depending on your local weather conditions, you may have to adjust planting early or later.
Besides, the temperature in this zone rarely dips below freezing during the winter, so a few cold-hardy plants may find the summer heat challenging to survive.
Months
Plant Varieties
January
Flowers: Pansy, Dianthus, Petunia, Snapdragon & Camellias

Cool-season vegetables: Broccoli, Cauliflower, Peas, Swiss chard, Collards, Lettuce, Onion & Parsley (outdoors)
February
Perennials: Dianthus, Strawflower, Petunia & Lobelia (Starting Seed Indoors)

Bulbs of Amazon lily, Crinum and Agapanthus (outdoors)
March
Flower: Angelonia, Gazania & Salvia instead of winter annuals

Warm-season Vegetables & Herbs: Beans, Pepper, Squash, Corn, Tomatoes, Eggplant, Basil, Parsley, Thyme, Oregano & Cilantro
April
Vegetables: Beans, Sweet corns, squash, Cucumber & Muskmelon

Ornamental Grass: Leatherleaf sedge, Panic grass, Zebra grass, Blue oat grass, Fountain grass & Hakone grass
May
Heat-loving Herbs & Vegetables: Basil, Mexican Tarragon, Lavender, Rosemary, Okra, Southern Peas, Sweet Potato & Ornamental Pepper
June
Annuals: Celosia, Portulaca, Vinca & Some Coleus

Vegetables & Herbs: Calabaza, Malabar Spinach, Sweet Potato, Okra, Basil, Rosemary
July
Annual Flowers: Butterfly lily, Gladiolus, Celosia, Coleus & Ornamental pepper

Vegetables: Start Halloween Pumpkins, other Squashes, Okra, Southern Peas, Eggplant, Radish & Carrots
August
Flowers: Aztec Lily, Butterfly Lily, Walking Iris, Spider Lily, Kalanchoe & Vinca

Vegetables & Herbs: Tomatoes, Beans, Carrots, Ginger, Laurel, Rosemary & Cucumber
September
Perennials: Ageratum, Coleus, Zinnia, Wax Begonia & Elephant's Ear

Vegetables & Herbs: Collard, Cucumber, Arugula, Brussel Sprouts, Chard, Cauliflower & Corn
October
Bulb: Agapanthus, Rain Lily, Arabian Night Martagon Lily, Turk's Cap Lily, etc

Herbs: Parsley, Cilantro, Chives, Garlic & sage

Set Strawberry plant
November
Continue with cool-season vegetables and herbs from the list above
December
Herbs: Sage, Dill, Fennel, Cilantro, Thyme

Cool-season Vegetables: Celery, Cauliflower, Cabbage, Carrot, Lettuce
Tips to Grow Plants in Zone 9
Selecting the perfect plant for a certain time of the year only doesn't ensure your garden's establishment and growth in any zones.
The plant demands additional care and effort for the topmost results and a handful of harvests.
So, here are some care tips your plant requires during all four seasons.
Spring (March-May)
Spring is the season to begin planting in Zone 9, as the last frost ends just before the onset of spring.
Moreover, by the start of March, you must get your planting gear, like a trowel and gardening gloves.
Summer (June-August)
Herbs and vegetables are at their peak in the summer and ready for harvest.
Further, your flowers will display their vibrant hue in the summer and require the following care.
Fall (September-November)
Winter (December-January)
Editors Note
Select plants according to the USDA zone!
Zone 9 has its particular weather condition, and so do the other 12 zones.
The plant that thrives in another zone may not do well in Zone 9.
Thus, strategies and prepare a plant calendar accordingly.