Spanning over twenty-eight states, Zone 7 interestingly facilitates seven growing months and favors large varieties of cool-weather crops for you to plant.
Beans, Broccoli, Potatoes, Lettuce, Tomatoes and Garlic are the best crops to plant in Zone 7 as they flourish and tolerate the lowest winter temperature of 0-10°F. You can head start seeds indoors and transplant them in early Spring if you live in Zone 7 for optimal yield.
Keep reading till the end so you know what, when and how to plant crops in Zone 7 so you do not make any mistakes.
All About Zone 7
Amongst 13 growing zones, Zone 7 offers a relatively long growing season accompanied by mild Winter and hot, humid Summer.
In Zone 7, you have seven months of growing time, as the first frost begins around November 15 and lasts till April 15.
You can expect to grow various plant varieties and houseplants during these months in the 7 USDA zone.
Crops or a plant that can withstand 0-10°F can easily survive the mild winters as 0°F(-18°C) is the lowest temperature of Zone 7.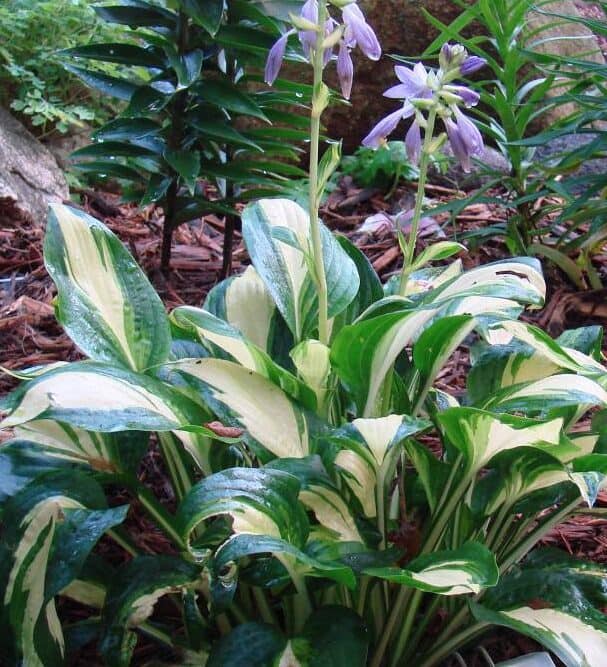 Furthermore, Zone 7 is subdivided into two subsets of 7a (0-5°F) and 7b (5-10°F) with a 5°F temperature difference.
According to the U.S. Department of Agriculture, there are 28 states with Zone 7 areas.
Starting east of the U.S., Zone 7 includes Rhode Island, New York, New Jersey, Maryland, Delaware, Washington, South Carolina and Georgia.
| Zone 7 States | | | |
| --- | --- | --- | --- |
| Alabama | Alaska | Arizona | Arkansas |
| California | Colorado | Connecticut | Idaho |
| Massachusetts | Mississippi | Missouri | Nevada |
| New Mexico | North Carolina | Oklahoma | Oregon |
| Pennsylvania | Tennessee | Texas | Utah |
What To Plant in Zone 7?
After the last frost date, about mid-April, you can begin your gardening journey in Zone 7.
But you can preplan and headstart veggies indoors to be ready for transplant right after the last frost date.
Remember that carefully timed planting is crucial in Zone 7 to avoid frost damage.
Growing Months
Plants to Start
January
Broccoli, Cabbage, Cauliflower, Celery, Lettuce, Onions, Parsley, Rosemary, Snapdragons & Begonias indoors
February
Nigella, Poppy, Larkspur directly in the garden
March
Carrots, Swiss Chard, Peas, Collards, Kale, Kohlrabi, Leaf Lettuce, Onions, Parsley, Cauliflower, Parsnips, Beets, Leaf Lettuce, Radishes, Salsify and Spinach outdoors
April
Beets, Chard, Kohlrabi, late Cabbage, Lettuce, Mustard, Collards, Turnips, Carrots, Radish, Onion outdoors

Eggplant, Peppers and Tomatoes indoors
May
Okra, Pumpkin, Cucumber, Squash, Melons indoors
June
Sunflowers, Nasturtiums, Marigolds, Borage, Basil outdoors
July
Radish, Carrots, Beets, Turnips, Kale, summer Spinach, Cucumber, Chard
August
Peas, Brussels Sprouts indoors

Leaf Lettuce, Mustard Greens. Swiss Chard,
Spinachin, Kohlrabi, Kale and Collards outdoors
September
Spinach, Lettuce, Radishes, Arugula, Asian Greens, Kale, Collards, Gardlic, Shallot and perennial Onion crop
October
Garlic, Shallots, perennial Onions, Tulip, Hyacinth, Crocus
November
Poppies, Hollyhock and Bachelor's Buttons
Tips to Grow Plant in Zone 7
After correctly getting the planting time, you have to give them proper care so they can flourish and give you the maximum yield.
Here, I have categorized the care tips per the four different seasons.
Spring (March, April, May)
Spring is the most active growing season for many crops and houseplants.
Thus, all plants have maximum nutrient uptake at this time of the year, requiring extra care and nourishment.
With the last frost date about mid-April, significant planting or direct sowing begins in Zone 7.
Transplant indoor head started veggies by the end of 2nd or 3rd week of March.
Take off any winter protection you had used for your plants.
Abstain from planting warm-season Summer vegetables.
Replenish soil nutrients by adding organic composts or commercial fertilizers.
Finish sowing all seeds directly outdoors by the end of May.
Use a moisture meter or rain gauge to measure soil moisture and water accordingly.
Regularly inspect and remove pest infestations and apply neem oil or insecticidal soap.
Place colorful sticky traps around the plants to trap pests.
Ensure to harvest leafy veggies, as they will soon begin to bolt.
Summer (June, July, August)
All flowering plants begin to put out their best work of art, i.e., aesthetic flowers, in Summer.
Remember to add phosphoric fertilizers to encourage better blooming regularly.
Also, incorporate flexible watering habits to keep up with the heightened watering needs of the plant.
Begin sowing warm-season herbs, veggies and herbs.
The first week of June is best suited to propagate houseplants, so follow any appropriate approach to propagate.
Thoroughly water the plants in your garden once a week, and do not let the soil become bone dry.
If Summer waves dehydrate soil much faster, proceed to water twice daily, once in the morning and once in the evening.
Regularly mulch and water to preserve moisture in the soil and avoid bolting issues.
Pinch off or deadhead herbs and flowers to encourage better growth.
Fertilize your flowering plants with bloom boosters.
Clear off dead leftover plants from the garden, as they can invite pests and diseases.
Autumn (September, October, November)
Also known as Fall, you will harvest what you sowed in Summer and let cold vegetables sweeten more in Autumn.
Furthermore, it is high time to prepare winter protection for vegetables that are not cold-hardy.
If you have any perennials with a flowering season in Spring, carefully divide and transplant them.
Plant spring flowering bulbs with mulch to avoid attacks from rodents like squirrels.
Add fertilizers, composts and plant decays to keep the garden soil fertile.
Clear off any wild weeds growing in the garden.
Most plants will begin their dormant journey, so carefully reduce and adjust basic plant care routine.
Carefully harvest, collect and store seeds from the crops.
If you have cold-hardy vegetables, provide them with winter protection with a thick layer of mulch or choose frost blankets.
Winter (December, January, February)
In Winter, most plant goes through dormancy with reduced uptake. So, cut down on fertilization and watering routine.
If you have frost-sensitive plants outdoors, you can move them in for ideal warmth in Winter.
Use grow lights and heat pads for indoor plants to keep them warm and safe from frost.
Thoroughly apply a thick layer of mulch to your perennials.
Considerably lower watering routine and fertilization to avoid overwatering and excess fertilizer build-up issues.
Around the end weeks of February, consider planting spring veggies and flowers.
Start various crops seeds indoors to give them a head start in the upcoming Spring.
Editors Note
Know USDA Zone Right Before Planting!
As USDA zones provide a general overview of the climate, you can preplan planting strategies to make the most out of it.
Thus, determine your USDA zone, lay out a year-long planting plan and plant crops accordingly.
All The Best!