Sweet Vernal Grass is a good blender that hides its vigorous growth between the clumps of other grasses and can self-seed and multiply.
Generally, Sweet Vernal Grass is a short-lived perennial, producing stiff stems holding short, broad leaves and flower spikes over 4-6 cm long stalks. It undergoes pollination to give a yellow seedhead with a brown to grey oval-shaped seed.
Dig into the article to understand Sweet Vernal Grass and determine if it is invasive.
What Is Sweet Vernal Grass?
Sweet Vernal Grass (Anthoxanthum odoratum) is an aromatic short-lived perennial grass of the Poaceae family and native to Eurasia.
Also, the Sweet Grass is a cool-season evergreen plant whose stems grow in tufts and extend up to 3 feet tall to produce 4 to 6-cm-long bloom spikes.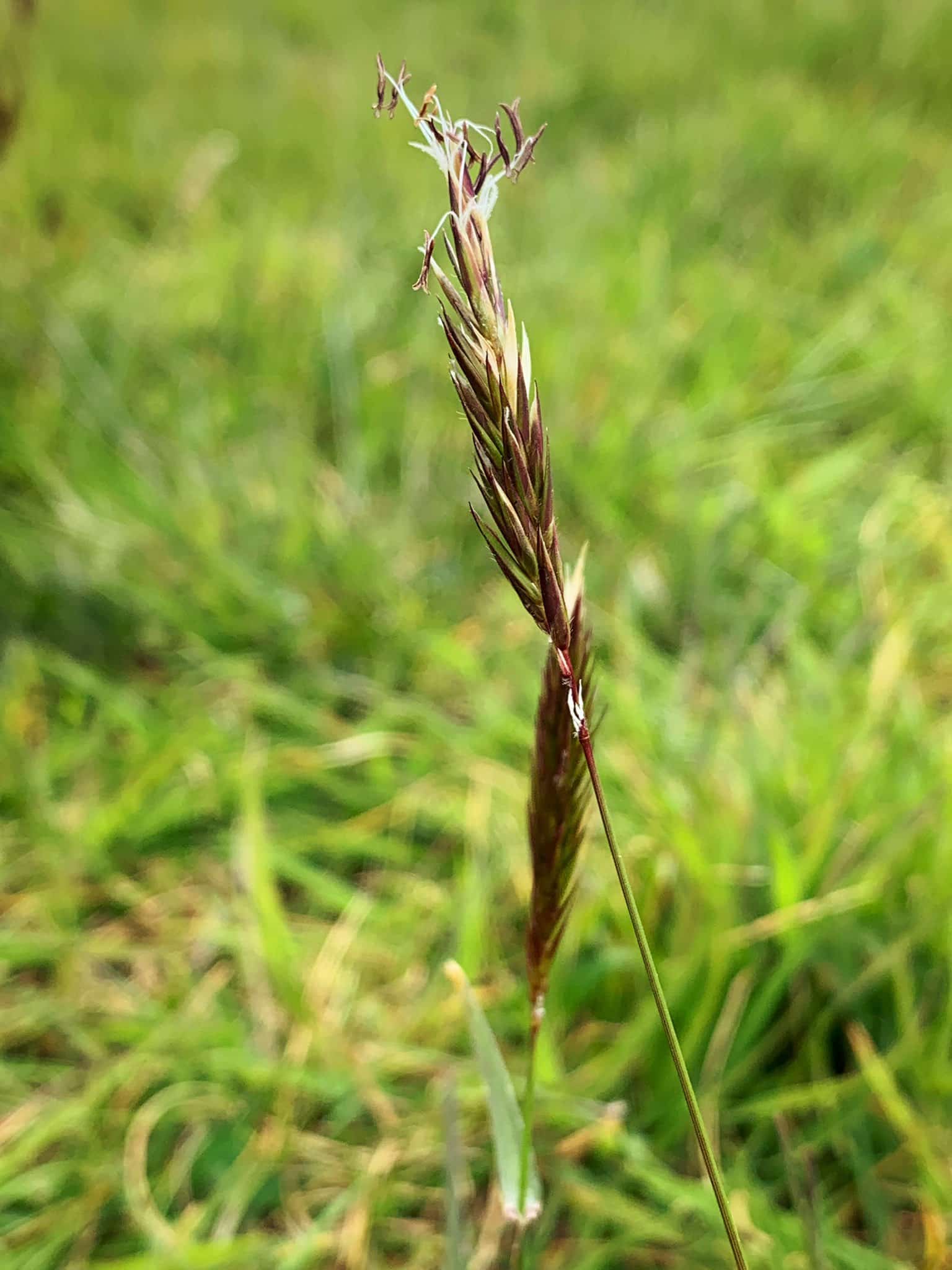 The plant gives flower spikes mainly during the late spring and early summer in a cluster on the stalk top. It pollinates to provide dark grey to brown oval to rounded seeds.
Meanwhile, the Sweet Vernal Grass looks like any other grass with erect, thin, flat leaves that extends up to 12 inches tall.
What Is Sweet Vernal Grass Good For?
Sweet Vernal Grass has the aroma of fresh hay and a sweet scent of vanilla. The aromatic quality made it a favorite chewing grass in the past.
For the same aroma, many people use it as a flavoring agent. Even the people of Russia mixed it in Brandy and tobacco.
Meanwhile, Sweet Vernal Grass is suitable for storing clothes as it adds fragrance. Just remember to remove the flower pollen, which can be allergic to some.
Moreover, the FDA approved a tablet made from a mixture of Vernal Grass allergen extract and perennial Rye and Kentucky Blue Grass extract.
The tablet is given to the patient suffering from hay fever, including allergies triggered by grass pollen.
Also, Sweet Vernal Grass muscle relaxation, blood coagulant, and stimulant properties are among the famous medicinal benefits it provides.
Precautions: Woman in pregnancy and lactation should not eat Sweet Vernal Grass as it lack proven benefits or even side effects on them.
People consume dried Sweet Vernal Grass to relieve headaches, nausea, sleeplessness, and urinary tract problem, which is yet to be proven.
But excess consumption can reduce blood clotting capacity and cause liver damage. So do not consume without any medical guidance.
Where Does Sweet Vernal Grass Grow?
Famous as a lawn grass, Sweet Vernal Grass grows nearby meadows, woodland margins, roadsides, trail edges, and waste areas.
Also, the grass is hardy in USDA zone 5-9. So Sweet Vernal Grass grows anywhere outdoors in acidic grassland of the same hardiness zone.
Moreover, you do not need to worry about competition with the native plant as Sweet Vernal Grass is not highly invasive.
However, precaution is always necessary while introducing non-native plants as you cannot be sure what triggers the invasiveness.
So grow the Sweet Vernal Grass far from other houseplants or in a container.
You can use either Sweet Vernal Grass seed or the division method.
Seed propagation is highly recommended for Sweet Vernal Grass as it takes only 2 to 3 weeks for the seeds to germinate.
Sow it indoors in clayey loam soil rich in the sand during April. Or you can even broadcast the seed directly in a lightly raked seedbed outdoors during May.
Provide it with bright sunlight, thorough watering, and all-purpose fertilizer as soon as growth begins.
Where To Buy Sweet Vernal Grass Seed?
After learning about Sweet Vernal Grass, you can bring one home and grow it to enjoy its scent and flower arrangement.
Here are some of the reliable sites that have listed the Sweet Vernal Grass seed for sale.
From Editorial Team
Additional Dose!
The clump-forming Sweet Vernal Grass has a compound called coumarin, which can affect the liver of horses and other livestock in high doses. So it is not ok for them.
Meanwhile, cows fed on it showed weakness, dyspnea, and bleeding. For this reason, Sweet Vernal Grass is not good for cows.