Many of us are familiar with the delicious juicy taste of Strawbery fruit. But did you know about a Tree named Strawberry that can grow in several USDA Zone?
Generally, Strawberry Trees can thrive in various zone, particularly from 4 to 9, which favor the Tree's temperature and environmental requirements.
For the Strawberry Tree to grow and mature, several other requirements must be fulfilled.
All About Strawberry Trees
The Strawberry Trees (Arbutus unedo) is a beautiful evergreen flowering tree native to the Mediterranean region.
The tree shares the same family, Heaths, with cranberry, blueberry, and azaleas, and has denser foliage with dark glossy leaves.
Generally, Strawberry Trees are slow to moderate growers extending to about 12 to 24 inches (30 to 60 cm) per year. Nevertheless, a mature tree can reach a height of 15 to 30 feet (4.5 to 9 meters) and spread 20 to 35 feet.
For the plant to attain maturity, provide 6 hours of daylight and well-draining soil a little toward the acidic end.
And with regular watering during the initial year, the tree produces clusters of small, bell-shaped white to pinkish flower blooming in the fall (September to November).
The flowers gradually fade away after pollination and start with green fruit, which gradually turns vibrant red or orange as it matures.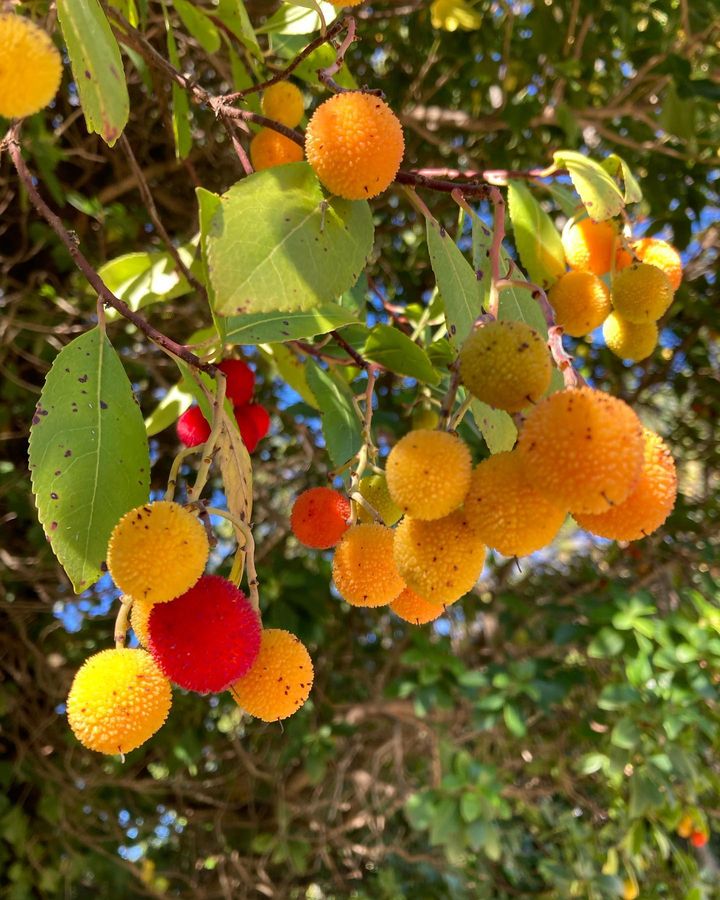 However, these trees are waterwise past the first growing years and do not really do well in excessively humid areas as high air and water moisture invite pests and disease.
Anthracnose, leaf spots, and leaf galls are some major diseases taking a toll on Strawberry Trees. And pests like thrips, scale, aphids, and leaf miners are quite common in them.
You'll have to use neem oil or insecticidal soap as an immediate action to hault the pests and disease infestation. Or you may end up with a lifeless plant.
What Zone Do Strawberries Grow In?
Unlike your breakfast staple, Strawberry fruit or Pineberry, the shrub Strawberries are planted in the early fall (September) before the first frost.
You might also see gardeners growing these plants in the spring after the danger of frost passes.
Generally, you'll have no problem growing the Strawberry Tree from Zone 4 to 9. However, the variety you choose and your local climate play a vital role in the tree's growth.
Here I have assorted tables, including different varieties of Strawberry Tree with suitable climatic zone.
| Strawberry Tree Variety | USDA Zone |
| --- | --- |
| Chinese Strawberry Tree | 7-10 |
| Marina Strawberry Tree | 9-11 |
| Vanilla Strawberry Hydrangea Tree | 4-8 |
| Strawberry Guava Tree | 9-13 |
Strawberry Tree For Sale
You can easily get your hands on the Strawberry Trees from your local nursery.
In case you fail to get any, here are a few online sites to get the tree delivered to you.
From Editorial Team
Trim off the Diseased Part!
Young Strawberry Trees are vulnerable to diseases attack, and preventing them is crucial for the plant's vigor.
Prune the infected part to prevent them from taking over the entire tree.