Although deep watering is essential for plant upkeep, most houseplants will benefit from occasional misting over deep watering.
The best Plant Spray Bottle should have an adjustable nozzle to allow fine misting and foliar spray (spraying plant food), with enough storage capacity to mist multiple plants in one go.
Let's take a closer look at different plant sprayers for your houseplants, where to buy them, and what types of plants enjoy misting more.
Is Spraying Good for Watering Plants?
Misting the plant leaves could help boost the much-required humidity level for even, healthy leaves.
Spraying the leaves and watering the soil will encourage even foliage growth by preventing leaf transpiration in an arid climate.
Moreover, it may prevent the risk of overwatering succulent plants that are very water-sensitive.
Let us look at some of the benefits of misting your plants.
1. Boosts Humidity Level
Most houseplants are tropical or sub-tropical plants that benefit from regular misting.
They need at least 40% humidity to ensure healthier foliage, which can only be attained by regular misting.
Air in our homes tends to be drier, making the plant leaves quickly lose moisture; misting the leaves will help boost humidity levels.
2. Repels Insects and Pests
Misting the plants also helps to keep small insects away from juicy leaves and stems.
Fine misting makes it impossible for flies, mosquitoes, ants, and other pests to enter or leave certain areas, creating a thin barrier.
Misting the leaves when the insects are present will help trap them, so you can wipe them off using a cloth.
3. Cleanses Indoor Air
Misting the plant may help remove or subside impurities found in the air, like dust, pollen, and chemicals.
These impurities will rest on the plant leaves and stems, creating a thick residue that prevents the leaves from getting enough sunlight.
It also works as a cost-friendly option for air cleaners installed in homes.
4. Keep the Surrounding Cooler
Tropical plants that dislike arid climates would benefit from cool air produced by regular misting.
It will help keep the surrounding air cooler than the outside temperature, creating a conducive growing environment for tropical plants.
Should You Mist Your Houseplants in Addition to Watering Them?
The moisture-less air combined with bright sunlight may quickly dry plants' leaves, causing excessive transpiration.
Therefore, occasionally misting the plants will help prevent water loss and keep them looking healthy.
Misting the plant also works wonders with non-tropical plants, but not all plants enjoy misting, especially succulents.
Hence, be careful about regularly misting your succulents; it may leave them weak and damaged. It may also encourage mold growth and attract pests.
You can mist your tropical plants daily in the growing season, but consider certain factors, such as the humidity levels inside your home.
Plants That Like/Dislike Misting
Succulent plants require minimal watering because their thick, fleshy leaves retain more water.
On the other hand, tropical, sub-tropical, and most flowering plants need regular misting to prevent transpiration.
Excess humidity and moist conditions can lead to root rot and moldy leaves and invite moisture-loving pests.
Therefore, if you mist your succulents, spray the soil to keep the top inch wet.
What to Consider Before Buying a Plant Sprayer?
When shopping for the best plant sprayer, you should look at the following essential features.
1. Sprayer Material
The plant sprayer comes in plastic, metal, or glass.
Plastic sprayers are the most affordable among the three options and are often easily replaceable.
Metal or glass misters are more classic plant misters that add to the decor.
If you like something to be displayed in your home, choose metal or glass misters.
2. Sprayer Capacity
You can find plant sprayers in a wide range of capacities.
Small sprayers may hold up to 10 oz. of water to lightly mist two plants.
Most plastic sprayers come with 16 ounces capacity that will be enough to wet a couple of small plants finely.
3. Ease of Use
Look for sprayers that are easy to use for a longer time.
You would not want to hurt your wrist and palm trying to squeeze tight triggers.
Instead, use misters with a compression unit that emits steady water without squeezing too tightly.
8 Best Plant Spray Bottle for Watering Plants [2023 Updated]
Here is the list of eight different plant spray bottles for watering houseplants.
1. Bar5F Plastic Plant Spray Bottle
It is equipped with a large, comfortable-to-hold trigger for easy hold and a rotatable nozzle head to adjust the spray pattern from a broad fan to a narrow stream.
It boasts an impact-resistant plastic and a leak-free connection between the bottle and nozzle that will last longer.
Compatible with all chemical substances, including bleach, vinegar, or rubbing alcohol.
Product Specification
| | |
| --- | --- |
| Material | Plastic |
| Capacity | 16 ounces |
| Size | 10.75" x 2.75" in diameters |
| Where to Buy? | Amazon,Walmart |
Pros
Reasonably low price
Adjustable nozzle
16 Oz. offer adequate storage capacity
Cons
It releases a high-velocity spray instead of acceptable misting
2. Beautify Beauties Hair Spray Bottle
Engineered with robust pre-compression technology, it dispenses a stream of sustained mist that lasts 1.2 seconds.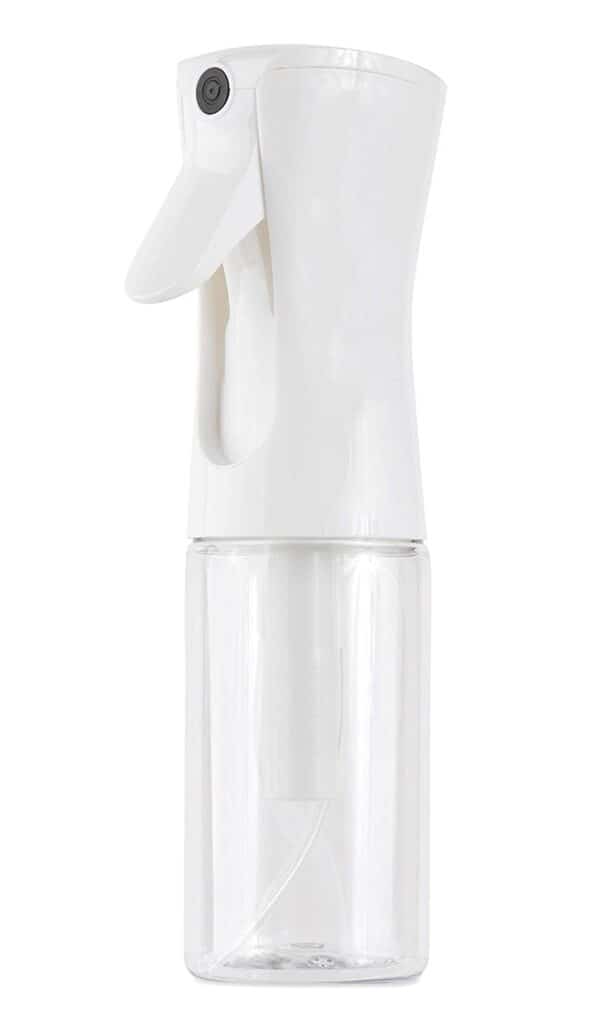 Moreover, it offers 98% water evacuation to utilize even the last drop of liquid.
The ergonomically designed trigger requires less pumping than conventional triggers to prevent hand fatigue.
The design also boasts Total Air isolation to keep the liquid inside contamination free.
Product Specification
Pros
Offers continuous, even fine mist
Lightweight and easy to hands
Works upside-down or sideways
Cons
9.92 Oz. storage offers a less liquid storage
3. Sustainable Village AG15907 Blumat Plant Spray Mister
Sustainable Village Blumat is an elegant plant mister designed from durable stainless steel and polished copper finish.
This fine mister works perfectly for misting succulents, hanging air plants, mosses, and terrariums.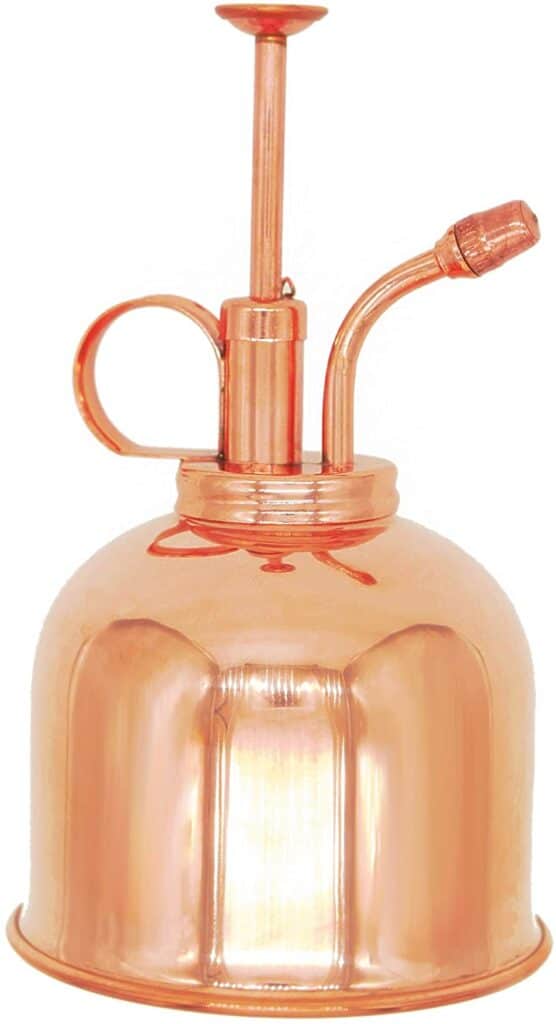 The durable steel body lasts longer than cheap plastic bottles, and the small loop handle with fingers makes it easier to hold for a prolonged duration.
Product Specification
| | |
| --- | --- |
| Material | Stainless Steel |
| Capacity | 9.6 ounces |
| Size | 7" x 4" in diameters |
| Color | Brass, Nickel, and Copper |
| Where to Buy? | Amazon,Sustainable Village |
Pros
Elegant design
Creates a fine mist for small plants
Cons
Less water storage capacity
Must be partially full to work properly
Slightly pricier than other plant misters
4. ACG-INC Electric Plant Mister Spray Bottle
A futuristic plant mister, ACG-INC, runs an electric trigger to create a uniform spray.
Unlike your regular plant mister, it holds up to 34 ounces of liquid that lasts for multiple plants.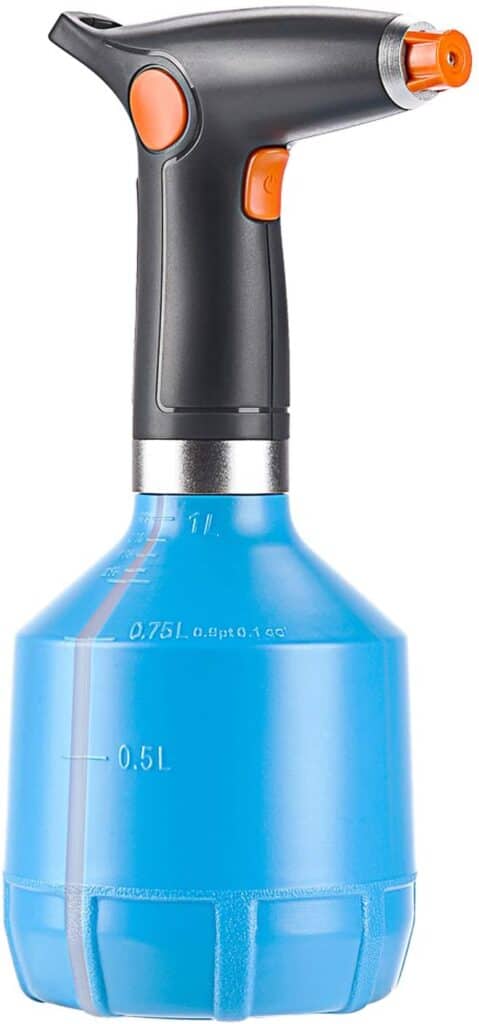 One battery provides at least 8 hours of continuous use, and a single trigger press releases mist up to 2 seconds.
Product Specification
| | |
| --- | --- |
| Material | Plastic |
| Capacity | 34 ounces |
| Size | 10" x 4" in diameters |
| Color | Chrome metal |
| Where to Buy? | Amazon |
Pros
Futuristic electric design
The chrome metal cover gives it a modern look
Creates various misting patterns for different small plants
High water storage capacity
Cons
Slightly expensive
Requires replacing batteries
5. Driew Plant Mister Spray Bottle
The transparent design makes it easier to assess the amount of liquid inside.
Moreover, the leak-proof design with a safety bottle and threaded neck prevents air bubbles and helps in creating an even mist.
Product Specification
| | |
| --- | --- |
| Material | Eco-friendly Plastic |
| Capacity | 10 ounces |
| Size | 7.2" x 2.4" in diameters |
| Where to Buy? | Amazon,Walmart |
Pros
Made of PET & PP, BPA-free material
Leak-proof design
Applicable for multiple-uses
Cons
Small water storage capacity
6. LiBa Amber Glass Spray Bottle
Liba Refillable Plant Spray Bottle is made from durable glass that withstands wear and tear.
It is made from BPA-free material and premium-grade dark amber glass to ensure purity and protection from ultraviolet light.
The adjustable spray nozzle allows for three different spray modes -off, complete, and targeted jet spray.
You can adjust the spray mode to mist different kinds of plants.
Product Specification
| | |
| --- | --- |
| Material | Eco-friendly Amber glass |
| Capacity | 16 ounces |
| Size | 8.5" x 2" in diameters |
| Where to Buy? | Amazon,Walmart,Ubuy |
Pros
Made of eco-friendly amber glass
UV protection and leak-free design
High storage capacity
Cons
7. Scotts Multi-Use Sprayer
Scott's sprayer has a 12-inch extra arm to spray overhanging plants and hard-to-reach places.
It works through a compression pump that exerts highly pressured water.
Use its 1-gallon water capacity for continuous, even application across many plants.
Product Specification
| | |
| --- | --- |
| Material | Plastic |
| Capacity | 1 Gallon |
| Size | 16.6" x 7.75" in diameters |
| Where to Buy? | Amazon |
Pros
High water storage capacity

12-inch nozzle for hard-to-reach places
Continuous spray design
Cons
Requires use of both hand
8. HDX Handheld Sprayer
The 56-ounce sprayer of HDX is applicable for misting many houseplants in one go.
The translucent plastic tank lets you track the water level.
Make use of a pressurized, leak-free thumb trigger for continuous stream application.
The adjustable nozzle allows multiple spray modes for different kinds of plants.
Product Specification
| | |
| --- | --- |
| Material | Plastic |
| Capacity | 32 Ounces |
| Size | 12.2" x 4.1" in diameters |
| Where to Buy? | Amazon,Wilmar |
Pros
High water storage capacity
Adjustable nozzle
Continuous spray design
Cons
How Often do you Need to Mist your Plants?
The frequency of misting plants will largely depend on the plant species, growing environment, weather, and watering schedule.
A good indicator your plant would benefit from misting is when
The plant leaves start turning crispy
The weather starts turning warmer, over 75 degrees
The air humidity level drops below 30%
The plant has not been watered for a few days during spring and summer
The plant has a frequent watering need
However, growing in a naturally humid environment will offset the risk of dried plants, reducing the need for misting.
A
horticulturist
points out, "If you are noticing some of your foliage is getting crisp in your space. I would consider misting more frequently throughout the day."
To determine how your houseplants respond to misting, try experimenting with misting a plant once every few days.
Looking at the condition of the leaves, you would know whether the plant needs more or less frequent misting.
Conclusion
Misting is a great way to personalize your houseplants and meet their specific watering needs.
Learn more about your houseplants, watering requirements, and weather conditions to know whether your plant will enjoy regular misting.
Get yourself a perfect plant sprayer with an appropriate storage capacity (Oz.) so you do not miss out on misting your houseplants for even foliage growth.