Ever since the pop diva Jennifer Lopez, 53, dropped the news about her new album, "This is Me… Now", fans have been wanting to know more about Jennifer Lopez authentic self, larger than life, home, and garden.
You might have heard JLo's cocktail line creating quite a buzz, but her multi-floral backyard is what intrigues any plant enthusiast.
Let me give you an exclusive insight into what all 'The Boy Next Door' Actor home garden has.
Jennifer Lopez Garden Tour
Of the many investments the triple threat JLo has made in real estate, the Bel Air mansion in L.A., which she bought in 2016, is her most priced possession.
Not just because the home sits on more than 7 acres of land, but the way the mansion fits right at the center of a thick jungle-like garden, makes the property a natural retreat.
From the entrance guarded by tall pines and a huge wooden door, you can witness the overwhelming floral joy of different shrubs, herbs, and trees.
Moreover, the stone facades, wooden accents, and plants like ivy, ferns, oak, and fiddle-leaf fig give the place a subtle French aesthetic, where the 'On The Floor' singer spends time away from the limelight.
But what keeps fans in awe is the private lake with a sandy beach lined by tall palm trees in Jlo's extravagant mansion. Why better than a mini Miami right in your backyard?
Just a bit down the lake lies an outdoor amphitheater with 100 people sittings where you can have as many private concerts for your friends and family.
When your leg hurts from all the walking, rest by an outdoor fireplace, grab some bananas from the tree behind, and enjoy them. Further, some fresh lemons are on standby if you wish for a glass of lemonade.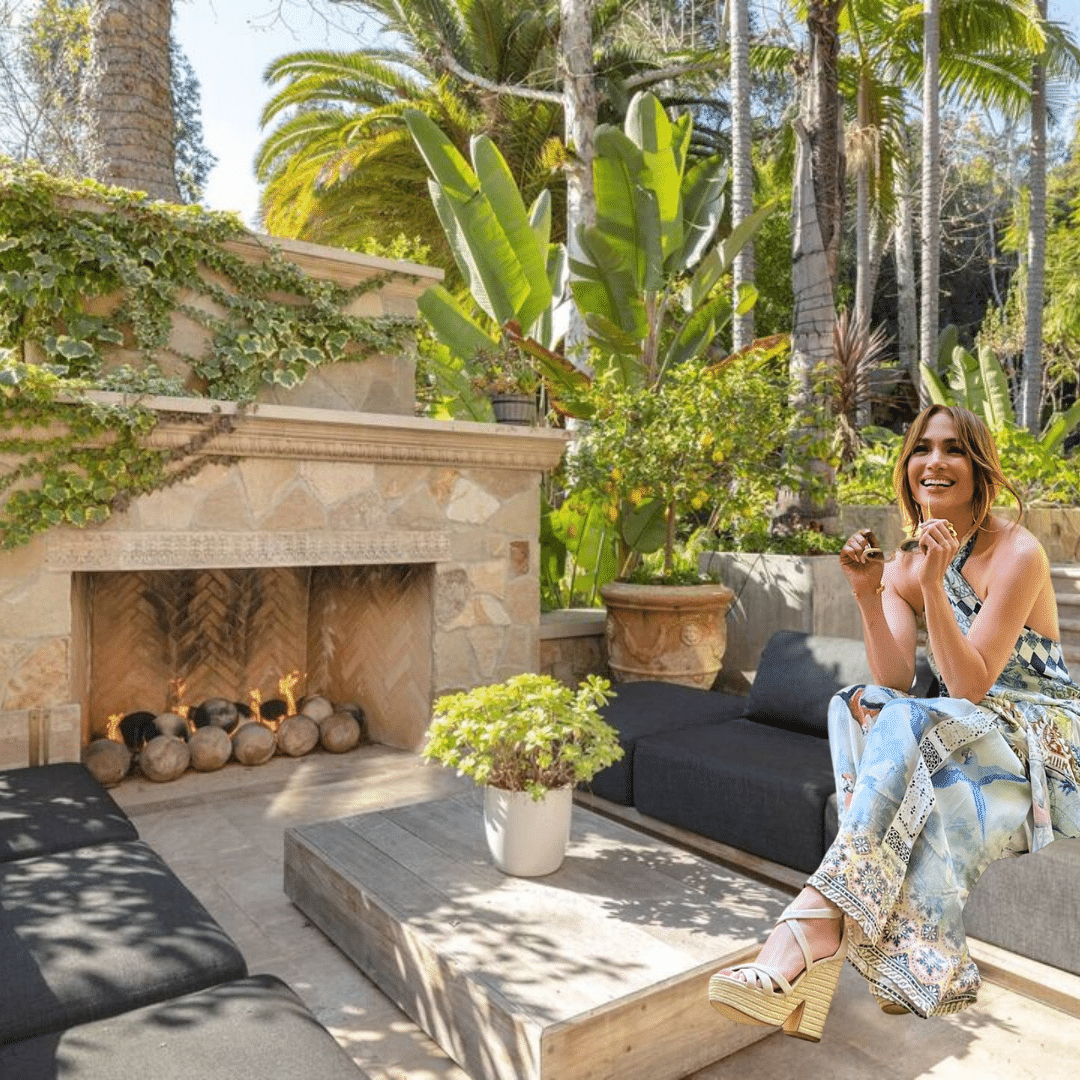 If sources are to be believed, this 9-bedroom, 13-baths Bel Air Manson of Jennifer Lopez is listed for sale a few months after she tied the knot with Ben Afflick in 2022.
Jlo might have decided to have a home sweet home with her husband, Ben Affleck, who already owns quite some sophisticated property.
What Keeps JLo Grow Garden?
Amidst the hectic work schedule, the garden of multiple Grammy Award winner Jennifer Lopez is still a well-maintained tropical oasis that requires quite some effort.
JLo's garden is not only a spare land filled with numerous trees, shrubs, and plants, rather serves several other purposes, like hosting intimate functions, family events, and even a professional photoshoot.
And interestingly, JLo's 15-year-old daughter Emme seems to have embraced most of her mother's qualities, including her love for greenery.
If not for her family's fondness for trees and gardens, Jennifer Lopez would still grow a garden. Wondering why? Well, just for nature's inspiration in her over-the-top red-carpet outfits.
Her iconic Versace cerulean blue and emerald palm dress for Grammy 2000 proves it all.
Create a JLo-Inspired Garden
No matter how big or small your home and garden are, you can still have tidbits of JLo's favorite element to bring her essence.
First, you have to decide on the plants that can grow in your climatic conditions or go for the alternatives.
For instance, climbing hydrangea and trumpet creeper can be suitable replacement for English ivy.
Now that your plants are ready, get a trowel, gardening gloves, and watering can and start planting them.
Every plant has its requirement, so look upon them before adding fertilizers to prevent fertilizer burn.
Similarly, water them regularly to get enough moisture, but ensure you do not drench them. Bottom watering could be the best allowing the plant to decide on its water level.
And when it comes to pots, you'll find antique French pots around JLo's home.
Possibilities are you might fail to get the same. Instead, use pastel-white colored ceramic pots to maintain the post-modern look of your house.
From Editorial Team
Apart from all the glamour and entertainment, Jennifer Lopez sincerely advocates for environmental protection and sustainability.
You could contribute with a small initiative like growing your vegetables, similar to how Lopez does.