Do you ever scroll down the online portal and get flabbergasted by the options available for the best Orchid plant stand?
Factors like the width of the stand and the pot size, whether watering the plant will damage the stand, temperature conditions, sturdiness, etc.
Some of the best stands suitable for Orchids are bench stands, racks, and wall stands. Stands made of weather-resistant metal are the best choice for Outdoor Stands.
Here are a few ideas on cute stands for your leafy friends. You should stick around because we will talk about buy-ins and DIYs here!
So, let's begin today's internet capsule with indoor Orchid plant stands, shall we?
5 Indoor Orchid Plant Stands
Remember when you first planted an Orchid in a tray or a can? When interest starts growing, the number of Orchids also grows.
So, when you don't plan the space for these indoor plants, you might end up making the place look more messed up.
Depending upon the space you have allocated for your Orchid, you might need different stands.
| Type of Stand | Made of | Ideal for | Link to Buy |
| --- | --- | --- | --- |
| Flowerpot Stand | Wood, Metal | Living Rooms, Patio, Garden, or Balcony | Amazon |
| Pedestal Stand | Wood, Terracotta, Marble, and Graphite stones. | Patio, Garden, Balcony etc | Buy here on Amazon |
| Wall Stand | Wood, Iron, Plastic | Living Room, Balcony etc (Indoor and Outdoor) | Buy here on Amazon |
| Vase Stand With Columns | Wood, Metal | Anywhere inside the house. | Buy here on Amazon |
| Bench Flower Rack | Metal Grills, Wood | Stairs, Below the Window, Balcony, Patio, Attic (Indoor and Outdoor) | Buy here on Amazon |
1. Flowerpot Stands for Living Rooms, Patio, Garden, or Balcony
If you are a fan of minimalistic design, you should get a small pot stand with one or two columns for your living room patio, garden, or balcony.
These small stool-like structures come in wooden and metallic forms and don't occupy more than a couple of inches of space.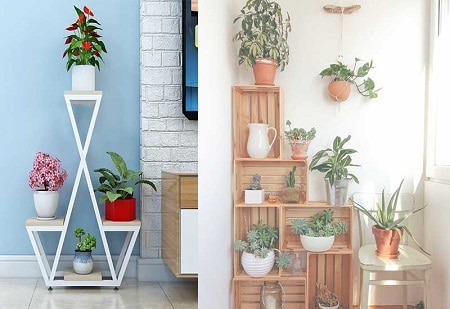 Further, they are either rectangular or round and serve the purpose of holding your flowering plant perfectly.
These pot stands come in various shapes and sizes, holding the vase between the square of the ring.
2. Pedestals Orchid Stand for Corners
These old-fashioned flower vase stands are made of Wood, Terracotta, Marble, and Graphite stones.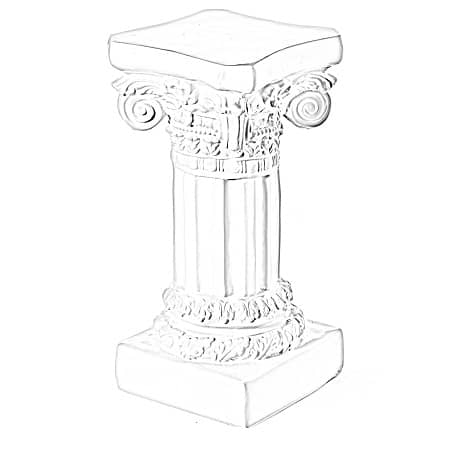 They have the shape of pedestals with a medieval design to add retro vibes to your rooms.
Furthermore, these stands are a little more expensive than other regular flower stands due to their vintage look.
3. Wall Stand
Usually, these wall stands make a perfect place in the living room.
They are generally long wooden or iron plates on the wall and come in various shapes.
Furthermore, these stands have stable flower vase holders on them.
These wall stands are mobile. So, If you want to change their location, you can easily attach or detach it and shift the whole setting.
Moreover, these wall stands are usually made of wooden frames bolted with knots and screws.
Also, the installation process is easy as the booklets with the product are easy to understand.
4. Vase Stand With Columns
The vase stands with columns are another good Orchid plant stand that can increase the beauty of your home.
These stands don't occupy much space and can fit in the joining corners of your house.
These stands are cubical in shape with multiple columns in an "L" shape structure to fit both sides of your wall's corners.
Made from Wood or Metal, these vase stands are usually very durable and stable.
5. Bench Flower Rack
The structure of these Racks is just like that of a bench and is usually made out of metal grills or wood.
These racks make a perfect Orchid plant vase holder and are usually located on your stairs, below the windows, and on the balcony or attic.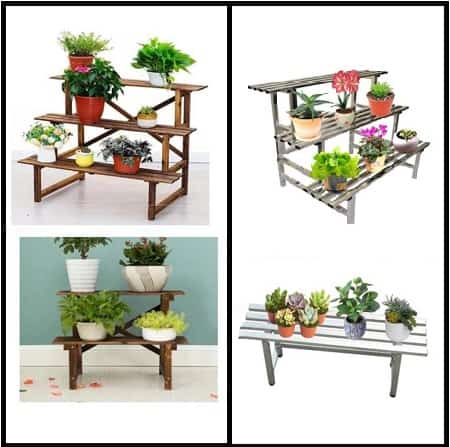 Despite being spacious, these Bench Flower Racks don't occupy your actual usable space.
They also keep the air in the room fresh as they are usually in an airy zone.
Outdoor Orchid Plant Stands
Orchid plants aren't only meant for indoor decorations.
These beautiful Orchids can shine on the garden and exteriors of your house too.
So, if you want to manage your outdoor Orchid plant, then here is a few elegant flower vase stands suitable for the outdoor vase; take a look:
| Type of Stand | Made of | Ideal for | Link to Buy |
| --- | --- | --- | --- |
| Orchid Rack | Heavy Metal | The side of the walls, corridor, and beside the entrance gate | Buy here |
| Orchid Bench | Metal (Tubular Steel) | Patio, Porch | Buy here |
| Plant Holders With Shelves | Metal | Balcony, Porch | Buy here |
| Orchid Tables | Metal | Porch, Garden | Buy here |
| Multi-layered Metal Ring Holders | Metal | Garden, Railings, Walls etc | Buy here |
1. Orchid Racks
Though the name might sound fairly similar to flower pot stands kept in your living rooms, these are different based on the material used.
As an outdoor stand has to withstand weather conditions like rain and hailstorms, these Orchid racks are usually made of heavy metal and are galvanized inside.
These racks are neither lightweight nor easy to move from one place to another.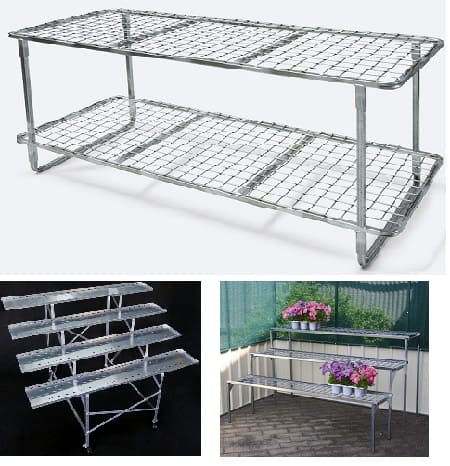 They do come with rollers which make them somewhat push-and-pull friendly.
These racks are best for the side of your walls, your corridor, and beside your entrance gate.
2. Orchid Bench
Metal Orchid benches are designed beautifully to make your Orchid flower look more adorable.
They are divided into several rows and columns, and every column is spacious enough not to disturb the flower's growth.
They are usually placed on bigger walls and can hold multiple vases at once.
These benches are also made out of metal and are usually immobile in nature.
3. Plant Holders With Shelves
Again, these are another strong outdoor Orchid plant stand option, strong enough to hold multiple plants on their layered shelves.
Likewise, these metallic plant holders are fixed and can't be moved easily from the ground.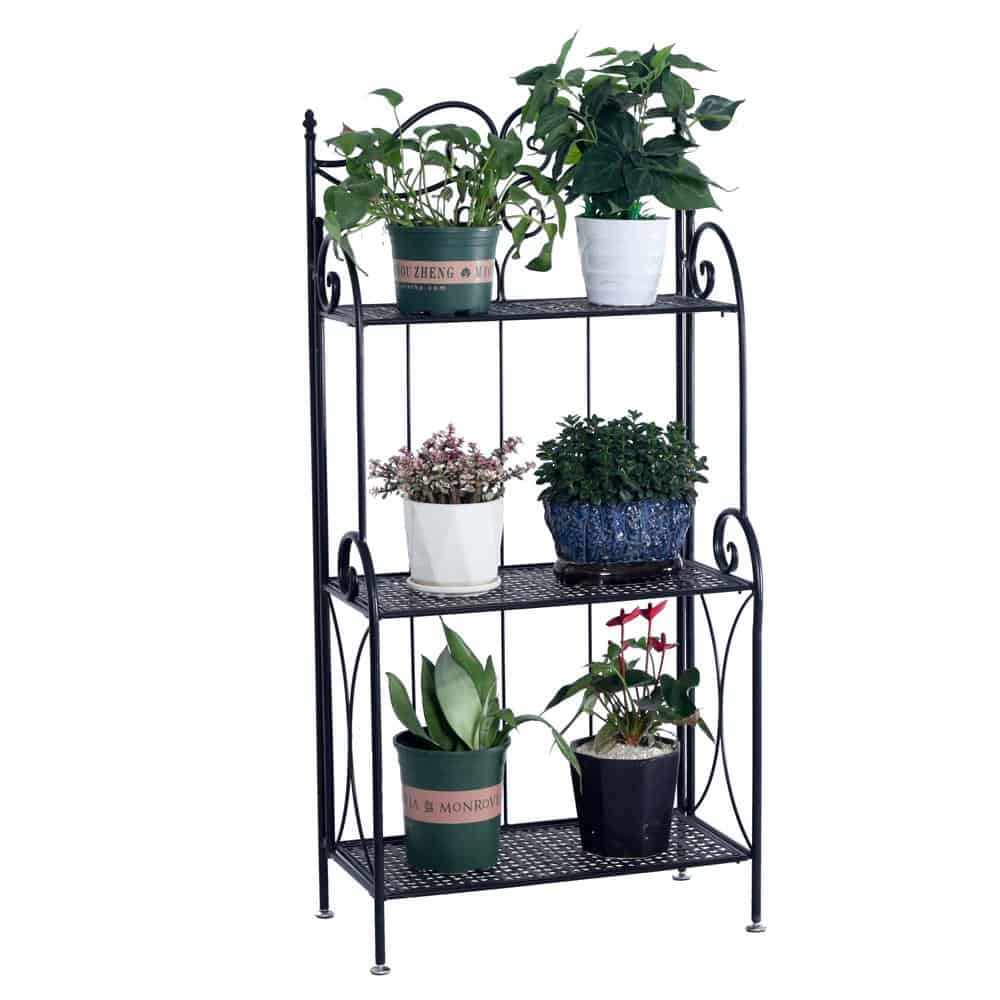 They usually come in either white or black color coating and are weather resistant.
4. Orchid Flower Tables
As the name suggests, these are merely flower tables that come in various sizes.
Unlike indoor tables, these are heavy-duty metallic grill tables that can hold the weight of the plant.
These tables are excellent decor elements for your garden to give you a joyful vibe.
So, when you are strolling in your garden, and you come across the table, you are sure to catch a good vibe.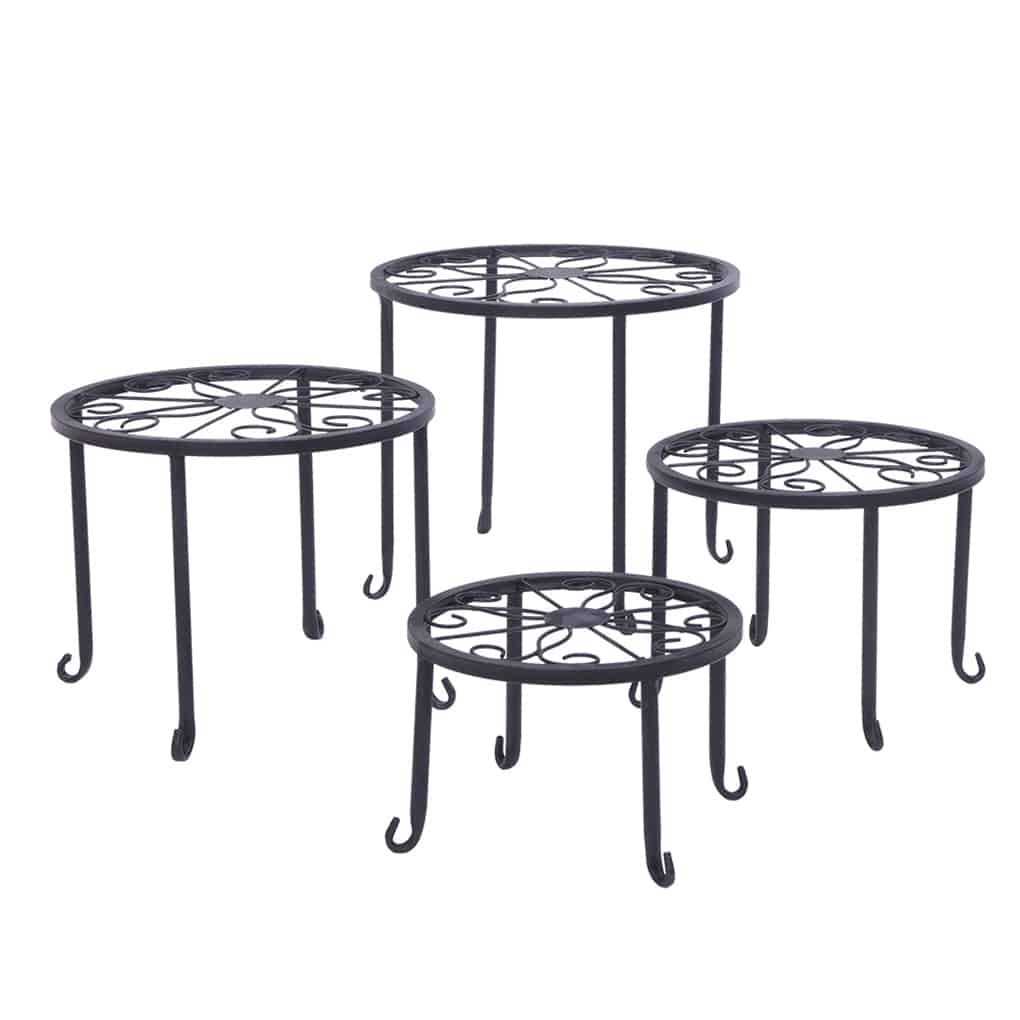 5. Multi-layered Metal Ring Holders
If you have ever had the ring on a flower vase installed in the garden of a fellow flower lover?
Well, I am sure you have walked past it while you are walking past a flower shop, right?
These rings are a handy way to hang your Orchid flower vase.
Likewise, you can fix these stands on the railings, windows, and anything firm.
These layered rings serve as beautiful holders for Orchids at the entrance of your house outside the gates, on the walls, and along the fences.
Lightweight Orchid Plant Stand
Usually, the stands are made out of lightweight materials such as stainless steel, aluminum, and plastics, making them easier to re-decor than other heavier outdoor Orchid stands.
They are easily available, so you can find them at Walmart, eBay, or Amazon under the home decor section.
Also, you can use them indoors or outdoors.
Though they are not as durable as other big heavy-duty garden Orchid stands, these stands provide complete value for your money.
1. Geometric Flower Vase Stands
This aluminum flower vase stands also works as a good Orchid flower vase stand.
These stands come in various geometric shapes and are very elegant.
Likewise, these stands are also very durable because they are made of metal and have a high-quality color coating.
Though these geometric stands are more common for indoor decors, you can also keep them outdoors.
2. Bamboo Stands
A Bamboo stand also gives your indoor Orchid flower a beautiful and ecstatic feel.
It also gives a very eastern feel to it as the Bamboo style originates from the Asian continent.
Likewise, you can also easily move it from one place to another.
It is also eco-friendly and easy to assemble.
These Bamboo Stands also take up much less space and stand independently on the corner of your house, complimenting the interior.
Did you know there are several health
benefits of Orchids
, which are greatly used to prepare various medicines?
DIY Orchid Plant Stands
I personally love the ideas that I often find online on Pinterest and other stock photo sites, as small efforts give a good spin to your home.
DIY stands also give a twitch to unused shelves, cloth hangers, used grills, broken frying pans, shoe racks, and other items.
With these small DIY projects, you can be eco-friendly and a flower lover at the same time.
Moreover, buying a new one doesn't come easily in your pocket.
Here are a few DIY Orchid plant holder ideas for making vase stands on their own.
1. DIY Orchid Holder With Stools or Seating Chairs
We all have Footstools, Barstools, and seating chairs that have sustained years of wear and tear, right?
So, these old chairs are too old for endowment, and we feel almost sorry to throw them away.
So in this condition, we can use these Footstools, Barstools, and seating chairs as Orchid plant stand holders.
These used benches, chairs, footstools, and bar stools can still be helpful.
2. Orchid Vase Holder Using Shoe Rack, & Coat Rack
Shoe racks and coat rack stands are handy even after they seem entirely used up.
Be it a homemade shoe rack or a well-used old metal shoe rack. It makes a suitable Orchid vase holder.
It is firm, and even the wooden ones weather out very slowly.
So, rather than disposing of your old shoe rack, I suggest using it as a flower vase holder.
3. Orchid Vase Holder Using Old Used Fire Grills
We all have old fire grills, which many people tend to discard them away, right?
But, rather than throwing these grills away, you can use them as vase holders.
Just a fun fact, you can also grow some more Orchids in its central coal holder.
From Editorial Team
I hope this article gave you a perspective on Orchid vase holders, their necessities, and their usability.
I compiled these few tricks based on my experience and shared them with like-minded Orchid lovers to help them with their homes and gardening.
With time, we will have more adorable articles about our colorful garden friends so you can keep us on your bookmarks.
So, until our next read, keep up with our blogs.