Whether it is Cannabis Sativa or other, choose feminized Marijuana seeds to get more buds and yields. If you already have the seeds, wait for spring until the temperature gets warm.
To start the Marijuana seeds, use the paper towel method or directly plant the seed in potting mix or ground. Besides, soaking and hydroponic methods also help germinate the Marijuana seeds. The viable seeds may sprout within 1-2 weeks.
However, several external factors, like choosing the right seeds for optimal growing conditions, determine the successful germination of Cannabis seeds.
What Do Marijuana Seeds Look Like?
Marijuana is an annual herb belonging to the Cannabis family, which inhibits delta-9-tetrahydrocannabinol (THC), the major compound to produce the psychoactive effect.
Normally Cannabis seeds are as big as peppercorn, but some varieties can equal a pea size. Here is the total overview of MArijuana seeds.
Indicator
Details
Color
Whitish-brown color with black freckles
Shape
Not completely round but oval with bulged centers and slimmer ends
Size
2mm-5mm
Harvesting Time
6-8 weeks for Indica Marijuana
10-12 weeks for Sativa Marijuana
If you are still confused, learn about the difference between Hemp and Marijuana.
How do you Start Marijuana Seeds with Multiple Methods?
First, it's important to know that germinating and growing Marijuana is illegal in your area, so we recommend you identify your state and follow the local laws.
If everything is okay, check the viability of the seeds and proceed to sow.
Cannabis are annuals that grow throughout spring and summer and flower in autumn. So start planting the seeds in the early spring with preferable methods.
1. Paper Towel Method
Among all the other methods of starting Marijuana seeds, the paper towel method is the most successful, for paper towels can retain the moisture required for sprouting.
Once both the roots and shoots appear distinctly, gently plant the seedlings in a pot with a suitable potting mix.
Notably, the transplanted pot should have enough drain holes to facilitate excess drainage. If it lacks any,
drill a few
.
2. Soaking Method
You can simply take a glass of water, add some Marijuana seeds and level it in a dark place to germinate.
As simple as it sounds, viable seeds will readily absorb the water and eventually germinate at a temperature between 68°F to 77°F.
This method is apt for seeds with hard shells or older seeds.
Soak the seeds in lukewarm water overnight, not leaving them for more than 24-32 hours.
The viable seeds will float first and sink to the bottom of the container after a few hours.
Upon satisfying the requirement, the seeds will initiate roots and shoot, which can be transplanted to your desired medium after it grows 2-3 mm long.
You can identify the germinating seeds through the white tap root hatching the shell.
3. Direct Soil Method
First, take a germination tray and pour some seed starting mix.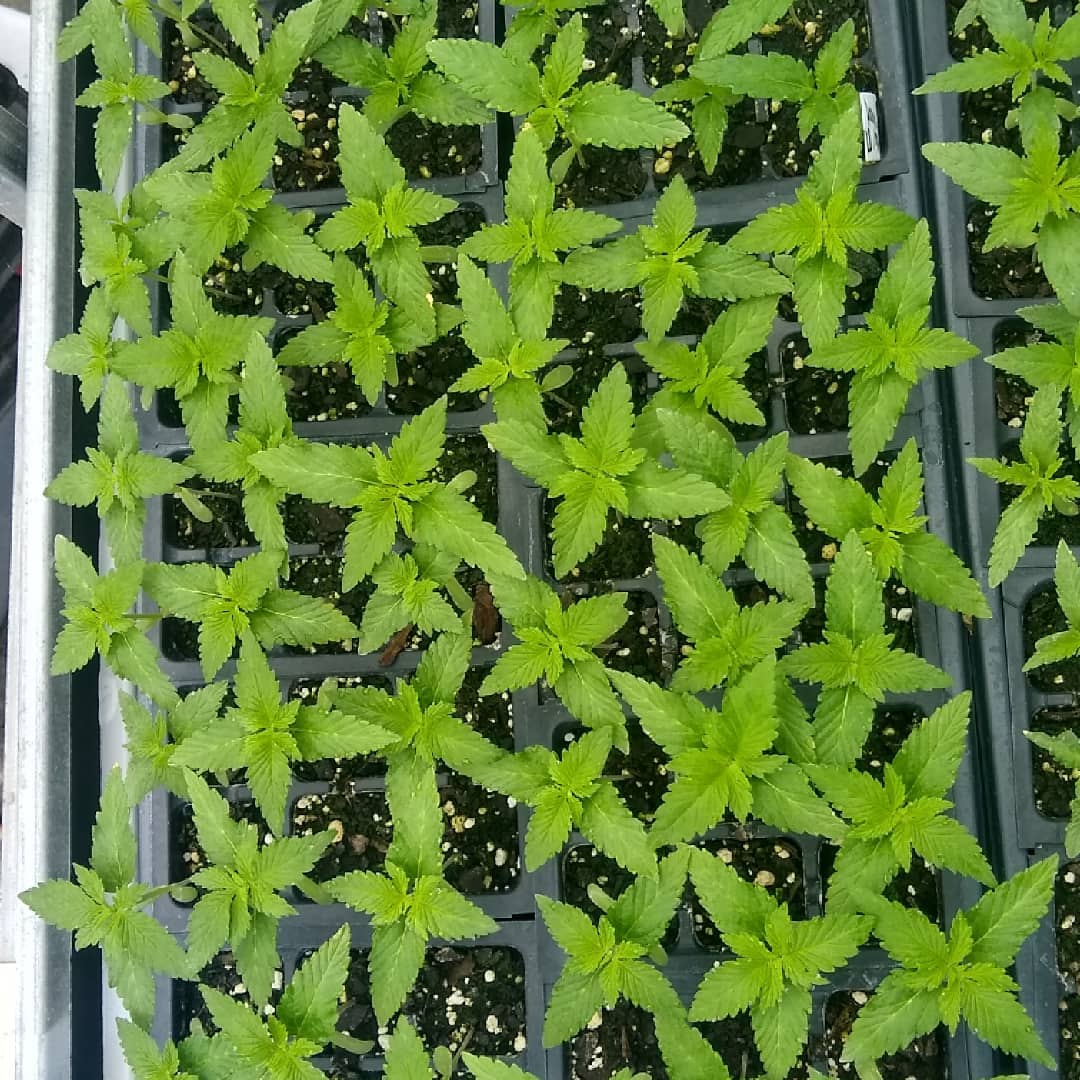 Alternatively, you may use jiff pellets to initiate rooting in Cannabis seeds. This sterilized medium prevents seed rot and holds more water compared to the paper towel method.
For that, you'll need to soak the jiffy pellets made out of peat for about 10 minutes until it expands 5-8 times their volume.
Now using a pointed object, make small holes 0.5 inches deep, add a seed, and cover it up.
Root initiation may start in 2-7 days with good quality seeds and consistent moisture.
Moreover, you can directly transplant the seedling along with the jiffy pellets saving the seedling from external disturbance or breakage.
4. Hydroponic Method
Unlike other methods, a hydroponic system offers a controlled and efficient environment for your seeds to sprout and grow into healthy plants indoors.
You'll have full control over the water, nutrients, humidity, temperature, and light provided to the plant resulting in quicker growth and better yield.
DWC does best in growing Marijuana, especially the 'bubbleponics' version, where plants' roots are constantly submerged in water, and an air pump constantly operates to supply oxygen to the submerged roots.
Let's look at the steps to start Marijuana seeds.
Pro Tip: Change the nutrient medium every 1-3 weeks to avoid pathogen growth.
Tips to Care for the Marijuana After Germination
You can grow Marijuana both indoors and outdoors after the seedlings have a few leaves. To Get to this, harden off the plants and offer the best growing conditions.
More importantly, even if your plants appear droopy immediately after transplant, it should be good once they adjust to the new environment.
From Editorial Team
Conclusion!
Despite the complexity of Marijuana legalization, it is still one of the easy-to-grow herbs.
However, you might have to reconsider growing Marijuana if you have dogs or cats.
Or, keep your pets away from the plant either by maintaining distance or fencing around the plant to avoid any unnecessary interaction leading to its intoxicating effect.