Have your noticed your houseplants always floating or drying out in the pot? This is only because of the poor water supply. That's where garden watering cans serve and help plants grow healthily.
Generally, there are many garden watering cans based on factors, including materials, designs, and watering capacity. A good quality watering can have a long spout and round and sturdy double handles for comfortable gripping, leak-free, rust-free, and weather-resistant properties.
However, all watering cans need not have all of these properties. The outdoor and indoor gardening requirements are specific, and you must choose the watering can accordingly.
If you want to determine which type of watering can is ideal for your space, scroll down and read the full article.
Is a Watering Can Useful to Water Plants?
You might argue that any liquid-holding pot ranging from glass to kettle can quench your plant's thirst. Well, you are correct.
If you own a few houseplants in your small apartment, you might water your plant with any object readily available. Similarly, a hose will do perfectly well if you have a large garden plot.
But, using a hose pipe for a smaller garden with a few plants is not convenient.
Besides, controlling the water pressure and watering the plant is slightly difficult with a hose pipe compared to a watering can.
Hence, if you have a good number of indoor plants or have a garden, a watering can is an important asset you must possess.
So what are the benefits of a garden watering can, and why is it good to have a watering can? Let's dive into the subheadings below to find those out.
1. Controlled Pouring
Watering can release controlled and consistent streams of uniform water flow, thus creating little to no mess while watering.
For seed germination, you need a soft spray of water as a forced jet of water exerts pressure on the soil and moves the soil.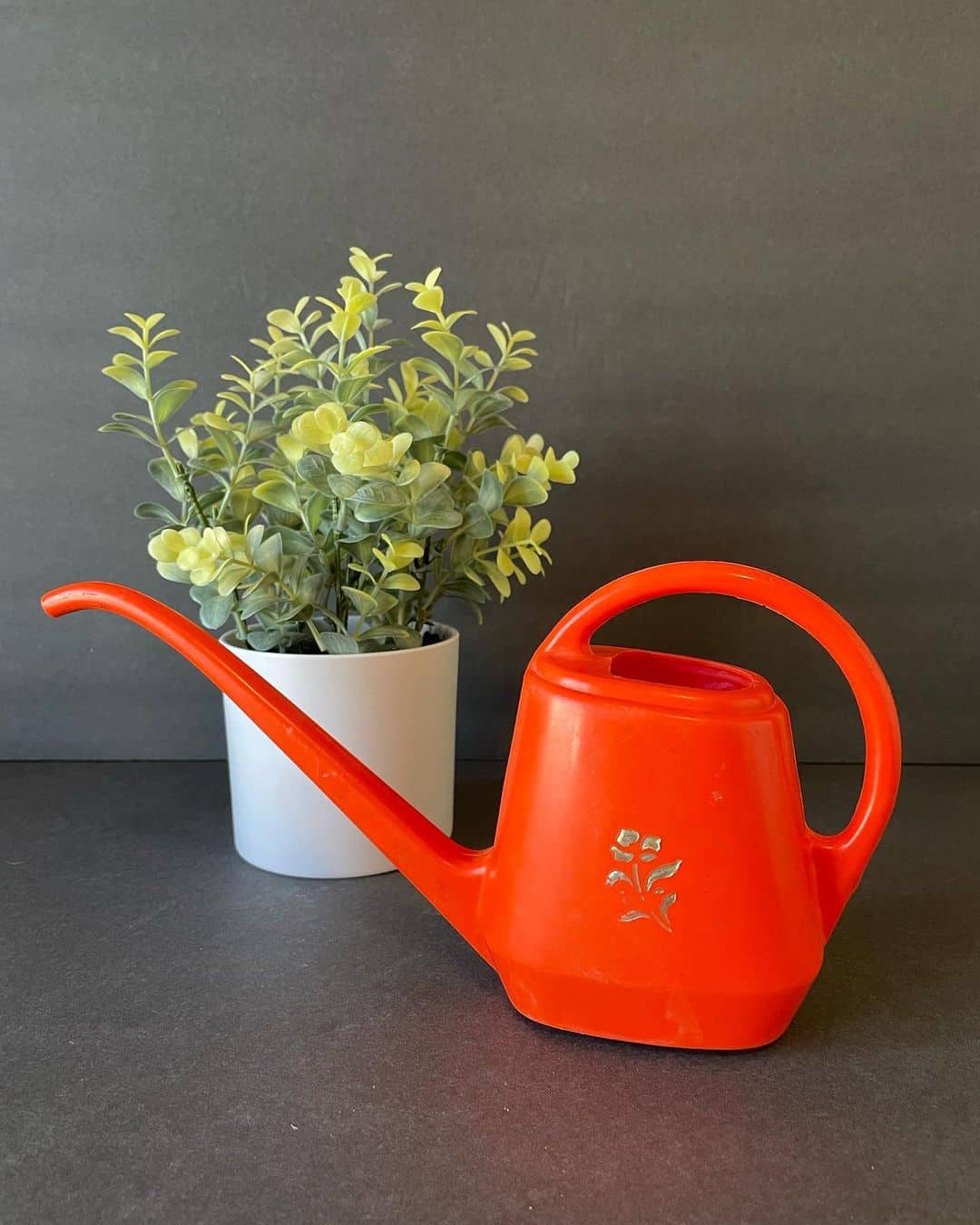 Hence, watering can help you to release a controlled amount of water based on the requirement.
2. Easier to Reach Plants
Growing the plants in a hanging pot makes them difficult to water. The problem can be easily solved if you use a watering can with a long spout.
Additionally, long spout watering cans help water plants that prefer watering to their roots.
3. Helpful to Regulate Nutrients
Besides watering plants, you can also use a watering can to apply liquid fertilizer. Long spout watering cans are useful for applying nutrition as they can reach roots.
Similarly, you can use rosette cans to apply pesticides and insecticides to your outdoor garden.
4. Avoiding Pests and Diseases
Plants like succulents are prone to overhead watering as it causes bacterial and fungal infections in plants.
Hence, you can avoid overhead watering with a watering can as it reaches roots and drenches only the soil.
Types of Garden Watering Can
Garden watering can differ in size, material, aesthetic value, spout length, nozzles, and handle position.
Each type serves different purposes, such as aesthetic cans for decoration, the long spout can for water hanging plants and succulents, large metal can provide for outdoor gardening, etc.
Let us discuss the different types of garden watering cans available in the market and their specific purpose.
1. Indoor or Outdoor Cans
Here are the differences between indoor and outdoor cans.
Outdoor Watering Cans
Outdoor watering can is generally used for outdoor gardening to water shrubs, hedges, or even lawns.
These cans must be resilient against climatic conditions as they are usually kept indoors. The best watering can for outdoor purposes is a galvanized metal watering can.
Indoor Watering Cans
Since indoor plants require less frequent watering or cover less number of plants, small-sized or mini cans holding 1-3 liters of water is best.
Besides, you can buy aesthetic garden watering cans as they water the plant while adorning the space. There are other plastics or aesthetically pleasing cans for indoor purposes.
2. Size of the Can
Choose a small can with a holding capacity of about 1-3 liters if you have a few plants or a small indoor garden.
Plants like succulents, Peperomia, and bonsai trees do not require frequent watering. So, small-size watering cans are ideal for them.
However, if your home several tropical plants that require consistently moist soil or are growing plants outdoors, you will need a large watering can.
Similarly, a large-sized container is ideal for seedlings and flowers in the outdoor garden.
The average size of large watering can vary between 3 and 9 liters.
Besides, the larger the size of the watering can, the larger the weight.
When filled with water, the larger container becomes challenging to lift and creates pressure on your wrist, which might even hurt. So, be conscious while choosing the watering can.
3. Material of the Can
You need to consider the material of the can if you are especially searching watering can for outdoor purposes.
Watering cans used for outdoor gardens need to be climate resilient and durable.
Let us look at different materials of the can and their specific purpose.
Watering Cans
Specifications
Metal Watering Cans
These cans are slightly heavier than plastic, but they are highly durable.

Similarly, some metals can be used for aesthetic purposes as well. 
Galvanized Steel Cans
These cans are best for outdoor gardening as they are both large-sized and durable.

Cans are coated with steel, so you need not fear rusting. 

They are highly effective in watering shrubs, hedges, garden beds, flowers, and even seedlings. 
Stainless Steel or Copper Cans
As made up of pure metals, they are heavily weighted compared to galvanized and plastic watering cans.

They give a picturesque view while keeping them near a group of plants.  


Plastic Watering Cans
These cans are light weighted and have fewer chances of water leakage, thus creating no mess while watering.

These cans are made from various polymers and come in different ranges like PP (polypropylene), a slightly robust and rigid plastic; PVC, and PE (polyethylene), a somewhat softer plastic.
4. Types of Spout
There are two different watering cans; one with a smaller spout and the next with a longer spout.
Long spout watering can serve bests for hanging pots and deeper pots.
In comparison, short spout cans are useful for larger plants and outdoor plants. The ideal length of the long spout is about 7 inches, as it can reach deep into the pot.
While looking for a spout, choose a free-flow spout for indoor plants, as water does not sprinkle over the surface.
Meanwhile, opt for a rose-attached spout for outdoor plants like roses, other flowering plants, and seedlings, as it allows fair water distribution and broader coverage.
Additionally, the rose of watering canes comes as fixed or removable. In fixed rose, there are lower chances of water leakage than in removable.
However, I prefer a removable rose as it serves the purpose of both the rose and free flow.
Pro Tip!You can twist the rose such that the water flows in the upward direction creating the effect of rainwater.
5. Cans for Misting Purpose
Besides watering the plant, you can use watering cans to mist those plants that require high humidity.
You can also use such type of mister for seedlings. A few good quality misting watering cans are Esschrt copper mister, Hokplite mister, etc.
These sprayers are generally small in size, made out of metal or plastic material, with a spray or rosettes attached on the spout or top.
They are convenient for indoor gardening and can be used to mist water and apply liquid pesticides and fungicides.
You can find watering cans with removable rosettes that you can connect to your spray bottle.
Moreover, some watering can come with movable rosettes and may be turned into misters for seedlings.
8 Best Plant Spray Bottles for Watering Plants
6. Leakage-Free Design
Leaking of Water is a major problem associated with watering cans. Generally, watering cans made from a single construction without joints are less prone to leaking issues than those joined later.
For example, a non-galvanized metal can is made by joining the spout later, so it has a higher risk of water leakage after a year or two.
As a can with a bent or curved spout or rubber washer has less chance of leakage, it is better to invest in them than a straight one.
7. Shape, Position, and Type of Handle
A comfortable grip is one of the essential features of a garden watering can.
The water, along with the weight of the watering can, makes it difficult to lift. If the gripping base is uncomfortable, it hurts your wrists and hands.
The best can is the double-handled one with round handles on top and side of the can.
One handle on top or side is sufficient if your can is small.
However, for a large can, you will require two handles, one at the top and the secondary handle at the side of the can, for better gripping.
You can use both hands while watering the plant in a double-handle can, so it is easier to hold the can.
8. Easy or Difficult Filling
Do you have an aesthetic watering can with its handle and faucet together?
It might be an ideal gardening piece for decorative purposes. However, I suggest you avoid such cans as it is inconvenient to fill water in them.
Get a can whose handle does not get along with the faucet.
Top-Rated Garden Garden Watering Cans (with Pictures)
If you have been juggling from one can to another and are not satisfied with any, try the cans recommended below.
After analyzing and testing different models, we have selected our top 10 picks and have been attempting to incorporate both outdoor and indoor garden watering cans into the list.
1. Behrens 2-Gallon Steel Watering Can
With its classic vintage looks, this watering can stand on top of our list. It is best suited for outdoor gardening as it is weather resistant and does not rust.
Besides, it is made from recyclable materials and therefore is eco-friendly. Additionally, its large water-holding capacity of about 3 gallons is a perk for your outdoor garden.
Similarly, its wide opening makes filling water easier, and its round handles make gripping comfortable.
You can get different models holding 1.5, 2, 2.5, and 3 gallons of water.
Pros
This watering can is made of high-quality stainless steel and is highly durable.
The can is made of rustproof galvanized material, ensuring no leakage issue.
This can is best for outdoor gardening.
Cons
Its sprinkler head is fixed.
It does not support the free flow of the water.
This can is not so advisable for indoor use. Water might spill due to a fixed sprinkler head.
2. Cado Union Elephant Watering Can
The silvery look featuring an elephant design makes this can one of the best mini indoor watering cans. Due to its aesthetic value, you can display it as a decore piece near your plants.
It is also ideal for children as it is constructed as a single piece, is lightweight, and durable.
If you have children who love gardening, give it a try. They can water the plant without messing with this tiny free-flow watering can.
Besides, it boasts leakage-free, light-weighted, and weather-resistant properties. Another perk of buying is its long spout that reaches roots and its easy-filling property.
Pros
Due to its pretty small size, it can befit baby plants.
It forms a decore piece when kept around plants.
It is also ideal for watering bonsai trees and succulents.
Cons
It holds only a small quantity of water.
Not suitable if you have high water-demanding plants or a lot of plants in your home.
3. Homarden Small Copper Watering Can
This decorative watering can boast its bold retro copper glossy finish featuring a looped handle. Best for indoor gardening, this piece makes a striking addition to your garden assets.
Moreover, its long spout is bliss to plants that require deep watering to their roots, like monstera and succulents.
Ideal for indoor gardening, this watering can also is rust and corrosion-free.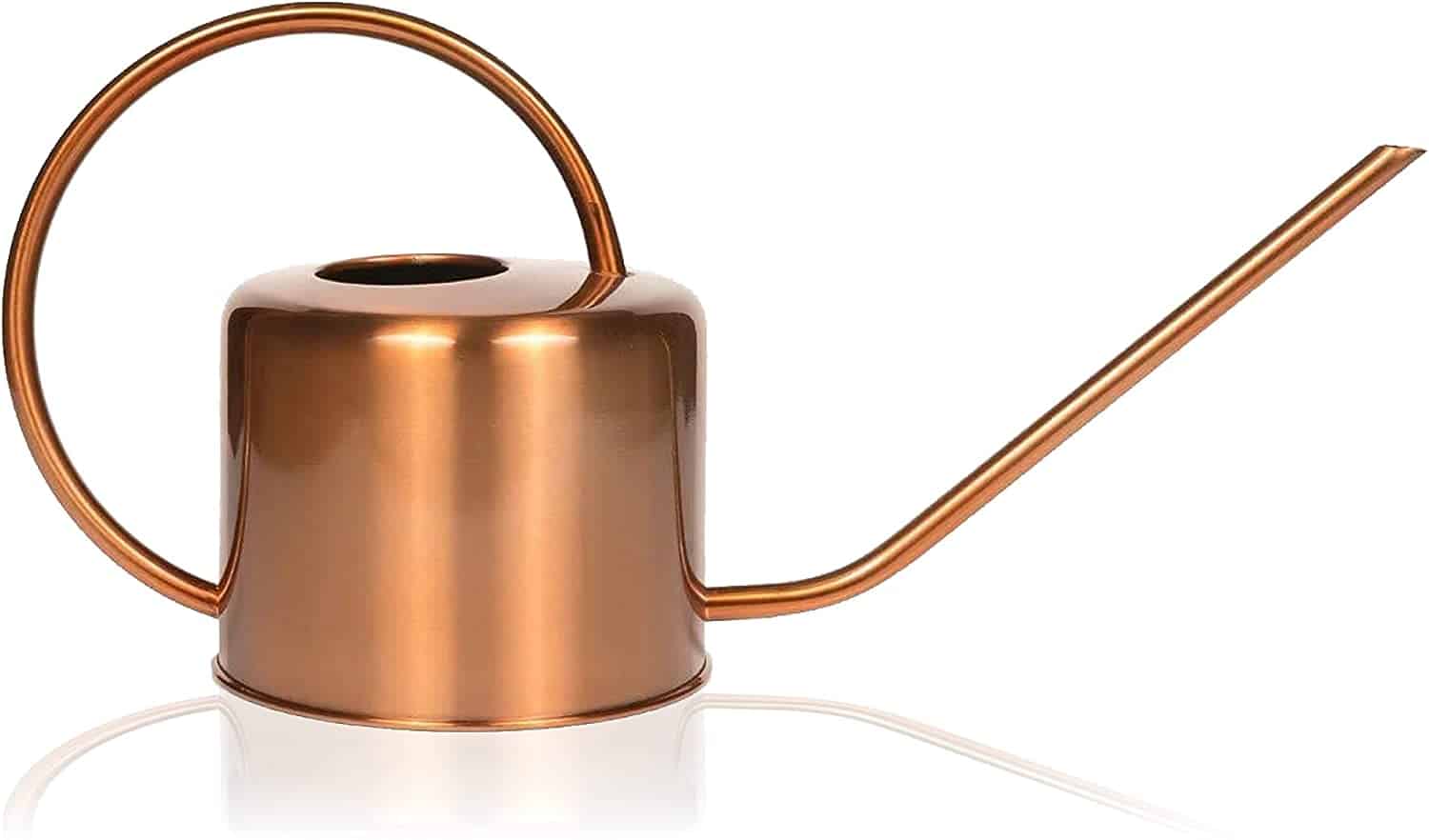 Pros
The stainless steel and copper coating make it a durable can.
It serves dual purposes; watering the plant and as a decor piece.
Although made from metal, it is lightweight and hence portable.
It supports the free flow of water, so there is no spilling problem.
It is an ideal choice for indoor gardening.
Its long spout helps you reach your hanging plants and plants potted in deep pots.
Cons
It has low water holding capacity of 0.3 gallons.
Not suitable for outdoor plants because of its low water capacity.
It supports only the free flow of water, so not useful for seedlings.
4. Novelty Indoor Watering Can
This inexpensive watering can is simple in design and structure and is ideal for indoor purposes.
The striking feature of the can is its long spout, its s-shaped round handle for easy grip, and its beautiful looks.
If you want a lightweight, inexpensive watering can that is weather resistant, the Novelty indoor watering can is perfect for you.
Besides, it is made in the USA and is designed from impact, UV-resistant, and weather-resistant plastic that lasts even in adverse heat as it is made from UV-resistant plastic.
The can is ideal for indoor gardening as it holds 1/2 gallon of water, sufficient to water your few indoor plants.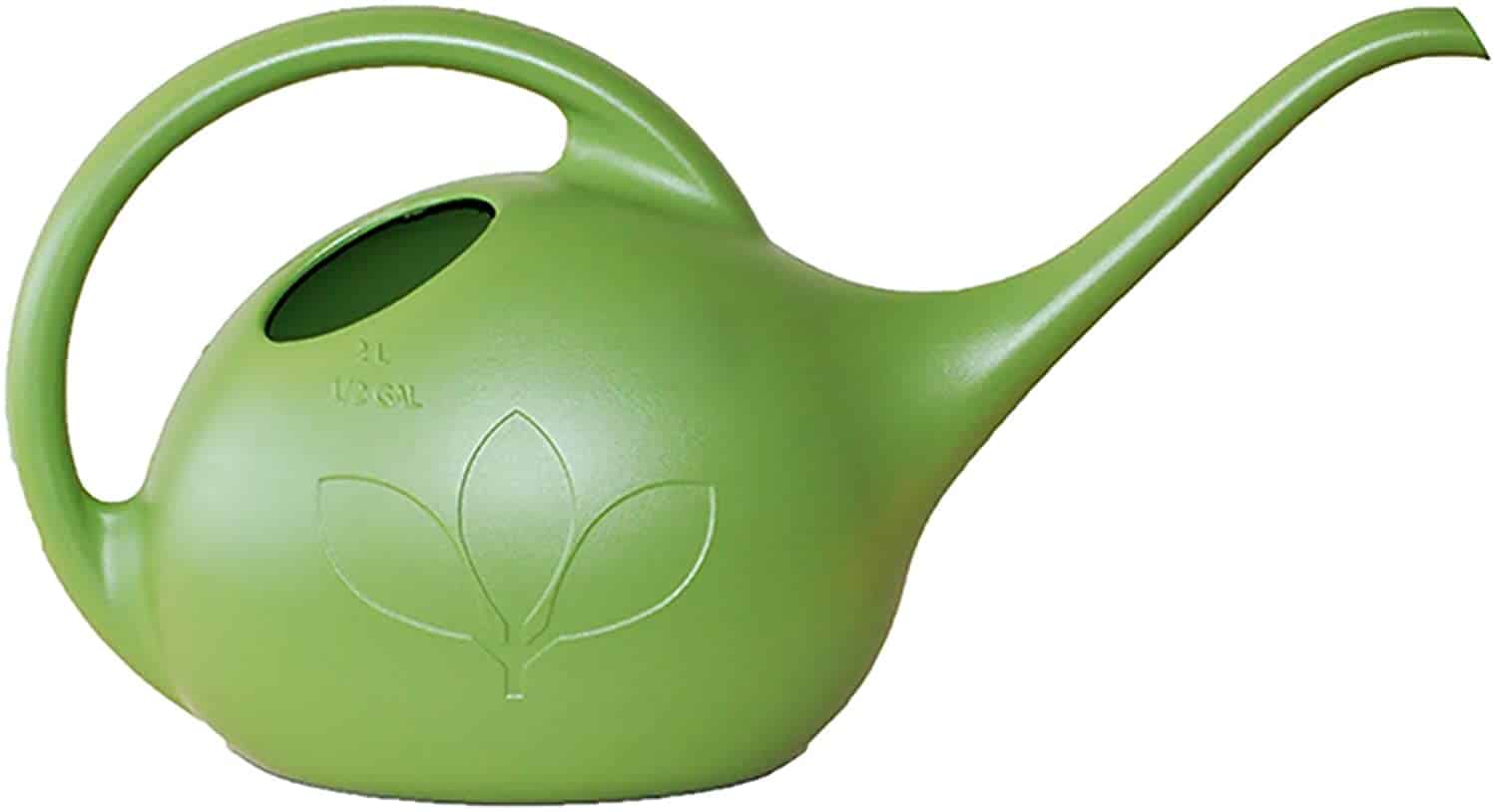 Pros
It is an inexpensive and simple design watering can.
It is convenient for small indoor plants.
It is made from impact-resilient plastic, so you can trust its durability.
Cons
Although the can is weather resistant, it is not useful for outdoor gardening because of its low water-holding capacity.
As the can support only free-flow water, you can't use it for watering seedlings.
5. Haws Handy Indoor Plastic Watering Can
This watering can is perfect if you own only a few indoor plants.
The most remarkable feature of the can is its removable rose attached to the spout, allowing you to switch between sprinkling and free-flow pouring.
It is ideal for water seedlings, succulents, and other plants.
Besides, you will also have different cheery color varieties to pick the one you like.
Not to forget, it is made from injection molded plastic and is available in nine different vibrant color options. Also, it is recyclable, leakage-free, and highly durable for indoor use.
Pros
It lasts long and is perfect for indoor and outdoor gardening.
It is not affected by sun and weather, so sometimes it can even be used for outdoor purposes.
The can supports both free flow and soft flow of water.
It is unique in style and serves two purposes.
Cons
It holds only 0.2 gallons of water, so convenient only for small indoor gardening.
Although the company claims it to be leak-free, Amazon users have complained that it leaks when left with water.
6. Sunny Tong Metal Watering Can
This medium-sized can with copper-colored handles is a fine product for outdoor gardening. Its large, round handles on top and sides make it easy to hold and carry.
The can is made of galvanized zinc with its surface painted bright colors to easily get hold of eyes.
It is ideal for watering long, narrow garden beds or any other outdoor plant as it holds 1 gallon of water.
Lastly, it comes in whooping 4 different color varieties that you can choose from.
Pros
You will not run out of water quickly as it has a water-holding capacity of 4 liters.
It has a fine finish that gives it a polished and vibrant look.
Its rosette allows a soft spray of water that is ideal for seedlings.
You can switch between sprinkling and free flow as it has a removable rose cap.
Cons
The paint might fade away after prolonged use.
Although the rose is removable, it cannot be turned to provide rain-effect water.
After prolonged use, water might drip from the side rivet attached to the top handle when the can is full.
7. Cesum Bonsai Watering Can
It is an ideal watering can for indoor gardening and serves as a garden decor piece.
With its long slender spout, you can easily reach hanging plants and water to the plant's roots.
Besides, its ergonomic handles help in a firmer and more portable grip. Also, it does not harm your writs as it carries only 30 ounces of water which is easier to hold.
The most striking feature of this can is its vintage finish with polka dots that easily catches one's eyes with awe expression.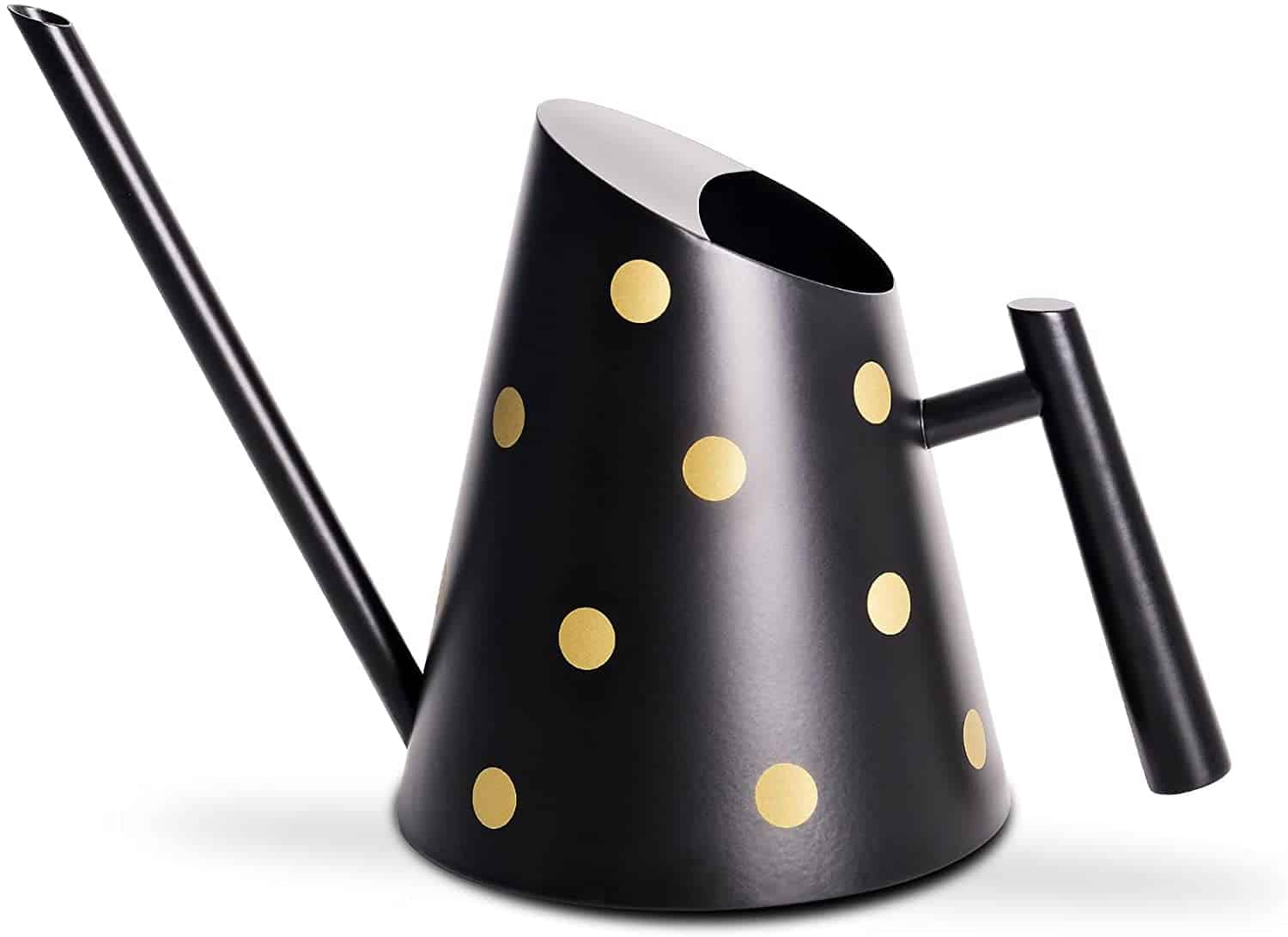 Pros
Small watering can is suitable for indoor plants like Bonsai, Peperomia, and Succulents.
It can be a good gift idea for a plant parent.
You have different color options like black, gold, and copper.
It is leakage-proof and does not rust quickly.
Cons
Due to its low water holding capacity, it is not ideal for outdoor gardening.
It is not safe to leave water in the can for a prolonged period as it might rust. However, there are very fewer comments about it.
8. Rainmaker Watering Can
This watering can is made of quality plastics that endure every challenging environment poses to it.
You can use this can vary extensively throughout any growing, and it will shock you with its durability.
Its long spout makes an easy passage through foliage so you can water the base of the plant.
You can use the can for indoor and outdoor gardening, and it does wonders perfectly by serving both purposes.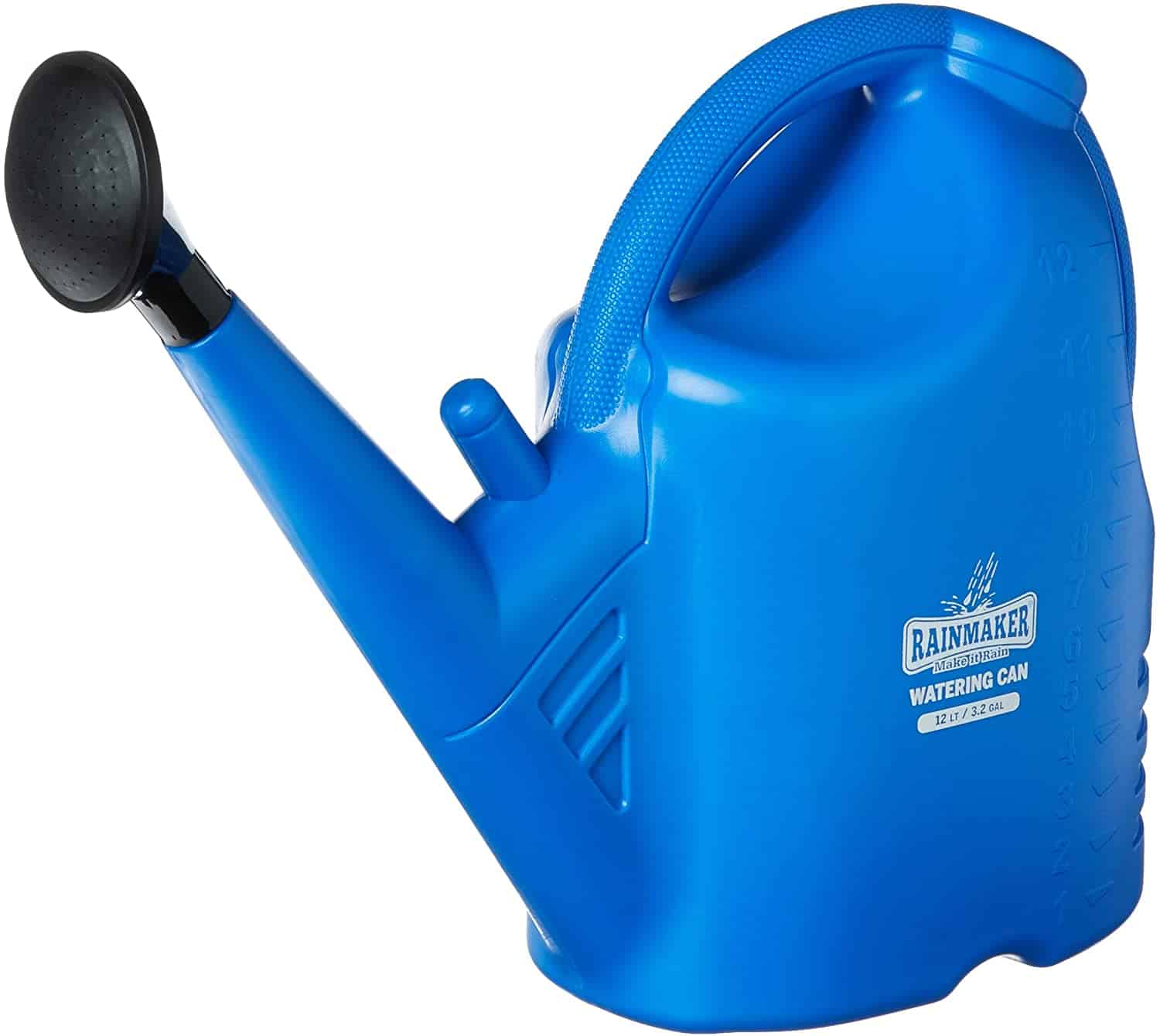 Pros
The watering can hold 3.2 Gallons of water, making it ideal for watering voracious plants.
It is suitable for both indoor and outdoor use.
Two-handle design in the can help to control and hold the can easily.

It can create rainwater effects which are perfect for seedlings and small saplings.

Due to its in-built feature of hard plastic construction, it is robust and lasts long.

The can is resilient against adverse weather conditions.
Cons
It is extremely simple in design and is not aesthetically pleasing.
It can get heavy to lift when filled with water.
9. Whale Life Indoor Long Spout Small Watering Can
This transparent resin watering can with a capacity of 1.4 liters is perfect for indoor gardening and decor.
Since it is transparent, you might have doubts regarding its firmness. But you need not worry about it as it is made of Polystyrene resin.
Its lengthened spout is another remarkable feature that makes watering easier without a mess.
Not to forget that the company offers the can in 8 different color varieties.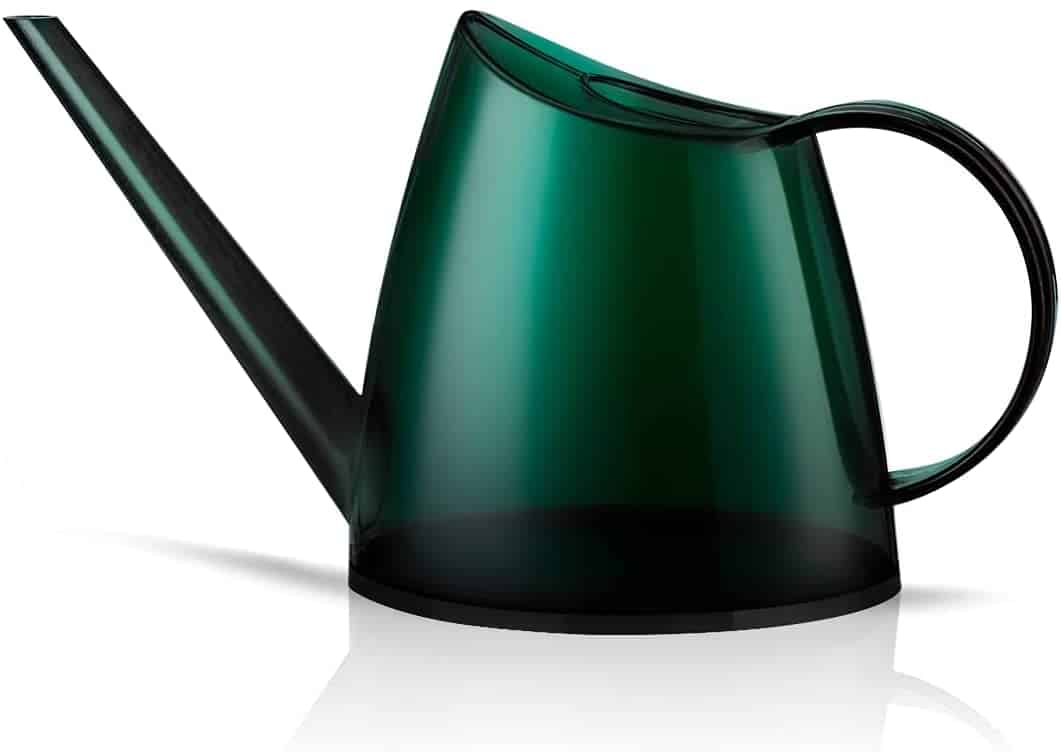 Pros
Although the can is simple in design, it is aesthetically pleasing among all other cans.
It is ideal for your thirsty indoor plants.
This inexpensive watering can come in beautiful shades.
Cons
It is not ideal for outdoor use as it holds only 1.4 liters of water.
According to Amazon buyers ' reviews, the watering can is not dishwasher safe.
10. Tierra Garden Traditional Metal Watering Can
If you want a watering that can be built in a traditional style that lasts for years, the Tierra metal watering can is for you.
With its enormous water capacity of 2 gallons, it features vibrant color, so you need not fear losing it among the grass.
Besides, it is available in 6 different vibrant colors that easily catch the eye among your green bushes.
Similarly, its screw-top design and inbuilt alloy steel material are so sturdy that you need not bother to sneak the water leaking.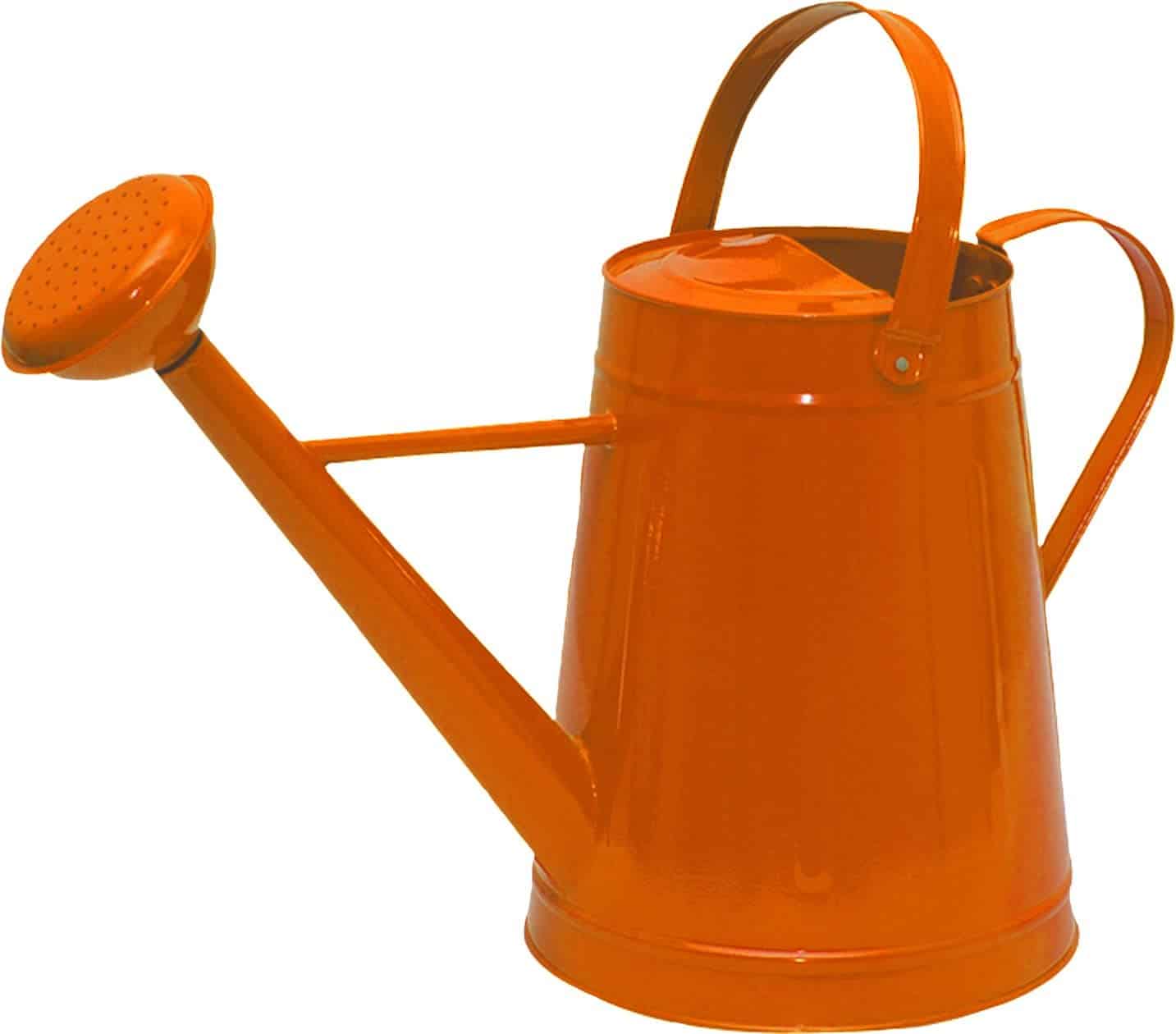 Pros
It features a removable rosette to switch between a shower and free-flowing pouring.
It holds 2.1 gallons of water, thus suitable for indoor and outdoor gardening.
It contains a screw-on rose, which makes cleaning easier.
It has got two handles for easy and comfortable gripping.
It is perfect for outdoor gardening, sturdy and durable, and resistant to rust.
Cons
The pouring handle is made of steel with a flat structure, so it might be slightly difficult to hold when filled with water.
As it holds a large amount of water, I suggest you carry it carefully as sometimes the top handle might come off.
You can access the listed watering cans through the table below!
From Editorial Team
While choosing for indoor gardening, choose a watering can that holds about 1-3 liters of water, is leakproof, aesthetically pleasing, allows free flow of water, and has a long spout.
Meanwhile, use a galvanized metal can or a can be made from durable, weather-resistant plastic for outdoor purposes.
Also, choose one that holds about 3-9 liters of water, has round and double handles for comfortable gripping, and has a removable rosette.
Buy a watering can that serves you the best while following our guidelines so that you won't be dissatisfied with the product.
Happy Gardening!