Knowing desiccated vs. shredded coconut is essential as both look similar at first glance but can affect your culinary creations.
Generally, both desiccated and shredded coconut recipes are made from coconut meat and used in various dishes. However, both are different in size, texture, moisture content, color, flavor, uses, costs, etc.
The drying causes desiccated coconut to lose its moisture, giving a fine texture, but shredded coconut gives you a slightly chewy texture.
So, go through this complete article to know the difference between similar-looking desiccated and shredded coconut, with tips on how to use them.
Desiccated And Shredded Coconut: Common Similarities
Both Desiccated and shredded coconuts are coconut recipes made from coconut meat, the white flesh you can see after breaking a mature coconut. Coconut meat is actually a single seed.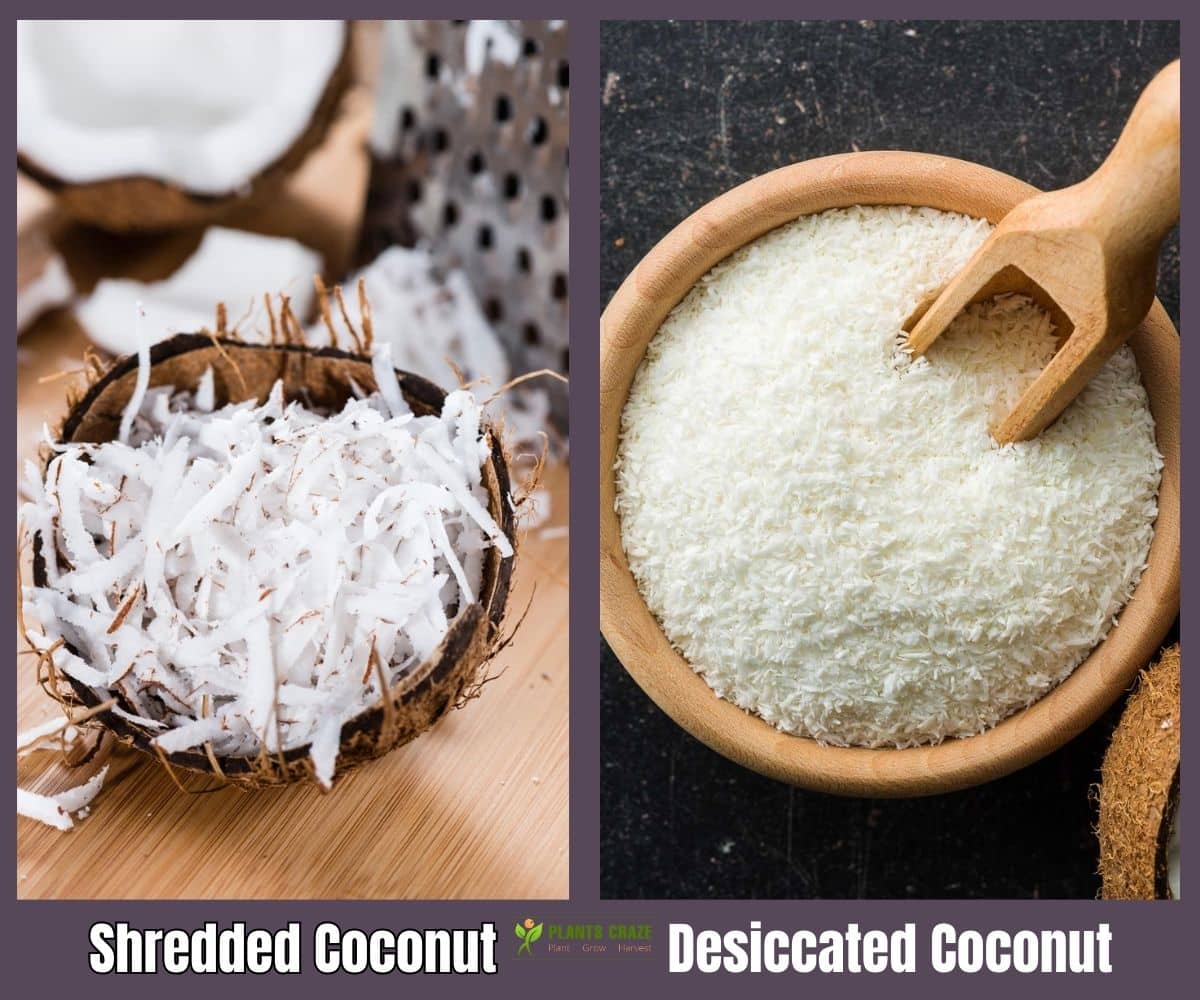 Moreover, you can use both recipes in baking and to decorate cakes, desserts, etc. Both give the best coconut flavor to your dishes.
Both ingredients are the fine particles of coconut with similar sweetness.
You can find fiber and healthy fats in both recipes.
Also, both recipes can be sweet or without sweetness. Sweet varieties are perfect in desserts, whereas unsweetened ones can add a delightful taste to savory dishes.
Both varieties can last longer than fresh coconut.
You can increase or decrease the moisture content in both varieties according to your dishes.
Both coconut recipes are popular choices in several dishes in tropical dishes.
You can find both shredded and desiccated coconut in grocery or departmental stores.
Moreover, the textures of both varieties are similar as both are fine granules of the coconut flesh.
Desiccated Vs. Shredded Coconut: Prime Differences
Desiccated and shredded coconuts weigh differently. Shredded coconuts are heavier than Desiccated coconuts.
Shredded coconut is the first result of ground coconut, but desiccated coconuts are ready only after drying the shredded coconuts.
| Features | Desiccated Coconut | Shredded Coconut |
| --- | --- | --- |
| Granule Size | Small | Bigger than desiccated |
| Texture | Powdery | Coarse with long threads |
| Moisture Content | Low | High |
| Color | White or light brown | Golden brown or light brown |
| Flavor | Mild | Stronger than desiccated |
| Uses | Baking, topping, smoothies, curries | Toppings and decorations |
| Availability | Sold as packages | Sold in bulk tins |
| Cost | Expensive | Less expensive |
Due to their differences, the substation of shredded coconut with desiccated coconut and vice versa can change the taste of your dish.
Thus, while exchanging desiccated coconut with shredded coconut, you must increase the quantity and moisture to get the same feel.
Similarly, substituting shredded with desiccated coconut can also make a difference due to high moisture. You can reduce the moisture by dry roasting the shredded coconut.
However, both coconut recipes contribute to making your culinary dishes creative and tasty by enhancing the flavor and look.
From Editorial Team
Tips For Using Desiccated & Shredded Coconuts!
You must use some flour and water to bind the desiccated coconut for baking purposes as they have low moisture content and cannot bind easily.
However, remember to pre-toast the shredded coconuts if you are using them for baking. Also, it's easy to bind shredded coconuts easily due to their high moisture content.