Being a plantsman, is every inch of your garden a living realm of your plantlets? Always making sure that your plant babies get the best of the best?
With the endless selection of plants, you can leave your gardens for flower beds and outdoor plants while keeping your herbs in separate containers.
Herewith, it will provide your herbs with space of their own, and those individual beds will elevate them with extra care and schedules.
But, having said this, you do not need a green thumb to look after them; in fact, a little of the information will be good to go.
Generally, a perfect container depends on the characteristics of your herbs. For instance, herbs that flourish in dry soil are perfect with terra cotta pots, while herbs with moist soil are best with plastic pots. Likewise, shallow pots are the best for herbs with short root systems, while deep pots are best for long taproots.
Additionally, we understand how shopping pages and nurseries might confuse you to choose the best pot for your indoor herbs. But, no worries, we have got your back on it.
Choosing the Best Container for your Growing Herbs
Choosing a container for your growing herbs is choosing them in their new house. As we check in our house from area, color, size, and need before purchasing, they are similar.
Hence, learning the characteristics of your herbs makes it easier for you to know the type of container that is flexible for them.
Every herb flourishes differently in different types of pots, and it also indicates how healthy the herbs get.
Some of the few aspects to be wary of during pot selection includes its size, shape, color, drainage system, and materials. Below, we have discussed each of them in detail.
1. Container Materials
Every herb pot isn't made of similar materials, and each of them doesn't hold the same characteristics. With different materials, they all have merits and demerits of their own.
For easy potting and transferring of your wish, you should make sure to check the below two questions quickly.
How much moisture-retaining ability does it possess?

What's its durability like?
Here are the types of materials used in pots and their descriptions.
You may also like to look about: How to Grow Grass in a Pot?
Clay or Terra Cotta Pots
Clay or Terra Cotta pots are the most traditional and yet most used pots all around. Most importantly, they are affordable and pass the aesthetic vibe.
Furthermore, their porous structure allows the soil to have an excellent air passage. However, it also requires frequent watering as the soil dries out quickly due to the same reason.
Altogether, they are the best for herbs like thyme, lemon, or lavender.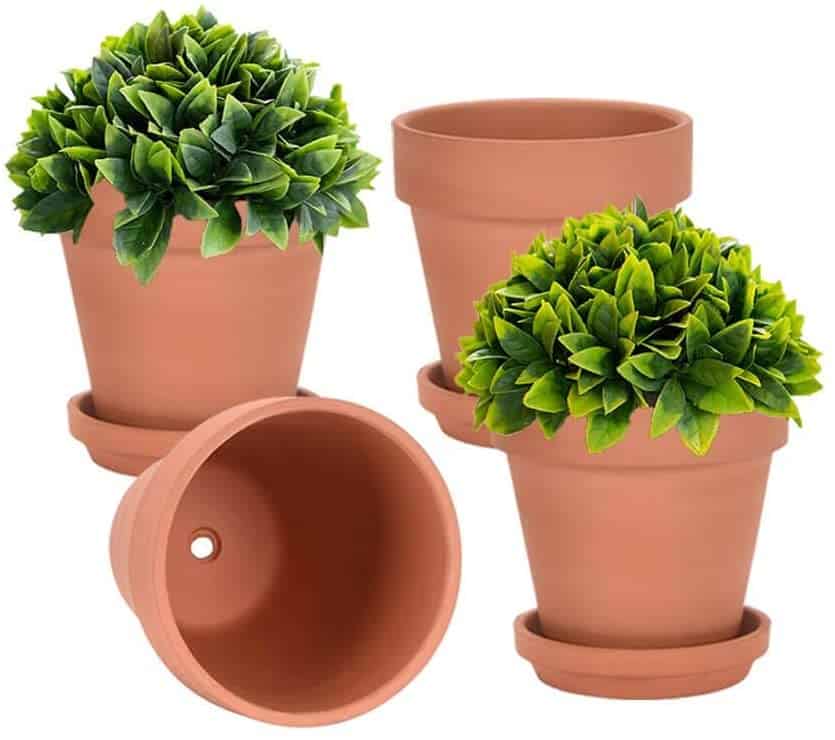 Ceramic Pots
Yes, ceramic and clay pots are pretty similar, but they do function differently.
Ceramic pots are high weather-resistant and depict a thicker build than the other pots. Well, their thicker build resists frost and doesn't let the soil dry out quickly.
Additionally, ceramic pots come in various color schemes, sizes, shapes, and hence, can be of best use as a home design element.
However, they tend to be quite heavy. Therefore, these posts are the best choice for Medittarean plants.
Metal Pots
They are usually made up of metals like copper, stainless steel, and so on, which are truly attractive and durable. But as you use this specific pot, it will require extra care as they have no drainage hole.
Furthermore, they are known to be prone to infestation of diseases. Likewise, one can only plant in a metal pot by keeping them in a shady area to reduce heat and eliminate the excessive light that may be rough on herbs.
In the meantime, they also tend to get quite expensive. Indeed, planting our herb babies on this specific pot is hard.
As we talked about before, we also have to make the drainage hole on it ourselves as it doesn't come with one.
While making a drainage hole, it's best to use a 1/2-inch metal drill. Here, you can make holes every few inches around the trough's perimeter and make some horizontally and vertically.
Plastic Pots
Nowadays, plastic pots have risen into colossal popularity and are known for their lightweight nature.
Also, they are available in a wide range of colors and are inexpensive with non-porous nature. Thus, it keeps the air intact, and the moisture in the soil remains.
As for its demerits, the temperature fluctuations may cause plastic deterioration. But, overall, they are a good choice for herbs like rosemary and cilantro.
2. Container Sizes
It's not always about the bigger, the better, or personal space for all single plants. Every herb requires a different area, and it depends on how big and healthy they grow. Some larger space gives them much room to thrive in their roots.
The ideal pot size for herbs is 8 to 10 inches, where they can grow well to be mature herbs.
| Container size | Best For |
| --- | --- |
| 6 Inches | Perfect for smaller herbs like thyme |
| 8-10 Inches | Ideal container size for every herb |
| 12-18 Inches | Best to grow few numbers of herbs in a single pot |
Altogether, if details and size confuse you, it's a good deal to go with this 6-10 inch size.
However, one can also try growing single herb like lemongrass, taproots, parsleys to make it exceptionally large.
But, in the end, one should be aware of the basic knowledge that the bigger the pot, the heavier it gets. Hence, moving it here and there might be a bit uncomfortable.
You can also follow to read about: An Ultimate Guide to Grow Pineapple Sage From Cutting!
3. Container Shapes and Colors
When we think of pots, it's mostly all about circular pots, and yes, it is indeed cute. So, basic shapes are okay with any as you wish. Even rectangular and square-shaped pots sound cool.
Again, as for colors, it's as per one's fitting aesthetic. If you wish to keep things subtle, it's best to opt for neutral colors while colorful pots will pull a lively and playful vibe on.
4. Drainage Holes
A must-have in a pot is a drainage hole. It assists the excess water to flow out of the pot because no plants like to drown in water.
Without a sound drainage hole, plants lose their lives due to an oxygen-poor environment for the roots.
Here, some pots come with a plug-on drainage hole to prevent unnecessary leaking.
However, some containers don't come with drainage holes, and it's fine if it's the perfect container for your plant. That is because you can always carefully drill a hole for drainage on the bottom.
Additionally, you can also have built-in drainage trays in your container.
5. Saucer
A saucer is a disc placed under the container to catch the excess water that has drained through.
Mostly, they are shallow, and you can buy them separately, or they even come together with the container itself.
While a saucer is not a must-have in a container, one can add it to their container. Often for beginner plant parents, one can be messy with plantation and spill water all around. Hence, it's best to have a saucer to prevent spillage around your home.
Additionally, while using a saucer, one should remember to empty the saucer plate after watering the herbs. But before doing so, let the water seep into their roots and drain out a little.
Special Extra Pots
At present, markets are full of new styled containers based on standard shapes and sizes.
Hanging Pots:

It works pretty well for the ones who have limited space for plants. Additionally, it is perfect when you want to keep your plant babies away from your pets and children. However, one should not forget to water it timely as it dries the soil quickly.

Shallow Pots:

They are trendy and decorative. However, they are only perfect for herbs with shallow roots like chives, thymes, and others.

Windows Boxes:

They are the narrow plant containers in the windowsill that thrives the plant and elevate the decorations of windows.

Self-watering Pots: They are new-style pots in the market that requires less work. They use sub-irrigation, which brings water to their roots directly; hence, the herbs can drink at their own pace. Often, they are the best choice for herbs like chives, parsley, marjoram, and mint, as they require a constant supply of water.
Before we close the chapters of the best plant containers, here is a quick guide to care for your herbs.
Best Pot Recommendation For Herb Plants
Indoor herbs can be best grown to their potential growth with terracotta pots and with drainage. However, it again depends on the nature of plants and the soil type it requires.
Anyways, below are a few names of the best pots that indoor herbs can be grown in.
| Container | Size and Weight | Material and Description | Features |
| --- | --- | --- | --- |
| GardenBasix Self Watering Pots Window Box | 11" x 4.7" x 5.5" (Length x Width x Height) | Round shaped self-watering container | Double-layered design to store excess water. |
| Botanica's 6 inch Pot with Saucer | 6 inch opening with 3.5-inch bottom and 4.7 inches diameter saucer | Durable Melamine in minimalistic design | Drainage hole at the bottom to let out excess water. |
| Windowsill Herb Planter Box | 10.5 x 3 x 5 inches | Rectangular shaped plastic container | Self-watering product |
| Indoor Herb Planter | 4.5-inch diameter top and height with 16 inch long tray | Metal kitchen windowsill planter | Perfect for kitchen windowsill planting. |
| Self Watering Window Garden | 2.01 Pounds | Oval shaped counter top design | Self-watering with passive hydroponic action. |
| Cork Plant Pots | Medium sized with 6 pieces | Eco-friendly pots made up of large granule cork | Rustic charm with drainage hole which is water-resistant and durable. |
| Self Watering Plastic Pot | 3.54 x 2.6 x 4inch/9 x 6.5 x 10cm | High-tenacity self-watering plastic pot | High-strength , lightweight, and durable. |
| Barnyard Design Herb Pot Planter Set with Tray | Planter is 4.25" W x 4" H. Tray: 12.5" L x 4" W x 1" H. | Metal pot with vintage design | Drain holes that allow excess water to run out. |
Some Good Herbs to Grow in Pots
Growing a herb is rewarding if we are to make it to their bushy self. Some of the best herbs to grow are listed below.
Mint: It is easy to grow due to its versatile nature as it also grows well in shady areas. They are usable for everything like tea, mojitos, and much more.
Chives: It is perfect as a salad and garnishing material. Also, it gives off a good smell and works fine in few hours of sunlight.
Coriander: It is one of the easiest herbs to grow. It grows well even in shady areas and gives loads of leaves in a single go.
Rosemary: It is a classic herb excellent for garnishing, which also grows from cutting. They grow best in well-drained soil.
Basil: It grows the best in well-drained soil and warm sheltered areas.
Read More: A to Z Jade Plant Care Indoor!
Care For Herbs
Like every plant, herbs require ample sunlight, and the better is indirect bright sunlight. One of the other basic requirements for your herb to grow entirely is timely watering, not letting the soil run out dry.
Likewise, a container plant also requires fertilizers rich in nutrients. Lastly, they need mending and caring hands to make sure that their unwanted parts are removed.
Anyways, if beginners are looking for an indoor herb plantation, you can start with something that doesn't require a lot of attention.
Some of its outstanding examples can be chives, Greek oregano, and basil for now to go.
Altogether, to gain perfectly fresh and healthy herbs, you should follow the bulletin lists.
Make a strong sunlit area for your herbs.
Keep the temperature between 60-70 degrees.
While watering, make the water flow slow and infrequent.
Provide fertilizers with a higher nitrogen concentration, or you can use used tea bags for healthy growth.
Make sure to have good air circulation for the herbs.
To Wrap It Up!
Altogether, when your garden space is limited, don't let your passion dry out. You can switch to container gardening and commence with small herbs.
As you make your tiny herbs necessities at home, you can also give your house an aesthetic bloom.
All in all, your container planting also makes it easier to move plants from one place to another.