The singer of the iconic song "Oops!… I Did It Again," Britney Spears has turned towards nature's healing approach to get better, where she indulges herself in the garden for hours.
In one of her Instagram posts, she quotes, "It's funny how nature is surprisingly healing."
So, gardening is definitely helping her overcome her mental issues, which have been in the eye of the media ever since 2008.
Now, let us find out how Britney Spears is keeping up with her luxe garden and what are her favorite plants.
What Does Luxe Garden of Britney Spears Look Like?
Britney Spear, the pop princess who ruled the late 90s and early 2000s, moved into her beloved Thousand Oaks mansion after selling her home in Calabasas.
The $7 million neo-classical Italianate-style mansion sprawling over 13,264 square feet features a spacious green garden.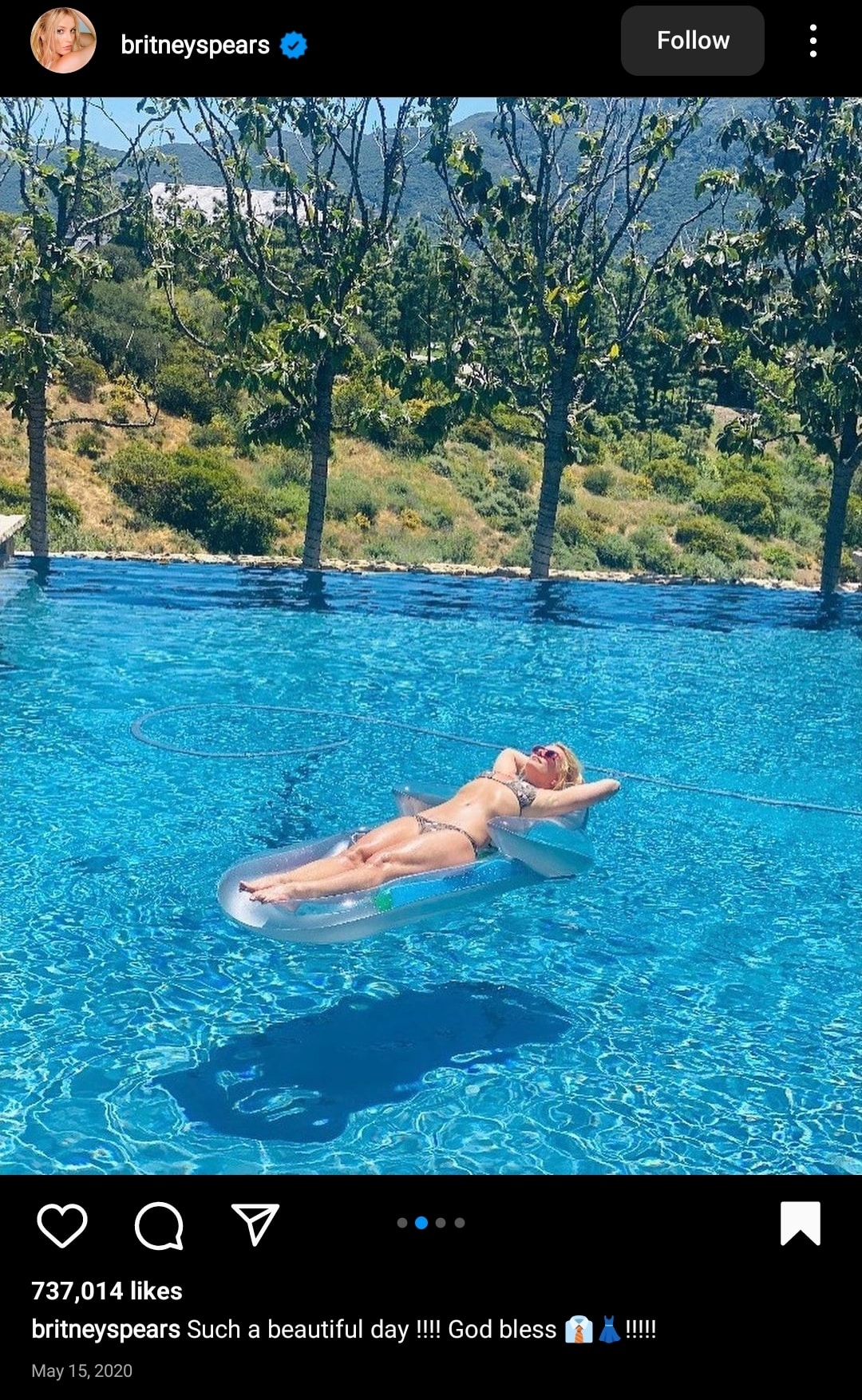 Britney has a water fountain surrounded by boxwood and vibrant petunias at the driveway to the majestic mansion.
Furthermore, two tall almighty rubber fig trees guard the entrance to the mansion.
Did you know Britney Spears has a favorite big ficus tree? She takes picture every year under it and posts them in her socials.
Meanwhile, in one Instagram post, Britney gave us a small tour of her magical garden. In that video, we could see flowering Japanese wisteria and red roses.
She later mentioned in another post that those roses were two years old. Now, they must be at least three years old.
Britney Spears also claims to have an Italian-themed garden that is supposed to be full of fragrant flowers.
Although she did not show us around her exquisite garden, she did say she could smell the fragrance 20 feet away from the garden.
Besides that, her luxury mansion has an orchard and three green golf courses with sand and everything.
Likewise, Britney also has a separate pool house featuring a spectacular infinity pool accompanied by some bushy purple flowering plants.
Overall, the lavish mansion of Britney Spears has a tranquil setting with greenery all around. Some tall trees are cedar, juniper, ficus plants and eucalyptus.
Did you know Britney Spears prefers to do her routine exercise in her tranquil garden?
Plant To Notice Around Britney Spears
Although Spears' musical career may appear dormant now, she is quite active in her socials.
We often see her insta posts where she dances to her heart's content in her majestic living room.
I know her dance alone is encaptivating, but as a fellow green thumb, I was more into the plants in her background.
In almost every dancing video, we can see two Dracaena fragrans plants beside the tall pillars.
Now, not only does Britney Spears showcase her love and passion for gardening in socials, but she also encourages her fans to go green.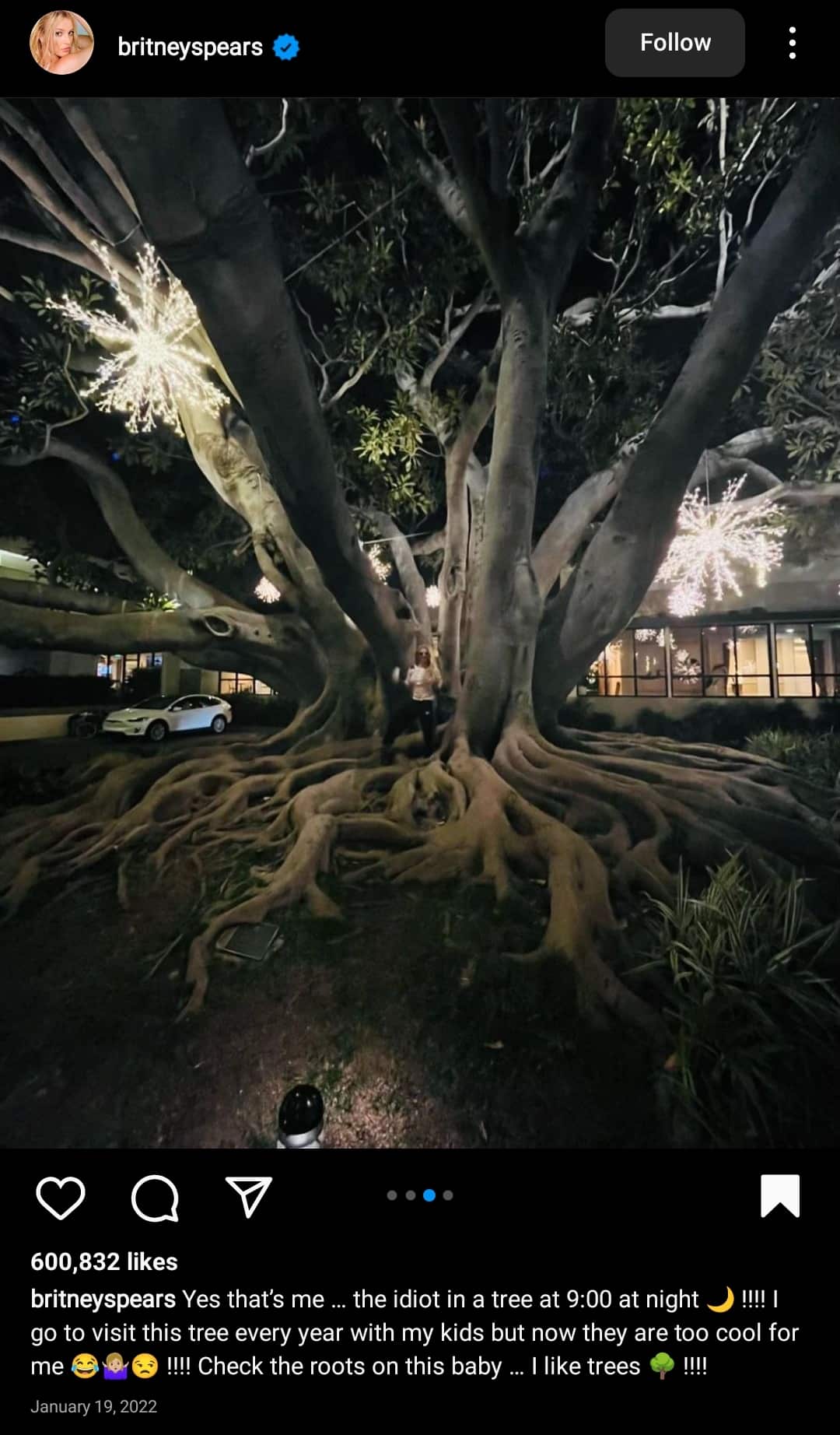 She often promotes her followers' posts about plants, flowers and positive quotes. Interestingly, she never fails to give credit. She truly is a humble princess of pop, innit?
Apart from it, Britney posted a picture along with her Doberman dog Porsha that featured cedar tree, boxwood and juniper plants in her background.
Likewise, various pothos, ferns, fiddle leaf figs, rubber plants, orchids and so on were visible in pictures of her mansions' interior decor.
Create Britney Spears-Inspired Garden
Even if you are not Britney army, you can imagine how many difficulties Britney had due to intense media attention just when she did not need it.
Although mental health issues are terrorizing the world, many still take the topic very lightly.
So, Britney Spears has become an exemplary icon for people across the globe who are dealing with mental health issues.
If you also suffer from mental health issues, opting for gardening might help you overcome them.
Now, without dilly-dallying, let me help you prepare a Britney-inspired, aesthetic, and healthy garden.
Aim for a spacious garden where you can sit and relax with your beloved plants if possible.
Carefully select the plants that will thrive in your locality without much hassle.
Do not hesitate and go wild with different colorful flowers with varying textures.
Although Britney said, "Oops! I did it again," try to avoid repeating the same plant care mistakes.
Try incorporating plants that lower stress and anxiety into your garden or interior decor.
For example, lavenders, jasmine, aloe vera, English ivy, areca palm, etc.
Use fairy lights to make your garden stand out even at night time.
Editor's Note
"I like to work out. I like a routine. I'm kind of simple. I eat almost the same thing every day. I like Caesar salad." – Britney Spears.
Now, if you also want to savor the high-end, exquisite Caesar salad like Britney, start growing lettuce, garlic and lemon in your garden.
All The Best!