Wondering about ways to make the most out of summer-blooming Cosmos? Use it in your salads or food, as Cosmos is edible!
Generally, Cosmos sulphureus is the variety having the most culinary uses. You can use them in your salad or soup or add sparks to your cake and cookies.
Since there are more than 30 varieties of Cosmos, not every variety is suitable to eat.
Are All Cosmos Edible?
Belonging to the Aster family, Cosmos plants are mostly annual with different color blooms from red to pink to white, yellow, and many more, having distinct significance.
Like its cousins Daisy and Sunflower, Cosmos flower joins the clan of the palatable flowering plant with a deep sweet taste.
Generally, all the varieties of Cosmos are non-toxic and possess no poisonous chemicals. However, only a few of them, like Cosmos sulphureus and Cosmos caudataus, make it to being edible.
Meanwhile, despite having yummy names, there is not much proof of the culinary use of other varieties like Chocolate Cosmos, Garden Cosmos, and Candy Cosmos.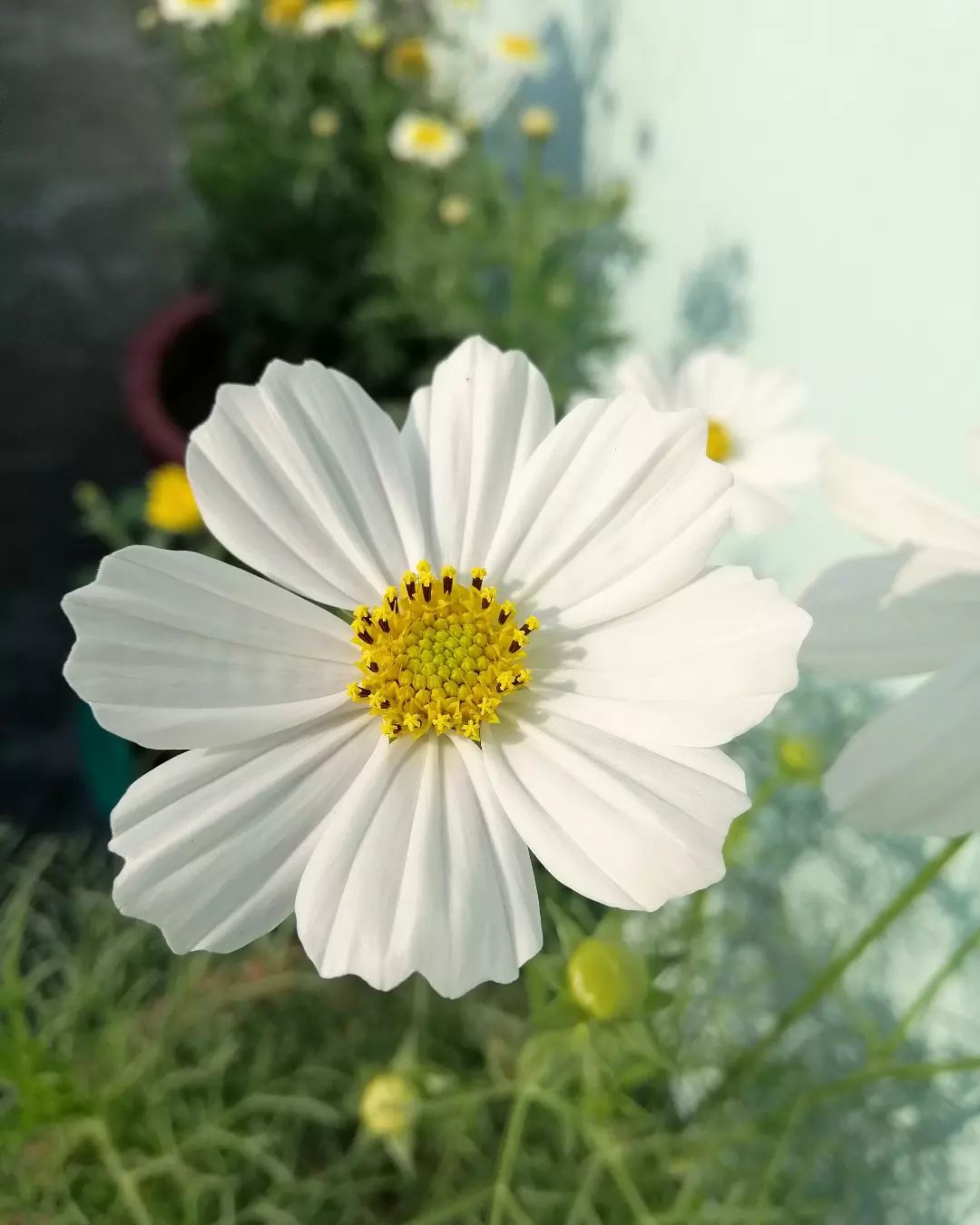 Further, out of all the parts of the Cosmos plant, you can only use the petals to garnish your food.
Have it with your salad or soup. It certainly elevates your dish's visual appeal along with a hint of freshness.
What Are The Medicinal Uses Of Cosmos?
Back in the past, many used Cosmos to prepare an infused oil. These oils were considered to reduce stress and help you relax after a hectic day.
Even now, people from Mexico and Brazil follow natural Cosmos remedies against several illnesses.
According to
research
,
Cosmos caudatus
(Pink Cosmos) is found positive in reducing blood glucose, lowering blood pressure, and has anti-inflammatory and anti-microbial properties.
Likewise, Garden Cosmos (Cosmos bipinnatus) were traditionally used to treat the diseases like jaundice, fever, and spleen enlargement.
Research backs up the traditional use by stating that Cosmos bipinnatus has remarkable antioxidant activity potential to fight against cancerous DNA.
Disclaimer: We do not recommend consuming the Cosmos flower without consulting a professional, especially if you are pregnant or have any pre-existing medication.
How To Eat Cosmos?
The nectar-like taste of Cosmos flower is more suited to sweet dishes than savory ones.
But that should not stop you from exploring more about the perfect combination of Cosmos flowers.
Other than the florist, you may find a bunch of them in a bakery, as the saucer-shaped flower adds perfect drama to a plain cake.
1. Cosmos-Cinnamon Tea
If you are thinking about having a decaffeinated morning, the Cosmos brew could be a great alternative.
Not only is the Cosmos tea healthy, but the preparation is equally easy.
Here is how I make my Cosmos tea every morning.
Begin by cleaning all the Cosmos flower petals you are about to use (preferably Cosmos sulphureus).
Take a pan, add 2 cups of water, and let it boil. Now add half a teaspoon of cinnamon powder to the water, but I like using 2-3 cinnamon sticks for an earthy taste instead.
Drop 7-8 Cosmos petals into the boiling water and allow them to shimmer in low heat for 3-4 minutes.
By then, you'll start noticing the change in the color of the water, and once it turns lemony, that's when you know it's ready.
Pour the tea into a cup and squeeze some fresh lime, which helps with good metabolism.
Drizzle some honey, give it a quick stir, and your morning detox tea is ready to fuel you for a long day.
You can also get creative with the Cosmos tea and transform it into a wobbly jello, just like a Petunia Jelly.
2. Cosmos Salad with Citrus Dressing
Take 2 cups of salad greens and a cup of freshly cleaned Cosmos petals in a large mixing bowl.
Add cucumber slices, small orange segments, and some cheese of your choice. Vegans may skip the cheese and rather use 4-5 sliced almonds.
In a separate bowl, start preparing the orange dressing. Whisk together 2 tbsp of orange juice, 1 tbsp of lemon juice, 1 tbsp of honey, and 2 tbsp of olive oil with some salt and pepper as per your taste.
Now drizzle the citrus dressing over the salad mixture and gently toss it.
Sever the salad in a bowl with fresh mint leaves and roasted croutons for extra crunch.
From Editorial Team
Be Aware of Chemicals!
Ensure that the Cosmos flower you are about to consume is free from pesticides and other harmful chemicals.
Soak the flower in water and baking soda to remove any potential chemicals that may have hazardous effects otherwise.