If you are looking for stunning, attractive flowers and beautiful colorful leaves, Aglaonema plants are the best choice for you.
Aglaonema varieties offer vibrant and colorful foliages that you can notice from miles away.
Aglaonema plants are great for improving air quality, and they have so many other benefits too.
Besides, these plants can easily survive in low light conditions and are easier to take care of, even for beginners.
So, why not get one of these gorgeous plants to beautify your house?
Generally, there are 120 various varieties of Aglaonema plants. And, all of the varieties have their peculiar pattern of different colored foliage such as silver, red, white, and many more.
Imagine how wonderful your house will look after these beautiful flow-bearing plants with colorful leaves.
So, I have listed more than 22 stunning Aglaonema Plant varieties and their features and characteristics.
Furthermore, you will also find some helpful tips to take care of the plant.
22+ Stunning Aglaonema Plant Varieties
Aglaonema also commonly known as Chinese Evergreen are the most popular houseplants all over the globe due to their fantastic looks and easy care requirements.
I have gathered some of the most wonderful common varieties of the Aglaonema plant, along with their features and photos, to help you identify them properly.
Note: Aglaonema Plants are on NASA's list of air-purifying plants which help remove formaldehyde and Benzene toxins from the indoor atmosphere.
1. Aglaonema Red Anjamani 
Are you looking to add beauty to your home but don't want to spend big money on expensive artwork?
Then try placing Aglaonema Red Anjamani as a tabletop centerpiece to change the vibes of the place you put them in.
The stunning houseplant is all kinds of beautiful due to its beautiful bright red foilage with a few deep green borders and spots.
The red leaves of the plant can grow between 10-30 cm long and 5 -10 cm wide.
In addition, the interesting part is the Red Anjamani retains its vibrant hue all year long.
The Aglaonema 'Red Anjamani' thrives in low light; however, the red leaves may acquire more green patterns.
So, get ready to witness your room glowing when the plant completely transforms the ambiance of your space with its striking looks.
Note: Most of the Anglonema Plant varieties with pink and red leaves grow in subtropical and tropical rainforests of Asia.
2. Aglaoneman White Calcite 
White Calcite aglaonema, often known as Chinese evergreen, has lance-like dark Green leaves with dazzling White spots.
They are slow-growing, ornamental houseplants with decent white variegation on the foliages.
Besides, the plant is easy and simple to grow in organically rich and moist soil.
Similar to other indoor succulents, Aglaonema White Calcite will need a bit more extra love and care to keep the gorgeous plant healthy and well developed.
3. Aglaonema Tigress 
Aglaonema Tigress can grow as high as 1 to 2 feet and is one of the easiest succulents to grow.
It has lance-shaped, long leaves which form a beautiful dense indoor plant.
As the name suggests, they have an interesting dark stripe on the leaves, making a great office plant.
When the plant matures, it can grow between 1-2 feet tall in size.
Also, if you have very little natural light in your room, this is the plant best suited to grow in low light conditions.
Other than this, they have olive-green leaves, which are more attractive than other plant leaves.
It also prefers to grow in artificial lighting conditions through fluorescent lights.
Such a beautiful patterned leaf variety of the Tigress variety makes this plant special that anyone would want to buy the plant at first glance.
4. Aglaonema Pictum
 Tricolour ( Camouflage Plant)
Pictum Tricolour variety of the Algaonema is the most liked variety of the plant mainly due to its unusual three different color combination, making it stand out.
It is also called a 'Camouflage Plant,' 'which can grow as high as up to 2 feet and originated from subtropical and tropical regions of Asia.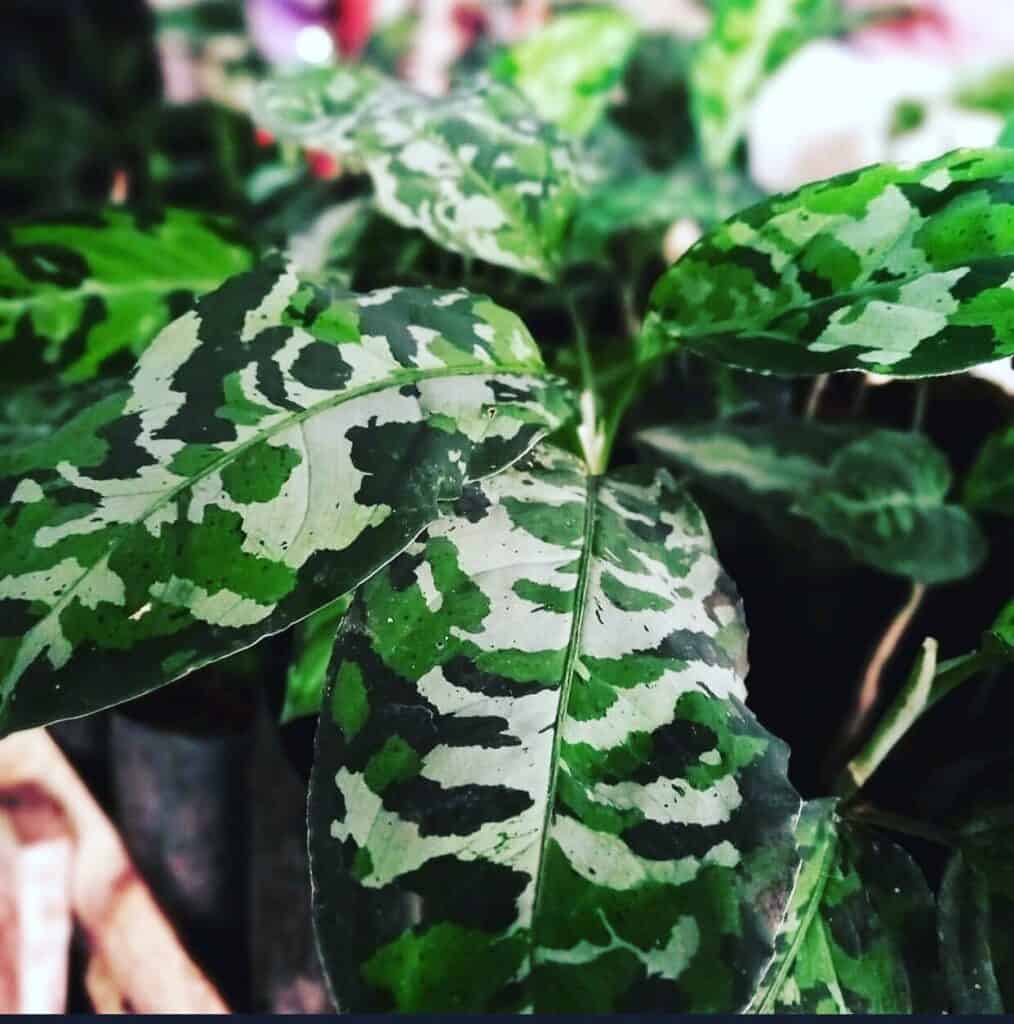 The unique leaves of Pictum Tricolour include a unique combination of three shades of green – medium, dark, and light. 
The plant can endure less humidity than other Anglonema varieties that adore growing in more than 50% humidity.
Moreover, the oval shapes' alignment will make you remember Camouflage.
So, the plant will surely make a spectacular addition to your personal space.
However, if you want the plant's leaves to maintain similar striking colors, you need to take good care of them.
Furthermore, the plant needs to be kept in indirect bright sunlight near the windows or balcony.
Also, keep in mind that this variety of plants is very rare to find on the market.
And, if you find it by any chance, the plant is very expensive to buy because of its stunning appearance.
Note: In some markets around the world, the price of spectacular Pictum Tricolor plant is as high as 200$.
5. Aglaonema Chocolate
Whenever we hear the word Chocolate, our mind becomes irresistible and makes us want to get them.
The taste and its color are what we are fond of the most.
Therefore, Aglaonema Chocolate will frequently remind you of its amazing color that resembles chocolate.
The chocolate-colored leaves of the plant are 4 inches to 6 inches long and 2 to 4 inches wide.
Due to its dark chocolaty green foilage, the plant can easily thrive in lower lighting situations.
Moreover, the chocolate look-alike plant can reach a height of 0.5 to 1 m.
Unfortunately, this variety of plants is not available worldwide and is hard to find.
As a result, the plant is very expensive to buy compared to other varieties of Aglaonema.
6. Aglaonema Silver Bay
The unique color combination of light green, dark green, and silver makes its beautiful variegated leaves.
So, I'm am sure it is pretty hard not to fall in love with such beauty of Chinese evergreen variety.
Apart from its unique color, the foliages are oval-shaped and glossy, growing as high as 8 to 12 inches under favorable conditions.
Therefore, always be sure to give your time to take care of the Silver Bay plant.
This variety of Aglaonems is different from other plants since it is a fast-growing plant; it can grow as tall as 4 feet.
Besides, the plant is also useful in making permanent press fabrics wrinkle-resistant and hold their shape resisting external stress.
This variety of plants is very delicate to cold temperatures and will stop growing if the temperature drops below 50 degrees Fahrenheit.
7. Aglaonema Prestige
Aglaonema Prestige is a gorgeous-looking indoor houseplant that blooms and produces flowers during summer.
The flowers are green and white-colored, which grow over pink-colored stems of the plant.
The plant comes with waxy, large, gorgeous foliages splattered in red, pink, green, and cream hues.
Also, the' Prestige' variety of aglaonema plants is well adapted to grow even in low light conditions.
It can tolerate medium humidity but cannot tolerate extremely cold temperatures. So, it is better to keep the plant in warm places during winter.
The plant can also be used as decor to boost color and decorate your working space.
8. Aglaonema Creta
The variegated foliage of Aglaonema Crete is exceptional.
On top of delicate pale pink stems, the leaves are a luscious green with burgundy crimson splashes and borders.
A charming, petite Chinese evergreen that will liven up your environment.
The plant can grow up to 4 feet tall and rarely blooms during its growing season.
Moreover, the plant also features bright pink and pale cream spots coming down from the center and framing the border of each foliage.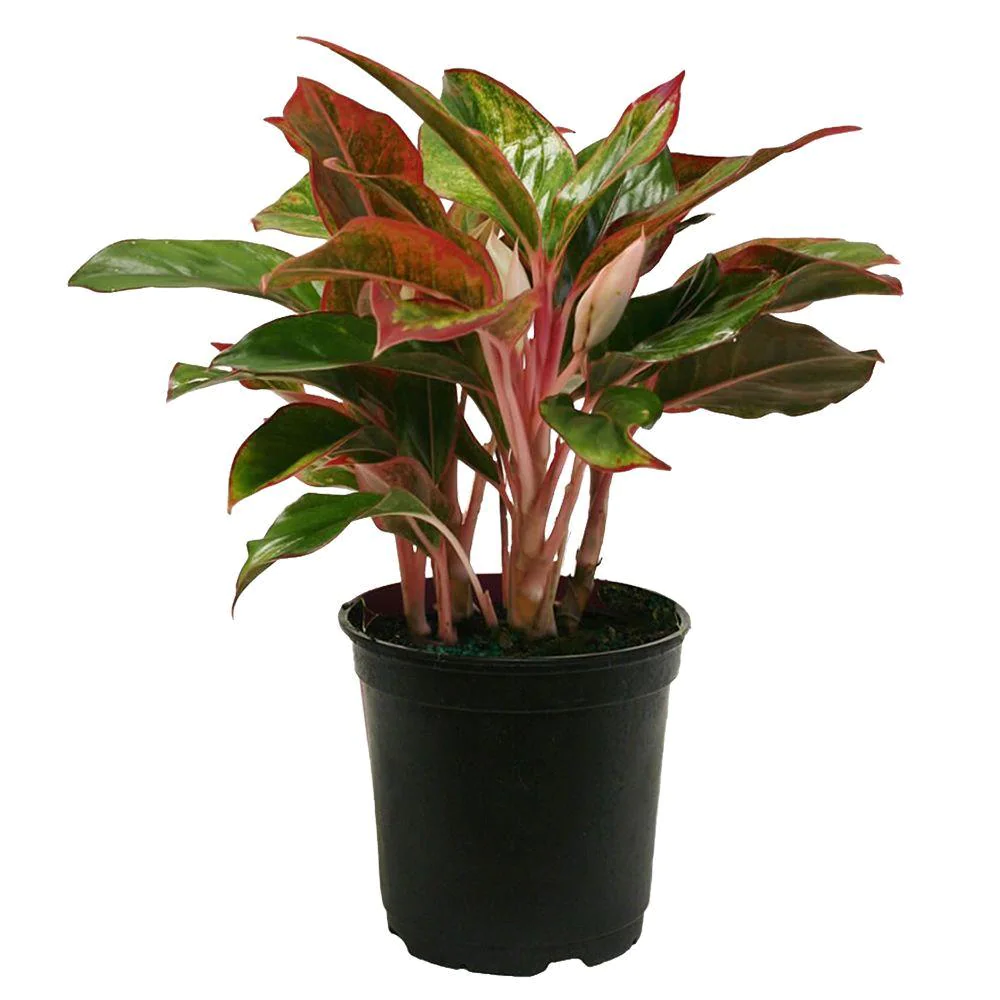 It is best to place the Aglaonema plant near the east-facing windows with indirect sunlight.
Apart from this, if you want to add a different burst of color to your garden, you can place the beauty beside other green plants.
9. Aglaonema Silver Queen
The leaves of the Silver Queen are made from two color combinations, i.e., silver and green.
Such an amazing and classy look of the plant fits the name, Queen.
Also, the plant goes by another name 'Painter Drop Tounge".
The plant branches are familiar with the free branching concept and can grow up to 24 inches tall.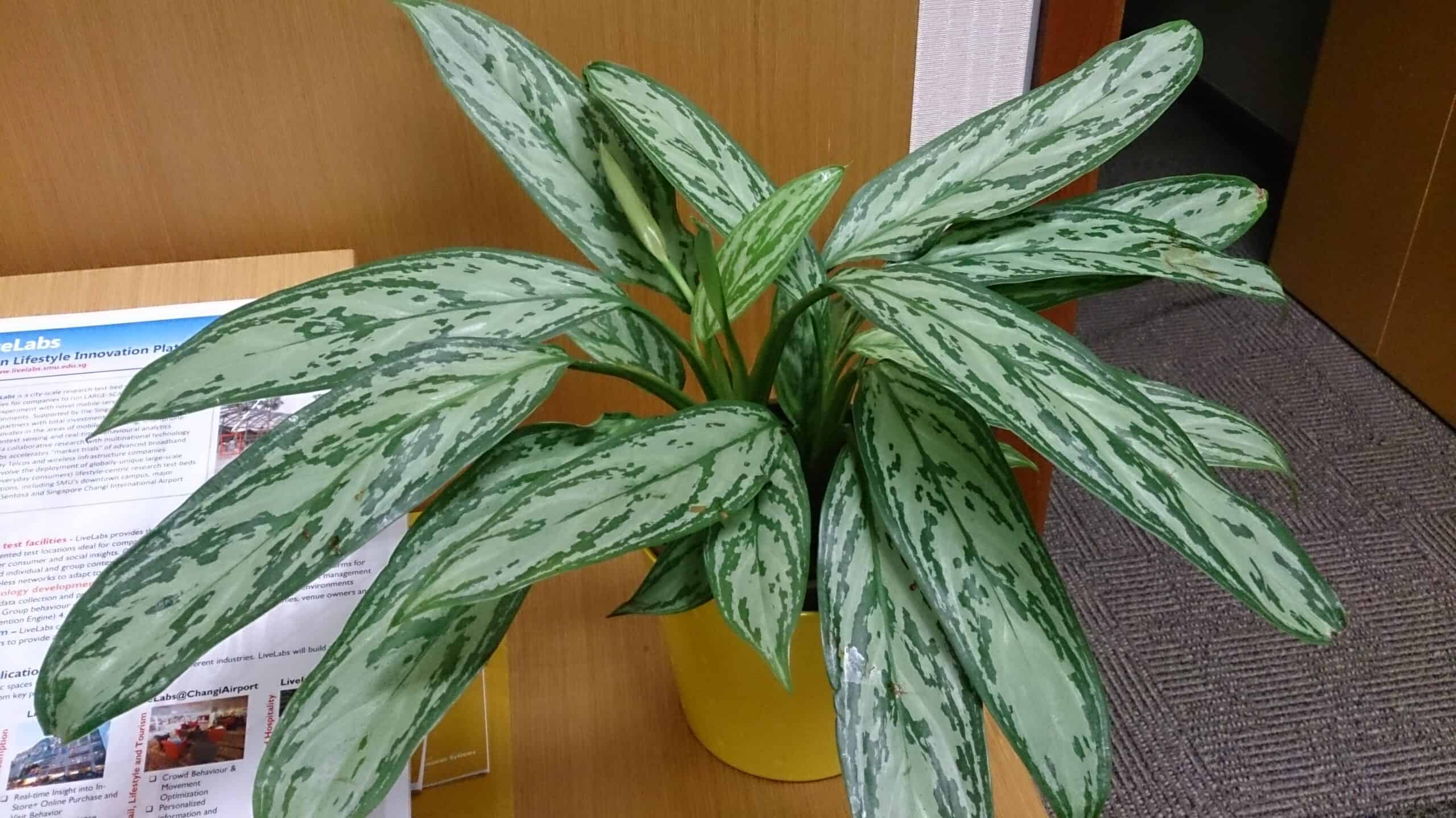 Furthermore, the plant can grow up to 55 to 65 centimeters tall during favorable conditions.
So, Silver Queen is the best choice if you want to get superior and tropical vibes to your indoor space.
Also, if you are looking for a heavy foliage Aglaonema plant for your indoor home, this plant is a must-have to add beauty to your home.
10. Aglaonema Commutatum Red Valentine
Have you ever seen a plant, stunning that its looks can kill you at your first glance?
Well, if you haven't, then you definitely should watch out for Aglaonema Red Valentine with romantic red foliages.
The Red Valentine has enticing leaves with rose-pink tones and dark green spots.
The petiole, midrib, and margin are all dark green.
In addition, the beautiful plant has pink leaves at its young.
The plant can also grow in less humid conditions but needs bright indirect sunlight to maintain its charm.
Also, the plant is originated from the rainforests of Southeast Asia.
However, as time passes and the plants become more mature, the color of the leaves turns red.
It is cool that Red Valentine foliages have two different colored leaves throughout their lifetime.
Besides, if the conditions are favorable, the plant can live for many years adding beauty to your place. 
Check our article to know more about Care for Red Aglaonema.
11. Aglaonema Commutatum Pink Valentine
Pink Valentine is yet another variety of adorable-looking plants which will add beauty to your collection.
This plant is also commonly known as 'Pink Dalmatian' in many parts.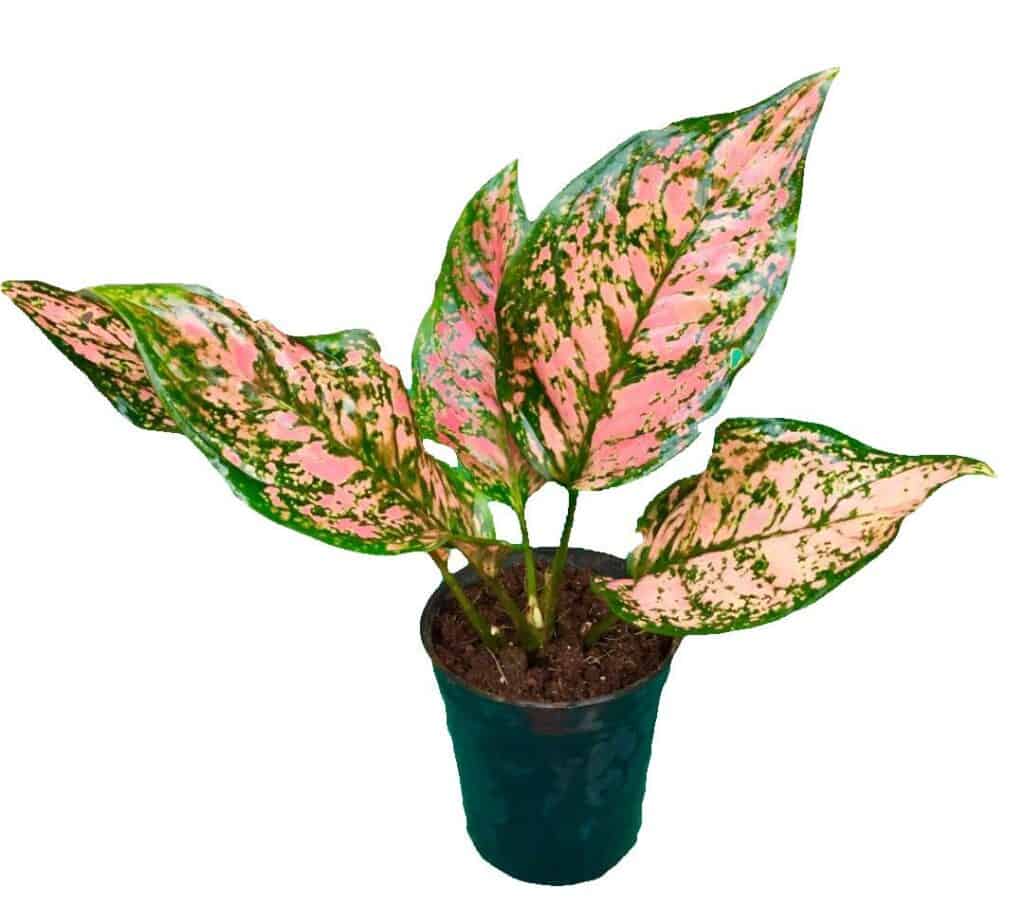 The plant has shiny and leathery leaves with beautiful-looking shades of green along with a splattering of pink spots.
However, due to the pink spots present in the leaves, the plant has earned the name 'Pink valentine.'
Also, the plant is as charming and beautiful as the beloved 'Red Valentine.'
The plant may also bloom white-colored flowers over time which are uncommon as indoor houseplants.
Moreover, the plant has an h1b rating for RHS(Royal Horticulture Society) hardiness.
The perfectly aligned pink and green color on the oval-shaped leaves of Pink Valentine is truly fascinating to our eyes.
12. Aglaonema First Diamond
Aglaonema first diamond heavily variegated white and colorful green foliage reminds you often about how lucky you are to have such an amazing-looking plant.
The foliage grows at the top of short stems, growing as high as 6-8 inches if all favorable requirements are met for overall growth and development.
However, despite its gorgeous looks, the plant is not in demand as compared to other varieties of colorful-looking Aglaonema plants.
Generally, you don't have to water the plant as often as other indoor succulents, and the plant can tolerate medium, low lighting conditions.
13. Aglaonema Sparkling Sarah
'Sparkling Sarah' variety of Aglaonema is a truly remarkable herb with sparkling evergreen leaves.
In addition, the plant features large, narrow oval leaves which are pink and cream-colored.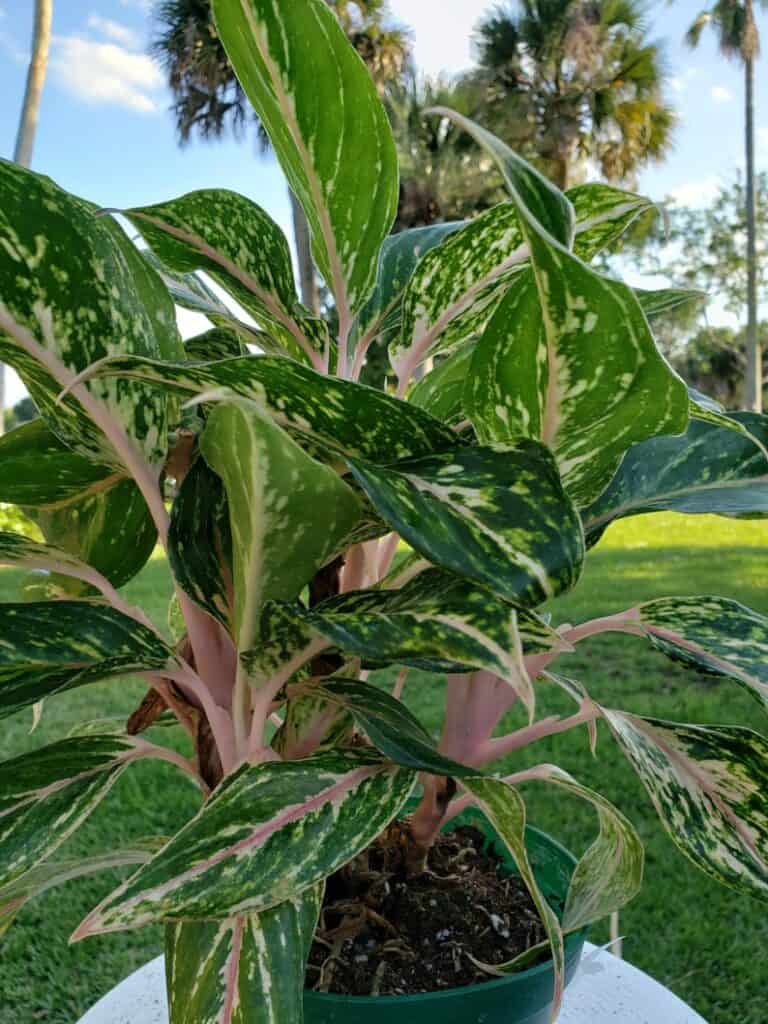 Besides, this colorful foliage has dark green color along its border with pink veins flowing down the center and cream white small spots in the middle.
The plant's stems are short bright pink colored, adding even more beauty to the whole plant.
Furthermore, the plant booms during early or late summer and bears cream or green flowers.
In addition, the plant consists of wonderful contrast colored leaf patterns which are bold and vibrant.
14. Aglaonema Cutlass
Chinese Evergreen Cutlass has been used as an interior design plant since the early 1970s.
It can tolerate low light and cold conditions than other Aglaonema varieties.
The plant has long flesh and green stems with glossy dark green and sliver green-colored leaves.
Besides, the plant has short stems on which the foliage grows and are clustered.
As a result, it gives the plant a bushy and full appearance.
Since the plant is not frosted resistant, placing the plant away from cold air drafts is better.
Also, the Aglaonema Cutlass plant can reach up to a height of 75 cm if you keep them at an ideal room temperature of between 70-85 degrees Fahrenheit.
In addition, the slow-growing plant can also grow easily in less humid locations without any difficulties.
15. Aglaonema Maria
Beautiful, easy to grow, Aglaonema Maria is on everyone's list of best indoor succulents to buy ASAP.
Besides the plant is yet another stunning Aglaonema plant variety with long-shaped foliage, one of the common indoor and office plants.
The plant features cream-ish or pale-green central markings along with dark green leaves.
However, the plant is not brightly colored compared with other Anglonema plant varieties present there.
In addition, the perennial plant with evergreen leaves can grow up to 50 cm high.
But, the fun fact is Maria can easily handle lower lighting conditions and low humidity.
Also, keep the plant away from direct sunlight to avoid sunburn to its leaves.
Apart from this, the plant is very easy to take care of because of its slow-growing nature, and you can use a slow-release formula-based fertilizer to fertilize the plant.
16. Aglaonema Siam Aurora
The beautiful Siam Aurora is one of the common Red varieties of the Aglaonema plant.
The plant has fleshy long pink stems supporting its colorfully marbled leaves.
The plant has red and green colored pointed leaves and bright red tones, which look beautiful as a whole.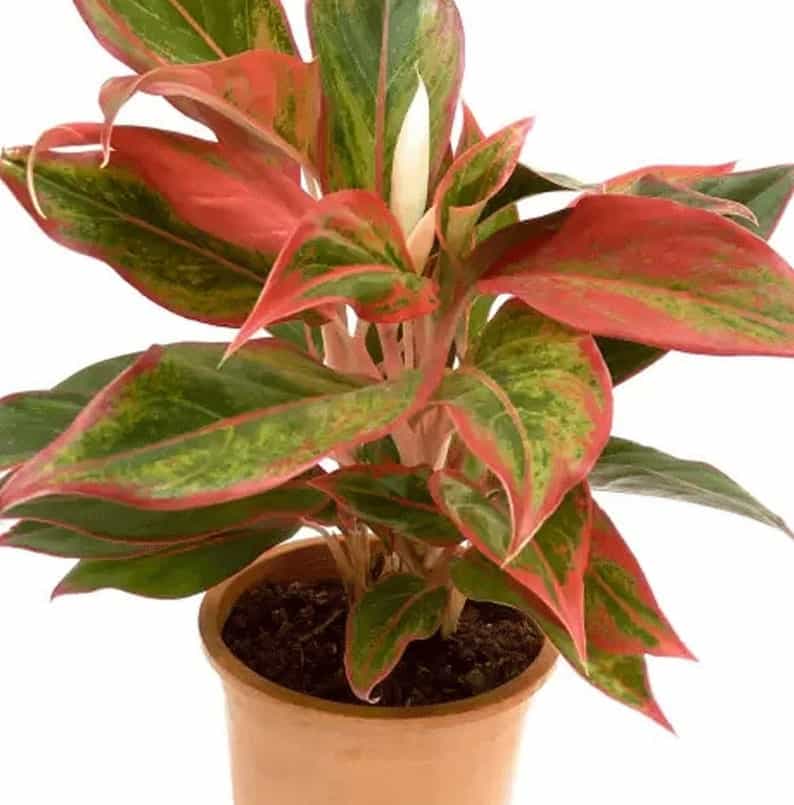 The plant is commonly sold as a tabletop plant, but you can also use the plant as a floor plant when the plant matures and becomes top-heavy.
When grown indoors, the evergreen plant can reach a maximum height of 3 ft and maximum width of 3 ft, respectively.
And the plant also grows outdoors in USDA zones 10 and 11, which have more favorable temperature conditions for the plant to grow and develop.
17. Aglaonema Snow White
How reluctant are you to persuade the the think you love the most?
Because the moment you take your eyes on 'Snow White,' you won't be able to take your eyes off.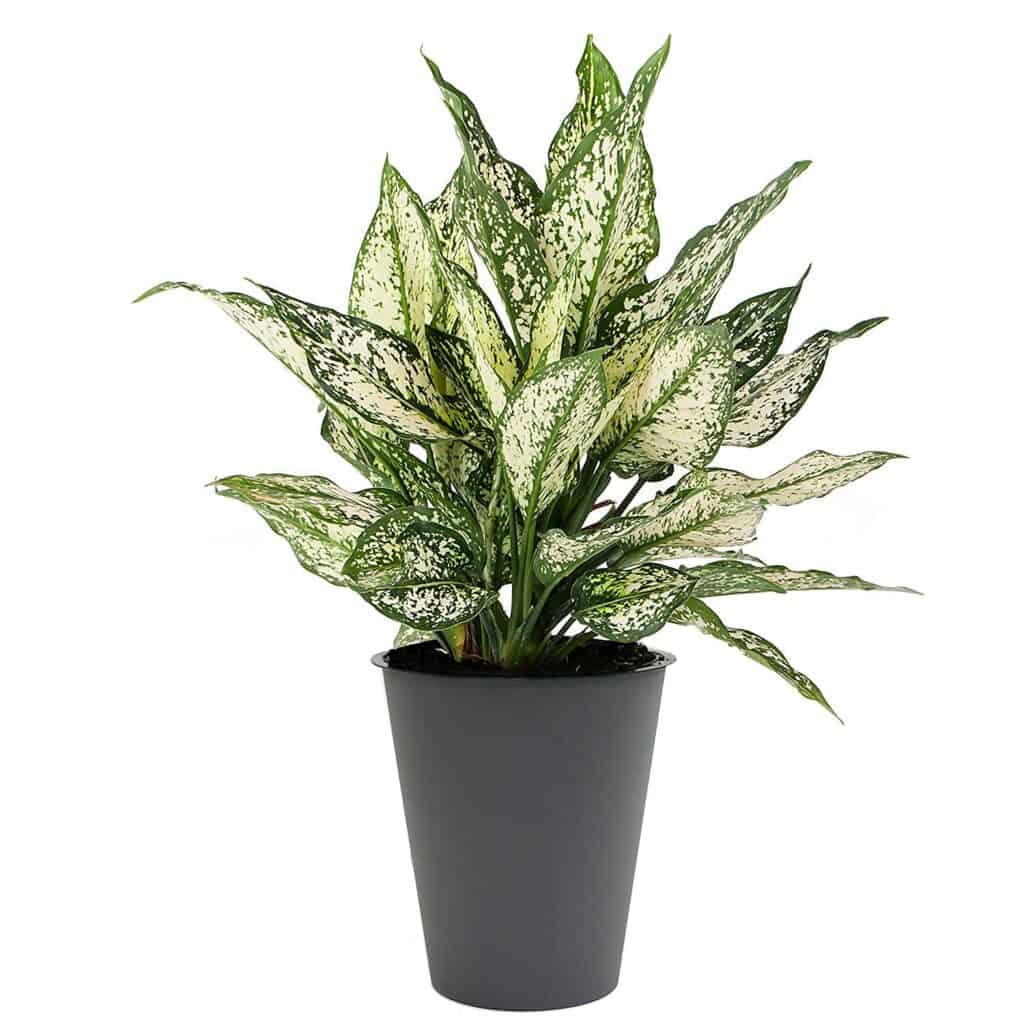 So if you think you have seen it all, you will feel as if you haven't after you see the pure snowy white colored leaves of the Aglaonema plant.
The height of the snowy foliage plant can vary from 0.8 ft to 1.3 ft.
Also, the plant can grow well even when it has a shortage of the green pigment on the leaves required for chlorophyll.
As a result, this variety of Aglaonema requires more bright and indirect light than other varieties to retain the white color on the leaves.
So, if the plant does not get enough bright light, its foliage will fade away and deteriorate.
I think the gorgeous shining white leaves of the plant are worth caring for.
18. Aglaonema White Rain
The Plant Aglaonema White Rain is an interior decorative plant less commonly used than other varieties.
Yet the plant is unique, and the leaves and stems are creamy-white and attractive.
It's like the color from the leaves has been spilled all over the stems.
Also, the plant grows well in moist and well-draining soil and moderate lighting conditions.
It feels as if the white-colored rain drops had fallen onto the leaves and dried due to extreme heat providing its green leaves with splashed rain of creamy white color. 
19. Aglaonema Bidadari
The 'Bidadari' plant variety of Aglaonems makes an excellent home decor with its extraordinary color combination.
The plant's foliage is very large and oval-shaped, with spots of green, pink, and cream colors.
However, the plant's stem itself is slim and slender to look at.
And the stem is mainly responsible for holding the leaves at the top and helping them grow densely.
Apart from all the colors on the leaves, pink color is the most attractive and suits the foilage whichever corner you decide to place the plant at.
Also, the Chinese evergreen Bidadari plant can grow approximately up to 25-30 cm high when planted indoors in pots.
Furthermore, it requires very little effort and attention to grow the plant.
20. Aglaonema Modestum
The 'Modestum' plant is also one of the most popular plants when it comes to indoor succulents.
The plant's leaves are very large and waxy, with shiny deep green leaves than other foliage varieties.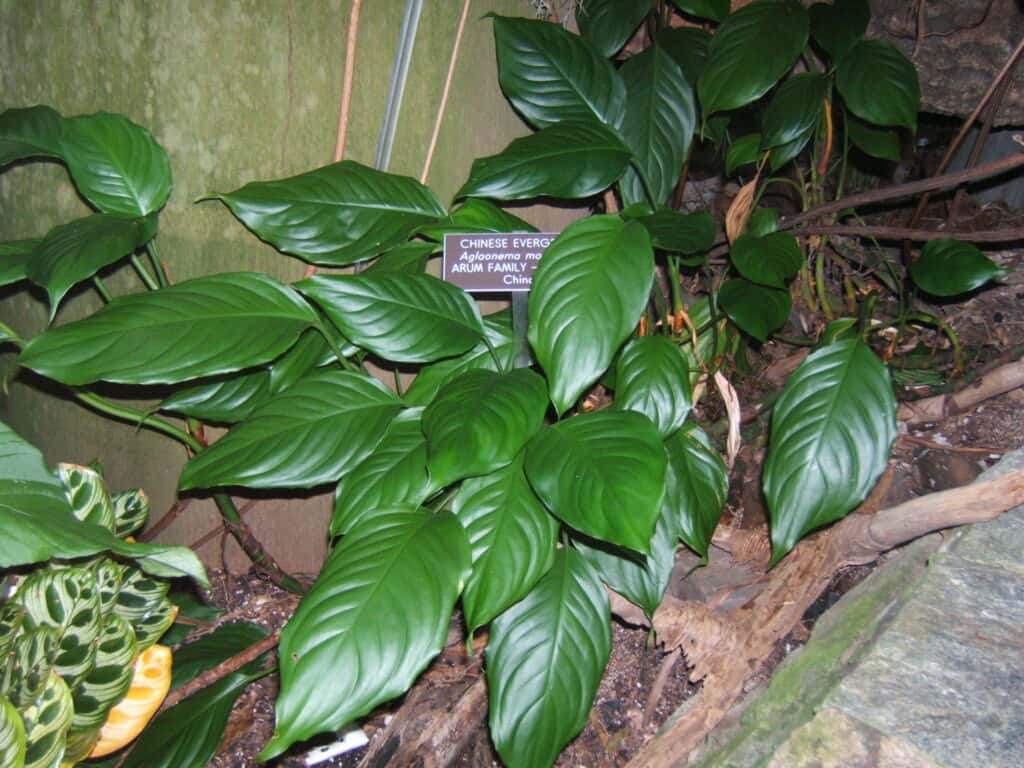 However, the plant also comes with plain green leaves in non-variegated form.
The plant has thick dark green stems and large leaves which can grow up to 10 inches long and 4 inches wide.
Furthermore, the plant can grow up to the height of 30-90 cm and width of 60-120 cm and can produce white flowers occasionally.
21. Aglaonema Diamond Bay
The Aglaonema Diamond Bay plant has long, lance-shaped foliage, which has dark green color along the edges of the leaves and silver-white color at its center.
The plant can reach a size of 40 to 80 meters when grown indoors within suitable temperatures and humidity.
So, if you have a lot of collections of pink and red Aglaonema varieties, now it's time to a relatively new plant with a unique color combination.
Diamond Bay is a newly introduced variety of Aglaonema plants, So, most people are unknown about the plant.
Furthermore, make sure that the plant's soil is moist but not too wet, encouraging root rot.
22. Aglaonema Green Papaya
From the living room to your office desk, anywhere you may put the 'Green Papaya' variety of Aglaonema plant.
The Green Papaya has a striking pink streak running through the heart of each leaf, making it a one-of-a-kind Aglaonema.
Because the green is so dark, the pink stands out more, making it the star of your plant gang.
These tropical evergreen houseplants are very popular in Chinese culture and are native to shady forests of New Guinea and Asia.
The plant features short creamy white stems on which young leaves sprout develop into large-shaped foliage.
Also, the plant will grow in bright and dim light but prefers bright lighting conditions for proper development and growth of roots and foliages.
23. Aglaonema Pink Moon 
The plant features oval-shaped dark green leaves, separated by pink lines along the center of the foliages.
Also, to add more beauty to the leaves, they have pink moon-like specs.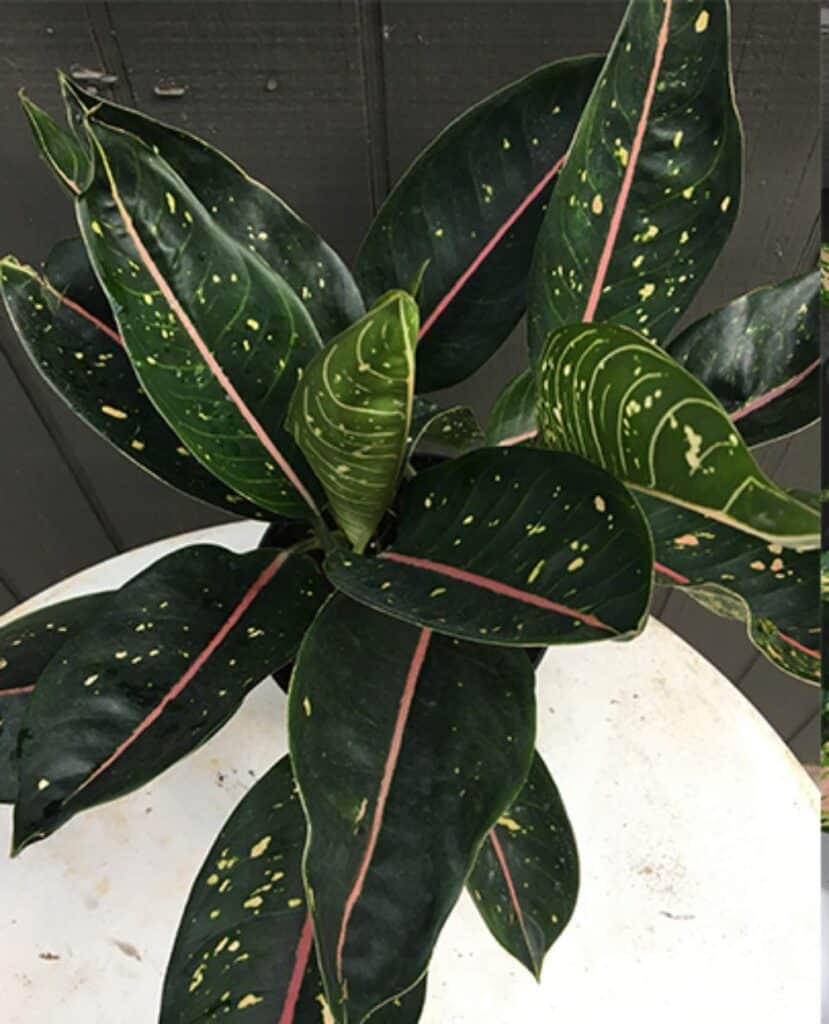 Furthermore, those leaves grow on short stems and thrive even in low-light places. 
Also, the Chinese Evergreen Pink Moon variety of Aglaonema plants can grow from 1 to 2.5 feet tall.
Apart from this, 'Pink Moon' is one of the rare varieties of the Aglaonema plant and requires very little feeding to grow and develop.
24. Aglaonema Super White
If you think 'Snow white' had the most whities foliages, then wait until you see the 'Super White' variety of Aglaonema plants.
Such pure whiteness which anyone would be able to notice from miles away, even in the dark.
Apart from the green veins, the whole leaf is white, adding superb decor to indoor spaces.
Similar to 'Snow White,' the plant also needs to be kept in bright light to retain the color of its whitish leaves.
Moreover, the plant grows as high as 24 inches and is very hard to come by.
Aglaonema Silver Queen is one of the most popular plants among several varieties of Aglaonema Plant.
To know more about varieties of Aglaonema plant, watch the video
Some More Aglaonema Varieties
Aglaonema Varieties
Growth Sizes
Features
Aglaonema Burmese Evergreen
Height: 1 feet
Spread: 2 feet
Lance-shaped ,small greenish-white callas followed by yellow to red berries with dark green with white splotches color.
Aglaonema Red Peacock
Height: 0.75 feet
Spread: 0.67 feet
Lance-shaped, green leaves designed with pink veins and streak with Greenish-white spathe color.
Aglaonema Emerald Bay
Height: 0.42 feet
Spread: 1.08 feet
Lance shaped, dark green edges with a silver-gray center with yellow-green color.
Aglaonema Harlequin
Height: 1 feet
Spread: 2 feet
Heart-shaped ,deeper green mottled with yellow and veined with pink color.
Aglaonema Silver King
Height: 3 feet
Spread: 3 feet
Lance-shaped, dark green leaves with silver beaming from the prime vein with showy green variegation color.
Aglaonema Maria Christmas
Height: 2 feet
Spread: 2 feet
Lance-shape, slightly smaller and dense foliage growth with deep green color.
Aglaonema Anyanmanee
Height: 1.5 feet
Spread: 1 feet
Lance-shaped, glossy crime-green dot on leaves with red edges with dusty pink and green variegated leaves color.
Aglaonema Georgi's Ruby
Height: 3 feet
Spread: 1.5 feet
Spade-shaped, green leaves variegated with red and chartreuse with pink and red color.
Aglaonema BJ Freeman
Height: 4 feet
Spread: 3 feet
Lance shape, silvery leaves splashed with rich deep green on the edge and center with Greenish-white spathe color.
Common Tips to Take Care of Aglaonema
Like many other succulents, Aglaonema needs tender care to continue its growth and development for generations.
Therefore, always be aware of the nature, enemies, and features of the plant to take good care of them indoors and outdoors.
Place the Aglaonema plant in bright, filtered light near windows to ensure better foilage growth of the plant. However, the plant can also tolerate low light to some extent.

The ideal temperature to grow the Alganomea plant is between 70 to 85 degrees Fahrenheit.

Also, keep in mind that the plant is not frosted resistant, and a significant drop in temperature may cause significant damage to the plant.

You need to water the plant at least once a week for its proper growth and development. However, always check the soil if it's dry or not before watering. 

A peat-based potting soil with additional perlite is preferred, however a bark-based orchid mix can also be used for Aglaonema.

The plant prefers slightly acidic soil with a p

H

value of 5.6 to 6.5. 

Repot the Aglaonema once every two years to achieve maximum development. Also, while repotting, use the pots made of Terracotta for maximum benefit.

Since the Aglaonema plant adores high humidity,

which should be more than 50%,

it is better to use a humidifier if the air is too dry.

Fertilize the plant during its growing seasons, i.e., during spring and summer, to accelerate the growth. NPK fertilizer in the ratio of 3:1:2 is best suited for Aglaonema.

It is a slow-growing plant, prune it at least once every six months to encourage foliage growth.

Pests and insects like mealybugs, spider mites, aphids, scales, nematodes are likely to attack the plant. Therefore keep an eye on the plant and use strong jets of water to get rid of the pests. 
Note: If the pests and insects are in high numbers, you should spray the plants with non-toxic insecticides and pesticides to avoid major damage.
To find out more about taking care of Aglaonema Plants, watch the video
To know more about Aglaonema care, read  How often to water Chinese Evergreen
Toxicity Of Anglonema Plant Varieties
Aglaonema Plant varieties are amazing and stunning looking due to their colorful leaves. But don't go after their looks since the plant is highly toxic to humans and pets.
The presence of Calcium Oxalate Crystals in the plant can cause rashes, irritation, and allergies in humans if you touch the sap or juice of the plant.
Similarly, if pets consume the plant, they develop symptoms like vomiting, burning, irritation, foaming, etc.
So, keep the Anglonema plants away from the reach of children and pets.
Conclusion
Aglaonema is a popular succulent that provides you with various attractive options.
Whether you want a miniature plant or colorful foliage, Aglaonema is one of the perfect choices you can find on the market.
In addition, these houseplants add aesthetic value and attractive decor to your place with the bare minimum effort.
Furthermore, they are economical to maintain and easy to care for.
However, you must be careful not to overwater or underwater them and keep them from harmful pests and insects.
If you are confident you can do this, bring these vibrant succulents home and add beauty to your place.
Continue Reading: Are the leaves of my Aglaonema turning Yellow?