October 10, 2022, was the day I took off to the birthplace of Buddha and homeland of the top 7 highest mountains in the world.
Aloha! Nepal.
I was overwhelmed by the news feeds thrown on my device, which became irresistible after my uncle returned from India and Nepal.
And my main motive for travel is to freshen up and relish the beautiful sights of Southern Asia.
So I started my trip from the Houston Airport and arrived at Tribhuvan International Airport (TIA) within 17 hours.
I never thought the journey was so tiresome, which made me experience jet lag. Hurriedly, I booked a taxi and became a paying guest (PG) at Reesav's house in Kathmandu.
You might wonder why I stayed in a PG, mightn't you? It was solely for sightseeing and being familiar with Nepalese people's culture.
The landlord and his family were amiable, and the rooms were cozy and comfortable but far from the airport. But it was worth it.
There, I rejoiced at various houseplants, including Pothos, Snake Plant, and Jade Plant, and the most stunning was the Marigold.
Dinnertime break…
After noshing some Nepali cuisines (I only remember Dal Bhat), I went to bed without any trips to places since it was already late.
2nd Day…
As soon as the glassware on the window glimmered with sunlight, I hastened to waive off Reesav and find InDriver to reach the bus park.
Fortunately, I got on time to leave for Hetauda. I had already bought a bus ticket online, which cost me Rs. 650, equal to around $5.
While waiting for the bus driver to steer, I found other foreign friends discussing the mountain trek. I guessed that they might be preparing for the Annapurna base camp.
But my destination was the plain regions, where I learned why people called them "Golden Basket of Food" and observed different houseplants.
Here begins my journey…
The Plants I Encountered
As soon as we left the busy roads of Kathmandu, the real Nepal had been floating around, people carrying big baskets on their backs strapped on their heads and the beautiful lilies waiving the strollers.
After about three to four hours of travel, the van stopped at Hetauda for lunch.
I had rushed earlier from PG, so I gobbled the entire plate of Dal Bhat in less than five minutes. I was happy they refilled the plate with rice to make me full.
After the heavy meal, my eyes spotted a familiar plant near the roadside, and it was Hibiscus.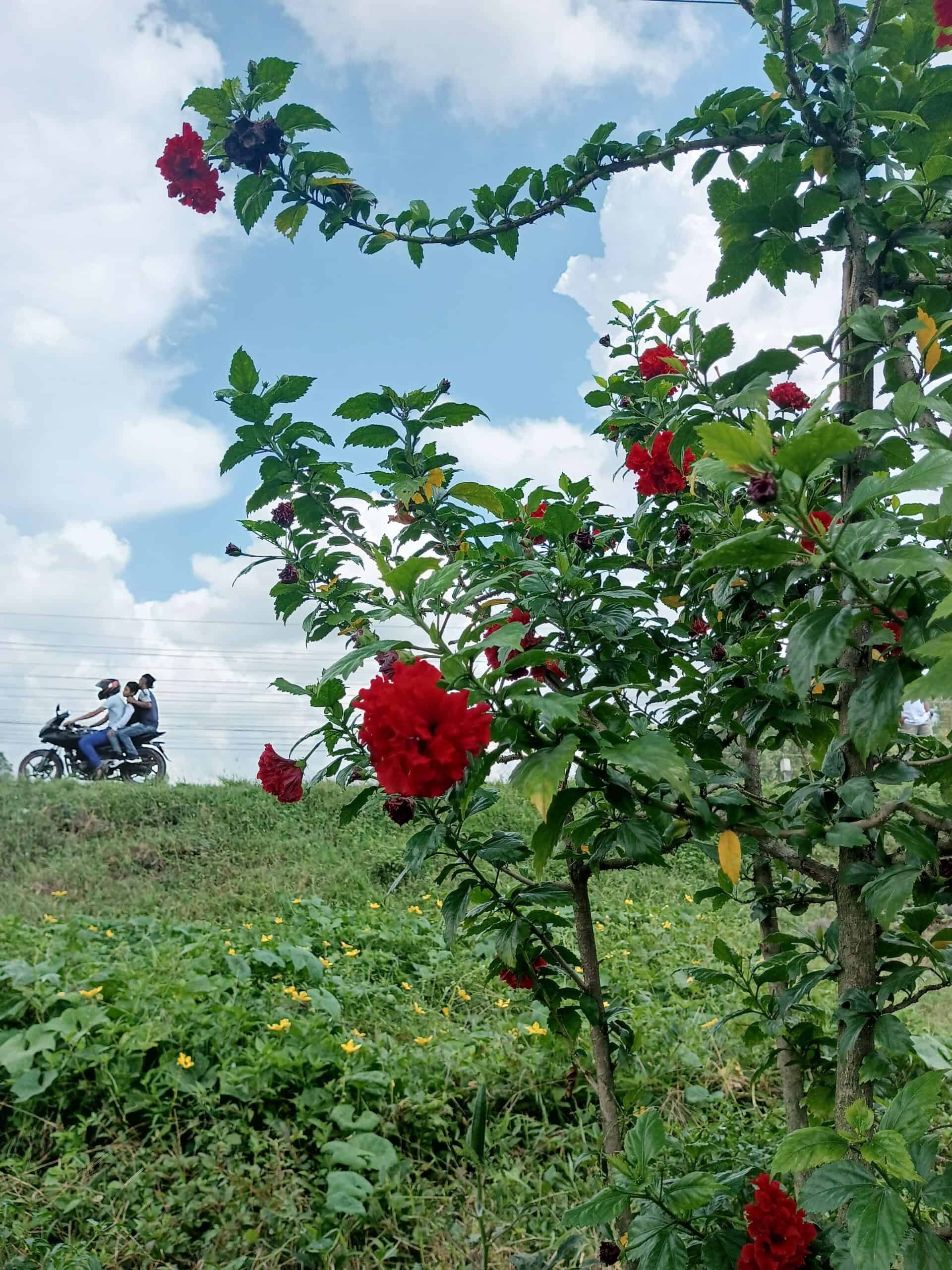 You can easily find Hibiscus in the hotter USDA zone, and October is their last growing month, the same for Nepal's climatic zone.
And my plant parent instinct oozed with joy.
A few steps ahead of the Hibiscus plant, I saw a bush that seemed familiar to me.
At first glance, the bush appeared to me as an Iris, but later the white flower near the walls cleared my confusion. It turned out to be a Daylily.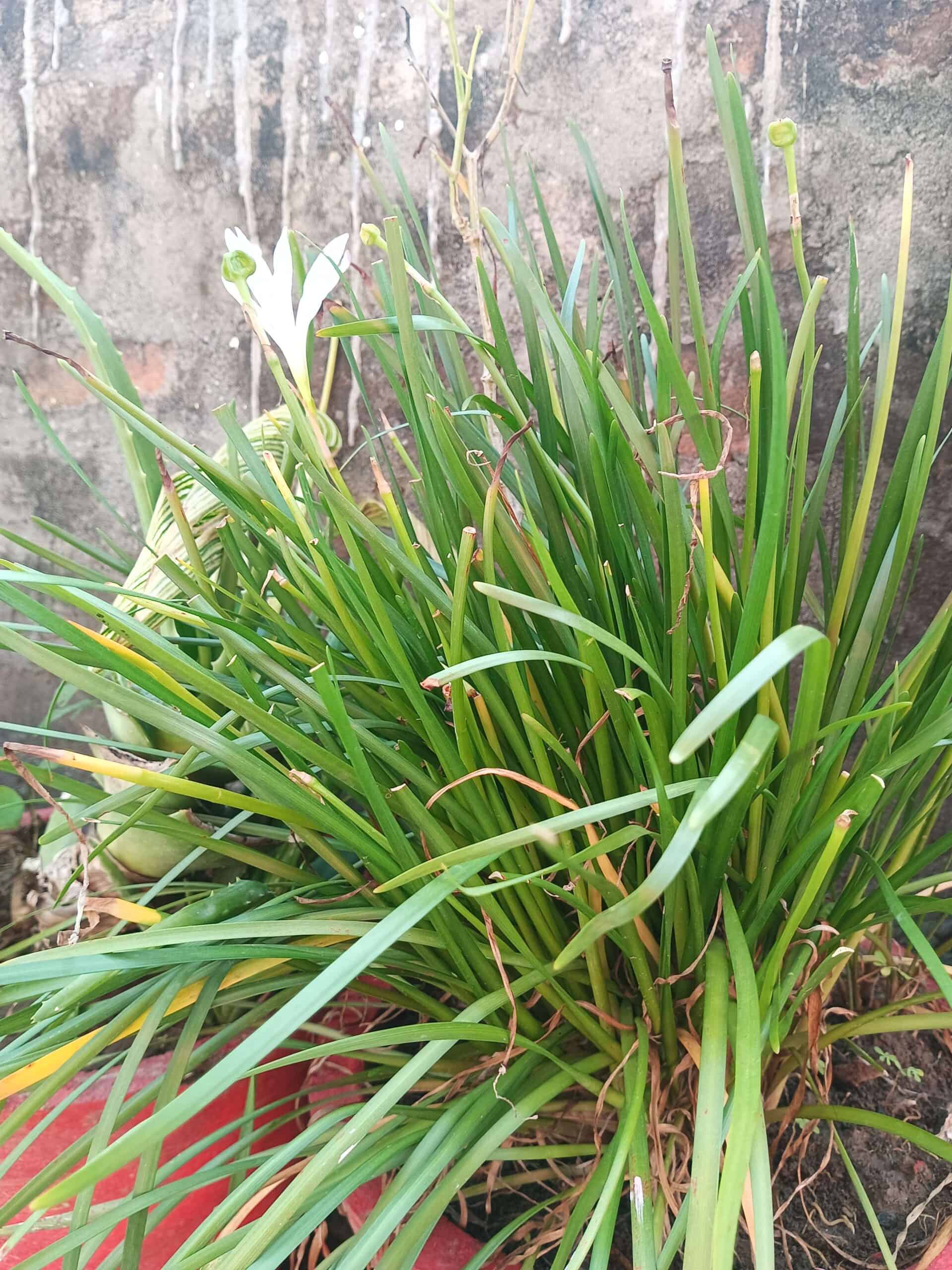 I captured all the moments in my eyes, and so did my Canon. I let it go without picking blooms as I didn't want it to be bare and ruined, affecting the lifecycle.
It had already been 45 minutes, so the driver asked us to enter the van and resume our journey.
And our destination for the day was Brindawan Botanical Garden of Hetauda, which was about 2 km west of the station.
It was a more enjoyable journey than a boring flight where you had to watch a screen or sightsee outside if you were lucky to have a window seat.
When we reached the garden, I was excited to find tourists like me whispering about a trail along the Rapti river, stopping at an astonishing point where three river meets each other.
So I escaped that part and went in to enjoy the diversity of floras inside the Botanical Garden.
And this is what I spotted.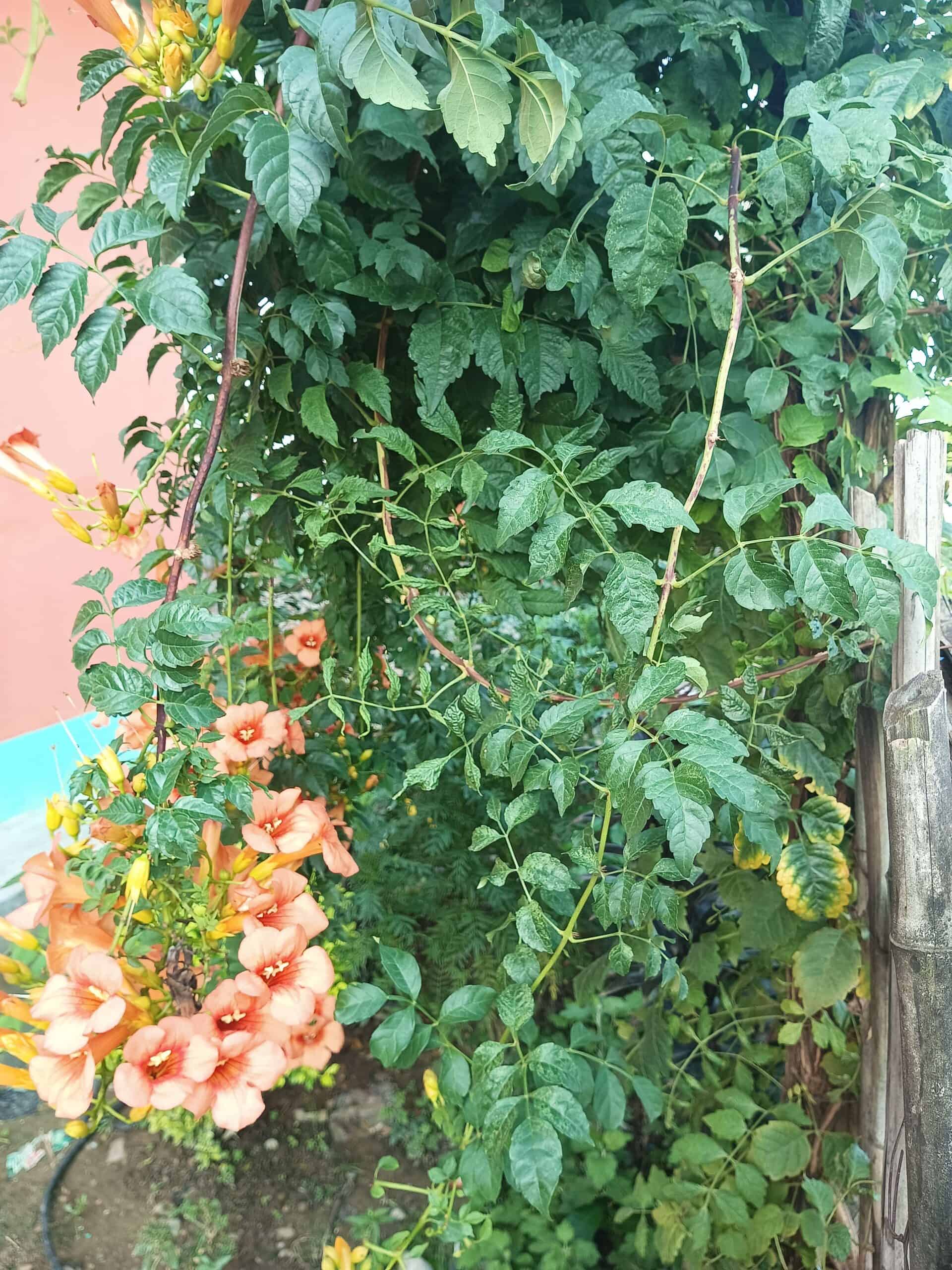 Trumpet vines were all that I could spot in most parts of the garden.
I was lost in the moment that I spent my entire day in the garden, leaving it at its closing time.
Afterward, I wandered around the markets of Hetauda and booked a room to revitalize my energy for my next milestone, Chitwan.
3rd Day…
The next morning, I packed my bag, feasted on my breakfast, and set off to my next destination, Chitwan National Park.
I chose this mainly for its wide planet of plants and wildlife. So you can call it my safari time.
Again, I went to the stand and took a Hiace to Sauraha, the town opposite Chitwan National Park.
It took around 2 to 3 hours to reach Sauraha.
Immediately, I purchased a day permit for the Buffer zone and 20,000 lakes from the counter and booked a jeep safari. I managed all this thorough research before visiting the park.
My uncle had informed me about the one-horned rhinos, so how could I forget to visit them?
I wanted to go closer to those unique rhinos and touch them, but authority wiped out my wish.
So I moved towards the entry and roamed around plants like Glory Tree, Sal, some alien plants (I couldn't remember their names), and marijuana plants all over the place.
But what was fascinating to me was the long bell-shaped Thevetia peruviana. I was about to pick the blooms, but immediately I restrained myself from touching them.
Fortunately, I had studied their toxicity.
I am not much photogenic, so I love taking pictures of plants, flowers, or whatever I like instead of myself. Hehehe 😁
If you are strayed, I recap my journey of Chitwan National Park, which includes riding safari, canoeing, and observing all the wildlife.
I returned to Sauraha and visited Saswat Dham, a beautiful and artistic temple in Chitwan.
Afterward, I booked a hotel on the main market and rested my back for the day.
4th Day…
After spending some days, I feared my departure days were near as I never thought I could collect such beautiful memories with unique experiences in a foreign land.
I had planned the visit only for a week, including my flight days, so the next morning, I packed the bag and left for Kathmandu.
As soon as I reached Kathmandu, I visited the botanical garden in Godawari.
The Godawari botanical garden was more like herbaria and a nursery of different plants, and the shrub that caught my eye was Red Tip Photinia.
There I found the entire space of Godawari was like a picnic spot for the locals. It reminisced my early days of childhood when my family, including siblings, used to go on outings.
After enjoying the entire tour, I returned to the PG for my final stay and packed my bag for the next day.
I had not wished to leave this beautiful country that helped me know myself better, far from my homeland.
The Goddess of slumber didn't favor me that night, and I strolled around the corridor.
The landlord was like me, a plant lover who planted the Snake Plant and the other two perennials in a plastic cup containing water.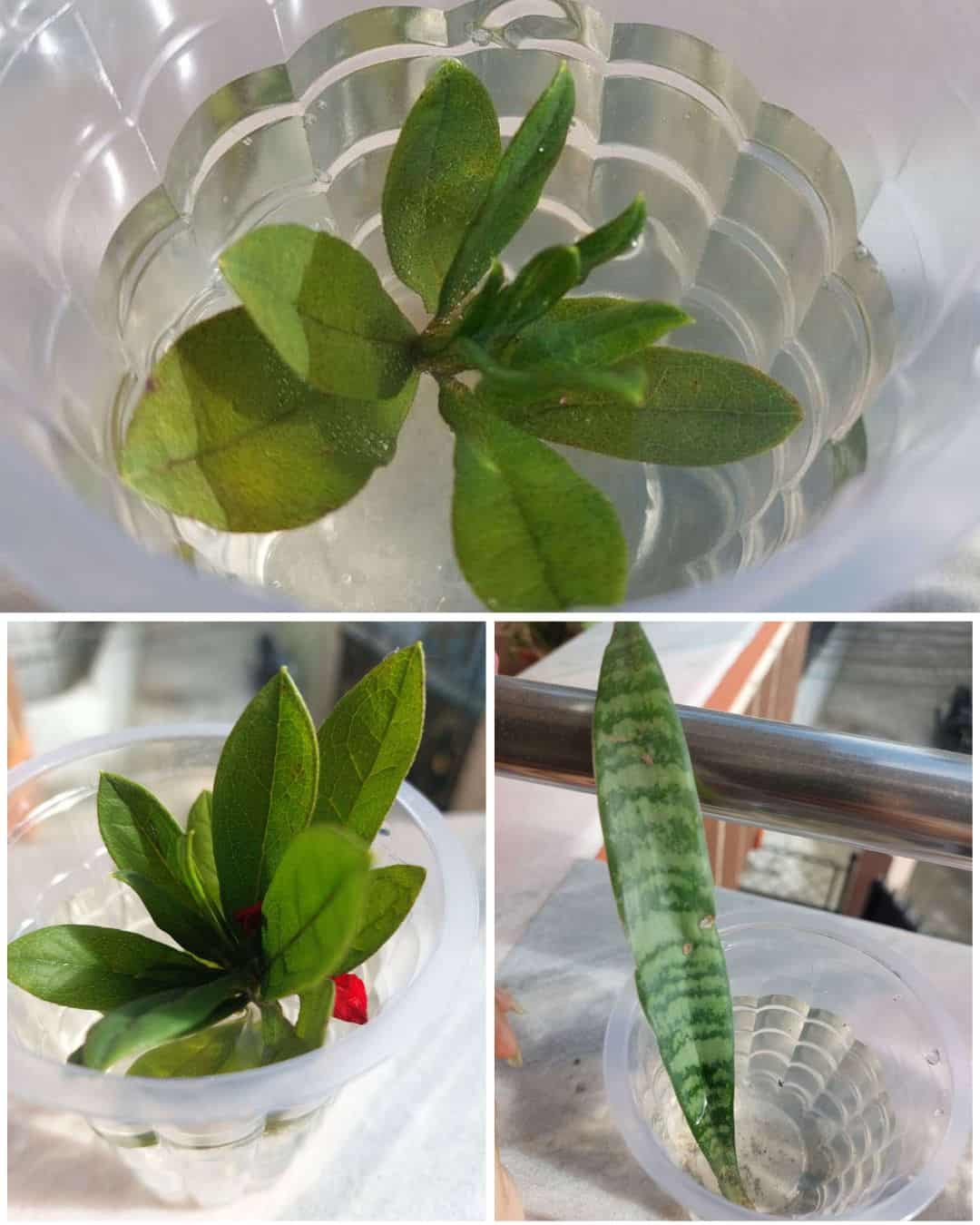 He jumped out of my bed, guessing someone had come to break into, after listening to me creeping.
Soon he had a relieving sigh when he found me and asked me if I needed something. I narrated my condition.
He uttered two plants in Nepali, but I could not understand.
Final Day…
The day to say goodbye had come.
I had my breakfast and waited for the taxi to take me to the TIA, as I had my departure at 7:00 am GMT.
Overall, my stay in Nepal was fruitful and enjoyable.
The hospitality of the Nepalese was even more heartwarming; they always tried their best to help others.
Finally, the landlord gave me a rose from his garden as a souvenir of Nepal.
I recommend Nepal as a good place for tourists to stay and enjoy the country's adventure and nature.
And I hope you will take more holidays and enjoy the ineffable combo of culture and nature.
Best of Luck!