Are you struggling to find a small trellis for indoor climbing plants like Devil's Ivy and Golden Pothos? Then, why not create one from scratch?
Some of the best trellises for indoor plants include wood structures, stick poles, nylon attached to nails, old window frames, pliable metal wires, and wall clips. You can make custom trellises or buy readymade ones from the market.
Consider checking out some unique DIY ideas to create a custom trellis for indoor use.
10+ Indoor Plant Trellis Ideas
Most trailing plants would willingly climb vertically using a support such as a trellis, which provides a sturdy structure and adds to the decor.
However, installing a trellis indoors can be challenging as it often requires changing your interior decor; hence, a custom or DIY trellis would be great to create one per your need.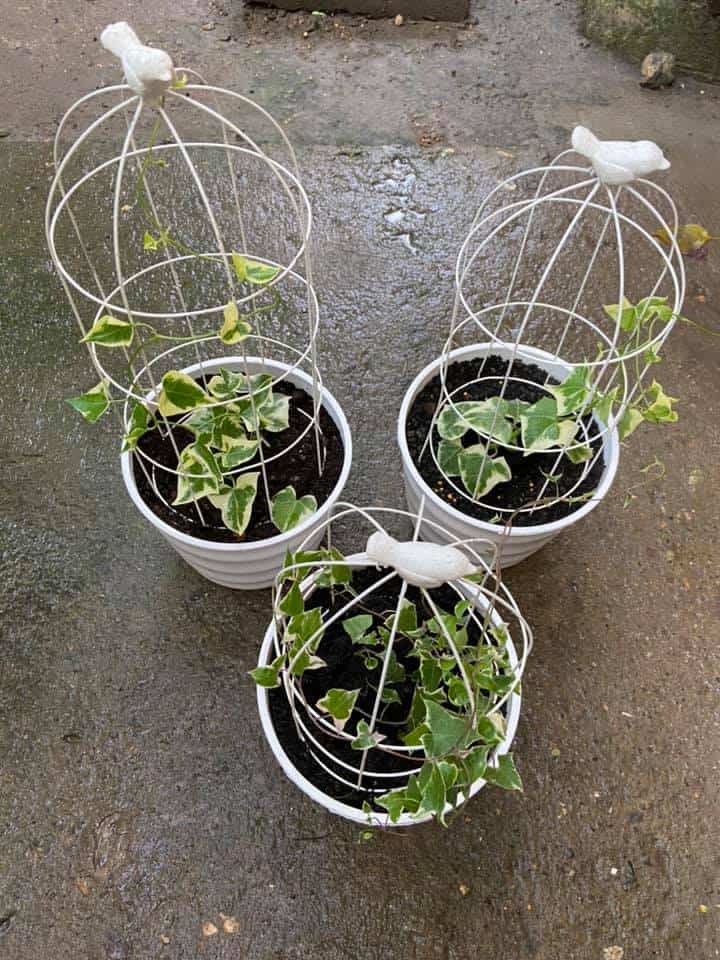 Here are some of the best DIY trellis ideas for all indoor plant parents.
1. Honeycomb Trellis (Wood or Metal)
Have you ever walked inside the plantophiles' home and gone, Awww… looking at the beautiful climbing plant growing on a honeycomb trellis?
You can create a honeycomb trellis by attaching hexagonal frames into a honeycomb shape.
However, you must first decide on the materials (wood, plastic, or metal) and the medium to connect them (adhesive, screws, or welding).
Creating a hexagonal metal frame can be challenging if you do not own a metal workshop. Order a set of hexagonal metal frames from local suppliers and use
commercial adhesive
to attach each frame to another, creating a honeycomb-like shape.
Here is a DIY method for creating a wood honeycomb trellis for indoor plants or climbers.
Create simple wood frames using pine boards, a miter saw, and wood glue.
Cut pine wood into six pieces (4-6 inches) using a miter saw at a 30-degree angle to join each end. Make as many as you like.
Now attach each piece using wood glue applied to the sides, creating a hexagonal shape.
Join each hexagon using wood glue and clamp them for several hours to let the glue dry.
You can stain the frame for a nice finish or directly proceed with mounting using 2″ metal screws drilled strategically into the wall.
2. Birch Wood Ladder
You will find abundant birch woods if you reside around the forest in the colder climate area (USDA 2-6).
The cold-loving tree grows sturdy thin, round saplings (branches), making a perfect small trellis for indoor plants.
Moreover, it gives your indoor decor a more organic and rustic feel.
Start with amassing a dozen birch saplings. You can pick saplings dropped on the ground or cut a few using an axe.
Sanitize the saplings using rubbing alcohol to kill off any germs or bacteria.
Remember to stripe it off leaves, nodes, and twigs.
Take two long saplings and cut them into a uniform shape. Keep them 5 to 6 feet in length.
Next, cut the saplings in a uniform shape of 10-12″ and make of bundle of 6-8.
Use wood glue to attach the smaller pieces to the longer birch saplings 5-6 inches apart.
Alternatively, you can nail each piece into the longer birch sapling using a nail gun or tie the glued ends with jute ropes.
Voila! You can place it on the wall or in the corner of your room just above the climbing plant.
3. Macramé Style Trellis
Did you know macramé rings are handy for creating DIY garden tools?
If you have unused macramé rings at home, then great; otherwise, you can buy about a dozen from Amazon.
You can place the macramé rings to each other, creating the shape of the Olympic logo or any random form.
Tie each ring's end to another using a nylon stripe or wool to create a chain structure.
You can keep it simple or create neat knots using the kneading skill and crochet hook (9mm).
The end shape would look the way you want it to.
Hang it on the wall using Hillman fastener nails.
4. Coco Coir Poles
The coco coir or moss poles are growth support for plants and make a great trellis for climbers.
These organic poles will work with trailing plants like Monstera, Pothos, and Philodendron.
You may need to stack one pole over another using the pointed end for long trailing plants like Pothos.
Buy a couple of coco coir poles about 12 inches long with a pointed wood at the end.
Stick one pole into the plant pot quite deep so it stabilizes.
Stack another pole above it by inserting the pointed end; then, you will have a joined coco coir pole that is 24″ tall.
Similarly, you can make another 24″ set and insert it into the soil if you have a vigorously growing plant.
Do not try stacking three or more poles into one to prevent them from falling.
Moisten the pole with water and tie the growing plant to it using a rope to habituate its growth.
5. Wall-Mounted Nylon Attached to Nails
Most plantophiles use nylon and nail to create a DIY trellis for climbers.
The best thing about using nylon and nail is that you can remove or amend them as often.
Choose the empty wall or space above the windows or drawers.
You can use a 1″ hardware nail as the nylon trellis is lighter.
Stick the nails 5-6 inches apart in any shape you want.
Next, tie the nylon to the nail and connect it to another nail creating a sequence.
Tie the trailing plant to the end of the nylon so you can habituate its growth.
Otherwise, you can adjust the already trailing plant by tying the stem to each nail and continuing whenever it gets longer.
6. Old Window Frame
Do you have an old wooden window frame lying around in the garage or store room?
It may be a good time to repurpose it to create a quick DIY small trellis for indoor plants.
In fact, repurposed window frame makes an artistic trellis choice.
Take out the old wooden window frame and clean it with soapy water.
Do not forget to fix it beforehand by nailing the broken ends or using wood glue to stick them together.
You can remove the old paint by sanding the surface or using a chemical paint stripper.
Stain it to give it a rustic feeling, or paint it in your favorite shade.
Hang it on the wall using a Hillman fastener nail so it does not fall under its weight.
7. Spiraling Metal Trellis
Another excellent and quirky way to create a durable trellis is to use metal wire that can be shaped per your preference.
The metal wire works every time to create custom shapes, so why not build a spiraling metal trellis for vigorous climbers like Pothos?
Take a stainless 5-6 feet long bendable metal wire.
Cut about a foot or two long wires using a metal wire cutter.
Next, attach the remaining metal wire to it in a spiraling shape.
Use adhesive to join the metal ends to each other, or take thin nylon rope to tie them together.
Upon completion, gently insert the plant inside the spiraling metal wire and tie it with a rope.
Rest the metal wire over the potting soil. No need to hang it anywhere.
8. Wooden Garden Obelisk
If you think about it, wooden obelisks are pretty multi-purpose.
Not only do wooden obelisks add style to your garden and indoors, but they also support the climbing plants.
However, get yourself a 5-6 feet large wood obelisk. Anything more significant would not fit for indoor use.
Buy the one made with Acacia wood that will change the shade to a natural color as it ages.
Put the plant pot in a corner and cover it with the obelisk so it does not interfere with your movement.
Tie the end of the climbing plant to the end of the obelisk using a thin rope so it can grow further.
Similarly, you can place other climbing plants near the obelisk and use it to support their growth to make a flourishing and bushier indoor garden.
9. Metal Twining Wall Trellis
Metal twines work the same as nylon and nails, except they are more durable and sturdy.
Using a metal twining trellis works great to decorate walls and windows with the sprawling climbers' branches.
However, it may take some more work than nylon and nail trellis.
Grab a galvanized metal twine (1mm) set from Home Depot or Amazon and mini command hooks.
Decide where to install your trellis, empty wall, or windows.
Start with installing command hooks on the wall 1-2 feet in the direction you want the vines to spread.
Tie the metal twine to the first hook using a thin nylon rope.
You may require a plier to bend the metal twine around the hook to redirect it toward another hook.
Cut the metal twine at the end using a metal cutter; you are ready to go!
10. Wall Clips and Command Hooks
Another quick way to set up an indoor trellis is to use command hooks and a set of wall clips.
The process is similar to nylon and nail trellis, but you will use wall clips instead of the rope.
However, this process would only work with a vining plant that has grown significantly.
Move the climber close to the wall and install the first command hook near the pot.
Attach one of the branches to the command hook using a wall clip.
Do the same for each branch and install command hooks vertically whenever the branches grow significantly longer.
11. Tetris Wood or Metal Trellis
The Tetris wood trellis is similar to a wooden vertical and horizontal frame but slightly different.
Instead of creating perfect box frames, you can let the few ends go untied to give a feeling of Tetris boxes.
Besides, you can easily create it out of plywood or bamboo sticks to be used indoors.
Start with amassing half a dozen of 6-inch long bamboo sticks.
Cut them into 2-3″ broad stripes 5-6 feet long using a miter saw when using plywood.
Place a few sticks 6″ apart on the floor vertically.
Next, stack them up with the remaining sticks in a horizontal shape 6″ apart.
Now, tie the part where two vertical and horizontal sticks meet to create a sturdy structure.
You can use a nylon rope or wood glue to stick them together.
Instead of cutting the pointy border to create a uniform shape, let them be as they are.
Voila! Hang the Tetris wood trellis on the wall using nails or lean it on it. But, do not forget to tie the climbers' branches to the trellis to redirect their growth.
Here are more DIY types!
Best Readymade Trellis for Indoor Plants
Here are some excellent choices of readymade small trellis for indoor plants.
Editor's Note
Trellis works great for climbing plants, but you should be conscious of the size when it comes to indoor plants.
Find an appropriately sized indoor trellis that does not mess up the interior decor.
Otherwise, you can always create a DIY trellis using everyday materials at home.