Wondering about ways to renovate your patios but want to use something different than the regular stone pavers? Well, you can use Pebble for several unique patio ideas.
Generally, pebbles are a versatile element that can be used to create different styles of patios, from modern to traditional to sleek to Zen-style. Adding components like plants, sittings, and a firepit can elevate the aesthetic of the pebble patio.
Follow along to learn about different styles of patio using pebbles.
5+ Unconventional Pebble Ideas For Your patios
Home's architecture, interior, and exterior keep changing and evolving with time, and 2023 is all about gravel and pebble patio ideas, unlike the conventional stone pavers.
Most of it is due to the visual texture it adds to your home. No wonder it is a popular choice among the celebrities like Billie Eilish and Jennifer Lopez.
Also, gravel for the patio is a low-cost alternative to common pavings like concrete and stone pavers.
While we might not have the elaborate garden patio option in our home, you can still create different styles just by using the pebbles.
1. Seamless Design with Pebble Patio
Whether you prefer small, medium, or large-size pebbles, maintaining consistency throughout the patio will contribute to a cohesive and seamless design.
Deciding on the color palette for your pebbles that compliments the surrounding element is the key to a seamless patio.
Usually, designers opt for
natural earth-tone gravel
like beige, tan, or gray for a subtle, harmonious blend. But you can always play around with the monochromatic color scheme for a more striking effect.
The main aim is to have a soft transition by laying the pebbles perfectly to blend with the surrounding grasses, garden beds, or other hardscape elements.
Meanwhile, you'll have to install metal or plastic edge restraints around the patio to help contain the pebbles.
2. Sleek and Modern Gravel Patio
A modern home aesthetic demands a clean outdoors with a symmetric pattern. And nothing better than some small, uniform-sized gravel to create a sleek contemporary patio.
The most popular choices include gray, black, or white pebbles arranged evenly in fixed geometric shapes per the available space.
Moreover, pair it with minimalist furniture with a contrasting undertone that helps your patio stand out.
If you wish to add some green, you can paint your plants with non-toxic paints to align with the modern vibe.
3. Tropical Patio with Plants
One of the best pebble patio ideas is transforming it into a tropical oasis with gravels from exotic red or black volcanic rock.
As plants are essential to any tropical gateway, surround the patio with Palm and Coconut trees, varieties of Alocasia, and Lucky Bamboo for freshness and greenery.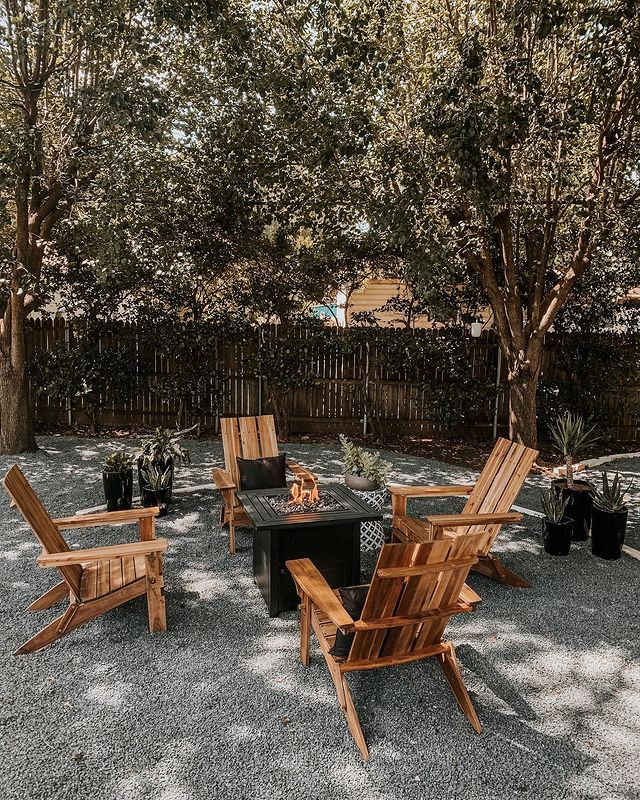 But, the only con to these exotic gravel patios is their high cost since volcanic rocks are quite expensive.
Despite the pros and cons, this topical gravel patio is a treat for your eyes.
4. Pavers and Pebbles Combination
If you plan to give your home a new look this year but budget restrictions may not fulfill redoing the entire paved patio, I have you covered.
You can revamp your paved patio by removing a few pavers and fitting some pebbles in that space. Considering your patio, start by determining the possible shape and pattern.
You can create an alternate pattern with existing square pavers right after a square of pebbles. Or, pull out all the middle pavers and replace them with medium-sized pebbles.
But instead, if you have large rectangle slabs, you'll need to remove them before starting the new setup.
Now, place the first slab vertically, followed by a horizontal slab just ahead, leaving a few inches of space. Continue the placement pattern until the end and lay gravel at the base to fill the gaps later.
Also, add some sand to compact the pebbles and avoid moving over time.
Note! Do not forget to sweep away the excess sand dust after you are done with the pebbles and pavers combination.
5. Zen patio With White pebbles
Create a serene and minimalist Pebble patio with carefully arranged pebbles, surrounded by lush greenery and complemented by bamboo or wooden accents.
Start by clearing the patio area of any debris, plants, or existing structure. Mark the boundaries for a clear outline to work within.
Install concrete blocks or stones as edging material and place a layer of landscape fabric to help prevent weeds from growing through the pebbles.
Carefully spread the white Pebble aiming for a thickness of about 2-3 inches. Use a shovel to distribute them evenly.
Incorporate potted plants, bonsai, or low-maintenance shrubs to introduce a touch of nature and softness to the space.
Finally, place comfortable seating, floor cushions, or bamboo chairs. Use lanterns and wind chimes that perfectly suit the Zen vibes to increase the charm.
6. Informal Hideaway
A little idea to refurbish your outdoor or lawn area using pebbles would be to create an informal hideaway on a patio using pea gravel.
Pea gravel is one of the best for a patio and is easy to install, so all you do is clean the patio and tightly place the pebbles. Make sure to line the area with crushed stone to provide a definite shape to your patio.
Since the aim is to create a cozy, secluded space for relaxation, select comfortable seating options that fit the available space.
Adding an outdoor lounge chair, hammock, or bean bag could be more inviting.
Complete the informal hideaway by planting tall trees like Areca Palm, Bamboo Palm, and Fiddle Leaf Fig, which grows tall enough for more privacy.
7. Pebble Surrounding Water Bodies
If you have a small pond or a fountain in your home, using pebbles could be a great way to decorate it.
First, cover the patio with fine gravel and move towards the water bodies by laying mixed Pebble (different shapes, sizes, and colors.)
As you reach the water body, line the patio using pebble stone to align them with your pebble patio ideas and make them stand out, especially the bigger ones.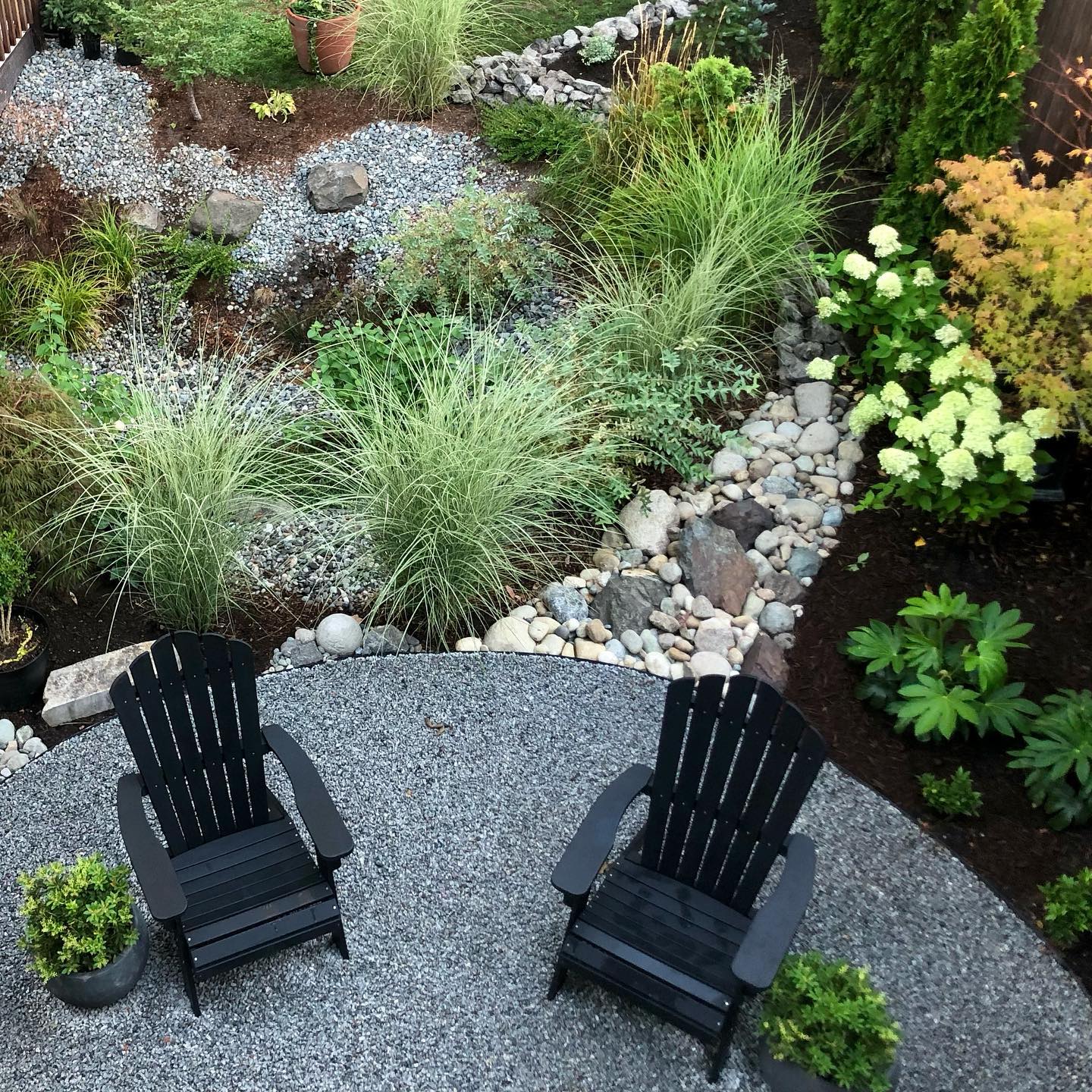 Also, sprinkle more fine gravel around the plant to make the surroundings resemble a natural water body.
Moreover, low-growing grasses and plants would be the most appropriate for these Pebble patio ideas.
From Editorial Team
Kids Supervision!
Pebbles can be risky if you have a toddler running around. Make sure to aware your kids about the Pebble choking hazards.
Also, it is wise to let your kids play only under supervision. Or, simply leave a patch without pebbles in the kid's playing area.