Are you fed up with a messy garden floor full of weeds? Consider Ice Plant as ground cover, and soon see them ceasing the weeds and giving your lawn a brand-new makeover.
Generally, easy-growing Ice plants require well-draining soil of neutral pH, 6-8 hours of full sun, and a dry climate as a ground cover. Also, they demand weekly watering, organic fertilizer, and punctual pruning every spring for the perfect blooms.
Follow this article till the end to see blooming Ice plant ground cover on your lawn from summer to fall.
Overview of Ice Plants
Ice plant is a perennial succulent native to the Eastern Coastal Plains of South Africa.
These beautiful creepers look like a green carpet covered in splashes of several colors when they bloom.
Here are some of the exciting features of this ground cover.
| Features | Description |
| --- | --- |
| Scientific name | Delosperma spp.,Mesembryanthemum spp., Lampranthus spp |
| Family | Aizoaceae |
| Origin | Africa |
| Common name | Ice plant |
| USDA zones | Zones 6-7 |
| Bloom Season | Spring, Summer, Fall |
| Growth rate | Moderate to Fast |
| Size | 3–6 inches tall, 12–24 inches wide |
| Flowers | Small, aster-like flowers of different colors |
| Leaves | Succulent |
| Toxicity | Non-toxic |
| Diseases and Pests | Grey molds, Root rots, aphids, and mealybugs |
| Sun Exposure | Full sun |
| Soil Type | Sandy, Well drained |
| Soil pH | Neutral |
Varieties of Ice Plants
There are several varieties of Ice plants with different characteristics and blooming seasons.
You can consider them as your garden ground cover according to your convenience.
Delosperma cooperi

is a rapid-growing plant that grows up to 3-6 inches tall and spreads about 24 inches. They bear pink to purple blooms in summer and fall and are found in zones 6-10.

Delosperma brunnthaleri bears yellow flowers and grows up to 2 inches tall and 2 ft wide. You can find them in USDA zones 4-9.
Delosperma floribundum bears pink flowers surrounding white centers and is suitable for USDA zones 6-8.
Lampranthus haworthii bears pink or purple flowers with blue-green foliage and is suitable for zones 9-11.
Lampranthus aurantiacus reach 5-18 inches high with bright-orange blooms and is suitable for zones 9-11.
Ice plants live as annuals in zones 4-5, but in the higher zones, they tend to behave as perennials.
How Do You Fertilize Ice Plants?
Usually, Ice plants are easy to grow, and you need not fertilize them while growing it as a ground cover.
But, if you are growing it in the container, remember that the nutrients deplete quickly.
In such cases, you must feed them natural compost or slow-release fertilizer while planting and serve them with another dose during fall.
Always dilute the organic liquid fertilizer with double the amount of water before applying them to your Ice plants.
However, too much fertilizer may winter-kill the Ice plants.
Is Ice Plant a Good Ground Cover?
Ice plants require minimal care and come in different varieties to choose from.
Whether it's good or bad depends upon your environmental conditions, choices, and USDA zone.
We have listed some pros and cons before you add ice plants to your lawn.
Pros of Ice Plant Ground Cover
Ice plants are a perfect choice if you live in an area with a hot climate. They are not only drought-tolerant but also fire-resistant.
If you want to get rid of unwanted weeds from your lawn, Ice plants will help you.
Usually, Ice plants are a good time saver as they require minimal care.
You don't need to worry about fertilizing them timely as they don't need fertilizer and are self-spreading.
With the help of Ice plants, you can quickly enhance your garden's aesthetics.
This amazing ground cover can tolerate salty conditions as well as a lot of human disturbances.
Ice plants have
many benefits
, such as Antiseptic properties and digestive treatments, and are rich in Vitamins A, B, and C.
You need not give up on your Ice plants after winter, as they are perennial and return yearly.
Cons of Ice Plant Ground Cover
As Ice plants can't tolerate wet conditions, they can be winterkilled.
Ice plants release high amounts of salt into the soil that may be intolerable to other plants in your garden.
They are undoubtedly beautiful but may be highly invasive if you don't manage them properly.
Being weakly rooted and heavy plants, Ice plats will likely cause erosions in the sloppy areas.
The dead leaves of the Ice plants take a very long time to decompose. As a result, dead leaves may be visible more than fresh ones.
Once you start to grow Ice plants, they double within a year. Due to the high spread rate, other plants in the garden may be deprived of nutrients.
How to Plant Ice Plant for Ground Cover?
You can simply sow the seeds of Ice plants, plant the seedlings or even propagate them on your lawn's flooring.
Consider these steps if you are a beginner for the perfect planting.
Sow the seeds early to mid-winter by pressing the half seed inside the seed starting formula and leaving the remaining half uncovered.
Keep the formula moist until the seeds germinate in 15-20 days.
Provide plenty of light to the growing seedlings by providing natural or grow lights.
You must provide the grow lights for up to 16 hours daily and avoid using incandescent bulbs.
Usually, you don't need fertilizer on seedlings, but you can use slow-release fertilizer for 3-4 weeks old seedlings for faster growth.
Before using it as a ground cover, you must harden off the seedlings by exposing them outdoors for some days in sheltered places.
Prepare a bed on the sandy, well-drained soil under 6-12 inches depth and plant the seedlings 18 inches apart in the late afternoon.
Water the seedlings and apply a mulch layer on top of the soil.
To propagate from the stem, cut the 10cm long portion of the stem and leave it to scab for some time.
After that, insert the 2cm cutting into the well-drained potting mix.
Roots will emerge quickly in suitable soil.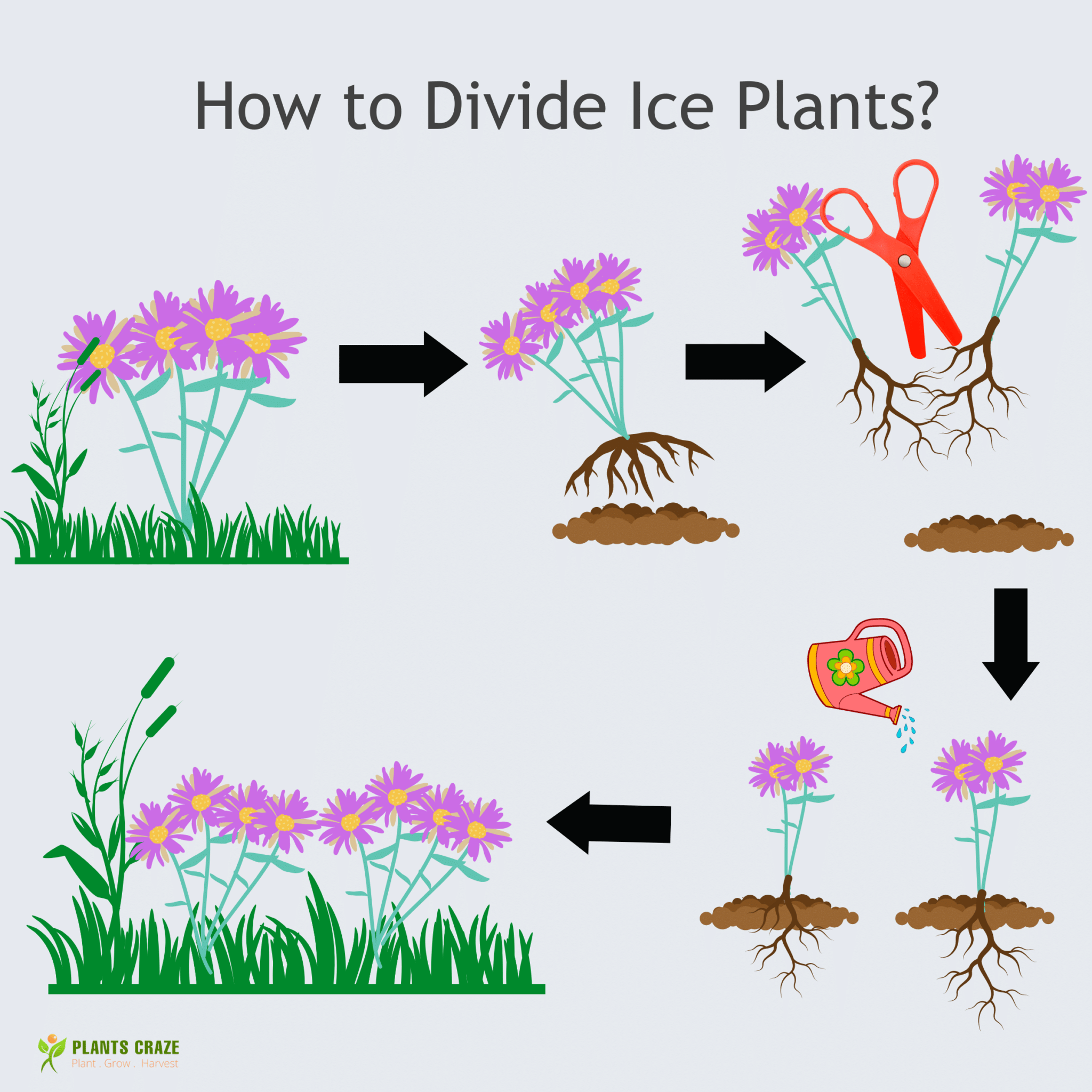 Ice Plant Ground Cover for Sale
After knowing so much about these beautiful plants, you may be curious about where to find them.
Here are some popular sites that serve you the best Ice plants.
| Places to Buy | Delivery time |
| --- | --- |
| Amazon | 4-5 business days |
| Etsy | 3-7 business days |
| Ebay | 1-30 business days |
Ice Plant Ground Cover Care
Caring for the incredible Ice Plants is not challenging until they don't get well-draining soil and plenty of sunlight.
But you must take care of how they spread as they may become invasive quickly.
Here are some of the care tips that might be helpful for you.
Ensure you have planted the Ice plants on sandy soil with neutral pH.
Ice plants thrive in direct sunlight and dry climate. So remember to provide them with a minimum of 6-8 hours of direct sunlight.
Always check the plant's hardiness zone before thriving it to your place.
Remove any weeds or unwanted plants until your Ice plants start to spread.
Watering is a minimal requirement, so water the plants only twice a month. Never water them when the fall starts, or plants will suffer from root rot.
A slow-release fertilizer will be best for their growth when planting, but the grownups usually do very well without any fertilizers.
Also, prune the dried and damaged leaves mid-spring, as slow decomposition may render you a messy garden.
In case of fungal or pest invasion, spray fungicides and pesticides to keep the floral beauty intact.
From Editorial Team
Conclusion!
If you have any nutrient-poor soil and still want to keep Ice plants, serving them with flower fertilizer or natural compost will make them bloom.
However, remember that Ice plants spread rapidly as a ground cover, so management is compulsory to protect other plants in your garden.