Do you know you can transform your plain and boring ceramic pot into an alluring modern planter using spare things at home with some creative decor ideas?
Generally, there are many decor ideas to make your ceramic pots incredibly beautiful. Some include painted ceramic pots, ceramic pots with glitter, stickers on ceramic pots, stony ceramic pots, fabric ceramic pots, jewel-garnished ceramic pots, and many more.
These ideas add an artistic touch to your indoor and outdoor aesthetics and add enchantment to your houseplants.
So, go through this entire article to try budget-friendly and failproof decor ideas of renovating your simple ceramic pot.
8+ DIY Ceramic Pot Decor Ideas 2023
Ceramic pots, either small or large, will look amazingly beautiful when you mix some creativity into it using some homely things.
Moreover, these ideas always work well with anything made of ceramic clay, like cooking pots, ceramic vases, flower pots, and many more.
1. Painted Ceramic Pots
One of the best ways to decorate ceramic pots is to paint them, giving them unique, artistic looks out of your imagination.
You can paint anything, like animals, flowers, polka dots, etc., with contrasting colors or simply give the pot a drip look.
Select a plain ceramic pot and get some acrylic paints with brushes.
Paint the pot of your choice with different colors.
Or, invert the pot and pour the paint to give it dripped look.
Let the paint dry before filling potting soil.
Any plants, like succulents, flowering perennials, annuals, etc., will look great on the painted pots indoors or outdoors.
2. Ceramic Pots With Glitter
Decorating ceramic pots with glitters will be a good idea if you want to give your pots with an incredible glazed look.
Moreover, glittered pots will enhance your living spaces, either indoors or outdoors, with a shiny, sparkling appearance.
Get the craft fevicol and glitters of your choice.
Pour some fevicol into a bowl and add water to make it thinner.
Paint the ceramic pot with the fevicol mixture.
Sprinkle the glitters on the pot and let the glue dry.
Finally, your ceramic pot is ready with shimmering looks.
Any type of plant will suit this glazing pot, but plants that need bright light will look gorgeous as the glitters shine perfectly in bright light.
3. Stickers on Ceramic Pots
Ceramic pots covered in stickers will give your pots a fashionable and unique look without any effort.
The stickers may be of animals, flowers, simple sayings, or emojis; they are enough to enhance the plain pots.
Get the waterproof sticker of your choice.
If the sticker is with glue, paste it directly on the pot; otherwise, paste it using craft glue.
Finally, get the glue dry, and your modish pot is ready.
Never place those pots in bathrooms or plant high-humidity plants, as the sticker may not be durable.
Moreover, the sticker's color may fade if you place the pot on direct light, so choose a place with indirect light.
4. Stony Ceramic Pots
Decorating the pots with stones is the perfect way to give an artistic look to your pot in a budget-friendly way.
At first, collect some flat stones from the outdoors with different colors.
Clean the ceramic pot and let it dry.
Stick the stones on the pot's surface one by one with a glue gun.
Let the glue dry, and the stony ceramic pots are ready.
You can give any artistic touch to this pot and plant any type of plant, including those with high humidity.
However, too much heat will loosen the glue, so ensure not to place it on the area with high sun exposure.
5. Jewel Garnished Ceramic Pots
If you love shining ornaments and jewel stones, jewel-garnished ceramic pots are definitely for you.
Plants with thick leaves or vibrant-colored blooms will look absolutely stunning in this type of pot.
To start, clean the ceramic pot and let it dry.
Applying craft glue may be messy, so go for the glue gun.
Stick the jewel stones, pearls, and golden or silvery things on the pot according to your choice.
Now, you can also drill the pot and attach a pearl chain to the pot for incredible looks.
For the amazingly stunning appearance, plant the sun-loving plants on this pot and place it in direct sunlight enjoying its sparkles.
6. Choosing the Perfect Shapes
Apart from all the decorations, you can enhance your living space easily if you choose the perfect-shaped pots for your houseplants.
Round pots are suitable for every plant, but the herbs like coriander, parsley, mint, etc., suit perfectly on this pot.
Choose rectangular pots for wider plants and vegetables. Flowering plants will also thrive best in square or rectangular pots.
Additionally, Select tall pots for the plants with a deep root system to avoid root rot and root bounding.
You can find specific pot shapes with wider and shallow surfaces for some special plants like bonsai trees and orchids.
Thus, selecting perfect shapes will not only enhance the decor but also maintains sustainability while growing houseplants.
7. Selecting Perfect Places
Although you select perfect shapes, colors, and good decorations, your pots will be worth nothing if you place them in the wrong places.
Never place low-light plants in direct sunlight, as they may lose their vigor or die due to excessive temperature.
If you place them beside the window, place sheer curtains to provide them with dappled sunlight.
Moreover, some high-humidity plants like peace lily, Boston Fern, pothos varieties, etc., will suit perfectly in low-light bathrooms.
Additionally, the herbs and flowering plants will suit perfectly on direct sunlight, so provide artificial light if you grow them indoors.
8. Fabric Ceramic Pots
If you like cool and fashionable things, you will love having fabric ceramic pots or creating one yourself.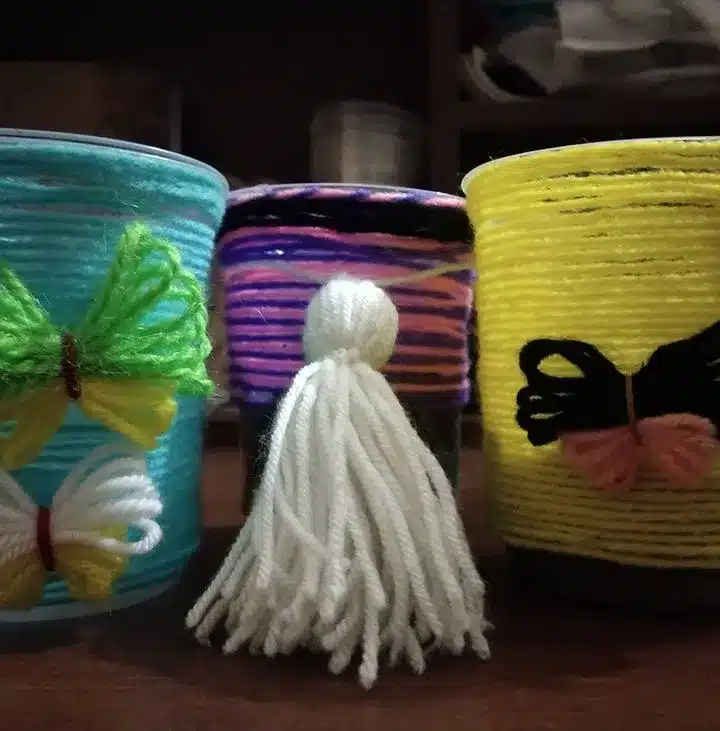 In this decorating idea, you use fabrics or netted clothes to renovate your ceramic pots.
Firstly, choose the design you want to apply to your ceramic pots.
Get the fabrics of your choice to decorate the pot.
Cut the fabric with scissors equal to the pot's width.
Stick it at the edge or center of the pot as your choice using the glue gun.
Let the glue dry completely.
There is a chance for the fabric to be dirty if you plant high-maintenance plants in this pot. So, choose the plants requiring minimal requirements.
9. Jute Rope Ceramic Pots
If you have spare jute ropes, you can create wonderful DIY jute rope pots that are almost impossible to break.
Get the long jute rope and a ceramic pot.
Wrap the pot with the rope sticking each round using a glue gun.
Let the glue dry, and decorate the surface with sparkling stones.
Although this pot has minimal risk of breakage anywhere you place, locating it indoors will be more durable than outdoor placement.
10. Knit-Covered Ceramic Pot
If you are too worried about pot breakage and want clean pots, a knit-covered ceramic pot is perfect.
Moreover, you can use different colored covers for your pots to match your living space based on your choice.
Knit the cover with a knitting tool with wool of the color you like.
Ensure you prepare the cover the same as the pot's length.
Cover the pot with that casing and place the fancy pot anywhere you like.
Also, the cover will lower the breakage possibility making it safe.
Always remember that the wool won't last long if you expose your pot to sunlight, water, or dirt. So, placing it indoors will be much better.
From Editorial Team
Don't Miss This Note If You Are Going To Apply Ceramic Pot Decor Ideas!
While using beads, stones, ropes, or fabrics to decorate your ceramic pots, ensure you are not blocking drainage holes.
Moreover, wash the painted pot after it becomes completely dry to remove any harmful chemicals in paints causing negative effects on plants.