The pink-tinted Cactus plants make the perfect succulent for your house, thanks to its enormous pink flower.
Generally, Pink-flowered cacti include Opuntia Ficus-Indica 'Pink, Rose Pincushion, Rebutia, Powder Puff, Star Rock, Moon Cactus, Dwarf Turk's Cap, and Pink Christmas Cactus. The blooms with different species last for one day throughout the year.
These pink flowering plants appear mostly in tropical areas such as Central America and Mexico.
Let's look for some unique homegrown Cactus species with pink flowers!
Famous Potted Cactus with Pink Flower
While all cacti can flower, some do it more easily than others.
A few species, such as those in the Parodia, Mammillaria, and Gymnocalycium families, have a greater likelihood of flowering.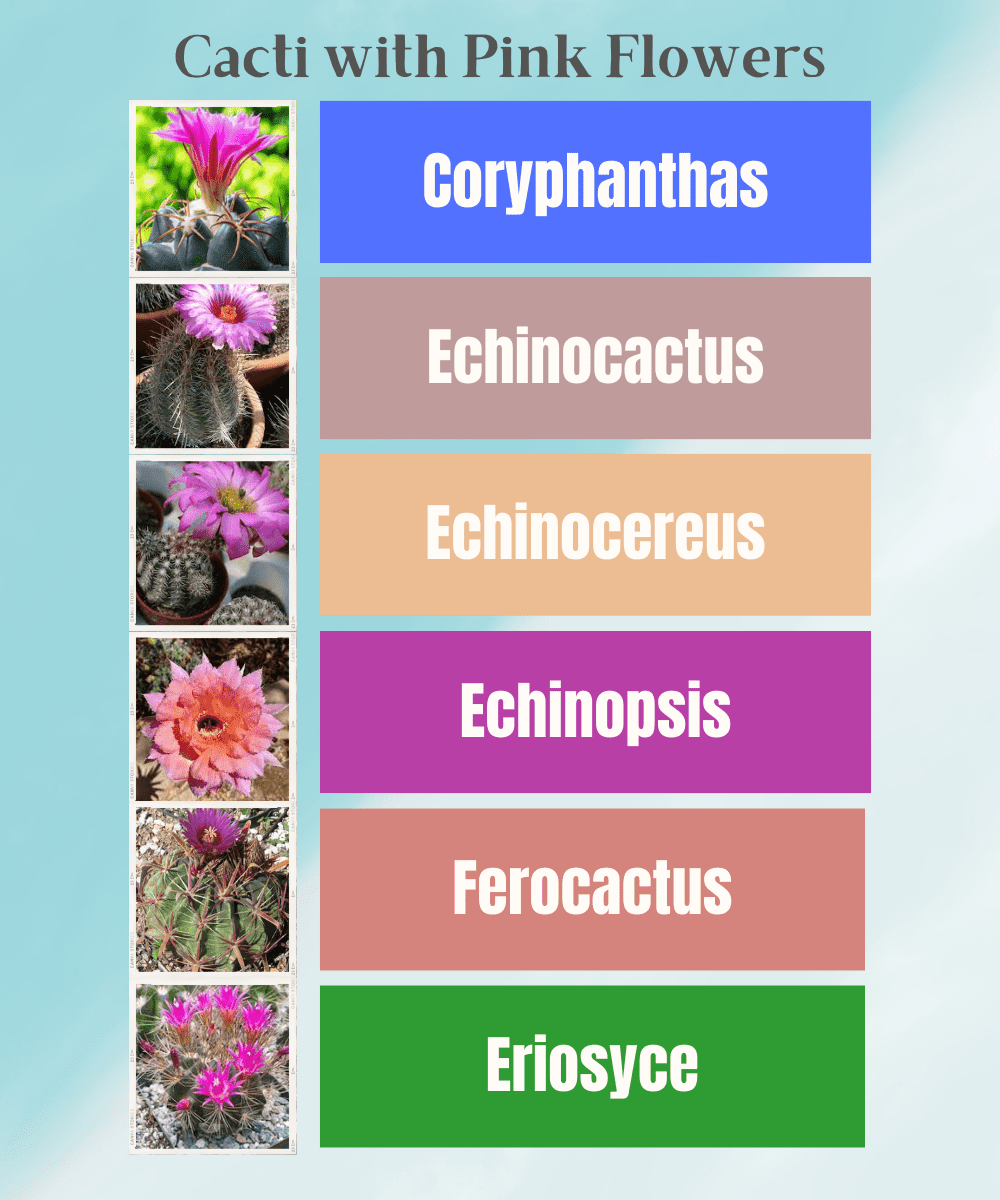 Let's take a glance at a few distinctive Cactus plants that produce a pink flower.
1. Opuntia Ficus-indica 'Pink'
It is a perennial shrub that turns a lovely shade of pink in bright sunlight and grows up to 5m in height in the wild.
The petals and sepals of the blooms extend two to three inches wide, and spectacular flowers have seven or more pink petals, occasionally covered with an orange stain.
After 1-2 years, stems begin to bear flowers that bloom from early spring until summer.
Later, the prickly pear Cactus tree's pink flower produces delectable fruits. These sometimes-referred-to-as-tunas fruits can be prepared in various ways and are popular in Mexican cuisine.
Thus, grow your Prickly Pears in water-permeable soil with monthly liquid fertilization and provide plenty of bright sunlight.
2. Rose Pincushion Cactus
The small Rose Pincushion Cactus, also known as Mammillaria zeilmanniana, is native to Mexico.
The 40 cm (15.75 in) height Cactus has oval tubercules and clusters of spines at the tips of its lustrous green, round to cylindrical stems.
Each areole contains four reddish center spines and 15 and 18 radical white spines resembling soft hair.
The tops of the Cactus stalks are covered in flowers that are either pale pink or purple and have yellow stigmas.
In ideal circumstances, flowers bloom in spring and last most of the year when aided with deadheading using sharp pruners.
Rose Pincushion Cactus thrives in ample bright light with porous Cactus soil. Similarly, fertilize the plant with cacti fertilizer mix once every two weeks during the growing season.
3. Rebutia Pink Sensation
Its huge spherical body, in comparison to the size of its blooms, is one of defining characteristics of the Rebutia Cactus.
Native to South America, Rebutia Pink Sensation is a cylindrical Cactus that grows 4 cm in height and width.
Furthermore, it adopts a clumping habit producing offsets to develop at the base with tight clusters of about 6 inches.
The Cactus contains green globular heads with soft golden-brown spines which grow close to the surface.
As the name suggests, this Cactus produces flowers in the shade of pink with a yellow center in spring.
Interestingly, flowers open up in the daytime and close for a whole night. Also, blooms from small cacti may last only a few days, while big cacti can have flowers lasting over two weeks.
4. Powder Puff Cactus
The clumping Powder Puff Cactus (Mammillaria bocasana) frequently forms substantial mounds.
The Cactus gets its name due to the tiny, spherical plant's resemblance to a cotton ball and the silky white hairs.
Moreover, its spherical stems may reach heights of 5 inches and a width of 3 inches.
Each cluster of silky white hairs that cover the stem surrounds a hooked spine that ranges from yellow to red.
Gardeners are rewarded with these lovely blossoms every year as it yields funnel-shaped, pinkish flowers up to 1 inch long and 0.6 inches broad in the spring and summer.
The blossoms develop in a ring-like arrangement around the top of the stem, giving the stem a halo aspect.
Provide the Powder Puff Cactus with bright sunlight, well-draining soil, hydration in 2 weeks, and 5-10-5 liquid fertilizers.
5. Star Rock Cactus
It is a small Cactus native to Mexico and Texas, which has received a name as it offers the visualization of a star.
The Star Rock Cactus (Ariocarpus fissuratus) is a tiny geophytic Cactus that ornate a flat top. It has a dark olive-green stem with deltoid tubercles and flying white stripes resembling hair in the center.
These cacti are relatively small, with a height barely protruding above the ground and a diameter reaching approximately 6 inches.
Meanwhile, they produce white or shell pink to bright magenta flowers from the wooly crown.
These flowers have funnel-shaped blooms that range in diameter from one to two inches and bloom from August through November.
6. Moon Cactus
It is indigenous to the deserts of South America, such as Brazil, Argentina, and Paraguay.
Moon cacti are frequently mutant houseplants that lack chlorophyll, which accounts for their vibrant hues ranging from hot pink to bright yellow.
Although some varieties may grow up to 8 inches (20 cm) in diameter, they are typically little plants that are barely 1/2 inch (1 cm) wide.
The Moon Cactus blooms with vivid pink flowers from March through June.
Moreover, these funnel-shaped blossoms have a width of up to four inches.
The blooms only last for approximately 12 hours, while the plant lasts for around 1-3 years.
If you are still roaming around with doubts, get your queries answered at
Moon Cactus Flower
.
7. Dwarf Turk's Cap Cactus
It is a little Cactus that often grows alone and has a stem that is spherical or slightly flattened.
Indigenous to Cuba's north-central region, Dwarf Turk's Cap Cactus (Melocactus matanzanus) has a thick mass of areoles covered in white wool and reddish-brown bristles at the tip.
Furthermore, with 3 to 4 inches wide and a height of 2 to 4 inches, the Cactus develops small pink blooms from the middle of its Cephalium.
Turk's Cap Cactus matures into Cephalium, which are wool and thorn spheres at the center of the plant.
Additionally, the flower buds expand to a length of around 2 inches when it blooms annually in mid-summer.
Dwarf Turk's Cap Cactus is known to yield edible pink fruits that resemble tubes or peppers.
8. Pink Christmas Cactus
Christmas cacti may reach heights of 12 inches (30 cm) and widths of 24 inches (61 cm).
Its stems are made up of flattened segments with a few notches. These notches and the terminals of the stems of all flower buds protrude areoles with one to two bristles.
The Christmas Cactus bloom from roughly November to January or during autumn.
Its blooms always have forms that resemble tubes and are colors of pink.
The petals have a double layer, with the outer petals getting shorter and curling down to the base of the flower while the inner petals develop higher near the stamen.
The spectacular blossoms of
Christmas Cactus
have a "flower inside a flower" appearance and are various colors of pink.
9. Twin-Spined Cactus
Native to Mexico, the Twin-Spined Cactus (Mammillaria geminispina) is a Cactus with a wide range of thick spines.
Individual stems in clusters range in height from 8 to 18 cm and have a maximum diameter of 1.5 cm.
Two to six central spines range in length from 0.5 to 4 cm, which are straight or slightly curved. And they are either entirely white or white with a black tip (or more).
The 2cm bell-shaped flowers range from pink to carmine red and bloom yearly in late spring or autumn.
Each stem's top will develop a ring of magenta flowers, and these blooms may also be dispersed throughout the entire cactus.
Twin-Spined Cactus might take seven to eight years to blossom if grown from seed.
10. Pinkflower Hedgehog Cactus
Low-growing, endemic to the American Southwest, the Hedgehog Cactus has roughly 60 species of cacti.
Pinkflower Hedgehog Cactus, also known as Bonker hedgehog, falls under the rarest Echinocereus, native to Arizona.
These cacti grow with tiny bristly spines having 11 to 14 radials with brownish tips.
Moreover, they bloom with deep pink with yellow interior flowers in 4 inches and yield red and spiny fruits.
From Editorial Team
Conclusion!
Pink-flowered cacti are uncommon. Once fully bloomed, these Cactus blooms' vivid pink color feels satisfying to eyesight.
To give a chic look to the beautiful blossoms of pink cacti, you can put the plant in a glass florarium.
Ensure the Cactus grows in well-drained soil and receives at least eight hours of sunlight daily.